We charged batteries with the generator last evening; I cleaned the solar panels so we will see how they perform today.  Solar charging has been OK, but not up to par.
Jono is at work this morning.. which means he's on an outer beach hunting relics.  With the dinghy waiting for glue to cure, he took the Kayak into hurricane hole 1 to walk across to the ocean.
With a light breeze picking up in GT harbor, it is becoming a nice morning.  I forgot to ask about a boat count in the harbor on the net this morning, but I did pick up a spare autopilot on the boat trader segment.  A boat named Celeste bought a new wheel pilot and is giving his old unit away, it will make a good backup for SYL.  It's nice to see the regatta boats out practicing this morning; we have a ring side seat.  The little boats slide across the light blue water like a leaf in the wind.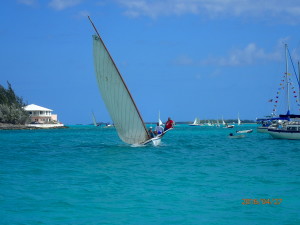 Having our Seawind friends around us is really nice.  Ted came over this morning, Mili has her sewing machine out and I need a little bimini repair.  Ted said to bring it on over and she'll fix it up.  Richard and Laurie from "forever young" came by in their small boat; they came in the harbor yesterday evening on their 78' Hatteras motor yacht.  She said she caught fish every day and her freezer is full… she wants to go fishing every day here in GT but she didn't have anybody to clean fish for her so I volunteered.  Jono and I may be able to put up a nice store of fresh Mahi as barter.  Their dinghy is a 16' boat with a Honda 90 on it, so they use that to go fishing.  I'm glad I bought that second jar of Wasabi….
"High Noon" just came by in his Dink after a grocery trip across the harbor.  I don't remember his but his wife's name is Mary.  They are long time seasonal GT residents from Canada.  The first time I came to GT they were parked in the same spot they are now.  High Noon is a 65' sleek looking monohull that must go to wind like a 747…. It's a narrow hull so it looks like it's 100 feet long.  There isn't many of the old guard left; life is a revolving door out here in cruiser paradise.
There is a 36' monohull parked behind us; they bring their dog to the bank to do his business every morning.  When they get close to the boat on the return trip the dog bails off the bow of the dinghy and climbs the ladder back up into the boat… it's the oddest thing you have ever seen.  He looks like a black and white spaniel breed… perty smart I guess.  Dogs on boats… I guess some people can't make real friends…. Lol.  I love a dog, but when that dog consumes your life (and you don't want to live for someone or something else) you need to rethink your situation.  I'm not callus; I just guard my heart against loving a non-human to a fault.
Conditions should be ideal for the Family Island Regatta.  I've been keeping up with weather and it looks really fine for the races this week.
Zephros invited everyone for drinks and snacks tonight.  I think I'll go over and visit everyone.  Mike came and picked me up earlier, we went to all the other Seawinds looking at how they were set up.  Our dinghy is out of service while the glue dries so Mike is carrying me around these days.  In a couple days our dink will be good to go.  We used 3M 5200 for the repair, it's brutally efficient but slow drying.
SYL