Today is Seawind photo day, our plan is to get all 4 boats together for a photo.  Jono and I may be leaving GT tomorrow, so the opportunity for a group shot is waning.  I need to be back home in roughly a month, and we are talking about making some of the out islands on the way back… so we are at the apex of our argosy.  All good things must come to an end I guess.  This picture is of Morning Glory's arrival (with the new stern extensions)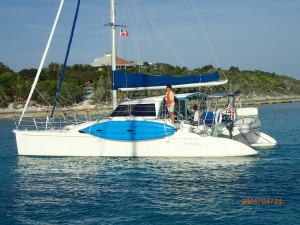 Today was a great day… again.  Everybody rode on Morning Glory over to the Georgetown side of the harbor.  We all walked the town, I got a Batelco prepaid phone "top up" Jono got some more Gumbay Punch 2 liters, and we all watched the first two regatta races from the bank.  The third race (the big 28' "A" boats) started at 4PM.  Moring Glory with all on board was on the starting line to watch the big race of the day begin.  Red Stripe and Tida Wave were my favorites… they are historically the fastest two boats.  Both boats took an early lead but had problems during the race.  Running Tide #5 took the win.  The SW flotilla all went back to their respective boats and re-convened at the Chat-n-chill for ribs and chicken dinner.
After hugs all around we left in the dark heading back to our boats.  Tomorrow everybody but Ted and Mili are leaving GT heading back North.
SYL