Today was a calm day, we shopped at Exuma Market via a dinghy ride across the harbor.  When we got back I started trying to diagnose a charging problem with the batteries.  We haven't had to charge much… but with the sunshine we have, we should be seeing more power from our solar panels.  It looks like one of our panels is all but dead, and the other is limping.  That would explain the problem.  We have some tests to run tomorrow but I suspect we found the issue.  It's not something we can or need to fix on this trip… and from what I hear the manufacturer of the panels may give me free replacements so it's something to do when a shipping address is easier.
While I was working on the solar panels Jono heard something outside.. the dinghy blew out on a long seam, one side went flat.  I took the engine off and Mike and Jono hoisted the boat up on deck where mike made a repair.   Mike has all the right glue and cleaner and the experience so he did it all.  Tomorrow we will see if it holds.  Often there are small leaks to patch after such a large blowout.  We aren't sure why the blowout occurred, it just may be that the tube over pressured in the hot sun…..  All the Seawind owners pitched in tools and experience to solve my problems, even with the issues it was a good day.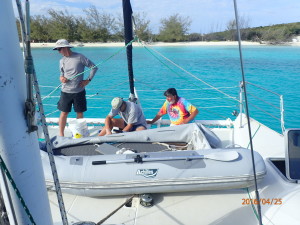 The regatta boats are practicing in the harbor today.  Bahamian sloops were the work boats of past decades, now their heritage is preserved in what is now the country's most coveted sport, Bahamian sloop racing.  This week is the "superbowl" event of the season… the culmination of months and months of local contests.  The government pays to ship all the family island local winners to Georgetown every year for the "Family Island Regatta".  This year is the 63rd annual event.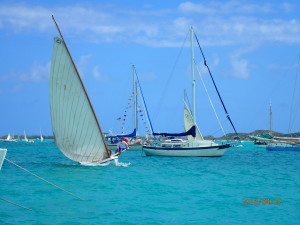 We chimed in this morning on the "cruisers net" to announce our arrival.  Georgetown draws a large number of cruising boats to watch this event, and the previous event last month where the cruisers actually compete in a big race with other crusiers.  The net happens every morning at 8AM, a host calls on channel 68 (the local harbor hailing channel) to switch the VHF radio to channel 72 for the "net".  Moderators offer local knowledge to new cruisers, there is a boat trader section where people can sell or trade boating items, if anybody needs help somebody on the net knows how to help with that specific problem so knowledge and spare parts are shared.  One of the segments announce new arrivals, all four Seawind owners told of their adventures, who was on the boat.. where they are from etc.  Then they go into who's leaving today and where they are going.   The cruiser community is well established here in GT.  There are seminars by professionals on the beach on several subjects including everything from battery maintenance to local history.  Beach church is held every Sunday around the picnic tables at the chat-n-chill.  GT is sort of the furthest distance most cruisers ever go.. the "destination" for many because everything from here South is upwind, remote, or difficult to find good protection.  GT is called "Chicken Harbor" because most people chicken out of going any farther south.
There is a large contingent of Canadians boats here.  Many leave after Cruiser Regatta in March but quite a few are here for Family Island Regatta this year.  March signals the end of the harsh Canadian winter.  Instead of second homes, lots of canooks buy a big boat and park it or sail it here for the season.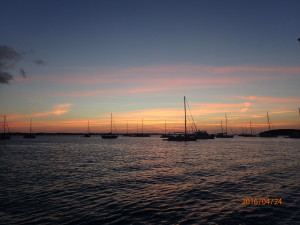 It's getting dark, our sunset was as beautiful as always, this time with about 300 aluminum trees (sail boat masts) in the picture.  Tomorrow morning I'll ask to see if somebody has a boat count, normally they announce how many cruisers are here.  At events like this, cruisers often outnumber the locals.  There are some large boats here, even a 60+ foot Gunboat.  If you don't know what a Gunboat is.. google Gunboat catamaran and see what pops up.  I have never seen as many catamarans on the water as there are now.  Catamarans may outnumber monohulls these days, apparently many new cruisers are opting for a cat, and there are more cruisers this year on the water than I have seen in the past 15 years.
Last night I opened my hatch fully to watch the stars.  Light pollution is low here so your vision to the heavens is much clearer than on land.  I'm thankful for the experience.
SYL  Rusty.