In the wee hours of the morning a huge supply ship came right by our boat, I mean within 20' of us.  I guess it's the "mail boat" that supplies Fowl Cay Resort.  He docked over there for a while then moved on.  All these islands are supplied by these mail boats as they are called.  Everything from fresh water to diesel, groceries, building materials, everything….. comes on the mail boat.  Most islands they come once a week, some remote places get their boat every 2 weeks.  If you need a tire for your car on Crooked Island, or a bottle of wine… you call the store in Nassau, buy it and they put it on the mail boat for you.  It usually makes it intact, but if it doesn't arrive whole…. or at all there's no recourse.  You may get it next week, or maybe not.  To better explain what I mean about da' Bahamas, read this sign from Ocean Cabin on Little Farmers.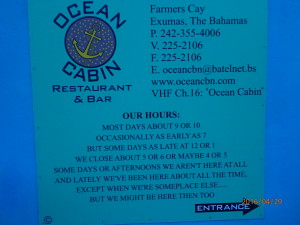 Jono made three trips to the outer beaches today…. One by himself, one with me, and another time with Mike.  The bounty was oodles of sea glass, and some nice pieces too!  He also found two more boat bumpers so he's fixed up totally for bumpers…..  I hung out on Pirate Beach while Mike and Jono went, when they got back we went up to Pirate Beach and swam to cool off after the sun drenching day on the remote beaches.  On PB we met two couples, one from Corpus Christi Texas, the other from Knoxville Tennessee on the same boat.  Both men were helicopter pilots working in Afghanistan.  Laurie form Forever Young came over about 3, Richard followed at 5 with the wine… we left immediately after he got there with the wine… remembering what happened to us yesterday.  Actually we were hungry so… we are dining on Jono chili dogs at this very moment.
5:30 – A few minutes ago Morning Glory arrived at Big Major with their firefighter friends on board from Florida.  So now we are 4 Seawinds strong… a flotilla of Australian fiberglass here in the Bahamas.  Ted did a flyby.. we told him we were returning to the beach after dinner so we will rendezvous in a few minutes to meet Jack and his family!
SYL