We left Little Farmers under sail alone and worked our way North to Jack's Bay Cove for our first big adventure on the outside.  We hiked over the narrow spit of land, Jono went one way and I went the other to double our search area.  There were tons of wood, a wrecked boat and every type of plastic bottle known to man on the remote beaches…. However you could tell that cruisers had picked them clean of the good stuff – float balls mainly… I found one but it was probably someone's cull, I culled it too.  What I did find of interest to me was a shipwreck!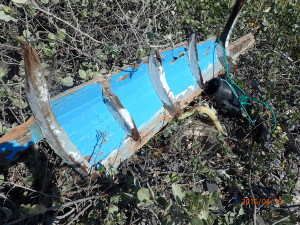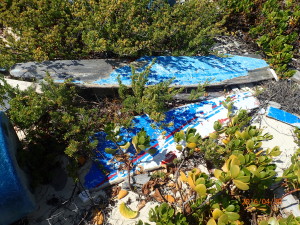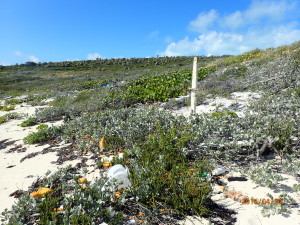 I think it was a Bahamian racing sloop by the paint on it and by the mast base I found.  I stood it up in the picture above so I could see it easily on the way back down the beach.  Being almost 3 miles away from the boat walking across lava rock, it was a huge undertaking.. but I hoisted about a 6' long section of the mast base on my shoulder and carried it out.
Luckily I was just up off the beach when Jono met me from his exploration on his beach (we went seperate ways to double our search area) so he and I carried the relic together back to SYL !!.  It will make a wonderful conversation piece in my Bahamian wood / float ball display at home.  The 65# chunk of wood is nestled nicely in the dinghy davit, where I have carried much of my Bahamian wood pieces back to Texas over the years.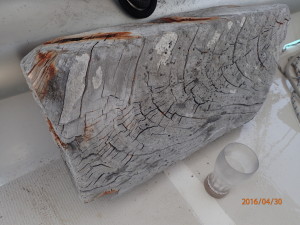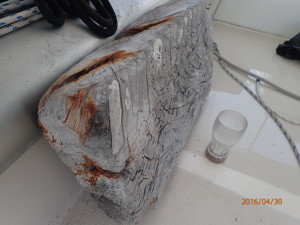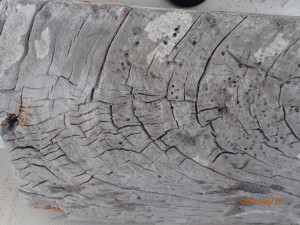 This big 2' chunk probably started its life before the United States was a country.  I don't think it's part of the sloop… it looks much older.  From a little sprig, this huge piece of wood grew up, was cut and used for years, then floated on the ocean for who knows how long until it reached the little beach where we found it after bleaching in the sun for who knows how long.  I wouldn't hesitate to say that it's a 300 year old piece of wood.  Another major effort was made to bring that piece back home…  the 5" thick 2′ long and 1′ wide chunk of wood may  be my favorite beach find this trip.
I intended to stop by Black Point and do a load of whites at the laundry… but I decided to do them in the ice chest like Jono does so we continued on the extra few miles to where Mike and Laurie are staying tonight… Big Major.  Sailing was fun.. winds were on our beam swaying aft now and then..  The water was flat and we had enough wind to enjoy the day.  We got to outrun two monohulls, one was only 36' long but the other was over 40 so that's more of a challenge.  At 9kts apparent I only had a knot or so on them, but when it piped up over 11 knots it was easy to see that SYL was pulling away.
We dropped the hook about 1PM at Big Major near Pirate Beach where Jono made massive us ham sandwiches.  He immediately dropped the dinghy and gathered his hunting gear for another big trek.  He'd scouted the charts and chose some beaches he hasn't been on for his evening hike.
It's amazing how much wood and junk are on some of these ocean side beaches.  This is Jono up high looking for the beach just before we split up.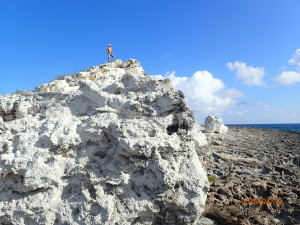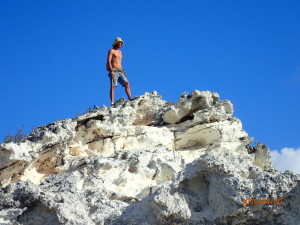 I just realized that "Forever Young" (the 78' Hatteras) was back in her place on Pirate Beach.  Laurie and Richard just came by on the way to Laurie's favorite reading chair at her favorite beach.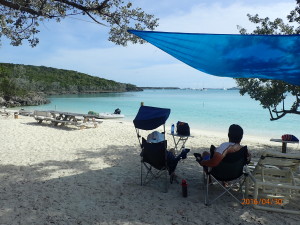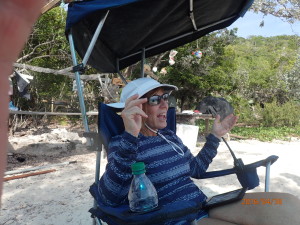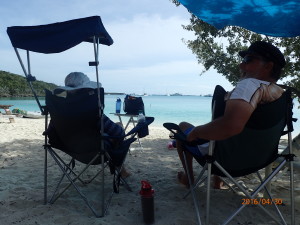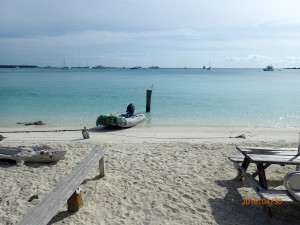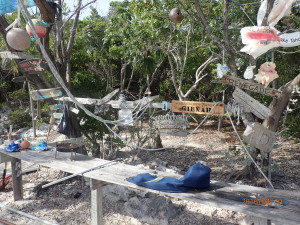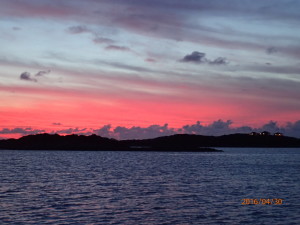 Pirate Beach Sunset
7:45PM  We just got back on board SYL, Richard brought 2 bottles of wine to pirate beach at 5, so we were pretty roasted by the time we left.  Richard and Laurie, Mike and Laurie, and Jono and I had a great time talking about how we all came to be at this spot, at this time.  It was a special time none of us will forget.  The question came up "Where is it?"  where is it better than this?  My thoughts go back to "normal people" watching TV, getting up going to work the next morning…. Here we are sitting on a sweet little beach looking out on clear blue water with great friends sharing each other's story watching the amazing sunset with our toes in the white sand of Pirate Beach.  Where is it indeed that it's better than here….. there may be that place… but it's not in some living room watching TV.   SYL