We parked at the South end of the airstrip.  Our plan for the day is to find out what "Ocean Cabin" is serving  and go there for either lunch or dinner.  Jono is on the outer beach this morning trying to support his growing boat habit (looking for treasure).  When we arrived yesterday we inflated the dinghy, so far the patch is holding so we have our "car" back.  The kayak provides alternate transportation, but more for Jono than myself.  It's not easy to get on or off the kayak these days.
I just looked over at Jumanji and Mike is at the top of his mast… he must suspect a bird pooped on the top and he has to clean it off.  I have never seen a cleaner boat outside of a boat show.  I went over and helped Mike come down the mast.  He was checking for a sharp edge that may have been chafing his main halyard.
While we were away walking the town, Jono came back with his first haul of the day…  several fishing floats… all on one beach!  After we came back to the boat and ate lunch, Jono and I went back to the junk covered beach he found all the good stuff on.  We found another huge score of float balls and some fine taylor made boat fenders worth probably $150 at the resale shop.  In all Jono and I found  one orange throw ring, 5 boat bumpers, 7 pre-war aluminum float balls… ! 14 assorted more modern float balls, 5 smaller oval float balls and 2 heavy fiber cylinders (I don't really know what they are for).  All this was on a single 150 yard beach that apparently NOBODY ever goes to..  Salvage Beach / Wal-Mart / whatever you want to call it we found a great place to shop for beach junk.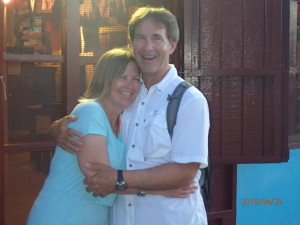 Dinner at Ocean Cabin with the group was very good.  Jono had fried fish and I had cracked conch.  Both were very good, with one beer it was a $42 dollar tab.   Steamed lobster was $28 a plate, it looked good but those that got it said it was spicy hot… but very good.  We got back to the boat after dark….. Jono made some new friends on the island; he got a carving of an owl from "JR" the local wood carver.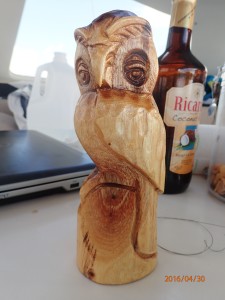 Jonathon met Jeffery, Carlos, and a few others.  I think Jono likes Little Farmers Cay.  SYL !!