Four Seawinds lifted anchor at 7:15 to make a formation fly by in Georgetown Harbor.  Jono and Mili were in the dinghy to take pictures as we approached Kidd Cove.  The boats in order are: closest to you sv "Zephyros", second away is sv "Jumanji", then sv "Morning Glory" with "Sea Yawl Later" in the distance.. but leading the pack.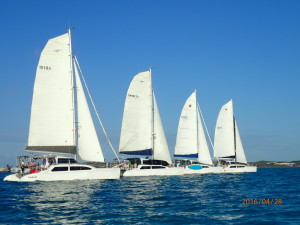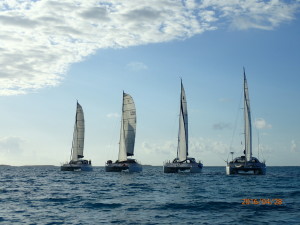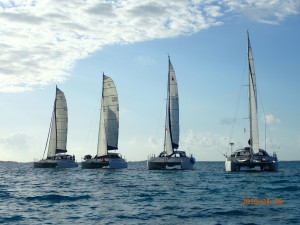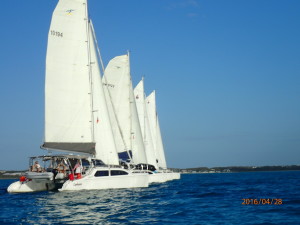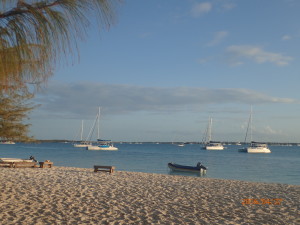 Ted and Mili on Morning Glory sailed out of the harbor with us but returned for guests arriving later in the week.  The trio of Seawinds continued on to Little Farmer's for the evening.  It was a glorious downwind sail in 4' swells and 8 knots of wind.  My fishing prowess (or lack thereof) remains intact.  I did everything I knew of to catch a fish and didn't get a bite.  Almost 40 miles of trolling and we got nothing…..  Mike and Frank caught barracuda but no game fish.
Arrival drinks were shared on Jumanji until 6:30.  We all returned to our ships for the evening meal.  Jono had thawed out some of Linda's chicken and sausage gumbo.  We ate it over rice and crackers with plenty salt and hot sauce….  Great finish for the day.
Stargazing was nice, I spent 15 minutes watching satellites move through the night sky – still lit strongly by the sun.  It's quiet here, no generators running, no boats running thru the harbor all night… Little Farmers is much different than Georgetown on Regatta week.  The "zoo" was fun to see… but this is better!
SYL