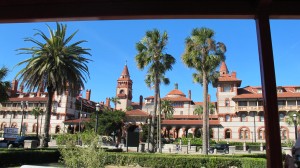 You can not visit St Augustine without hearing the name Henry Flager. His influence and love of the city is pervasive so I thought for those fellow history enthusist such as myself, I would share a little of what I learned about Henry Flager.
Henry Flager was born in New York in 1830, made and lost his fortune the first time in the grain industry. Mr. Flager made his fortune the second time by being a founding partner, along with John D Rockefeller, and "the brains" behind Standard Oil (now known as Exxon and Mobil).  Standard Oil was the largest and most profitable corporation in the world for more than a century.
As successful as Mr Flager's professional life was, his personal life was fraught with great personal sorrow.  He married Mary Harkness in 1852 and their first child, Jennie Louise, was born in 1855.  Jennie died during childbirth at the age of 34.  The child did not survive. Grief stricken, Flager engaged over a thousand workers who worked around the clock to construct the Presbyterian church in St Augustine as a memorial to Jennie.  The church was completed in a little over 300 days as planned so a memorial serve could be conducted on the 1st anniversary of his daughters death.  Mary and Henry's second child, Carrie, was born in 1858 but died at three years of age.  Henry had one surviving child, a son born in 1870.
Mary had health issues for many years and in an effort to improve her health the Flager's spent the summer of 1878 in Jacksonville Fla. They loved the town but found transportation and hotel accommodations inadequate. Mary's health did not improve and she died in May of 1878.  Two years later he married Ida Shourds and spent their honeymooned in St Augustine and again loved the city but found accommodations lacking.  Ida suffered from a mental illness and eventually had to enter an asylum in 1895.  He married Mary Kenan in 1901 and moved to Palm Beach where he continued his projects….but that story is for another day.
Henry saw great potential in Florida with it's temperate climate as a huge tourist state.  Flager left his active role in Standard Oil and his love affair and development of Florida began and continued until his death in at the age of 83.
Flager's first project was the 540 room luxury hotel the Ponce de Leon.  It was built in the Spanish Renaissance Style which would influence the future architecture in St Augustine.  He hired Louis C Tiffany to decorate the interior of the hotel.  Tiffany's work can be seen in several of Flager's projects.  The Flager estate houses the largest "still installed" tiffany windows in existence today.   The appraised value of the windows is 38 million dollars.  In 1968 this famously successful hotel became the centerpiece of the newly formed Flager College, nestled in the middle of the historic district of St Augustine. Flager recognized the need for transportation to his hotels so he purchased the Jacksonville – St Augustine and Hailfax Railroad that would eventually become Florida East Coast Railway.  You could board in New York and 36 hours later be out of the snow and in Florida.
Flager was also known for being responsible for building two other churches in the historic district of St Augustine.  Flager wanted the property that the Methodist Church was sitting on for a hotel so he approached the church and said he would build them another church on another site, which he did.  The Baptist apparently thought "well he helped the Methodist, maybe he will help us".  He did but with stipulations.  He gave them $10,000 which they had to match and had to complete the building project in one year.  One last stipulation was they could build a bell tower if they wanted, but they could never put a bell in it.   All three churches, the Presbyterian, the Methodist and the Baptist, were all within blocks of each other and Flager did want the Baptist bell to conflict with the massive tube organ in his monument to his daughter Jennie, the Presbyterian Church.