When we left Islamorada this morning the plan was to go to the Abacos.  I even posted on Women Who Sail asking for information.  The response was overwhelming.  I got so excited about the wealth of information that I was getting.  I started looking in the guide books and planning our itinerary.  We have friends who live in Ft Lauderdale and have been to the Abacos so we contacted them about the best way to approach Abacos  from Florida.  Long story short that if we go to Abacos and then want to go South it will not be fun sailing south.  I think we have decided to leave Abacos for a time when that is all we want to do.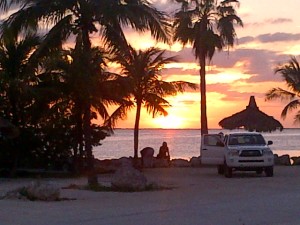 We are docked at Gilbert's Resort for the night.  This photo was taken with Rusty's phone.  It did not transfer well but the sunset here was beautiful.  One of the things that I never tire of are the beautiful sunsets on the water.
Here is a picture of two car's in Gilbert's parking lot.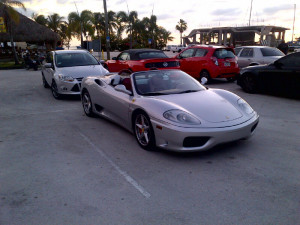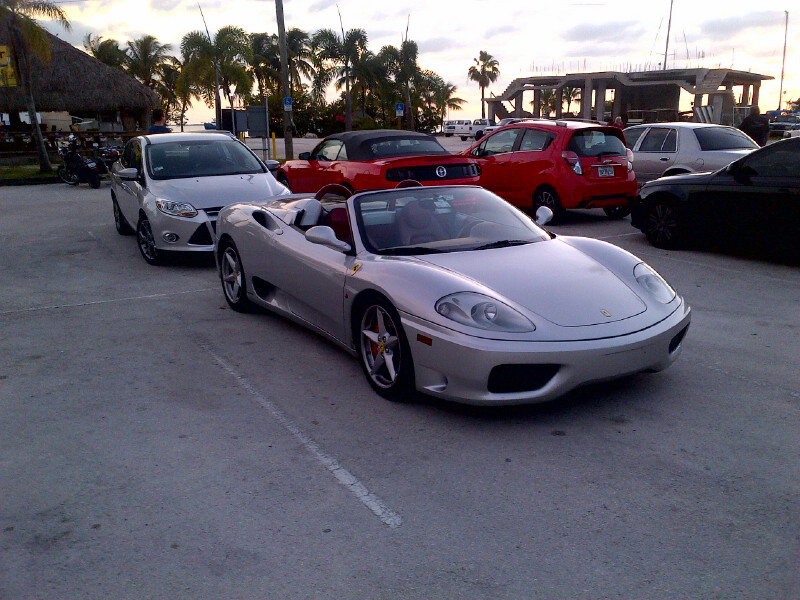 Can you guess which one is our rental?  Hint: our rental cost us $39.00.
We will get errands run tomorrow to K-Mart, West Marine and Publix. We should cross the Gulf Stream early Saturday morning heading to Bimini.  Back to our original plan.
Rusty here:  Yeah.. plans change literally with the weather.  Going SE into prevailing SE winds for hundreds of miles doesn't make sense.  So we probably won't go to the Abaco's early in the trip.  Big decisions huh?  So far we have avoided any really big weather / waves and hope to do so for a while longer.  If we decide to head out of Bimini after a day or two… we might have to "rodeo" a bit.. but I seriously doubt if we choose to do that.  I suspect we will be in Bimini until we get near flat water……..
SYL !!  Rusty