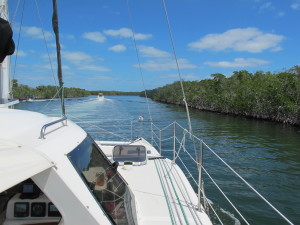 Rusty returned the rental car and we left Giberts around 5:30pm…right on schedule.  We had been looking at Passageweather for several days and decided that we would leave Gilberts and make our way to Angelfish Creek and do a night crossing.  Rusty has always preferred night crossing especially when crossing to Bimini.  We knew it was not going to be the best of conditions but thought it would be ok……well….
It was not the worst of times nor was it the best of times……we did our homework, checked with passage weather, listen to Chris Parker and decided we would jump off into the Gulf Stream Friday night. It was not scarey but it WAS uncomfortable and I had to fight off getting seasick because we were beating into the waves. The waves were only 1ft to 2 ft but they were choppy and the intervals were short. In this situation I am of no help to Rusty.
We had not been out of the Angelfish Creek Cut for very long and we heard a large aircraft flying low over us.  Rusty said it sound like "a C 1 30 Coastguard airplane.  We didn't think too much about it.  About 11:00pm we had a light beam shining on us intermittently and it was starting to make us nervous.  This is the first time we have crossed without a gun or two and I can tell you now it will be our last.  We didn't know who or what was following us but someone was definitely following us.  Then the U.S. Coastguard with beams shining on us approached and said they wanted to board us.  Now it is choppy and rough and they had some trouble getting lined up with us.  But board us they did.  They wanted to see our boat papers, passports and inspected our boat.  Before they boarded they asked questions about how many people were on board, whose boat it was and other things that they could verify once they were on board.  It was scary and intimidating and I told them just that.  I asked why we were boarded, I mean this is 11:00pm and in rough seas.  They said "they said they must patrol this American border.  I am thinking, "Do we look like terrorist" ( I didn't say this).  They mentioned drugs and I did say rather incredulously, "You think we are druggies?".  Two came on board and one went down both hulls and looked around.  They checked that we had flares and our horn which were prominently displayed.  They asked if we had a VHF radio when they were standing less than a foot from the radio and they were having to yell to talk over the radio that was on.  Then they said they were checking for, "our safety", I thought "Yeah Right and I am Kim Kardashian".   We think the airplane that flew over us sent the Coastguard boat.  We just don't know why.  None of the answers we were given made any sense.  I do appreciate that these guys are out there and it does make me feel safer knowing they are around but for some reason we get targeted all to often.  We have been boarded by customs twice, two years running.  You would think if we were drug runners we would choose a vessel that went more than 6 knots.  I can tell you this….it is intimidating.  But when I think of the Kaufman family that was just rescued at sea by such brave men I just say, "Oh well, I am glad they are around".
That boarding episode got us off course and meant that we had to beat back into the waves for an additional 1 1/2 hours.  Finally I just went to bed. Rusty says he did fine but I know it had to be hard to be at the wheel all night.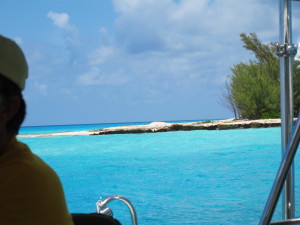 We arrived at Bimini at 6:30am. We anchored out on the North side, ate, rested, flew the quarantine flag and anchored up to go to customs. I am on the boat while Rusty deals with customs. Only the skipper is allowed off the boat until we are checked in. We have already been to one office, got paper work which I completed and now Rusty has moved SYL to go to another office.
Onto the more pleasant things. It does not matter how many times I see this water, but it still takes your breath away when you see it again for the first time in a while. Bimini has changed… a lot! It is good for the locals I am sure and for that I am glad. You can see the new prosperity everywhere. New docks, new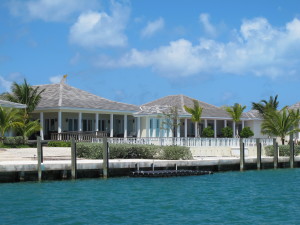 buildings, many new boats (local) on the water, multi million dollar sports fishing boat lots more homes in good condition and freshly painted. There is a huge cargo ship offshore waiting to bring their goods in and I have seen several barges filled with building materials.  A large cruise boat was anchored off shore and large ferries capable of transporting several hundred people were bring people into the new resort.   
Sea Yawl Later!!