The morning is clear and cool, but not too cool.  We didn't run the heater last night so the cabin was 63 this morning.  Nice under the blanket but a little chilly getting up at first. 
The tidal range here is amazing.  This morning it's high tide and I can see the stripes on the pavement in the parking lot, at low tide you can't see the cars in the second row at all.  The sea level varies 7 to 9 feet twice a day.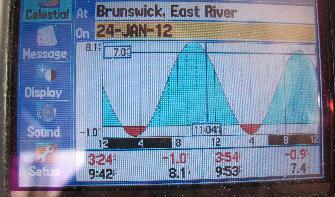 Brunswick has a wide range of sea birds flopping around in the harbor, there are the normal cormorant diving birds and sea gulls, a few pelicans, but oddly crows caw from the trees every morning and there is a neat looking duck that's always swimming about.  The ducks are black with a large white crest that starts on top and goes behind his head.  They are about the size of teal but they also dive like a cormorant.  Just before they dive they fold all that head gear back to make them streamline.
The marina is tucked in a couple miles from the coast up the river.  The geography gives us a super calm anchorage.  Even when the wind is singing in the standing rigging there is little more than a ripple on the water.  Consequently people from all over the US (especially the Eastern seaboard) leave there boats here during the hot summer.  Sailing season starts about now and ends for most folks with the start of hurricane season.
There goes one of the white headed ducks…. they are wary little birds.  If your outside they don't come that close to the boat.   With the pronounced white feathers on their head they are very distinctive.
John and Carolyn just walked by going for coffee with some dock mates.  They said they are having their bottom cleaned Thursday so they won't leave when we do if we go to the Jacksonville boat show, but would catch up with us soon.   That means we will probably leave early in the morning for J'ville.  Our first stop is a remote anchorage 10 miles North of Fernandina in Delaroche Creek.  We stopped there on our way here and marked it in our book as a nice stop.  It's wide open so there shouldn't be any bugs but lots of wildlife.   We saw dolphins and lots of waterbirds.  You can tuck in behind a sandbar so the current isn't bad and your totally away from tugboat traffic.  You have to putt around and check your swing radius depth clocsely because of the tidal range is so wide.  If your in 6 feet of water when you anchor at high tide, you'll be 1 foot up on land at low tide.   Once we get well into Florida we won't have to worry about radical tide swings.
This is day one…. day one of no more stinky holding tanks!  We officially christened the composting head today.  I know.. I know…. talking about such facilities may be taboo.  But when it's such a nice change I felt it very note worthy…. and then again, think about who your reading here…  I find very few subjects far enough off limits that I can't express them fun enough to not cause flinching.
Off to wash the bow of the boat…. oops back inside.  There are biting gnats that swarm thru in the morning and evening.  I'll wait to wash until they go hide.
7PM… well there was a short "no gnat" window today.  With no breeze they were quite the pest.  We did get our laundry done and I washed part of the bow but the bugs were terrible so I didn't finish.  We had a great evening meal, filled the water tank and are set to go in the morning.  There are a few things to do first light.. but not many. 
I suspect we will get away around 8AM Florida, 7AM Texas time.  We have many great anchoring options on the way so we will go as far as we want to and stop.  The two legs to Jacksonville are short 40 mile runs.  If the river to J'ville is flowing in off the ICW… we will shoot home quickly the last 18 miles Thursday.  If not we will have current to face.  According to my gps we will have an early shot at good current, but as the day goes on… not so much.
Tomorrow is our first opportunity to sail!   The wind (if any) should be from a favorable direction.  I'm off to check weather again.  Earlier today we had 2 1/2 days before the possibility of rain.    The ICW is never much of a challenge weather wise.
Sea Yawl Later !!