Day 2 of Laguna Madre
We woke up around 6:00am to high winds, the standing rigging was singing to us.. dark clouds, and lightening all around.  The winds can be impressive in this part of Texas.  I suspect we had winds close to 60 miles per hour during the height of the storm.  I love our Manson anchor.  I never worried a moment that she would hold.  We have had other anchors that would have given me worry but our Manson.  She has proved herself over and over again (and no I get no kick back from Manson).
We could see the storm cell on radar so we knew the cell was only 12 miles wide so we would only have bad weather for an hour or so.   With the storm past we left our lovely little spot we named "flamingo island" around 7:20 am.  Given the prevailing SE winds… we expected to fight the waves and wind the whole trip but the storm changed everything.  The little front pushed us right along on NW to N winds.  We were able to sail all but about 2 hours today.  Wind was on and off in great quantities.. with storm cells about, as the direction changed we would go calm.. then wham.. form another direction.  We went from motoring at 5  to sailing downwind at 11.9 knots.  We put two reefs in the main to have better control on this blistery day.  Part of our sail was a little lively before we reefed!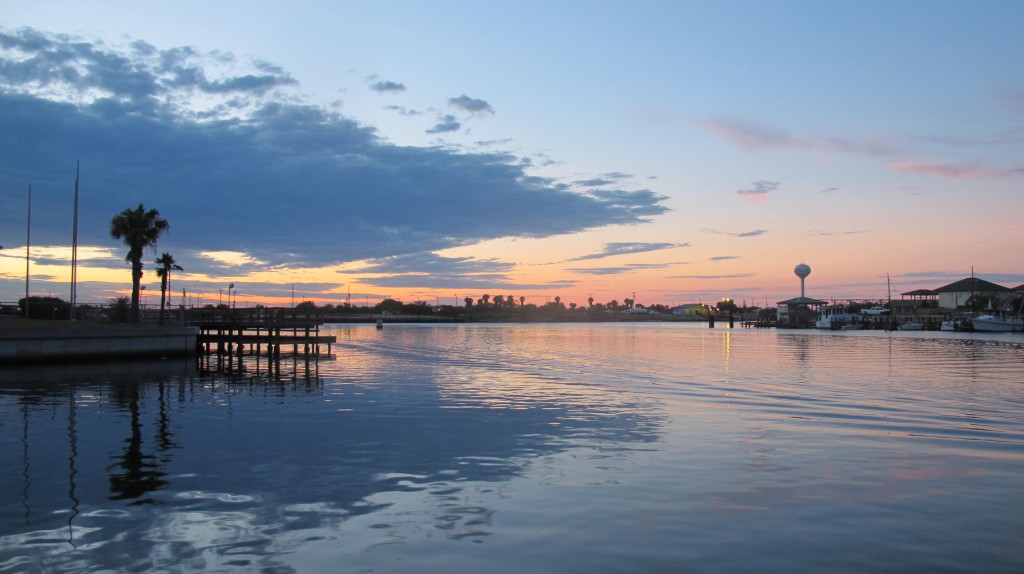 The Laguna Madre is a long shallow hypersaline lagoon along the Southern Texas coast.  It is separated by the roughly 20 mile long Saltillo Flats land bridge into Upper and Lower lagoons.  The two are joined by the intracoastal Waterway, which has been dredged throughout it's length.  The Laguna Madre is about 130 miles long the full length of Padre Island.
Rusty and I both had called Port Mansfield several times checking out dockage.  We were told that the cut gets to 2.5 feet with fine silt.  We draw 3.2 but thought we would give it a try since we were told we could push through the silt.  We made our way slowly into the cut and though we found the silt, it was thin so we never lost forward progress.  We had made reservations at Harbor Bait and Tackle…. Double checked several times to make sure they had power, we arrived to discover but their "power" was a rusted and rugged looking household outlet half nailed to a broken down creosote post.
Obviously, the main traffic here is shallow draft fishing boats that would like a place to plug in the battery charger… but no big deal either way.  We were about to give up on having power for the AC at night when a good Samaritan heard of our situation, made some calls and found a place with 30 amp electricity.  Awesome!
The municipal docks had real boat power, so we hooked to the grid and slept very good in the calm little harbor.  Port Mansfield has power at the municipal marina, another had fuel and ice at another but no singe facility has everything…. I guess that would be a monopoly…  There is one small restaurant in the harbor.  Think "biker joint" only it's for shrimpers….  Basically a rough little club that serves food.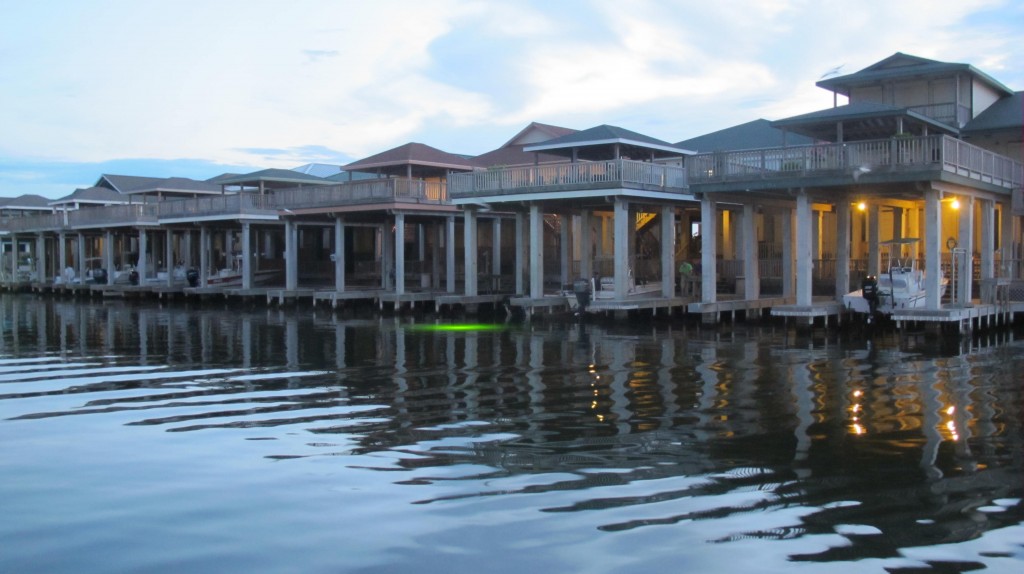 Fishing is the industry around here.  Everywhere you look there is a boat out fishing.  You will find makeshift cabins on stilts and some very nice weekend cabins spotted all along the Laguna Madre.  It reminds me of Stiltsville in Key Biscayne, Florida.  They are not as large but much more of them.