Laguna Madre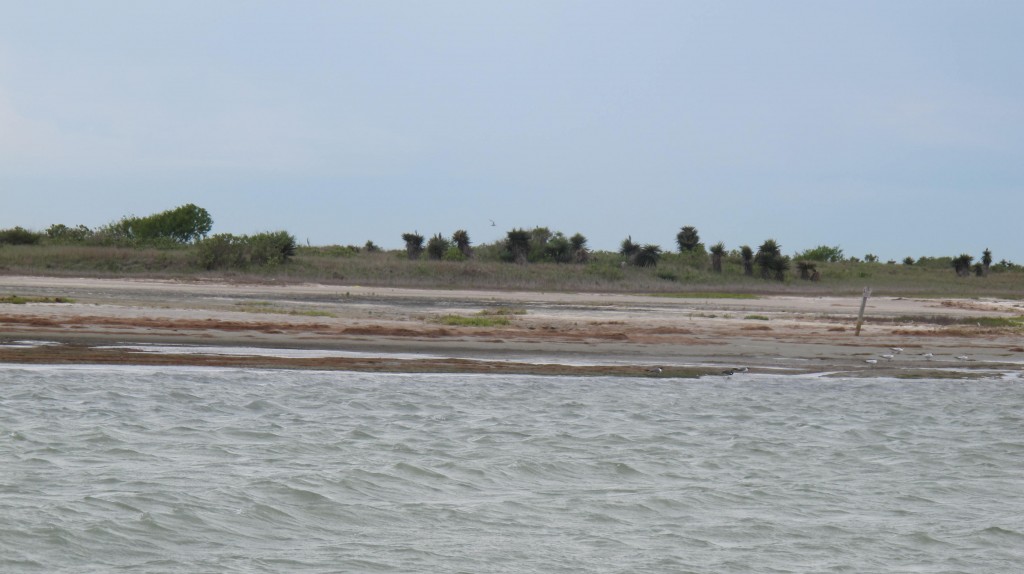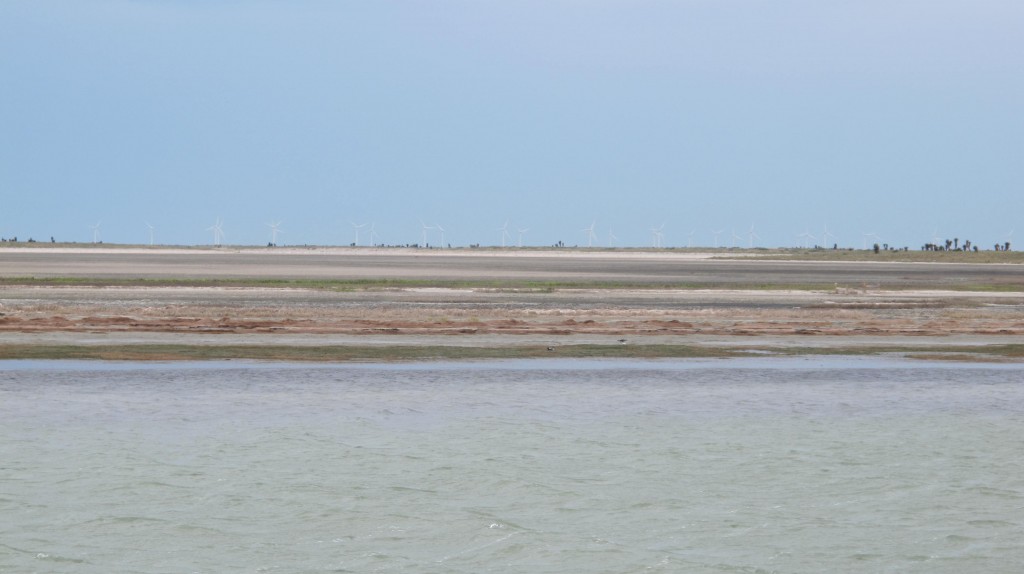 We left Corpus Christi Municipal marina at the crack of 10 or thereabouts…..  The plan was to get up early and strike out for points South but we stayed up late / went to happy hour with Mark and Julie at Landry's Friday night so we weren't perfectly fresh come early Saturday morning.
Linda packed early Saturday morning while I slept in, I guess I got up about 7:30, around the time we planned on pulling away from the dock for our 10 day excursion to South Padre Island.  Anyway, we were on vacation so timetables are not as tight as work days.
The 2 hour sail across the bay was nice.  Quite often the wind blows like stink here in Corpus, but this morning we were looking for a bit more so we motor sailed half the time to keep 5 knots.  Luckily the wind was on our Starboard beam… what there was of it.  We expected to have it on our head most of the way South, but Saturday proved to be better than expected when it comes to wind direction.  By 2:00 we were sailing down the ICW at 5 to 6 knots.  It was a bit of a pinch to hold 200 degrees, but it worked!
The channel is very narrow in places, and the hard part is… there is shallow water for acres either side of the channel so it's difficult to see the fairway.  The first time I ran aground was outside the green cans dodging a huge tug boat.  The second time I was dropping sail to stop for the night (at 4:30).  I was paying more attention to the sails than my position in the channel… whommmp… aground at 4 knots…. It took a bit to get off.
We stopped early because I found val-halla.  A picturesque little sand spit island that begged to be explored.  My target destination was still 14 miles away, but I'd only seen the cut I planned on stopping at on Google Earth.. and I had my eyeball on the perfect little spot so we pulled the pin.  Our little sand top island proved to be a great spot to swim under the boat.  There was a bit of grass in spots I hadn't planned on, but other than that it was wonderful.  We bobbed in the warm bath water of Laguna Madre for 3 hours.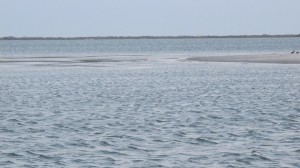 Our Saturday night island is a few miles short of Baffin Bay.  Tomorrow we will probably hook up to the grid in Port Mansfield for the night.  I'm not sure how far that is, so if we see another great "bobbing" spot, chances are we will stop earlier…. before we reach Port M…. who knows… we are on vacation.
Laguna Madre has not disappointed us… we have travelled much of the ICW and this is as pretty a cruising ground as we have seen along the big ditch.  Linda made a great little dinner… we both showered, enjoyed our meal and watched the pink flamingos feed around the shallow skirt of our own little island 200 yards off the beaten path of the ICW.  We are parked in 41/2 foot of water, there is no perceptible tide this far from an outlet to the Gulf.
Well, its very dark, the little Honda generator is running the boats AC, I made the bed and I'm not far from climbing in it.  Before I go I will check the distance to Port M.  Decide how early we want to get up and head out.  Today we sailed a lot, tomorrow once we round the corner at Baffin Bay to head closer to true South, I expect the wind to be more in our face, it will probably be a motor sail on the main all day.