Its getting close……..    We will leave for Destin looking like the Beverly Hillbillies on their way to Caalifornee.  I plan on tying the top of the arbor to my station wagon roof rack.  The trailer I'll be pulling will hold more stuff without the top section of the arbor inside.  The legs of the arbor fit nicely, but the top is more 3 dimensional so its better riding outside.  Boxes and stuff that can't get wet need to ride on the inside.  The arbor came out nice… it's made of PVC, no wood to rot and no paint!  Pretty sweet if you ask me.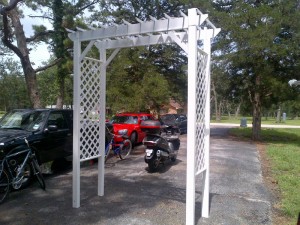 The legs are long because they will be buried deep in the sand to hold it up for the ceremony.
I'm toying with the idea of doing a sand sculpture at the feet.  I may do some testing to see how that might look once we get to Florida.. but I'm not going to stress over it.  I would have plenty help carrying sand with all the groomsmen there for the week preceeding the wedding… lol.  I'm thinking about a single base for each leg with an initial in it.  I may build up a step for the preacher so he can see and be seen over our rather tall bride and groom.
I like the idea of elevating the preacher and even the bride and groom to an extent.  It will make nicer pictures and help the crowd see the event.  I think we had 92 RSVP's at last count.
I'm sure the event will be a success.  Planning has been meticulous so maybe we didn't forget much.