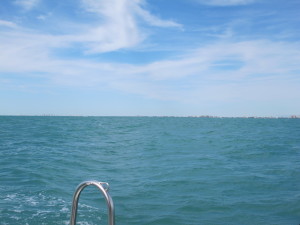 We are approaching Islamorada, Fla.  Yesterday was a great sail to Little Shark River.  We got our anchor down around 5:30pm.  We met a lovely couple from Niceville, Florida that had been gone since November and were on their way home.  They told us that they had gotten an ipad and bought a sim card from Balco for $14.99.  They were able to get internet pretty much everywhere.  I have an ipad but I am not sure if it has a sim card.  He also said that most smart phones can take a sim card.  That would be sweet, especially after todays drama.
We did not have a cell signal all day yesterday and didn't get a signal until around 11:00 am, at which time I got a frantic message from my daughter Erin.  She is pregnant with her first baby and my first grandchild so she is a little hormonal.  She had an OB appointment and has a few issues and really needed to talk to her mom.  When she couldn't reach us she then went to, "something bad" has happened.  She was in tears by the time I was able to talk to her.  She told me I needed to tell her if I was going to be out of reach.  Then I had to explain that I didn't KNOW I was going to lose cell service…………bless her heart…………..she really wants me close but she will NEED me more in that last tri-mester and when that baby gets here.  I wish I could clone myself sometimes.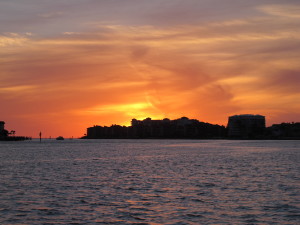 Sunset last night at Little Shark River.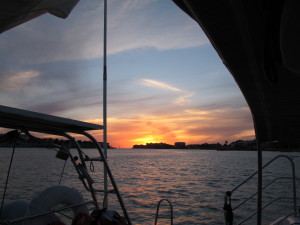 Today we were able to sail more than we expected with an East wind, but the day eventually included a lot of motoring.  The southern Florida Bay it was like a minefield, there were crab pots everywhere in the channel.  There were times you just could not miss them.  Once we had two on one rudder and one on the other.   The problem was, the buoys might have six or seven foot of line floating beside it so if you barely miss the float.. you got the line anyway.  It really is a hazard.  I think if Rusty had had a machete on board he would have started cutting lines.
The weather has been beautiful, we are currently (5:15PM) anchoring in the mooring field in Islamorada.  Tomorrow Rusty has a list of parts he needs from the Caribe Marina here in Islamorada.  It's a great place, you can pull right up to their fuel docks, take on water and shop for marine parts all at the same time.  He also plans on listening to Chris Parker to see when a good weather window will open up for a Gulf Crossing.  Other than the crab pots it was a good day, not much broke, and what did break was cheap.
The new mainsail is fantastic, unfortunately it was installed with very light 5/8″ wide strapping so one connection has completely failed, and the others are suspect.  Hopefully the marine shop has some heavier strapping.  Rusty really enjoyed playing with his new sail the past couple days.  He talks about how tunable it is compared to the old cruising sail.  So far our top speed has been 11.9 knots.  Monday the waves and winds allowed a bit of surfing so Rusty was smiling and I was down below in the bed sleeping thru it.  We have been seeing a lot of 8 knot speeds, some 6's and some 9's.  The peaks we talk about are when the stars align and Rusty hand steers down the right wave face just as the wind pipes up.  He has been a happy boy!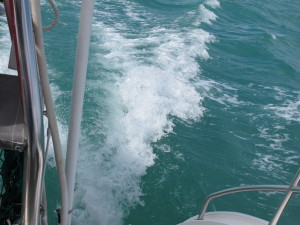 Under sail.  This photo does not due the water justice.  It was soooo pretty.  You forget how green and clear the water is and this is nothing compared to the Exumas!
We had salmon croquettes and oven roasted onions and potatoes for dinner.  Rusty smiled and thanked me a lot so I guess he liked it.  I'm a crab cake snob and didn't like the patty as much as Rusty, but I'm glad he enjoyed the dinner because we have several cakes to reheat.  Our boat stores probably rival a caIrnival cruise ship.  One thing I like to do is satisfy my hubby in the food department.  I can't sail but I can cook!
I am having to relearn how to post photo's.  Hopefully I will improve with practice…………..you get the idea!!
Sea Yawl Later!!
Linda