Here we are, the 3rd day of 2017 and I haven't heard from my boy Jonathon all year.  Miss Adventure is parked off the beach at the "Chat-n-Chill" inside the harbor in Georgetown Bahamas, but seriously we haven't heard from him in weeks.  He turns spot on now and then to let us know where he is, but I'd like an update if you're parked next to the boy…. Lol.
A good friend of ours anchored at Monument Beach on "Cats Meow" sent me a text regarding Jono this weekend. They say he seems happy enough.  I asked them to relay a message to the boy for me.  Jono had his dinghy and motor stolen several weeks back and I'm trying to coordinate a replacement, Jono if you read this check in will you?  Ted and I need to know when your buddy is coming by to pick up your care package.
I hope everyone's holiday was filled with joy. Mine was, we saw all the grandkids.  Speaking of grandkids I have a garage project going for one of mine.  From 1987 to 1998 I raced 2 cylinder power boats.  Recently I was cleaning out my race trailer that hasn't moved for almost 20 years, I found 3 boats I had left inside the big 36' box trailer.  These boats are 10 to 12' long flat bottom wood boats.  They all had some wood rot, none were salvageable for water service again but my step daughter Erin and her husband asked me if I could repurpose one for the grand baby.  The picture below is of my favorite boat the first year I owned it.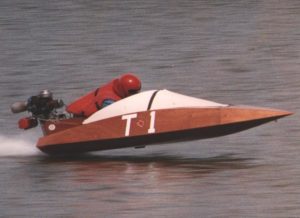 The photo below is what it looked like when I pulled it out of the trailer.  ↑ This is what it looked like new running in Litchfield Illinois.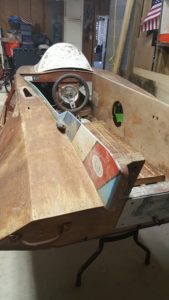 I'm reconfiguring it into a bed frame.  This boat is really special to me, we raced all over the USA from New York to Florida, to California.  Lots of good (and crazy) memories were made in this boat.  As you might imagine driving a 100# boat on your knees at 70 mph is fun enough.. but it's even more exciting when 11 other drivers in their 100# boats are right next to you, all jockeying to be the first one around turn one in the 3 lap race.  The motor in the top picture is a 25hp 2 cylinder OMC.  With that motor set up for 3 lap racing I would top out in the high 60's.  On a different (lighter) boat I designed and built, I set the world 2 cyl outboard speed record for the class with that exact motor.  Using a special 1:1 drive lower unit, I went 83 mph at the straightaway trials down in Florida.
I've replaced almost all the rotten wood and have reconfigured the decks and cockpit framework to accept a bunk bed mattress. This is how it looked last night.  I did put a few more dash framework pieces on after this photo.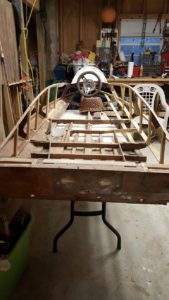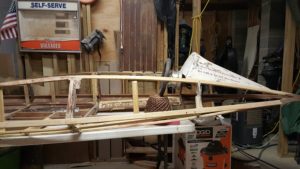 It needs a good scrubbing inside, after that it's nearly ready for the inside skin.  I did most of the framework for the dash last night after these pics.  Two year old Shawn will be able to sit on the end of his bed and drive….  The wheel will be higher than in this photo, I was getting some ideas of how the wheel would look in this pic.  The white cowl will open forward for toys, or linen.. whatever mommy wants to keep in the nose.  Much of the frame is new wood, I've got about 50 hours in the project so far, not bad.  I bought some nice 5mm birch plywood for the skin, the floorboard will be 1/2″ cabinet grade Birch.  I guess I'll put the race numbers back on it like they were….  Kinda cool I think.
I couldn't bring myself to throw this one away… glad to have a good use for it.  Erin is keeping a picture log of the progress on Facebook.
Jono….. email, text or snail mail or carrier pigeon huh!?