March 31, 2011

The "plan" is evolving.... Weather changes everything. Saturday and Sunday look beautiful so we will sail to Ft. George for some shelling, possibly make high tea at 3:30. Sunday might be spent on this spot in Leeward Pass. Monday and Tuesday look like a couple days of high wind so we could go into a marina for land travel those days.

Linda here...plans not only evolve they are very, very fluid...lol. We are currently sailing back to Turtle Cove Marina. It is a lovely sail just too short. We decided to go back to the Marina so we can clean the boat and have good internet. I need to do some important emails and I hope to receive answers before we are out of range again, hence we are going to the marina now instead of in the morning. Sally and Hugh arrive tomorrow mid day so that would not give us much time. The T & C was my idea. It was not researched or well thought out. I was initially afraid I had made a HUGE error. This is not a cruising ground but we have found some wonderful things to do and I am glad we made the trip. It is not a cruiser destination spot but more of a staging area to go on to the DR. I don't think I would come this way again unless we planned to go all the way to the Virgin Islands. We have talked, albeit briefly, about doing that but we both want to do the US east coast.

It was warm here today, the AC is struggling to make it cool. At 6:00 it's over 80 degrees.... hey I'm not complaining... We ARE at Latitude 21.... I think we will eat at the "Shark Bite" tonight... I'm craving that hot dog Linda had last time and she read that their chicken wings are world class so that may be the evening fare.

I fueled up when we came in today. It took 44 gallons. We were happy that gas is only $5.30 a gallon here.... lol. Much better than the 5.90 we paid in Mayaguana, plus the tip to the driver that took us to the station with our cans. It's after 6... I am about to go eat....

7:50PM We did the Shark Bite, I had the hot dog and Linda had the wings. The wings were overrated... Linda ended up eating half my hot dog... but I did get a Turks and Caicos tee shirt!

SYL

March 30, 2011

Wednesday 11:17PM: OK, we have found enough to do on Provo to actually leave the marina.... It's not the cruisers paradise the Exumas are, but don't count it out as an amazing destination either... it's just different than we are used to but offers lots of stuff to do and see, just not so much by boat. Provo lends itself well to fly-ins who take excursions.. or rent a car. Even the snorkel sites are accessed by driving to a place and swimming out to them if your not into tour boats and the masses... navigation in and around coral heads along the beach by boat can be tricky. This is where the cartographers ended their quest to mark every nook and cranny for the cruisers.... because it's not a cruiser Mecca, it's more of a land based destination to access the surrounding water if that makes any sense.

We are nosed in.. sitting on a small beach at N21,49.981 by W72,08.478. For those that don't have charts... that's on the extreme Western tip of Donna Cay, inside the Leeward Cut in Provo. This spot marks the intersection of an ocean access cut (Leeward Pass) and four dead end channels that are all great anchorages. This morning we went outside the reef and sailed a bit, then came back in Leeward to discover this area. Side note: the bottom cleaning job did wonders for our speed, we saw 8 knots in 15 true...I haven't done that in a while.....

Our present location gives us access to several things by dingy. #1 is beach access, either inside the breakwater or out. #2 is "Princes Alexandria National Park" from here I can see where excursion boats pull up to walk the beach front nature preserve.... #3 is snorkel spots, I have seen and located several places the excursion boats go in shallow areas for snorkeling. Not to mention the scenic view from here, it's good in most any direction. This little beach will be good for several days of relaxing, you can even get off the boat and walk on a small but rarely trod spit of land from the bow stairway. We are out of the current, out of the way, yet right in the middle of it all.... good find.

Finding a useable beach on the protected inside is hard, there are long crusty shallows that guard the beaches. I found just about the only place that is deep enough close to the beach to be able to put our nose in the sand. The Ocean side beaches like Half Moon bay are easy to pull up on, but it if the swell is running you can't beach the boat.... I think we found some comfortable options to do the things we enjoy. I'm really glad the weather window to come to the T&C was early so we could find places like this... Until today it looked like the best option was to see the T&C by car from the marina, but this will certainly do as a major home base.

<------- See the footprints in the margin?... those were made last year by our next guests.... Sally and Hugh Whynot on Musha Cay in the Exumas (David Copperfield's Island). I look more forward to them coming now... as we have found some cool places to hang out.....

4:12PM When the tide lifted us off the sand of low tide about, 3:00 I decided to wander further into Leeward Cut. We did that and are anchored 60' from where we were previously. The Leeward Marina is a huge mega million dollar resort that is yet to be completed. It has massive floating docks.. easily the best facility within 300 miles. The docks are EMPTY, even though there were guests at the resort. Apparently the marina is not in full swing yet but everything there was lovely and huge. If it makes full bloom it will be the jewel of the Turks and Caicos. Just past the Marina is the car ferry that brings Provo vehicles over to North Caicos. It's basically a tug boat that pushes a barge with cars on it to the other side. Past that is a fishing marina that sells gas, it has no slips for big boats but services a large contingent of flats fishermen. Skinny water ended our trek into the cut at the fishing docks, so we returned to our anchor spot on the West end of Donna Cay (pronounced "Key").

There are many opportunities for anchorage along the Provo side of the Leeward channel. The channel is 11'+ all the way in from the sea. There are private residences along the Provo side of the cut... nice places with private slips, not big but no doubt exclusive.

One of the attraction here is whale watching. Apparently this time of year Humpbacks pass through between the Turks and Caicos in the 9,000 foot deep "Turks Island Passage". It is a very deep passage around Longitude West 71.20, a known route for newly calved females. This morning we headed out toward Grand Turk Pass from Ft. George's Cut, but after more study found that it was too far to go in the time we had, so we turned around and came here..... Tomorrow (Thursday) I will probably do some Dingy excursions to check out the area. Then Friday morning we will go back to Turtle Cove to pick up our guests.

We are deciding if we need to rent a car Friday morning. To me it makes good sense to rent the car... go get our people at the airport around 1:00, go to the store, and have the car until the next morning, turn the car in 11:ish the next morning and go exploring on the boat Saturday.. We turn the car in right there in the marina so it would be easy.... We might pull out of Turtle Cove mid morning and go sailing!... I kinda' like that plan. The taxi ride from the airport would probably cost the same as a 24 hour car rental.... so that's a done deal.

To me it makes good sense to sail East as far as we want to go (depending on weather) then work our way back here day by day. We did a good chart study about making it to the Whale watching area....... It would have to be a 20 hour run to South Caicos... there is no place to stop in between... So I doubt we will do all that..... sorry for mentioning it..... we will go as far as Fort George and that's probably it.

The plan is coming together.......

March 29, 2011

We are back on the same sandbar we left yesterday... when I say ON.. I mean it. I tried sneaking across the bar just after high tide on the way out and got stuck... lol. That's OK, we will play on the bar, clean the bottom of the boat, and I'll go discovering in the dinghy to see where we want to anchor tonight. We are on clean white sand, so when the tide comes in we will traverse the 3 boat lengths I didn't make earlier to deep water.... so close but so far away.... It's just as good right here to bob under the boat as anywhere else.

Linda here...we often beach SYL but usually not on an outgoing tide. We were beached most of the day but we spent the time cleaning the bottom and the hulls. We then pushed her out using an anchor off her port stern. It was easier on the rudders. By 3:30PM we had her loose. It really was a good day. We have had our showers and Rusty is moving SYL back to our anchorage of last night. Tomorrow we will do more exploring. We found a great shelling place, tomorrow we might look for a snorkel spot, there ate tons of them here. The guide books just don't have a lot of information about this place..... maybe tomorrow we will find something else to brag about other than the shelling on Ft. George Cay. I think the big thing here is diving and snorkeling.....

SYL !!

March 28, 2011

Another calm day in Provo.... again we woke up to frosted over windows.. the AC gets really cold at night. Sleeping under a blanket in the Bahamas seems weird but necessary lately.
SYL in slip 53 at Turtle Cove Marina Providenciales T&C.

Linda went to the store with the German couple in the next slip this morning. They have a car rented. This little lady is tough, her and her husband left Germany in 2008, went to Spain, the Med, then the Canaries, somewhere else then back to the Canaries, the Virgin Islands, DR, now here, I'm sure I missed some of the places he told me they went, but he's a traveler. Anyway she winched him up the mast yesterday and he took this picture of my boat from the top of his mast.
His sail boat is all aluminum. Apparently the only way to get this particular boat new, is to buy the aluminum hull and build it out yourself. It may be 35' long but I doubt it.... he has solar panels tied with ropes to the top of his sail cover and moves them around to find the sun all day, it's a different looking boat but apparently very seaworthy with all the miles they put on it. He recently repainted it.

It has a hard dodger with Plexiglas, he has wind vane steering, a survival raft, definitely a long distance cruiser. The stern is very wide, it almost has a power boat look to the back end, but the front has nice long lines to go to weather.
8:52AM I am about to top off with water and go check out of the marina. by 10 we should be out the cut and noonish be looking at Half Moon Bay in North Caicos. If the swell is running we will come inside, if not we will be on the beach!
Linda here: I had a quick run to the grocery with Albert and Margaret from Wahkenna. Lovely German couple who have been cruising for a while. Driving over here is a challenge. Margaret was navigating and though I didn't understand what they were saying, I know we made several sharp turns, u turned several times and I heard nine, nine, nine a lot (I can't spell German). I spent $87 dollars on not much but oh well. Albert and Margaret told me there was a larger grocery but they couldn't find it. I think I will try to find out the location when Sally and Hugh get here if we need grocery. We are getting ready to pull out and probably will not have internet again until Friday when we return to pick up Sally and Hugh. Rusty is checking us out and who knows how long that will take, after all we are on island time.
We got out of Turtle Cove Marina around 11PM. From there we exited the inner reef to deep water and headed NW toward the Leeward Cut.. where we re-entered the reef and skirted the beach to Half Moon Bay. It has been listed many times as one of the top 10 beaches in the world. It is indeed beautiful as just offshore you can see the waves breaking over the reef as you sit in near calm water on miles and miles of sandy beach. Linda read in the guide books that the Sports Illustrated Swimsuit edition was photographed here.... I didn't see any of those folks when we went through though......
We travelled NW until we arrived at Fort St. George Cut. It was intricate working our way in.. but we only got stuck once.. and we were at low tide... we pulled up on the long beach bar to port as you enter the headlands.... The shelling was marvelous and the water was WARM!!!!!! there was no shock value to "get used to" the water temperature like there was in GT.. it was good the minute you got in! Linda bobbed under the boat while I ranged out looking for unique shells. We found tons of cool stuff... this was undoubtedly the best shelling beach we have ever been on. Once you get into the cut past the headland... the water got deep and calm. We wandered all the way to the end of the cut, past a little private marina where we found a sweet little flats to anchor on. The current runs strong in here... but where we are, the breeze rules... as we are just out of the deep water (up on the flats in 7') the main channel is 16' deep and carries the heavy currents. We are the ONLY ones here... very nice!
| | | |
| --- | --- | --- |
| SYL beached on Ft George Cay where we shelled | Ft George Cay | SYL coming in the cut at Ft George |
Linda here...When we first beached SYL on Ft. George Cay there were a couple of tour boats and their folks around. We "parked" right next to some ladies and their children from New York who were here in one of those large SeeDoo boats. By 1:00PM everyone was gone and it was just Rusty and I. I stayed under the boat most of the time trying to avoid the sun. I can do shelling under the boat. Finally, I couldn't stand it because Rusty was finding all these neat shells so I came out from under the boat to shell. I have a red face to show for it even with Water Babies 50! It was worth it! We had a glorious day!
Rusty here... Linda and I took showers and ate the rest of the fish bisque she made earlier.. with freshly toasted home made bread. You know..... I feel sorry for you guys that missed that..... I really do. I'm not being crass.... The wonderful experiences of the day can't be duplicated in the world of "consumers"... we were once consumers that bought what was advertized on TV and kept up with the Jones's.... that was fun.... but once your done with that... once you "buy the tee shirt"..... go live life like we are..... making solid gold memories like we did today. Our evening will be spent sifting through the sea shells we found.. grading them first for color and shape.. then by size to create necklaces to give to our guests.... deciding what we want to keep, rather than how bad the traffic was today.... or what that B!*@# at the office did to you today.... I can tell the difference..... and it's sweet. Our banter will be about loved ones... wishing we could share all this....... I like it.
6:52PM Linda here...now today was why I love the Bahamas. It has been 3 months in coming but it was wonderful. The water temperature was perfect, the skies clear, the breeze cool but not cold and terrific shelling. Rusty made me some beautiful jewelry, 2 necklaces and a couple pair of earrings. He also drilled holes in other shells to make a bracelet. We are in a perfect anchorage where there is no one but us. We are anchored on the back side of Pine Cay. Pine Cay is best known for being the home of the Meridian Club, an extremely exclusive total-getaway resort that was constructed in 1973. No phone, no TV, just peace and quiet and a pristine beach. No loud vehicles are allowed, only golf carts and bicycles. It is said that Bill Cosby and Denzel Washington frequent Pine Cay. We will let you know if we have any sightings. We understand they have "high tea" at 3:30PM. Pine Cay is private and visits ashore must be by invitation only, so we are not sure that includes us. High Tea reminds me of mom and Daddy Joe, because it was one of their favorite things to do. I can't wait to go shelling again tomorrow.
| | | |
| --- | --- | --- |
| | | |
| I love this necklace made from Sunrise Tellin Shells | Our "Catch of the Day" | Rusty made a beautiful pendant with this shell |
This is our anchorage

Nobody here but us. The end of the road or (the end of the cut) I love times like this. Don't misunderstand, I love being with other cruisers and having company, but sometimes it is just the best being Rusty and I alone without anyone else in sight or hearing. Tonight is one of those nights! It's best to not do the same thing every day. One day it's great to entertain, then there are days like today that make friends more welcome.
SYL !!
March 27, 2011 Sunday
Man... sleeping in the AC sure is nice...... it's not that it's hot or particularly damp... it's just that conditioned air is nice to have when you haven't for months. I am somewhat impressed with the T&C so far. There are lots of things to do, this is definitely a fly in destination with snorkel and dive tours galore. I called it a Mini Nassau yesterday, so far I like that description. It's not nearly as crazy in the harbor as Nassau, the water is MUCH nicer in and out of the harbor, I want to discover some of the outlying beaches and see how that looks. I think it would eclipse Nassau as a sailing destination except for one little thing (and it's a big one) location... it's a multi day upwind slog to get here.... but then again, going home will be downhill all the way.
This morning I did a few chores. A shelf in the kitchen needed a screw, I took out the trash... filled the boat with water, hung and washed the "Creatcher" then I washed the dink out with fresh water... gave it a good bath. When the big sail dries I'll put it back in the bag down below. I like getting my stuff done in the morning... then I'm done. Linda made an awesome breakfast.... I think AC agrees with her too. This day or two of chilling in the harbor is well deserved. The only other chore may be to find a grocery store, but I expect we will have better luck with that tomorrow (Monday). Oh I forgot, I wanted to clean the sea strainer.. I'll get that done in a second... the only problem with doing that is we have to turn the AC off to do it!!!! :(
OK, it didn't take long.... lol. The AC was down for mere minutes! The system wasn't bad, it was just time to do it.. only a little silt in the screen.... the 30 micron filters behind the strainer are reusable, but I have so many I haven't been recycling them. We are all fresh with that system again. Now the only thing I have left is to take the sail down and stow it... I guess I better do that before the wind picks up.
11:07PM Ok the sail is down and stowed.. wow that sail feels good fresh and clean without salt water on it. I got a lot done today on this "day of rest" so far huh? I forgot about one other thing Linda wanted me to do today.. but I expect I can let it slide until tomorrow if I don't bring it up.... lol.
Skip and Maddy on "Sara Lane" are moored in the next slip. You may remember they followed us in from Mayaguana. They are on a C&C 40 centerboard monohull. I have always liked the lines and look of the C&C. The shoal draft characteristic makes it a winner in my book too. It's a 40' boat that draws the same as a 27'er. Anyway.. they are next door so today I got to look at his boat inside, he had done a lot of work to bring the boat from a near derelict to a nice shiny boat with everything updated from the engine to new sails, he did a great job putting the boat together. They are from Newport RI. I had never been inside a C&C, this one is mostly Skip's design... the whole galley and even much of the exterior fiberglass design has been updated ... what I mean by exterior fiberglass is that he widened the companion way door and made it full depth so it's easier to enter the salon, he took out a step that mostly got in your way and changed the stern by making a walkthrough transom with a sea level boarding ladder. He updated an already nice boat to have all the modern amenities. Skip bought the boat, had it shipped to his house, then built a tent with stairs around the boat and basically rebuilt the boat for 3 1/2 years in his back yard.... now he and Maddy are out cruising. I bet if anyone knows his boat it's Skip... don't you think... if something breaks he knows just what it looks like and can fix it on the fly.....
Linda's lunch meal is fantastic!!!! I think she likes AC..... She made a spicy bisque stock and added new potatoes, fried bacon, corn, chives and chunks of the fresh fish fillets I caught the other night. THEN.. she baked fresh multigrain bread to serve with it.... oh MY.. it's good. What a woman! I mean who eats like this out on the water.... huh? wow.. dip some of that hot fresh bread in the bisque and sip a little good wine... Listening to the Love channel on XM radio... I have to tell ya'... it's more than anyone could expect. You can't buy this kind of meal and ambiance anywhere..... but you can get it right here on SYL!! if you have the hook up... lol.
I think she is boning up on her kitchen skills because Sally (the sweet lady who's flying in) is a classically trained chef..... just one more reason that I love me a Sally Whynot!!! Linda has always been a master in the kitchen.... maybe she's throwing down the good stuff now... getting ready for our culinary guest... whatever it is... I'm stoked! I so look forward to Hugh and Sally's visit... they are the kind of people that you just can't help but enjoy....
Sea Yawl Later !!
March 26, 2011
Tsmaya took this and other great shots underway at Mayaguana

Beautiful water, wonderful sail even if we had to run the motors the entire way.

The good thing about not having any wind is being able to fly my GT Regatta flag on the main halyard.... not that big pesky sail that pushes you forward... lol.
| | | |
| --- | --- | --- |
| | | |
| Approach to T & C | Reefs were on both sides of the narrow entrance. | The entrance to Turtle Cove Marina |
7:44AM Saturday morning: We are approaching our goal! Providenciales or (Provo) in the Turks and Caicos. We are 4.6 miles from the Turtle Cove entrance. We left Mayaguana at midnight and will arrive this morning at 8:30. Initially we had East winds (enough to motor sail on) and 2 to 3 foot chop. a few hours in the wind backed right on the nose, but dropped to 6 knots. The chop stayed with us for several hours. About 5 this morning seas went to 2' or less, we are now motoring in 1' with no swell at all against 4 knots of wind.
We are here!!! It is 10:AM we are docked at Turtle Cove Marina, have our quarantine flag up, the AC on, our customs paperwork completed and we are waiting for the harbormaster to come back and clear us in. First order of business will be to find a nice restaurant. There seems to be a lot of infrastructure here with many beautiful homes. Just got internet. Will post text now and add pictures later.
7:01PM Linda here...we just returned from a great dinner at The Sharkbite. We will sleep well tonight. I will post these photo's, a little internet time, shower and nite nite!
March 25, 2011
What a fun night we had last night. Happy Times invited us and Tsmaya over for sundowners. Happy Times and Tsmaya are on their way to the Caribbean and from there they are not sure. We visited until about 9:45PM and made our way back to SYL. We have two led light that shine off the stern to light up the area where we get on and off the dinghy. It also lights up the water behind our boat. Rusty noticed that the lights had attracted a lot of bait fish and that attracted a school of Permit's. Rusty had another night of fishing like he had at Joe's Sound. Apparently, when the Permit's school they will hit on anything. Rusty quickly caught four Permit's and could have caught as many as he wanted. We could have put more in our freezer but when Rusty asked how many I wanted I told him as many as you are willing to clean. Poor fella, cleaning even four fish after being up now 40 hours was quite a task. It took him 4 times as long to clean the fish as it did to catch them.
We slept in until about 8:00AM, leisurely had a cup of coffee and a bowl of cereal. We set about getting SYL back in order. Anytime we do overnighters keeping things straight goes way down on the priority list. It didn't take too long. About 11:00AM we pulled up anchor with Happy Times and Tsmaya to make the 26 miles down the length of Mayaguana to stage for tomorrows early departure for the Turks and Caicos. The hard part is OVER!!!!! We just heard from Zero to Cruising and they will be joining the group at the anchorage. Everyone but us is staying in T & C to provision and then are heading south. We will be in T & C waiting for the Whynots arriving on April 1st.
We had a great motor sail. Rusty put the 1,000 watt speaker on top of SYL and we had music blaring during the sail. We ran along side Tsmaya for awhile taking photo's of each other. At one point Bob and Janice were dancing in their cockpit to the music from SYL. We had such a great time. At 5:30PM, with everyone anchored, we had sundowners on SYL. This will be the last time we will see some of these great folks for a great while. All are going to a different anchorage than we will and will be waiting for a weather window to proceed further south. I will enjoy following all of their blogs. I just love cruisers! I was sitting here thinking why people are so easy to meet and become friends with. I guess the nature of cruising requires people to engage quickly because everyone is so mobile and independent. Even though I may not see these folks for sometime I will follow their travels and they will remain friends! Such an eclectic group of people and yet the common love of cruising is a powerful bonding source. Many times you don't even know what they did in their pre-cruising life -it simply isn't important. The fact they are cruising is the bond.
We had sundowners on SYL tonight. A great time by all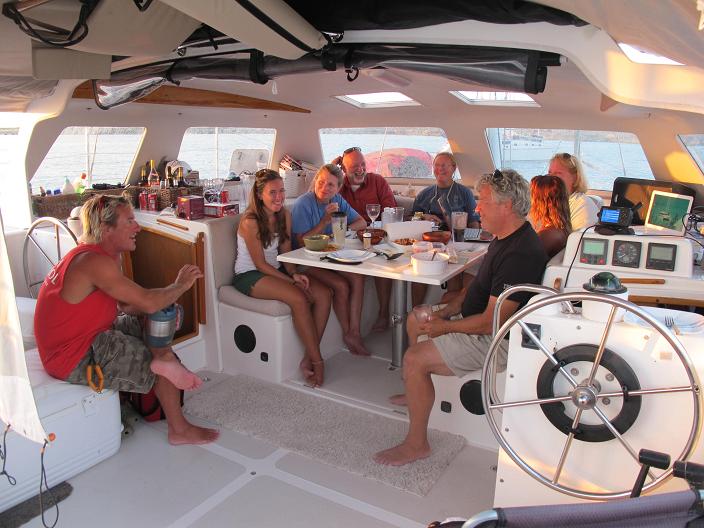 From right to left: Mike from Zero to Cruising, Mikayla & Cheryl from Happy Times, Bob and Janice from Tsmaya, me, Rebecca from ZTC and Mike from HT.
March 24, 2011
It is 8:46 am on Thursday morning. It has been a stressful 25 hours. I now understand why so many people don't go past Georgetown. They call GT "chicken harbor", I am thinking "sensible harbor" would be more appropriate. The first several hours were quite pleasant, but around noon the swells started.. They were gentle rolling swells at first but as the day progressed they became very large and closer together (Rusty says only 7 feet but they sure felt much larger). The winds were suppose to be light but we saw apparent wind over 18 kts. I feel like I have been on one continuous carnival ride. I never felt in danger but very, very uncomfortable. SYL porpoises in that sea state. "Happy Times" and Tsmaya took coordinates of everyone every hour. It is prudent but also they say it gives them something to do...lol. Rusty had "the creature" up. I don't like the creature. I recognize the good job it does under certain conditions but it is a hard sail to handle. In fact, I can't handle it and that makes me dislike it even more. Most of the time Rusty can lay her down sweetly on the deck but even then she likes to fly and if the wind catches her, she is up and has to be manhandled down. But Rusty loves that sail so I guess she and I will need to make peace. I am becoming a better sailor and I use that term loosely ( pretty much that is code for I am not gut wrenching terrified). Last night I took the helm three times so Rusty could sleep. Usually it was 2 hour stretches.
It is 11:00 am and the sea state has calmed down a lot. I no sooner typed that and I am rock n rolling again. Rusty went down to sleep at 8:30 am and just got up. The only sail up is the main so there is not much to do except watch the instruments and make sure we are on course, just burn gas toward Mayaguana. The Garmin says we will be there before 5PM.
Rusty here: Linda changes her tune doesn't she.... lol. I got a lot of rest on this trip. Linda is the one that wanted us to follow the other two boats here on this long run, so she really hung in there and did her part. I think she is questioning her desire to get there early now though... lol. It has been a little bumpy, but the only reason to complain is that we are on what is called "The Thorny Path" beating into the wind like everyone does heading toward the Caribbean from the Bahamas. If this were not into the wind it would have been a cake walk.
I caught a fish yesterday... it was a Skipjack Tuna, our fish book said it's flavor was not the best so I put it back. If it's not great meat, I'm not cleaning the thing. I took the fishing line up during the night and just put it out again to try my luck. We are nearing the small Island of Plana, next stop Mayaguana, 27.8 miles to go today. We will drop the hook in Betsy Bay, it looks like it will provide great protection from the wind and swells. The sea state is improving... it's not peachy yet but much better than in the middle of the trip. The first 80 miles were nice, then it got bumpy for the next 90 miles, but like I said it is getting better. Hopefully the last 90 miles (from here) will be like the first 90. Going the route we chose (with the herd) cost us about 18 miles, but picking our way around the shallows South of Long Island like we planned is tedious, so we opted to join the herd and migrate this direction. We went around the Northern tip and down the East side of Long.
Noon: I can see Plana in the distance as we stroll by, beaches cover most of the shore lines. We encountered several other vessels on this trip so far. The first boat last night was Carnival Cruise Lines "Destiny" then the freighter "Ocean Trader" and another big ship.. (a tanker) during the night. As the sun came up a ship with huge natural gas tanks on deck came from behind and passed us. A small trawler just passed us heading downwind... lucky sucker.... I have also seen other sailboats in the distance heading various directions, and got a radio call from "Zero to Cruising" but he was too far away to communicate well.
23.6 miles from Mayaguana: Linda is below napping now. She was nodding off here at the table so I told her to go below and sleep somewhere comfortable.... I sure slept good after Linda took over this morning. I have had my sails up for almost 30 hours now, not our longest run, but one of them.....
12:47PM 21 miles to go today, 60 more tomorrow... the sea state is almost as good as it was on the first 80 miles... as "E" would say... "Saweeeet" This evening and tomorrow are slated to be almost smooth, so I may get my wish... to finish the 250 mile run as well as it started. After this long run and I think the "Herd" has decided to sleep all night at Mayaguana and not leave until well after daylight. The initial idea was to head out in the wee hours of tomorrow after a few hours sleep in Mayaguana in order to arrive and navigate through the West Caicos coral heads by the noon day sun. I believe everybody is ready for some R&R after slogging to weather for 34 hours. Also... Chris Parker said we had good weather the next two days for the last 60 mile leg so my guess is they will choose (like I have) to not hurry in the morning. They are going to the South side of the island through the Sand bore cut....and I'm going to the North, my entrance is deep water and straight... so my arrival time is less important.
Linda here...It is 4:31PM and SYL is anchored at the Fuel dock that does not have fuel. My impression is not that they are out of fuel but they never have fuel in the aging tanks. Rusty called ahead and "Charlie Brown" (I am not kidding) is to meet him at the fuel dock and drive him to the settlement where he can get 20 gallons of fuel. Of course we are on Bahamian time so there is no telling when that will be. We arranged a 4:30 time at 3:00 by VHF. We could probably make it the last 60 miles on what we have but it is just not worth cutting it close. I am on the boat anchored and I have to admit it makes me nervous to be on the boat with a newly set anchor in unfamiliar harbors. Sometimes it just can't be helped and I guess this is one of those times. Rusty still has not been picked up. OK, Rusty here.... I came back to the boat because I knew Linda didn't want to be on the boat by herself if the anchor (which is the best kind made) drags (the anchor is buried in the sand.. I checked it) so I brought Linda to shore so she can ride to town with Mr. Brown with our cans for gas. 4:50, they just left with the cans for town.....
Linda here: After a rock climb I made my way to where "Charlie Brown" was to pick us up. After a little while longer a car appear and I said "Charlie?", the man replied no Vincent. But he was the fella to take me to the settlement to get gas. We loaded the four jerry cans into the back of his small, aging micro-van. We went down the "road" quite a while and he stopped at the only resort/motel on the island so he could call the man with the gas. The resort "Baycaner Beach Resort was really quite nice. If you want a true getaway this is your spot. After about 15 minutes, Vincent reappears and we are on our way again. About 10 minutes later we pull up in front of a house with a young teenager sitting on the front porch. Across the road are gas tanks. She proceeds to fill my cans with fuel at $6.00 a gallon. While I am there another man drives up in a old truck and says he was the one that made the calls and was suppose to pick us up but he had to take some school children home. I said "So you are Charlie?". No, he was..( I didn't understand the name but after the odd look I got I decided to quit trying to find Charlie). Along the bumpy road back one of the cans that does not have a top ( one of two we bought in Tarpon Springs) sloshed out in to Vincent's car. I started to apologized when Vincent gave me a big smile, motioned for me to roll down the window and said "gas is beautiful". When we arrived back to the "fuel dock", Rusty met me and he loaded the fuel into the dinghy. I gave Vincent a nice tip and we were on our way to Besty Bay to anchor for the night! Betsy Bay may have great protection but the anchoring is a challenge. It is mostly rock with some sand. What often appears as sand is just a thin layer covering rock. Finally, we were able to get the anchor set. We are on our way to Happy Times for sundowners and snacks.
Sea Yawl Later!!
Linda
March 23, 2011
6:19AM: Same story as yesterday.... up waiting on the forecast. Conditions are light this morning and wind is further South than expected, that will hurt my sailing if indeed it stays SE all day. The route to the Turks is generally SE. It was supposed to be from the East today, we will see what we get outside the harbor. The only intricate part of the days path brings us through Hog Cay Cut. It's a shallow winding trail that gets us South of Long Island. Tides are important in the cut, so I have some time to kill before we get there this morning. I will still probably leave early, but not have to push hard... while I wait on the tide to put more water under the keels at the cut.
9:00 am Linda here: We have been underway about 2 hours. The sea state is great, much better than expected. It is still on our nose but only inches. We have the "creature" out and are making 5-6 kt with one motor on low. That is great considering conditions. While underway we were contacted by another cat, Happy Times (Manta 40) who is traveling with Tsamaya (not sure of the spelling yet) a monohull, and they are going a different route because of Tsamaya deep draft. They intend to sail 24 hours to Mayaguana, rest and make it to T & C by 10 the next morning. We decided to sail with them. One, it is an easier route though 15 miles longer and we get in almost a day early. We have heard them on the net and they sound like really nice folks. I told them "I am a herd animal and I told Rusty I would help sail if we could stay with the herd". I am no longer dreading this trip. It has been really nice so far.
Rusty is rigging up a Ballyhoo to troll. This is one big lure. I am afraid to ask what we are trolling for...lol.
March 22, 2011
6:21AM: I'm up waiting for CP to tell me if the forecast changed any. This morning the winds here are much lighter than last night so maybe things have improved, we may be able to make some distance today... The only thing we MUST do before leaving is fill up with gas and grab a few groceries, we can do laundry once we get there.
OK, CP said wait until tomorrow so we will.
Today most of the "Texas Navy" went to the laundry by Red Shanks. We washed clothes, had ice cream and got on the internet. I had about 70 lbs of laundry to do ( I told Rusty I think it is worth the money to have it done). Rusty was loaded down with two huge black garbage bags of laundry and I had both computers, more laundry and the washing detergent. We used 7 washing machines. We checked mail and paid bills online. Troy from Storyville said he had heard there was civil unrest in the Turks and Caicos and that the airlines had to stop flights because the road to the airport was blocked. I immediately tried to find out what I could on the net and then face booked Sally and Hugh. To make a long story short apparently it was a very peaceful protest by about 55 government employees who wanted to get the attention of the new government. It was decided that the plans would stay the same and we would leave for T&C tomorrow. It will be three days but totally doable with only one long day of sailing.
This afternoon, Christie from Kaleo was returning so we took Matt over to Georgetown on SYL. We got rid of garbage, paid bills and bought "throw down" food for the trip to T&C. Christie brought back several things for me. The Texas Navy met at Cheaters for dinner. It was a fairly lengthy dinghy ride and the tide was really low going to the restaurant. We had a great time and everyone was there except Guiding Light who left for the Jumentos early in the morning.

From Right to Left: Rusty and Linda, Deana and Troy from Storyville, Matt and Christie from Kaleo, Steve from Anchor Management, Renee and his bride from Pipe Muh Bligh, and Mili and Ted from Morning Glory.
We got to bed about 10:30, late for us but still plenty early to get ready for the upcoming passage.
Sea Yawl Later !!
Rusty
March 21, 2011
6:13AM Monday: I'm at the table waiting for Chris Parker's weather to come on the Single Side Band Radio USB channel 4.045. If there aren't too many people asking questions after the forecast... I'll ask his opinion on when to expect a sailing weather window for the Turks and Caicos. I have been looking at the charts and I like the Crooked and Acklins Islands a lot. It looks like there are many places to walk the beaches, fish, and generally hang out with only the things and people you brought with you. The Acklins are half way to the Turks and still in Bahamian waters. To make a comfortable passage to the T&C you need a front give you favorable wind directions, those are getting harder and harder to come by this time of year. Not only do you need a front, you need a mild one without much wind or moisture so it has to be the "right" front. Heading SE in the summer (when the fronts quit all together) is an exercise in patience because the prevailing winds are right in your face. Hopefully this weekend will bring the front we need.
Chris just came on.... He said the squall line heading our way is just North of us so we will be seeing rain and high winds shortly that may last through the night. I was able to ask him when we might be able to go to the T&C and he gave me a 60 hour window starting Wednesday, winds will be in our face some, but they won't be too strong. I may talk to him again and see if the weekend might hold better opportunities. It looks like the front may stall too far North of us to bring the West or North winds we need.... but the weekend is a long way away.. things could change.
8AM: I talked to Chris again on USB 8.137 just as the rain arrived in Georgetown. I asked if the weekend might bring a better opportunity for the T&C, he said no... the time to go is the Wednesday/Thursday/Friday timeframe. I need to fill back up on gas because if we go, a lot of it will be motoring.. but not a lot of wind so it seems doable. I'm planning with the charts and making a spreadsheet to see how palatable the trip might be. It looks like the lowest winds might be Thursday, we need to do one all-nighter to make it in 3 days so it seems Thursday would be the best time for that.
5:24PM A lot has happened today. The top seam on my "Creatcher" separated the other day, it was just glued together and failed. Nothing was ripped so today Mili on "Morning Glory" put binding tape on both sides and sewed it up for me... it's better than new. The upcoming sail to T&C may include lots of upwind light air sailing... I gotta have my Creatcher for that.... she fixed me up so now I'm good to go.
Tomorrow morning we will do laundry then go over to the Market to stock up for the sail to the Caicos, then stage on this end of GT somewhere for the exodus. I think Ted and Matt are heading toward the Acklins too. I think they will leave later than me because they don't have to make as much distance as I do the first day.
The big decision about going for the T&C was made today. I made a plan and sat with Ted and Matt to see what they thought. We decided its doable, but it means going quickly with one long leg to arrive before the strong SE trades fill in. That also means we will be there a week before our guests show up... we will use the time to get the lay of the land. We will certainly keep listening to "CP" (Chris Parker) to see if we get a longer window along the way. "Kaleo" and "Morning Glory" will probably meet us in the Acklins on the way back.
My plan is to make 66 miles Wednesday, from GT to the other side of Long Island.. possibly Clarence Town. Then we will leave Long Island early Thursday morning to make the long leg (109 miles) in low winds so we may have to motor most of the way to Mayaguana. There are three islands on the way to Mayaguana... we will pass right by (The Acklins, Crooked Islands and Plana) so there are no long open passages to make. We will pull into Mayaguana in the wee hours of the morning Friday and sleep for 5 hours, then make the remaining 72 miles to the Sandbore Channel in the "Provenciales" which is the port of entry for the T&C with the big airport. If we get a break in the expected weather that increases our weather window we can stop anywhere along the way. We have easily done 70 or 80 miles in one day... so the only long day will be Thursday.
Linda here: I have been reading about the Turks and Caicos Islands. I have just shared with Rusty about a north ocean approach rather that a Caicos Banks approach. I have a ulterior motive. I have been reading about Turtle Cove Marina. It is closer, easily accessible, very protected and they have lots of restaurants, grocery stores and activities. The cost seems very reasonable at less than a dollar a foot with high speed internet, cable tv, etc. The restaurants are reported to be top notch. I am ready to be pampered a bit. After the trip there, I think we both will be ready to be spoiled. You can rent a jeep for $50.00 a day which I think will be fun. We can play tourist.
Today I fixed Sherried Mushroom Soup. I had so many mushrooms that after we ate dinner I used the rest to make hamburger stroganoff. For lunch I made hamburger and mushroom pizza. I felt the pizza dough was a bit tough, perhaps I kneaded it too long. We still are good on meat though we only have two portions of chicken left. During the blow today I cleaned the salon with the fresh water the rain provided. I set out a couple of containers to catch the rain but did not get as much as I had hoped so I used our water from the tanks. I opened the ice chest Rusty keeps his tackle in and it smelled like something had died so I disinfected it and washed most of the tackle and put it in zip locks. As much as I enjoy guest I am enjoying getting SYL back into shape. It is easier because we have pretty much figured out where everything goes. I am not keeping as much can goods as I use to. I intend to pare down even more through attrition. The wind is still blowing pretty hard but we are very comfortable.
SYL !!
March 20, 2011
7:10AM Sunday morning: Jim and the crew just left. We opted to stay in Red Shanks and have the taxi come to the local restaurant here instead of the Exuma Market. Last night was too much fun to leave. We were all on Ted and Mili's boat, the Guitars came out... during intermission we had "story time with Ted". We would have had to leave well before dark to make it over to the dock and we just weren't ready to go..... The group came up with the idea of a dinghy flotilla to get everybody to the taxi so that's what we did this morning.
People started showing up with their dinghies at 5:30AM. We actually had more boats than we needed, Matt came but we didn't need everyone so we sent him back to bed, we loaded all the luggage into Storyville's boat.... the girls rode with Ted and Jim and I took my boat. It was still dark, but the moon was the largest and fullest it had been on record for 19 years (according to unofficial radio chatter) It was indeed bright and we had our lights so all went well. Jim has a chart plotter application on his phone, we followed it thru the cut we needed to find.... it even had the landing by name we were heading for... that's a fine phone tool! We got there expecting a dock.. but only found a shallow beach. It worked comfortably enough, we offloaded the baggage to a lone picnic table by the road. I called the taxi on the hand held VHF to verify location and pick up time, he was 2 minutes out.... right on time. We were all back to our respective boats after the early morning dinghy ride before 6:45.
Jim and the girls saw every kind of sailing.... smooth low wind, smooth with brisk wind, choppy with good wind, too choppy with lots of wind... and some really big waves.... lol. We saw swimming pigs, 2 caves, lots of beaches and shelling, literally oceans of ice blue to ultra clear water. When there is no wind and the bottom wasn't stirred up, it looks like the boat is floating in the air..... the water is so clear. We ate good we made good music, introduced Jim and the girls to all our sailing buddies, snorkeled, sang, went to some famous hang outs like Lorraine's and the Chat-n-Chill.. we had too much rum, we petted a stingray, saw nurse sharks, took tons of pictures above and under the water, it was a great time...... The girls kayaked, rode in the dingy... We packed a lot of stuff in during the small amount of time they were here. The weather was good, it could have been a little smoother on both outside crossings in the sound, but other than that weather was great as a vacation window.
I think Jim found some foods that tasted good to him again, several times he ate more than I did... Linda made it her mission to find something Jim could enjoy again and it worked..... good stuff. The engine parts Jim brought for my dinghy motor sure made a difference. It ran OK before with the home made parts, but it was hard to warm up, and wouldn't idle perfectly like it does now! It has more power now too, I think it's faster and will lift more of a load.
I'm sure Jim will post all the pictures to a link we can put up. We didn't take many photos because the girls were snapping everything above and below the water..... I think Shelbie got some exceptional pictures and video.
We got a new addition to the Texas Navy.... "Solace" a couple from Austin came to meet the gang yesterday. He was having some dinghy engine trouble so I patched it up for him. There were some tuning issues but the biggest problem was the spark advance linkage was broken. I splinted it with some plastic and hose clamps.. maybe it will hold for a while, but now he knows what the problem is if it reoccurs and can get some parts in for it. I didn't get to talk to them much because the party was ON yesterday when they came by. I spent 20 minutes on the engine then Troy came over with his "Rain Song" all carbon fiber guitar. He and Jim played and sang.. it was great. I asked if they would take their music over to the main boat for the evening (Morning Glory) where the girls were playing Mexican Train dominoes so we did... that's why we opted to stay.. the evening was too good to call it off early...
8:43AM No doubt Jim and the girls are in the air by now. They will probably all need some rest after the whirlwind tour we took them on and that 12 hour trek home. I think they change planes several times before landing in Kansas. The sun revealed mostly cloudy skies with the anemometer reading 15 knots of wind this morning. Tides have been very high and low because of the close proximity of the moon lately. Yesterday on sand dollar beach low tide revealed more than normal expanses of freshly washed sand to explore, it was fortuitous.
Tomorrow and Tuesday we are expecting some rough weather. Wednesday and Thursday should moderate to light and variable, then the weekend is forecast to provide a North wind component for the region. The wind shift may provide a travel window to head toward the Turks.... that forecast is a week out so who knows but I like the sound of it.
12:11PM We just got back from Ted and Mili's boat, they hosted "boat church" this morning at 10. We have visited local churches and enjoyed the Bahamian Culture, but it was nice to do a service that is pretty much what we are used to back home.... not as much loud yelling during the sermon and... when the congregation "makes a joyful noise" you could follow the accompaniment and understand the words of the songs. Today we sang some old regulars on the boat before watching a downloaded sermon on Ted's TV.
I requested left over gumbo for lunch.... it's very good.
Rusty
March 17, 2011
It is 10:30 am and we have been underway on the Banks for about 3 1/2 hours. We are sailing and have covered 19 1/2 of the 48 miles to Georgetown. Early in the sail Rusty had the "creature" out and noticed a "rip" in the sail. When we took her down we found that it was not a rip but a glued seam had come undone. We took the "creature" down and will probably solicit Mili's help with the repair. Mili has a machine that will sew sail cloth. We are getting ready to go into the Exuma Sound. We talked to another boat who was already out on the Sound and we understand the sea state is 3-4 ft waves and choppy. Not the gentle sail we have been having but not to bad either. I fixed banana smoothies for breakfast. I also put on a pot of goulash to have while we are under sail. Once we get into the Sound the galley will be closed for cooking.
We are now entering Kid's Cove. It was a lovely sail until we had to enter the Sound and then it was quite rough. The kids laid down in the salon and I went to our berth. We made the trip from Black Point in 6 hours which was very good time. We will go to the market, get some groceries, post the web, check e-mail and Jim and the kids can go to the Straw Market. We will probably cross to Chat N Chill to anchor for the night. Before we entered the Sound, Shelbie and I made an apple pie. I had a nice taste and I think it came out really good. I need to close as we are getting ready to dinghy into Victoria Lake and the Market.
Sea Yawl Later!!
Linda
March 16, 2011
Today we went to Rocky Dundas Cave where Shelbie made these pictures. The snorkeling was awesome as always. Rusty and the girls went shelling before the cave on the opposite shore and had some great finds. After snorkeling and exploring the cave we had a spirited sail back to Black Point. We are actually anchored at "castle beach" behind Black Point. The girls went kayaking to the beach. I made tortillas and had quesadillas for dinner. Tomorrow we will go back to Georgetown and spend the rest of the time in GT. We will make to Sand Dollar Beach, the Chat and Chill and the Exuma Market before everyone goes home.
March 15, 2011
What a great time we had last night. It was one of those unplanned special moments that just sometimes "happens". Dinner took forever to be served and we didn't even care because we were having so much fun. We got up this morning, had pancakes and were at Big Major and "the pigs" by 9:30 am. The pigs must have had a late night because they did not come to greet us as usual. Finally, Rusty took the dinghy ashore and played Pied Piper. He disappeared and returned with two huge pigs in tow. He coaxed them into the water and to the back of the SYL where Shelbie and Maddy fed them. One of the pigs would actually hang onto the boat and open wide for you to drop the bread into his mouth. I think he would have climbed aboard if we had had the ladder down. A couple of times the pig stood on his hind feet touching the bottom. What a hoot!!
| | | |
| --- | --- | --- |
| | | |
| Pigs demanding food from Maddy | Maddy, Shelbie and Jim feeding pigs | Maddy and the pigs |
| | | |
| Pig: (hanging on to the boat) "Ok, I am being patient" | Pig: Ok, this is where the bread goes" | Pig: "Do you need a bigger target?" |
THUNDERBALL CAVE!!!! Shelbie and Maddy had a great time in the cave....
After Thunderball we went to Sampson Cay and ate lunch in the club.... it was two dollar Tuesdays... we had slider, quesadias and Chili... After the extended fuel stop we heading into Pipe Creek. Half way through we went to a nice little beach so the kids could play in the soft sand... they hunted shells, swam and kayaked the rest of the evening. After the big lunch at Sampson.. the adults took turns watching the kids and napped for a few hours. The shelling there was limited, but unique treasures were indeed found..... After kayaking the girls swam all the way back to the beach in the almost glass smooth water of the evening. They are playing in knee deep water right now.
| | | |
| --- | --- | --- |
| | | The cove and beach we are on has a very long shallow slope so we are sitting in 4 1/2 foot of water and the beach is 6 boat lengths away. It's great because Shelbie can stand up here at the boat and all walk the way to the beach. The boat floats easily in 3.5' of water. They paddled the kayak round and round the boat for a while, then swam to the beach. Maddy was the motor sometimes... when she was on with Shelbie. She did good by herself too! |
We are staying here in Pipe creek tonight.... tomorrow we may see the nurse sharks in Compass Cay, then head back South. Plans depend on the weather.... if we have all of Wednesday (tomorrow) to play around and can make it to GT on Thursday that's what we will do.... we may need to make it all the way to GT tomorrow before the wind pipes up from the South. I'll listen to CP in the morning to find out.
Linda here: Jim brought some Sky Lanterns. I had never seen them before. The are about 3 feet tall and biodegradable. We lit two last night. The first one we did not let burn long enough before releasing and it crashed and burned in the water. The second one took flight and was amazing.
March 14, 2011 8:00 pm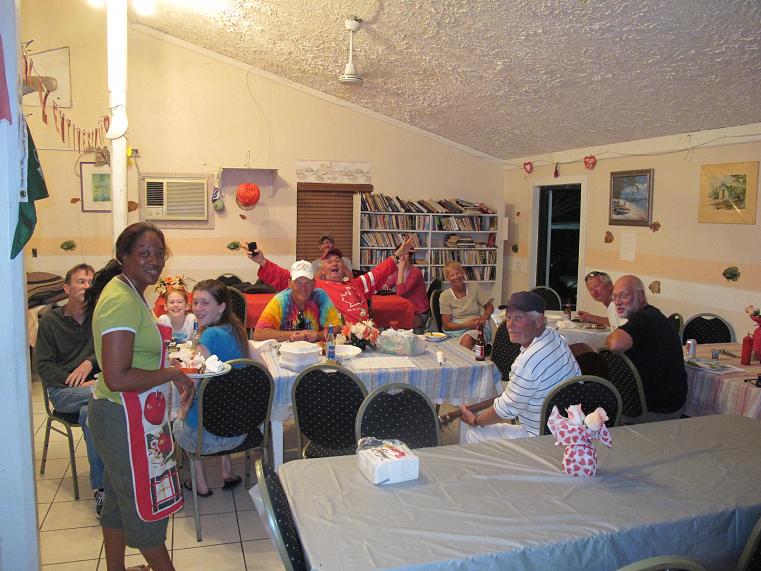 We are having a rowdy time at Lorriane's Cafe. We have a fella on the guitar and the entire cafe is singing ole country favorites. There are Canadians who LOVE Texans and are trying to learn how to Yee Haw!! It still sounds like Ya Hoo!! Having a blast! Rusty led us in a Roger Miller "King of the Road". Our dinner is here sooo good (it took about 2 hours to get our food but this is the Bahamas).
March 14, 2011
Jim and the girls, Maddy and Shelbie, arrived yesterday evening. They dinghied to SYL in Kid Cove and we sailed over to Stocking Island. We visited, had pizza ( I just got a new crust recipe which I really like and will add to the recipe list) and I taught the girls how to play Mexican Train. We left this morning early for Staniel because weather is due in on Thursday so we want to be back to GT by Thursday afternoon. We have had a nice sail. We left at around 8:30 am and we will be at Black Point by 5:30 pm. For lunch I made Bahamian Mac and Cheese for the first time and it came out pretty good. I also fixed stir fry. The Exuma Sound was rather lively and the newcomers had to fight sea sickness but everyone did great. Once we got onto the Exuma Banks it has been smooth sailing. It is a little cooler than usual because of the cold front that came in a couple of days ago but Jim said it was snowing in Kansas today so I guess this is good.
We will go to Lorraines Cafe for dinner and to post the web. We will spend the night at Black Point and go to Staniel and Big Major to swim Thunderball Grotto and swim with the pigs. We also want to feed to nurse sharks at Compass Cay and take a run on Pipes Creek.
We may not be able to post again for a few days but we will be having fun and the SPOT will be on!!
SYL !!
March 13, 2011
Winds are down a bit this morning... probably 12 to 15, that's nice. The dinghy ride back from the ice cream shop yesterday was pretty wet... We are anchored 200 yards from shore so it's very calm here, but as you go behind us (toward the Laundromat) the wind starts whipping up some waves. The lower winds also helped Matt & Christie on their early morning dink ride to town.
I did some straightening up on the front deck this morning. I had line and spare anchors to store. I took the spinnaker out of the hole and it seemed a little damp so I hung it on the halyard to dry for the day. Everything is looking good around here. I had let our water tank get very low to be as light as possible for the race..... so that's filling back up. We are running the watermaker a lot, but might go ahead and fill up in town instead of using the watermaker that much. It would take about 24 hours to fill the tank. I'll have to school the girls about water usage. We are so used to letting the water run while we shower or wash our hands it's a hard habit to break.
The boat is in good shape.. but I think Linda has some chores for me to do anyway....
2:51PM Jim and the girls are no doubt on their last leg of their flight, we moved the boat into Kidd Cove to pick them up. I arranged for Taxi 11 to pick them up at the airport. We dumped our garbage and everything we needed to do for the evening is done. The anchor is set... we will stay right here tonight. Daylight savings time happened last night, so I'll go to the Exuma Market an hour early in case the airlines don't know about DST. You never know about "Island time".
I have been putt'n around in the harbor but haven't turned "Spot" on since the race... I want to save the track of the around the island race and I haven't done that yet. There is probably a way to do it through spot... but I don't know how that works.... I'll take a picture of the computer screen and call that good I guess.... lol. Lo tech I know...
I decided not to fill up with Bahamian water.. we will make our own..... it is so much cleaner and taste better made from sea water right here on the boat. The Bahamian water system is maintained pretty much like all the other services here.... when they want to .. if they want to......... so we will run the watermaker all day Tuesday offshore and make us up some sweet tasting water. It's already full enough to cover the nights usage I'm sure.
3:50PM Jim just called, he's still in Miami.... the flight was delayed 30 minutes while they do some "paperwork" whatever that means.... he said the airline apparently filed some paperwork incorrectly and they have to fix that before they leave....... who knows if that's the real deal or not... people say whatever sounds most convenient these days.... at least they do here in the Bahamas. Truth and Integrity are just words lost somewhere in the dark - unused folds of the dictionary. The delay probably has more to do with making up for daylight savings time than anything else... lol. So if he leaves at 4:20, and his flight was due here at 4:55.... he still might be at the GT airport a little after 5. Am I becoming cynical?
I wonder if I should take everything at face value again.... and just be happy with that... expect that people will have integrity. If I don't expect it... what chance is there of being dealt with correctly. I think I should not be so ready for the easy answer.... I should expect that people will tell me the truth and let it bite them when they lie.... not worry about the ones that lied successfully. Yeah.. I think I'll expect integrity and only be surprised when I don't get it.... I may even be happier doing it that way.
I guess I'll go wait for my family at the Exuma Market..
SYL..... Rusty
March 12, 2011
My brother Jim and his girls are on the way.... they have an overnight in Chicago and will arrive here tomorrow. I'm excited to give Jim and the girls a good look at the Bahamas. Winds look great for going up the Exumas to Staniel. Monday it will be 15 to 18, Tuesday it may be 15 and less so we may wait and go up Tuesday morning. Spending an easy day here in GT after their long trip looks like a good plan to me... get the girls settled on the boat before we strike out. It's only 60 miles to Staniel so it's a one day trip. I don't have a forecast past Thursday yet, hopefully when it's time to return to GT winds will still be nice. So far everything looks great.
Today it's blowing a little, but not bad. We are wonderfully protected here in Red Shanks and the sun is bright and shinny. The temperature did go down a little with the frontal passage yesterday... it's in the low 70's I guess. Today's big adventure will be to find the local Red Shanks Laundry/Deli/Internet Cafe/Ice Cream Shoppe. I understand it's clean and a nice place to go. I think we can dinghy to it so that's the big event plan for the day.
5:53PM SYL, Kaleo and Morning Glory all went to the Laundromat / Store (as you can tell) because we posted the website today. Everybody did a load or two of laundry, we bought some rice and cookies... I had hand dipped double chocolate on a waffle cone!!! We came back to the boat after having fun and good internet for a few hours. Right after we got home Matt and Ted came over to go up my mast and replace the anchor light bulb on top. It took about 15 minutes. What a good couple guys.
Matt drove my dinghy back to his boat so he could bring Christie to town in the morning for an early plane ride to Texas. It's a 2 mile ride and may be a little wet... my dink is a bit bigger so they will have a better chance of staying dry in it. She's going home to visit her folks and sleep flat without moving for a few nights..... We will miss that sweet girl.. but she'll have fun at home too, I guess we can lend her out for a while..... lol. Everybody that flies in or out has missions in the US to do for other cruisers... Christie will be busy running around for us and other folks that need stuff back home. Hopefully it won't take her too long to do ours.
| | | |
| --- | --- | --- |
| | It's been fun hanging out with Ted and Mili, Matt and Christie these past few days... these pictures are at the Chat n Chill just before the awards ceremony... before we knew we WON! | |
I hope we get to hang out somewhere together in the next few months... everybody does their own thing so it's cool either way... but I would love to have their company visiting and sailing to new islands after Jim and the girls head home. I am super ready to get out of GT for a while..... I'm glad the girls want to see Thunderball... we will show them the swimming pigs, pipe creek, probably Compass Cay and the nurse sharks... I have a couple beaches in mind that are phenomenal... sailing in the pretty water South of Staniel is something Jim didn't see last year either... He will get to see the rest of the Exumas this trip..... The Southern Exumas are really special....
It will be nice to sleep tonight using .5 amps with the mast light all night rather than 4 amps having to run the back deck and spreader lights to stay safe....... the Honda will appreciate that we changed that bulb! You need to illuminate your boat at night to keep other boats from running into you at night... It's great to have our anchor light back.
Well, it's after dark.... I'm likely to go to bed any time after 8.... lol. That makes it easy to get up at daylight to see the sunrise.... and listen to the early weather. Farmers hours.. asleep at dark... up at sunrise. Only this time I go to bed as the 2011 Georgetown Cruiser Regatta Multihull Overall winner...... wow that sounds pretentious doesn't it.... but.. I have the banner to prove it! A 6.08 knot average for the long race in only descent winds... and over 8 knots in good winds inside the harbor... not bad for a country boy from deep East Texas....
SYL!! Rusty
March 11, 2011
We Won!!! Tonight was the Regatta awards ceremony and Rusty took First All Round in the multihull class. He won 1st place in the Elizabeth Harbor Race and second in the Around Stocking Island Race by 20 seconds. Our first time at the Cruiser's Regatta and Rusty wins. It was awesome! Rusty and his crew of Ted from Morning Glory, and Matt and Christie from Kaleo were so excited. It was everyone on the boat's first Regatta!
Rusty here: I don't know what to say...... the crew was great, I did my homework by having the course plotted on the GPS so I knew the rhumblines, and knew the currents. I spent much of two days drifting around to see where good and bad currents were. There was over a full knot of advantage by driving the boat in the right place when you had the choice to do so. Had I not been blocked and harassed by another racer at one mark in the Around the Island race, we would have won both of them..... It's amazing to me that my little 33' boat that we love so much was able to win the race. It's like the story of "The Little Engine that Could" I think I can I think I can.... and we did it!
You always want to drive the perfect race, of course I didn't... but it wasn't far off what I wanted to do. I compromised some downwind speed by tightening my top battens. I think I will slack back off on those because the boat did so well off the wind with a loose top. It helped the sail shape upwind, but when the course went off the wind there wasn't much room to head up from dead down wind inside the harbor to keep my speed up.
Our tacks and sail trim in the second race was dead on.... Ted and Matt were awesome. I put Matt at the wheel a couple times to check the set and there was nothing I could improve... those guys did a great job. I was super lucky to have both of them. They were both more than willing to jump on any task.... both are great sailors and great people.... Of course Ted drives the same boat as me (Seawind 1000) so the crew I was lucky enough to have sealed the deal. Christie's desert would have normally won the prize... but the stuff Deana made was unbelievable, we knew the real race in the baking was for second place.....
We left right after the awards ceremony to head back to Red Shanks. It got dark before SYL got back around but no problem.. we had good lights and a GPS "breadcrumb" trail to follow going back in. We won.... I can't believe we won best overall in the Georgetown Regatta..... It's still sinking in. I feel like my rating of 144 was really tight, but overall...... the ratings weren't bad because everybody had a real chance at winning. I still can't believe I had to give time to a 40' Lagoon, I wonder what the Lagoon's speed rating is internationally? If the ratings were right, I guess that says something about a Seawind doesn't it.... waterline length normally rules, especially in big water... but I didn't suffer at all on the outside.. in fact that's where I passed the fleet. I ran side by side with the big 47' Monohull in 7 and 8 foot seas... I guess that's a testimony to an Aussie built hull.... Seas in that part of the world are normally big so they make their boats for it.
All the other cats stayed 60 degrees or more off the wind, I know that's the right thing to do... keep your speed up, but on the outside my tight line to the shore kept me in the good current and I could point well enough at 45 to 50 to save the deep tacking the other boats were doing. This was one time that pinching in a cat was a good thing to do... I stayed in a full knot faster water than they did for 8 miles. I did have to make 3 short tacks to seaward, but I put myself in the good current and in the right place for something good to happen (a change in wind direction that carried me high enough without tacking) We didn't get the lift that would have put us over the top in the second race... but I was there and ready... I put myself in the right place to win... there just wasn't enough wind velocity for me sometimes, and I wasn't lucky enough to get a slight wind shift when I needed it. Those short tacks were all probably 3 to 4 minutes of time I wasn't heading for the finish line.. so any lift at all would have made the 20 seconds I needed... but that's OK. I did what I needed to do strategically to sweep both races, I just didn't get that break.
When I was sailing next to other boats and the wind piped up to 14 knots or so I had the advantage... my boat's top speed is higher than anyone but "Sunburst". In both races I reset my GPS Max Speed indicator, top speed in the harbor race was 10 knots, we had great winds.... in the long race I only got a 9.1 peak. Winds weren't high enough to get into my sweet spot. Pointing high into the big waves outside I was holding about 5.5 to 6 knots of water speed with about .3 more on current. In the deeper water offshore the current was running a full knot against you so I only went there to make the marks on both ends of the 9 mile stretch. If I could have spent more time above 8 knots (had the wind for it) we would have swept the field.
Overall I feel good about my preparedness, crew choice, helmsmanship, strategy and my little Seawind boat.... and we got the BIG flag...
Sea Yawl Later !! Rusty
March 10, 2011
This morning we are in Red Shanks sitting on glass flat water as the sun painted a morning sky red. We have never wandered around to this part of Georgetown... it's pretty over here and much more private. You can actually hear people talking boat to boat.... the hum of the masses and constant roll of boat wakes are absent here. "Serenity" is the word that comes to mind.
Morning Glory and Kaleo led the way over yesterday as we did some chores in town. When we arrived we swam and sat around Ted's boat until 4 or so, then cooked and met on SYL for the evening meal. We had steak, fish and chicken for meats with fresh green peas, rice and mashed potatoes followed by warm Ghirardelli brownies. The meal was special.... plus we had story time with Ted...! He and Mili are quite a pair, we loved hearing them talk about how they met and their hurricane stories..... they live in South Florida, they only lost everything once...... the rest of the hurricanes only caused major damage... lol. That must be a crazy place to live.
Linda threw breakfast scraps out just now and fish are popping the top of the water picking off the floating bread. On the glass calm water... you can hear them and see the ripples they make. I looked over the side and saw the 4 to 5" fish swarming and a small ray patrolling under the swarm to pick up any scraps that make it to the bottom.
SYL Rusty
March 9, 2011
Rusty getting SYL ready for the "Around Stocking Island" Race on Wednesday.
Photo's of the In Harbor Race. This was a fun race.

<== The photo on the bottom left is Christie, Erin, Mili and I cheering our team on. The picture was taken by Ted while racing on SYL. In fact all these photos were taken by Ted from Morning Glory.
Today was the around the island race. Winds were not as strong as expected, but good enough to sail. I saw from 9 to 15 knots and it did go more on the nose on the outside like I hoped it would. That gave me the advantage as I can point better than the bigger cats. My homework paid off as the boats that went further offshore saw a lot of opposing current. I ran the beach the entire time and actually found a back current that gave me a .2 to .3 knot bump so I had a full knot advantage over the boats that went offshore for about 8 miles of the race.
The course was almost 19 miles and we did it in 3 hours, 15 minutes and 15 seconds. Certainly not as fast as I'd hoped, we just needed another 5 knots of wind that we didn't get.
Left: "Just Driftin" a Beneteau 473. I was pleased that I could pass this boat in the big water of the sound.

Right: "Penelope" a brand new 50' St. Frances. She made my 33'er look like a model boat. While I could outpoint her, she did well everywhere, but especially in the big water outside.
| | | |
| --- | --- | --- |
| | One of the marks to round was Dog Rock. I relaxed quite a bit once we rounded that one. Although I outpointed the other cats... Offshore into the fairly big swells (7 to 8's) I couldn't point as high as I expected. Optimum apparent wind was 50 degrees. I have pointed better, but the big swells had me keeping the sails really tight. | |
Here's the view I saw most often of the fastest cat in Georgetown.... "Sunburst" she's a cruiser.....

I talked to the owner of "Sunburst" after the race, he built the cat from the ground up.

She's 40 feet long and 25 feet wide. His PHRF was a well deserved 75! This boat was impressive. He raced last year and came back this year 4 feet longer! He didn't have any trouble pointing.... lol. The big cats with the high bows were the ones that had to run 60 degrees plus to stay powered up....but not this guy!
The awards ceremony will be Friday. We won't know any official results until then but I feel like I am right in there. I don't know Sunburst's time in the long race, so she could certainly be the winner. She did great inside the harbor but offshore the big waves knocked a lot of speed off so who knows. Penelope's handicap was a 60 and we finished very close to each other so I'm good there. I had to give the Lagoon 410 almost 2 full minutes and we finished 3 1/2 minutes ahead, Calvert was a no show with his FP 42, the little 31' Miou took a beating today, I think she went well over her rating of 178.
Today's start was handled differently than the in harbor race. We had a 10 minute window for our class to cross the line so each boat was timed individually.
As far as the baking category went..... our entry was spectacular. Linda and Christie did two test runs and really came up with a great dish. Matt named it for us... "Bahamian Bread Pudding with Around the Island Rum Sauce" There were lots of comments on it so we did good. The only thing I caught in the fishing contest was "Penelope"... lol. She tacked behind us one time and I forgot about the line I was trailing so she snagged it.. took line and all... lol.
The racing fangs really came out today..... In at least one instance a gentlemen sailor allowed his crew to rule the boat so the boat became a "go for the throat" danger to other participants. When someone other than the owner makes the decisions, the non vested thrill seekers create a Roman mob mentality creating a very dangerous situation.
We sailed a good race and I was pleased with my little boat. My crew was outstanding, going above and beyond what they needed to do and I think we even have a shot at a win, so that's always good. If we do win it, this will be the second year in a row it was won by a Seawind. "Doublewide" Cameron and Nancy's SW 1160 won it last year. Who knows how they will score the race though.. so for now I am saying we have a chance.
Rusty
March 8, 2011
The net will be on shortly, I'm curious to hear any news about the race scheduled for tomorrow. I haven't heard any delay rumors or see a need for postponement so I imagine it will come off as expected. Later in the week... the Exumas are expecting a frontal passage on Friday, then Saturday and Sunday look perfect for a run Northwest toward Staniel. Brother Jim and his two girls Mattie and Shelbie are flying in for a visit this weekend. We will leave Georgetown... finally... for the central Exumas and return for their flight out, after that our plans are to head out to the Turks and Caicos.
8:22AM The big race is on schedule, no surprises. It looks like the weather will be wonderful for the next few days, low winds and lots of sun. Friday will be blustery, but only in the evening and overnight. The front will not change air temps much it will only clear the skies and bring lower humidity for a few days. The humidity here is not as high as it is back home in Beaumont. It's amazing to me that these islands.. surrounded by water have drier air than Southeast Texas.... but I like it!
Linda here: It is 9:34 am and we are under sail. It has been toooo long since we went sailing! We are going to take a nice sail and dump our tanks of used food. After our sail we will go to Exuma Market. They had no produce yesterday but the truck arrived so there should be ample produce. Their selection is better during the Cruisers Regatta than any other time I have seen. I think I might even splurge on some lettuce. Note to Jim: You will be coming in on Sunday and the Market will be closed. The Exuma Market is nothing like the market in Nassau, the selection will be very limited and especially on Monday. The plan is to leave for Staniel on Monday and the produce there is severely limited. You may want to bring some produce with you. I had forgotten that you have not been to Georgetown. I wrote you here since we have been having e-mail problems. Rusty has been getting ready for the big race.
It is 1:00pm and we just returned from a great day of sailing. The weather was perfect today. It was a little spirited on the way out of the cut, but I thoroughly enjoyed the time. Some of the "Texas Navy" had hiked up to the Monument and hailed us. Deana is quite the photographer and was taking pictures of SYL in the sound all by ourselves. I can't wait to see them. We are putting down anchor in Kid Cove to dinghy to the Exuma Market. We will be able to post, get rid of garbage, get some produce hopefully and pick up our laundry. I am starting to unpack the starboard bow for a private berth for Jimmy. Rusty wants him to have his own abode, separate from the girls so if he wants to sleep in he can do that. Well, we are all set so I will close and get this posted. We will probably not be able to post again until Thursday unless it is tomorrow evening after the race. I bet we will be celebrating a win tomorrow!
Sea Yawl Later !! Rusty and Linda
March 7, 2011
Cruisers continue to impress me with their generous nature. Everyone in the "Texas Navy" knew I was having a hard time with Erin leaving. Christie asked me if I wanted to be alone last night or would like company. The last thing I wanted was to be alone. The "Texas Navy" came onboard with a huge Italian dinner. Lasagna, pasta, vegetables, beans and rice and wine. We then played "Catch Phrase". We had the best time. I just love these people. E called me from the Miami airport and then again when she was on the road to Beaumont. I know there was a happy reunion with her dog, Zoey. We are back at Exuma Market for internet, dropping off laundry and garbage. I will get fresh vegetables and milk from the market and then head back to SYL (we came over in the dinghy). Rusty is helping with an "info" session on photography. During Regatta there are numerous "info sessions". We are going to a cooking one as well. I am going to order a few things for Christie to bring back with her from her trip home in about a week. I want to make some shades for SYL. I guess I better get my ordering done before my battery runs out.
Sea Yawl Later!! Linda
4:38, back from the info session.... the projector overheated several times during the meeting... I was very frustrated with it...... so when I got back to the boat I decided.. I'm tearing into this thing to see what ever I can see... it's not useless, but it is big time frustrating when you invite people over and the projector quits for 2 minutes until it can cool off. I'm going to pry this thing apart for better or worse...... I did find a little dust in the dust catcher (very little) I unseated the fan to see if I could tell anything about it, but I couldn't get it out so I just reseated it and put the thing back together after removing the filter elements all together to increase air flow. When I turned it back on I heard the fan motor run for the first time... apparently the cooling fan wasn't grounded or seated well, so it had never worked. I remember listening closely to see if the fan was running and couldn't hear it... now you can hear it across the room.... I believe it will be fine now. Tonight we plan on doing a movie here in the cockpit and see if it does as well as I expect before inviting others for a movie again.
Later Linda and Christie are getting together to test cook for the regatta bakeoff. I can't tell the world what it will be yet... but I can tell you there is liquor in it. If you knew our neighbor at the lake..... saying the desert in question contained alcohol..... I wouldn't be disclosing a thing... all Brenda's deserts have liquor in it. Brenda should bake for a living... her stuff is truly awesome. When we are at the lake house she brings us over all kinds of goodies fresh from the oven.... good people.
This morning I adjusted the sail batons and restrung the outhaul. I hoisted the main and checked out the shape after all the changes, I think it will perform nicely in the race around Elisabeth Island. I averaged a little over 8 knots on the closed course, hopefully I can bring that up a bit on the long legged race (essentially two 9 mile legs) Wednesday. Average speed will depend a lot on where the wind is and the sea state, if I don't have to tack much and seas are decent outside... my target average will be the high 8's.
A huge catamaran just pulled in behind us... this thing must be 60 foot long and it looks brand new. The boom is actually an open cradle for the sail to fall into, not a spar as we normally know it. The boats name is "Diamond Girl II". I may go knock on the guys door after while and find out what kind of ship she is.... The hulls are tan colored like an Island Packet, but I am pretty sure they don't make cats.
I talked to the big cat owner, she's a Romanian made Sun Crest. 62' long 30' wide. The hulls have just been painted so it's not a new boat, but it shows like new.
Matt & Christie watched a movie with us, but the projector is still having problems. I think Christie is going to try to return it when she goes home next week.
SYL !! Rusty
March 6, 2011
This is Erin's last day in Georgetown.

She's already in her "office" this morning on top the boat sunning. She will leave the Exuma Market today around 4.
<~~~~~ About to go RACING!

Ted ~ Matt ~ Rusty

After the RACE ~~~~~~~~~~~~>

At the St. Frances Regatta Party doing the "WIND" victory dance
Going over the Regatta short course race in my mind, we did some really good things (great tacks & steering choices) that made up for some of the bad things like being third on the start by 14 boat lengths and losing our outhaul.... You always want to be perfect having done everything right.... but for only the first time racing SYL, I am pleased. Hopefully the race on Wednesday will be better executed. Yesterday our tacks were good and a couple of them were even fantastic.... I need to hoist the sail and check out the batons and outhaul tightness before the next race. My main sail shape was poor yesterday.... I need it straight and tight next time.
The around the island race will sure be fun.... The 19 mile race carries us outside in the Sound for 9 miles on a forecasted 15 to 17 knots of East wind. The sea state should be fairly settled due to two very light days just preceding the race. The best thing that could happen for me is to have winds 35 to 40 degrees on the head from mark to mark on the outside which is entirely possible. Mark to Mark is 132 degrees and the wind is forecast to be out of the East at 90.
9:30AM We just finished a very hearty early lunch of steak and mashed potatoes. Erin went right back up on top to gather all the Bahamian sun she could bring home with her. Linda found a taxi share to the airport so we will be depositing Erin at 3:45 to catch the cab.
Linda here... Rusty has been doing such a good job of blogging that I haven't felt a need. I have really enjoyed Erin onboard. There is never enough time. We stayed in GT the entire time. I would love to take her to Thunderball and the pigs because she has never been but that will have to wait until next season. We are with an incredible group of people and they are so much fun to hang with. I can't believe the first week of March is gone. The time goes by so fast. I keep thinking of all the things I want to do like learning how to use my sewing machine, a list of SYL jobs, coping recipes, reading books and the list goes on but somehow you get up in the morning and before you know it is bedtime, 9:00 pm is the cruisers midnight! Erin is taking two large suitcases of "stuff" home. We are still trying to pare down our things. We have way too much "stuff" on board. I am sending my electric pressure cooker, pasta maker, a friends auto pilot, winter clothes and an assortment of other clothes. It takes a couple of seasons to figure out what YOU need onboard. We are getting there. I have about 1/3 as many can goods as I had last year and I have decided to not carry as much onboard. We are going a little early to the Exuma Market so we can use the internet. Service here has been awful. This is the last week of the Cruisers Regatta. Jim and the girls will arrive on the 13th of March for a week. I am glad we have a few days in-between to get clothes and sheets washed, etc. Things will still be busy here in GT because they have the Music Festival followed by the Family Regatta which we attended last year. The Family Regatta is where the Bahamian's race their sloops. This is a huge national event and it is a riot!!
Rusty again.... Erin left on a trail of tears from everyone today..... we all hated to see her leave. Erin left a check mark on everybody's heart that she met here in GT. She has matured into a wonderful young woman I am super proud to say I had a hand in raising. I am just as proud now of Erin as I am of my own daughter Karen. My #1 offspring hasn't made the blog much because she hasn't been able to visit because she's in child rearing mode right now.... I have three of the absolutely cutest grand daughters God ever made. I would give anything if "Na" and Brian could come see us. I am holding out hope that they will be able to before we head back to the States. Karen is a SAP programmer , for those of you that don't know.... SAP is the prime business language that major corporations use and speak to each other in.....
Karen always had the highest grade average through school and graduated valedictorian (she gets her brains from her mother) Upon graduating from Texas A&M Karen took a position as a programmer for Price Waterhouse Coopers. PWC sold the intelligence division so now Karen works for IBM from home on an extended contract. Karen made us look good as parents.... she was the perfect kid, so it looked like we knew what we were doing, but we later proved that was not the case.... Karen raised herself and brought us along for the enjoyable ride.
Sea Yawl Later !! Rusty
March 5, 2011
2:00PM Woooo hoooo.. what a fun morning!!!!!!!!!!!!! The "in harbor race" at 10AM was so much fun....... We did OK but we blew the start big time... the only good thing was that everybody blew the start, so it was still a decent race. Shane entered, and depending on the length of the race.. he might have beat me on corrected time.....! They gave him a 150 rating and me a 144. That means I had to give a 41' catamaran 6 seconds every mile....... what's up with that? I kinda got screwed on the ratings I think.... but not badly enough that I didn't think I could overcome it. Had we started with Shane (our fault) we were fast enough to beat the rating difference.... There was another boat "Sunburst" that walked off from everybody... his rating was really fast.. so nobody knows who actually won. I'm absolutely sure I placed somewhere between first and fifth..... lol. The field was made up of: #1 the yellow 40' custom "Sunburst" PHRF 75, #2 a brand new 50' St. Frances cat "Penelope" PHRF 50 #3 Shane's Lagoon 410 "Guiding Light" PHRF 150 #4 a small Iroquois catamaran PHRF 178 and #5 "SYL" PHRF 144. The next race will also include the 43' Fontaine Pajot belonging to Dave Calvert "Destiny II" with a rating of 114. The 31' Iroquois is not listed among the racers for the island race.
The race team is sitting on Morning Glory eating lunch.... basking in the glory of the event.. and taking Ibuprophen.... lol. Ted is telling the "Dead Monkey" story... it was so funny that Matt actually locked up in a solid non-breathing laugh! Ted was a Miami Beach fireman / first responder rescue guy. His group was called to a cardiac arrest on a 3 year old monkey!..... to an exclusive / ritzy part of Miami Beach. They arrive at the house.... well.... actually (the monkey's 2000 sq. ft. house on the grounds of the owners mansion) and worked to revive the Monkey for 45 minutes.... the monkey died! As you can guess... the story was more fun than you can imagine!!!!
My crew found a jib setting that made some awesome speed on the last leg.. had we used it the first lap we would have ruled! The first lap I could point 15 degrees higher than Shane and the big St. Frances 50 cat so they had to tack once on the backside and I didn't, so I caught back up and passed them both... but the second lap the wind came around and gave the back side 60 degrees apparent, so they didn't have to tack!!!! I had to open a big enough lead to cover the time delta............ I may have done it.. but we don't know yet. The yellow boat "sunburst" was waaay ahead, so who knows who really won.
| | |
| --- | --- |
| Shane had to tack the first round because he couldn't point with me so I was able to pass him and make up for my lousy start.... The next lap wind came off the head enough to give us all 60 degrees on the backside so he DIDN'T have to tack. He chased me the rest of the way. Because of the ratings he didn't have to beat me... only stay less than 51 seconds behind me. I sure was counting on my high pointing boat to make distance again on that second lap, but mother nature thought differently about that and changed the wind to Shane's advantage..... | |
A group photo after the races at St. Frances. Left to right is Matt and Christi Butcher, Steve from "Anchor Management" Shane, Troy and Deana, Mili and Ted Cook from "Morning Glory" and the three of us!

Deana on "Storyville" took some good shots of the Regatta. Thanks Deana for sharing them with me. The "Texas Navy" is a fun group. "T" for TEXAS!!!!
6:11PM We just got back from the 4:00 Regatta Race Party.. It seems the official distance for the race was 8.57 miles, so we would have given Shane 51 seconds...... We think we beat him to the line by almost a full minute... so.......... I believe we won the thing!!!! It certainly could be either way because mere seconds divided us..... it's up to the timers to get it right..... The yellow boat that was so fast could still spoil the party, but I think his rating was so crazy that he's out of the picture. His rating was 75 against my 144 so he had to give me 69 seconds a mile....... (almost 10 minutes) He would need to finish 1.4 miles ahead of me to hit his number and that may have happened... we won't find out until next Friday the 11th.
Late in the race I found that my outhaul line had broken. Where the line feeds into the bottom of the boom had worn hard against metal and sawed through over time. Looking at the video.... it must have broken right at the start of the race so I left a lot on the table upwind the whole time. I felt like I was off... but couldn't find the problem in the heat of the battle.... lol. That means the long race around the island I should be able to do better. If the outside leg is a beat (as it normally is) my pointing ability will be a big advantage. Long runs with time to really tweak the sails is good for me, on the short closed course race we didn't do everything we could every time for top speed, even though we were tweaking like crazy.. we just didn't have the time to reset everything before it changed.
Everybody is coming over to SYL tonight for the after party.
Sea Yawl Later !! Rusty
March 4, 2011
It was windy all night.... blowing a steady 25 with higher gusts, but we are anchored in a great location for the ENE winds. We get the wind but waves have no time to build so it was a comfortable night. I'm anxious to hear the weather this morning for several reasons. The first regatta race (tomorrow) may be postponed due to high winds.
I just heard on the morning net that the race schedule is following plan "Z" now. The first race will be tomorrow, but it will be the in harbor race with a modified course. Tides at race time won't allow a full three buoy setup so we will do a two buoy run reaching both ways in 15 knots.
We just had gumbo.... Skippers meeting is at 12:30 so I ought to re-read the rules before I head over. OK.. I think I got it, basically have fun and don't get in anybody's way.
March 3, 2011
Erin and I went in the rain to the Opening Ceremonies at 5 yesterday.... in the rain... and not just a little rain, it was prolific! Only the hard core cruisers and the organizers were there either under umbrellas or wrapped up in foul weather gear.

It's a shame it rained because the night was set to be quite an event. The food and liquor were free, paid for by Indiantown Marina in Florida. There were three 55 gallon drums of rum punch... and with so few attendees I felt sorry for them and drank as much as I could...... (being the helper I tend to be) plus- Erin kept pouring hers into mine... I was decidedly "over-served". I came as close to being drunk last night as I have in 10 years.... Erin said I wasn't "close" to being drunk.. I made the whole trip... but I wasn't incapacitated or even illogical last night.... and didn't even have a hang over this morning so I don't know if that qualifies as full blown "drunk"
The boat looks nice though...after the long fresh water rinse yesterday. Erin had a private client this morning (Bob at Kavali House) then she was entered in the coconut challenge so I ran her quickly over to Hurricane Hole #1 for the event.
<~~~~~ This is my new hair cut!

<~ Troy, Deana, Ted and Mili were team "Morning Story" a great team in the "Coconut Challenge", Matt, Christie, Erin and Steve were team "Texas Navy" they came in 6th, not bad. This ~~~~~~~~> is one of the more famous coconut challenge teams.. the guy in the gold sparkly hair is weather guru Chris Parker.
Here are a couple Yoga Pictures that haven't made the blog yet... Erin is amazing. Peoples mouth literally gape when she does some of her flexibility and strength moves.

This angle gives you a different view of the Gazebo at Kavali House. I understand you can get information about wedding parties etc. here at Kavali House on Tripplanner.com.
It's windy today.... and it's supposed to stay that way a few days.

Erin wanted to tan.. but she said it's just too cold because of the wind so she wrapped herself up in the sail bag.......
Shane came back from Long Island today..... When we got home from the coconut race Shane just sailed in. He and his two guests enjoyed Long Island. They rented a car and checked out all the sights. I think I have talked him into racing his Lagoon 410 in the Georgetown Regatta multihull class this weekend. If he gets a better PHRF than me and beats me I'm gonna be mad... lol.
The "Texas Navy" Regatta competiveness has gotten to the point of smack talking. But I have to say... there is more smack being talked about what the women are cooking than anything else..... How about a race where it's not about the skill of the captain or the cunning of the strategist.... it's about the contest for the best dessert cooked underway..... The cut of the sail has taken a distant second to the intricate pinch of a secret baking ingredient.... ahhh Georgetown... laid back and living it huh? Originally Christie was going to use Deana's recipe, but now Deana is cooking on Shane's boat.. so Christie is making some secret dish given to her by her ancient Egyptian grandmother using hand hewn spices from the distant Sudan.... or something like that.... pure smack I say...... I know it will be good.
The evening was spent aboard SYL, catching up with Shane's adventure, then Ted entertained us for an hour or so with sailing stories and tales of his early cruising. We all agreed we could listen to Ted for hours on end... his mannerisms and choice of story detail are wonderful to witness. After everyone left the three of us played "hand and foot" until bedtime.
Sea Yawl Later !! Rusty
March 2, 2011
| | | |
| --- | --- | --- |
| | | |
| Showing Ice Age on our Sail | Erin Kayaking | Taking a dip in her "fashion goggles" |
Yesterday we showed a movie on the sail after the "Meet and Greet" on volleyball beach. We had a good turnout. This morning Erin taught yoga on volleyball beach. She has one private lesson promised tomorrow and then she says she is then not teaching anymore while on vacation. We are expecting a blow tomorrow. It is already starting to cloud up. We are suppose to show another movie tonight in coordination with a bon fire and a marshmallow roast. Hopefully, the weather will hold out. We had the Bahamian Police come by today and check our papers. There seems to be a presence here that wasn't here before. This is not a bad thing just different.
I feel the movie and meet and greet might be rainy and poorly attended.
March 1, 2011
I can't believe we haven't blogged in a couple of days. Regatta (this is our first Cruiser Regatta) is jammed packed with activities. Sunday Erin taught a yoga class at Kavali House up on their Gazebo overlooking the ocean. Yesterday we tried to find internet that worked and it was a challenge. We have a dinghy parade today that we need to get back to so we will post these pic's and blog more tomorrow! We are having a great time!!
Erin and Christie after Yoga Kavali House Entrance / Gazebo Today's session on top of the world...
| | | |
| --- | --- | --- |
| | | |
| | | |
| Class in session! | Kavali House and Erin's Class! | We are so proud of our Yogi!! |
Yoga on the beach at the Chat and Chill!!!

Tomorrow Erin has agreed to lead the regular class on the beach. I tell you what... Erin is going to need a vacation after her vacation.. we played 6 games of volleyball the day after she got here, she has taught Yoga almost every day since. People stop her on the beach and ask when her next class is... I think our little girl is good at what she does!
Rusty here..... Man we have been busy here in GT... well.. busy is a relative term I guess huh? Like Linda said apparently too busy to blog. This week is "Regatta Week" here in Georgetown. There are events and info-sessions every day for everything from weather to watermakers. The big events (boat races) are diverse as well. There will be dinghy parades, sailing dinghy races, 4 man paddling dinghy races, a coconut run where you paddle out and pick up as many floating coconuts as you can get in your boat in a certain amount of time. Then there is the cruiser races, the "big boat races" There are three classes of monohulls and one multihull class. Right now I am guaranteed third place... There is a composite custom cat that is very fast, a Fontaine Pajot owned and operated by Dave Calvert of "Calvert" racing sails in Islamorada.. and me.... the only 1.2 million pound 33' Seawind with every appliance known to man on board.... lol. I doubt the other two boats have these items on board: A pasta making machine, an ironing board and iron, ice maker, microwave, separate convection oven, 512 cans of soup, 15 two liter cokes, 4 cases of assorted other drinks, a swinging lounge chair, a Bernina sewing machine, enough tools and material to build a third hull... then there are the intermediate items that my competitors MAY have but I doubt it.... like two ice chests full of "stuff" radar, SSB antenna causing air drag, a freshly stocked liquor cabinet, literally cases of paper products, enough Christmas lights to fill a large garbage bag, every knife Cutco makes, almost every spice "Penzy" has to offer, 30# of bread flour, 20# of regular flour, a 1000 watt speaker system and projector & 7' screen, the list goes on.................................. I hope the race officials take in to account my wife's full inventory.... heck, just the shelves and plastic tubs to hold stuff probably weight 100 pounds.
If we don't win the race, maybe we can win the best baked goods, photo or might even catch a fish..... if not, we can always compare inventory piece for piece. Get this...when the race chairman talked to the past winner (who owns a Seawind 1160) to arrive at my PHRF number, Cameron told him my boat was faster than the 1160! WHAT...? How is it that a 33' boat loaded to the gills is faster than an 1160 (a 38' boat of the same design with much more sail area) I don't even think Cameron is racing this year. He may sign up at the last minute though... maybe that's the deal... lol. For you Seawind owners out there... It's in the wind that the 1160 "Doublewide" is for sale.