July 31, 2011

Members of The Texas Navy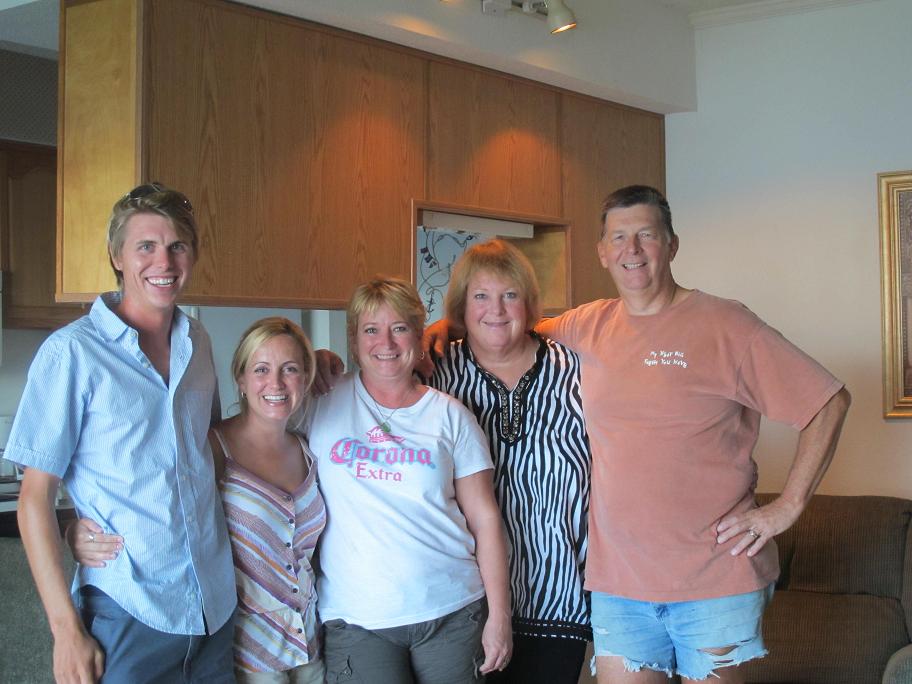 Matt and Christie from Kaleo and Deana from Storyville came to visit us Sunday. Matt and Christie have Kaleo for sale and will be states side for a while. Deana will be leaving for Luperon next week to join her husband, Troy, on Storyville.
What a fun day we had today. Part of the Texas Navy came to visit us today at the condo. It was so good to see these dear friends and to remember such grand times that we had this past cruising season. Towards the end of our visit we all agreed how remarkable it is the depth and richness of the friendships that are formed within the cruising community. I have never formed such lasting friendship in such a short time. I remember asking that first year, "why does it seem that the cruising community is so open and willing to share their time, knowledge and what they own so readily to what are almost complete strangers". The response that made the most sense to me was "you have to depend on one another, you are the one needing help today. Tomorrow it will be that person who is doing the helping". The places we cruise you can't cruise with your checkbook. There IS no one to pay. Tom, our dear friend, from Baytown also dropped by and we spent the afternoon just swapping stories. The cruising community is a fluid, tight knit group of independent individuals who have a unending spirit of generosity and love of life. I feel bless to be included in that group.
Rusty gave Christie and Deana one of his sea glass creations. I think Matt was feeling left out and chose to accessorize.
| | | |
| --- | --- | --- |
| | | |
| Matt working on accessorizing. | Is this me? | Christie always supports her man! |
July 30, 2011
It's Saturday, I used to not remember what day of the week it was, I am pretty sure thought... that today should have been my day off. My turnaround schedule (that usually takes months to prepare) will be evaluated Monday... I worked today trying to get it ready for it's initial review.. It's probably further along than they expect.... but I wouldn't accept it in it's present state. I may go in half a day tomorrow if I get a call from the customer to allow it.
Good results are the best thing I can offer a client, so I intend to provide just that. The schedule will probably be good enough for them, but certainly not as finished as I would have liked for a first look. The problem is always time... in a week or so I'll be ahead of the curve.
Tomorrow promises to be a good day... we get to see old friends from the cruising community... several of the Texas Navy are on their way here. A fine day off indeed. The best thing about working today is that, we do what we do for money. The silver lining is what keeps us all going isn't it? Today I made enough to fill the boat with fuel 4 times... a months worth of gas... so at the end of the day it's more than bearable, it gives me boat time... times 10 for every day worked.
SYL !! Rusty
July 29, 2011
The mustang saga continues. The mustang which still does not have a current inspection sticker for reasons already blogged, has been sitting in the parking garage since I drove it home from the transmission shop on Wednesday. Last night we get a knock on our door and it is a neighbor who tells us there is a large oil leak under the mustang. Rusty goes to check and sure enough it is transmission fluid. So now we have to take the car back to Beaumont to Ideal Transmission who I have ZERO confidence in but we are stuck. Taking it back to Beaumont is easier said than done. One, I am truly uncomfortable driving a car with known problems. Second, refer to number one.
Sea Yawl Later!!
Linda
July 28, 2011
We are breathing a little easier this morning because it appears tropical storm Don will have landfall closer to Corpus than us. Last night Rusty and I were talking about going to the lake if Don was going to landfall closer to us mainly because of our cars. We are right on the water and our cars are low to the ground. Also, if I am going to leave I want to leave early so I don't get tied up in traffic. Then plan was for me to leave for Beaumont today and wait for Rusty to come to Beaumont, leave the mustang in Beaumont, and go on to the lake. Of course we will keep an eye on Don but for now it looks like it will be a nonevent for us.
This week has flown by. We are close to being settled into the condo. I haven't said much about the "saga of the mustang" but after yesterday it is a story that must be told. Let me start at the beginning. Rusty has a 2007 Dodge Magnum and I have a 1998 GT Mustang ragtop. Both were put in storage for the last two cruising seasons. I knew cars didn't like not being driven but I did not realize "how much" they don't like being driven. Both car's have had issues but the mustang's transmission was giving us problems. The consensus was the it was the intelligence of the transmission more than mechanical ( apparently we were wrong). The mustang went straight from storage to the transmission shop. I have already written on that unpleasant experience with Ideal Transmission in Beaumont ( get everything in writing and make sure you are not faced with receiving your car back in a box for the price of $500.00 or spending $2,000 to fix the transmission).
While in storage the mustang's registration and inspection sticker expired. No biggie right? Last year we were told that you can only renew your registration in the county it is registered. I usually do this online. Easy. Problem was, when we got home the sticker was no where to be found. You have to go to the court house to get a duplicate. Ok, no big deal except we haven't been in Beaumont since we got back. We went straight from Georgia to the lake and then from the lake to Clear Lake. The mustang was taken straight to the transmission shop by E. It was ready last Friday and we had E and Michael pick it up for us. Rusty and I went to Beaumont after work and drove the car back to Clear Lake because I needed to be here to get cable, internet and complete moving in. Saturday we were almost back to the condo when Rusty was stopped and given a ticket for not having an inspection sticker. Now remember, the mustang was registered but we didn't have the sticker which means we have to get the duplicate sticker BEFORE we can get it inspected. The officer told Rusty that he was given the ticket rather than a warning because Nassau Bay needed the revenue.....Geezzzzz.
When E picked up the mustang she was told I have to have the car back to Beaumont for a check in a week or the warranty would be invalid. Great, that meant I had to be back in Beaumont by Thursday. Yesterday I decided to go to Beaumont early and get back because of the weather forecast. I left at 7:00am and went to the courthouse to get my duplicate sticker for the mustang and renew the registration for Rusty's car which expires in August. First I was told that you can get duplicates in any county in Texas so the trip was unnecessary for the mustang. I couldn't renew the Magnum in Beaumont because we changed our Driver's License address to Hemphill so I can only register the Magnum in Hemphill or online. Ok, I still had a couple of days to get it done online but the court house trip was unnecessary. I did get my sticker for the mustang so now I can get my car inspected, except it was now raining in Beaumont and I had been told that they will not do inspections when the streets are wet. Great I am still not legal. Not to be deterred, I call Rusty and he finds a place in Baytown for me to get my car inspected called Quick Sticker. I arrive at Quick Sticker and I am told that in this county they require emissions inspections which is an additional $40.00. There was no way I was going to have my 13 year old car inspected on a system that has never been examined not to mention the extra money. My car is still not legal. Oh, I did go by the transmission shop for the all important "checkup". This critical checkup consisted of a fella getting into the car shifting it from park to drive with out moving and checking the transmission fluid. Excuse me, I drove 3 hours round trip for this? After this busy but unproductive morning, as I was driving back to the condo I just started laughing....the saga about my mustang has gotten to the point of being comical. I guess I will have to get it inspected when I go back to Beaumont.
Life...a sense of humor is a major requirement!
Sea Yawl Later!!
Linda
Rusty Here:
The boat traffic here in front of the condo is prolific, yesterday I saw a nice catamaran go by on his way to the bay. Every day there are tons of motor boats passing by, and all kinds of boats going in and out of South Shore Harbor across the Lake.
Living here on the water has provided me with quite a yearning for a way to get on it...... Its too hot to enjoy the lake totally yet, but I am considering what remedy I'll employ when it cools off. My svelte little 27' Stiletto cat is resting patiently on it's trailer in Hemphill so that's an option. I will probably have to rent "SYL..." #1 (the Stiletto) a slip next door at Bal Harbor... I've been wanting to whip in and check slip prices every time I go by on my way home from work but..... no need to worry about that yet. I won't bring her up until it cools off a bit. Unfortunately the very best time to enjoy the lake and this area is October (the same time frame that I'll be doing crazy hours 7 days a week) so nothings perfect is it?
Speaking of not being perfect...... I have found it vexing... yes vexing that every time I check on one of our cruising friends online... THEY are still out there cruising... still enjoying their boat and the cruising lifestyle. It didn't take me long to get jealous did it... lol. About a week of work and I'm already dreaming about being back on the boat and here's the best reason I can think of.....
The "cost" of working...... so far to have a job has been massive, here's the tally: Condo - 2k to get in it, we needed a car for Linda so we spent another 2K on the Mustang, I spent 3 days getting hired in so that's 2 hotel rooms and 4 tanks of gas so far.... lets call that $500, I got my first paycheck today but they took out $2,500 to pay for some of the insurance cost while I was away... I feel like I left something big out, but so far that tallies to about $7,000 dollars that I've spent to go back to work................ I would have done better sitting on my own hook in Georgetown. I could have given a thousand dollars cash a day away to boat neighbors for a week and everybody would have been a lot happier....... maybe next week will help even things up. Ohh, but wait, Linda just told me she renewed our boat insurance, so that's another 2K... The credit card probably took a $10,000 dollar hit THIS week (since I decided to go back to work).... that isn't the way it's supposed to go is it?
For you guys out there still cruising.... enjoying the warm clear water.... stay there, it costs way too much to to even think about going back to work.
Last month doing almost nothing at the lake house wasn't a whole lot better... I tell you guys.... keep your wife away from civilization as long as you can... lol. Maybe you guys out there on the boats... that are not being as nice as you should to your misses.... oughta' read this again...... make them happier out there and save your money!!!! Life on the water is not only sweeter, it's cheaper.
OK, lets not tarry on the dark side any longer. Here's some of the good stuff: We have a great place to stay on the water in one of our favorite locations. We are close to most all our family so when we get through jamming every evening... after getting everything set up we can go visit our people..... My wife is smiling more, the anesthesia called a "credit card" that separates the pain of spending money to it's reality is addictive but fun, unfortunately it sedates me as much as it does Linda. Enough about money and the swift wielding of it's flashy blade......
Life on land has it glory.. automatically flushing toilets, an endless supply of hot water, every retail product you can in imagine available within a 10 mile radius..... Sushi, favorite dishes from great little dives we know well.... and Kentucky Fried original receipt chicken.
I will blog a bit more later... or get back to it tomorrow. Right now "So you think you can Dance" is on TV.... so I gotta go.
Oh glory.... I just got a knock on the door, one of the neighbors asked me if I knew about a pool of oil that's making it's way out from under the Mustang in the concrete parking garage below.. I checked, it's transmission oil.
Rusty
July 24, 2011
| | | |
| --- | --- | --- |
| | | |
| There is a lot of traffic coming in and out of Kemah | Kemah Boardwalk | Kemah Boardwalk |
We got up early this morning and headed out to the marina. There was not a whisper of wind when we left the condo but once we were on the water we had just enough to push the boat at a lovely speed. We left by 8:00am so the traffic was just starting to build as we were returning. Great timing. We sailed for a few hours, enjoyed breakfast burritos that Tom and Cindy brought and had a leisurely lunch at the Classic Cafe. It was a lovely day, a great weekend.
July 23, 2011
We came home yesterday and it was good to see E and Michael. Tom and Cindy, our dear friends who live in Baytown, gave us a call and wanted to get together. Rusty and I decided to head back to Nassau and spend the weekend there. Tom and Cindy came to the condo bringing dinner and we all had a great time. I just love those two. Just as Tom and Cindy were leaving, our upstairs neighbor, Joe came by and insisted we go to a Wine and Cheese party up stairs. I had received an invite but declined thinking we were going to spend the weekend in Beaumont. It is hard, if not impossible, to tell Joe no, so we went. We met a lot of our neighbors. It was really fun and we were both glad that we went.
Tom just called and invited us to go sailing on his boat tomorrow. Yeah!
July 22, 2011
Once again, these photo's do not do justice to our view. It is really quite lovely. I don't think you can have a poor view in these condo's.

The wine and cheese gathering the other night was held in a much larger condo but still in the same building. It was on the third floor and the larger condo has 4 times the windows we have so the view was truly amazing.

Our place is well decorated but not large, but it certainly fits us and provides a scenic respite while we are off the boat.
Yesterday we went to Gary's straight from Rusty's work to move a king bed from their home to the condo. Let's just say that 6 hours later ( 11:00pm) we had the king moved but the queen is still sitting in our hallway. You can figure out that things did not go smoothly. The queen set will stay where it is until next week. When the guys got the queen loaded on Gary car, his car decided not to start. They had to unload the bed bring it back upstairs, Rusty took Gary home and we will deal with the queen later.
We are going home today to pick up my car. Car's don't like being in storage. My mustang had to have a new transmission to the tune of $1800.00. Be careful when dealing with Ideal Transmission in Beaumont. They had told Rusty that it would be $460.00 to diagnose the problem. We really thought it was an electronic problem. When I called them yesterday and they told me that it would be $2,000.00 I said I didn't want it fixed because it was only a $5,000 car. It is in great condition, only 89,000 miles but it is a 1998. This guy seemed surprised that I didn't want to fix it and told me that the car just had 89,000 miles on it, like that was a big surprise for me. I told him I would pay him the $460.00 for his diagnostic work and just drive it the way it was as long as I could. I really didn't want to pour that much money in a 1998 car that was going back into storage. Then he told me that I would spend $500.00 and get my car back in a box. I said that was not going to work. I expected to pay for his work but I also expected to get my car back the way I drove it in. Since Rusty had been dealing with him I thought maybe I was missing something. Turns out when I picked Rusty up from work this guy called Rusty not telling him he had talked with me and told him things inconsistent with what he told me. Rusty said when challenged on something he would change his story. Ultimately Rusty decided to get it fixed but he told the guy how uncomfortable he was with him because he couldn't keep his story straight. He really had us over a barrel.
The mechanic never mentioned that if he started the diagnostic work we would either have to pay for a new transmission or get the car back in a box. I am not sure I would have had him do the work if I had been given this piece of information. The car was drivable. You know mechanic's have a bad rep and this is why. The car should be ready this afternoon and Erin and Michael will go get it.
SYL
Linda
July 21, 2011
What a difference a day makes. I had everything set up by 8:30am. We went with Comcast. I got a six month contract and they will be out on Monday. I spent most of the day just "nesting", running errands and spending some time at the Coffee Oasis using their internet. Tonight we are going to move a king size bed from Gary's to the condo.
July 20, 2011
Gary, the property manager, is the nicest guy. He has gone way out of his way to make things easy and nice for us. He let us move in last night. I couldn't get out of the hotel quick enough. It was sooooo nice to wake up in the condo. This place has everything, and I mean everything. Dishes, zip locks, TP, washing detergent, etc. all the basic's you would normally have to go out and buy, they are here. We just had to move in our clothes. All the dishes I had packed in the back of the car will need to go home. Of course, condiments and food are needed but what a blessing this place has turned out to be. Now I am off to the grocery!
We still have the one car here so I take Rusty to work at 5:30am and will go back to get him at 4:30pm. It is about a 30 minute drive. It is a cost both money and time wise but we decide it is worth it to be able to live in a place we both love. Being on the water is just who we are. I so appreciate Rusty being willing to make that drive so I can be here.
Most of today was an exercise in frustration. I spent all day trying to get our electric in our name, cable and internet. It is getting more and more difficult to talk to a person when dealing with companies and today when I did reach someone it was usually a person that could read from a "script". Heaven forbid you ask a question that is not covered in that script. I guess Direct TV was the most frustrating. We pay Direct TV at the lake and Erin pays has Direct TV at the house on Taft. Naturally I contacted them first. I finally jumped through all the hoops and got to talk with a person. DT wanted a 12 month contract. Obviously, I am not willing to do that since we most likely will not be here a year. Foolish me though that since we are already paying for DT in two locations that something could be worked out. The first person was very rigid and was not willing to even consider thinking outside the script. I hung up and thought let me try this again. I was so frustrated I was ready to pull the plug on DT at the lake and the house. I thought does DT really want to risk losing this business? I called back asking to talk to a supervisor. I got in touch with someone who came up with a plan to accomplish what I wanted, service here without a long term contract. He told me exactly what to say, which was I wanted service at two locations, requiring I stop (briefly) service at the lake since that contract had expired, get new service in Nassau with the second location at the lake. He said once the service was set up we could change the primary location to the lake. Great! He gave me the number to call to set it up and that person said I could not do it. Forget cable for now, let try electric. To make a long story short, I spent about six hours on all this and at the end of the day I was not one step closer to having any of the services lined up.
Gary happened to call during this time and he could tell how frustrated I was. It was time for me to pick up Rusty but he gave me a couple of numbers to call. Oh yeah, when I decided to try Comcast the number information gave me was a fax machine. That was how my day ended. Today will be a better day. Look at the water, Linda, and breath.
SYL
Linda
July 19,2011
God is good!! We have a home! Yesterday I drove around trying to get into properties, calling every phone number I could find, spent a lot of time sitting in parking lots and ultimately camped out at the Coffee Oasis which is a very popular internet coffee shop on Nasa Road 1. I just "shotgunned" my efforts to find a place to live. I "shot" out emails and phone calls to everyday number and address I could find. Most were dead ends. However, one of the emails that I got a response from, I ended up calling. It was a realtor from FindIt a apartment locating firm. I was telling Linda, the agent, (has to be good Karma, right?) what we were looking for and it was as if she had an epiphany. She gasps (literally) and said, "I have the perfect place for you". I immediately went to her office and went to see the condo. I walked in and knew instantly I had found home. The condo is on Clear Lake, is well maintained, quite and furnished. The condo is own by a Japanese physician who comes to town a couple months out of the year. Gary the property manager worked for Nasa before he retired. He and this physician worked on a cooperative Japanese/Nasa project together and have remain good friends. Apparently, they were very picky about who rented the condo. My only concern was the distance Rusty had to drive to work. The condo was not over the Kemah bridge which is good but it was quite a way down Nasa Road 1. I made arrangement for Rusty to see the condo when he got off work and meant with the agent and Gary, the property manager. We had to pass inspection. I spent the rest of the afternoon filling out copious amounts of forms. I have not lease anything is decades and my have things changed. Seriously, it was like I was applying for an unsecured quarter of a million dollar loan. We needed a paycheck stub, so how do you explain that you have work about 8 weeks in the last two years, have no prospects of working and your husband hasn't work in 8 mths and hasn't received his first paycheck and your last residence was a boat? These forms were not made with us in mind. Rusty's and my work history looked awful on paper. The agent just shook her head and said that they would depend on the credit report. I wasn't worried about the credit report.
Rusty and I got to the condo a little early and I was showing him around when Gary showed up. Gary took us upstairs to see the condo and he and Rusty hit it off. Turns out Gary is good friends with Charlie, a neighbor of ours at the lake. Small world. By the time the agent go there Gary wasn't particularly interested in the paper work. It was a good fit. The only problem with the condo was that the bedroom had a queen size bed. We could make it work but Gary offered to put a king size bed he had in the condo.
| | | |
| --- | --- | --- |
| | | The photo on the left is turning off Nasa Road 1 onto Lakeside Drive. The second photo is the lovely, quiet drive to our condo. Our address is 401 Lakeside Lane, #112, Nassau Bay, Texas 77058. This address is usually listed as Houston, Texas not Nassau Bay. Funny story. Apparently, Houston annex this area years ago but Nassau Bay and other surrounding areas have refused to relinquish their name. It can get quite confusing until you figure out what is going on. |
| | | |
| --- | --- | --- |
| | | The condo's are called Bayfront Towers. These photo's do not do the grounds justice. They are truly beautiful. Very few of the condo's are rentals, most are homeowners. They have a very active association. Much of the flower beds are maintained by a committee of owners. |
July 18, 2011
I am sitting at an internet coffee shop in Seabrook, Texas checking the internet for waterfront listings of housing for Rusty and I. Rusty and I went to the lake on Thursday and returned to Beaumont Saturday for a wedding. We went to church at our home church, Westgate Memorial Baptist. It was good seeing so many old friends, many of whom were at the wedding on Saturday. After church we went to lunch with E and Michael and off we went again to Seabrook to look for a place to stay for the next 7 months. Rusty's job is in Deer Park and we may end up living there. However, Seabrook/Kemah is 20 minutes away and if we can find just the right place we might stay here. We looked at extended stay hotels but they were quite expensive and I don't know if I could stay in a glorified hotel room in an industrial area for 7 months. That is why I am looking in Seabrook. I am looking for apartments, which will be less expensive than an extended stay hotel but we will have to move furniture, get electric, cable, wifi etc set up which will be a large hassle factor.
Rusty and I have decided that to make the drive the, "View" must be fantastic! Well, I guess it is time to get busy!
Sea Yawl Later!!
Linda
July 15, 2011
What do we know about our life-trek so far that is absolutely certain.....? Well.. the only thing we are sure of is that our plans undoubtedly change on a regular basis, and that's not necessarily a bad thing (for us) Come Monday, I will be working in the Houston area for a leading chemical manufacturer. I spent the past few days testing, interviewing and hiring in for an undefined duration tour of duty scheduling turnarounds and unit overhauls.
Our time without gainful employment was certainly well spent, but I think I am actually excited about the new job... a chance to be creative again.... Any time you can excel in a field, you will enjoy the chore as much as the rewards. I am lucky I have a career path that I truly enjoy.
Yesterday we travelled back home to the lake. Our station wagon was (as always) packed to the gills with stuff.... Change, like we seem to love has it's challenges though... lol. While we were on the boat we had our mail sent to our daughter's house in Beaumont instead of Hummingbird Lane because we could call Erin and see what came in, then attended to it. Lately we have been redirecting mail to our house, but now....... it looks like we will be in a townhouse or rental in Houston for an undetermined length of time... so where do we send our mail now?.... lol.
Everything will work out in time... for now... we continue to roll with the flow. One thing the past year has taught us is to take it as it comes.... One day it's feathers... but the next day we get to eat chicken.... The economy is tough right now and jobs aren't easily picked like low hanging fruit, I am blessed to have this opportunity.
Our fun lately has been that....... almost daily we get to redesign our life. Some personality types would cringe or even break down completely over that much life fluidity... but Linda and I enjoy and sometimes even crave change. An "evolved" or well read person knows that there are four "industry" defined personality types, meaning that just because we think a certain way, that doesn't mean everyone does or even should..... The first personality is the "A" type driver or leader.... #2 is on the opposite end of the spectrum.. he's inherently a follower. #3 is the detail oriented guy that can never start anything until he knows what the final result will be... this guy has lace up shoes and has a pre planned wardrobe lined up in his closet. #4 is his opposite... (like Linda and me).... when somebody says lets go do something we get in the car and leave immediately... we are comfortable knowing that somewhere along the way we will decide on the best destination... :)
The best evolution of all four personality types are equally able to accomplish great results wielding his own unique sword. The important part to understand is that none of the four types are "wrong" or better than the other.... they just represent different ways of approaching life decisions. It's not fair to judge the procedure (persons way of thinking)... I try to only judge results. Respecting other peoples way of thinking breeds harmony and that's something we like too.
Understand also.. that in the "Rhome personality model" everybody is a blend.... nobody is fully a 1, 2, 3 or 4. Dr. Rhome has his own "labels" for the 4 types, I just used 1 thru 4 because I don't remember what he called all of them. Accepted standards show that Type 1's are always modified with a bit of 3 or 4 tendencies (but not both). Just as type 2 people also have type 3 or 4 modifiers. I know.. I know... I'm getting pretty far out there for you detail guys... If your interested in exploring the principles I'm quoting, pick up a copy of Dr. Robert Rhome's book "Positive Personality Profiles" and see if you agree, it's a fun read. He enjoyably lays out the complete model I've cliff noted.
Back to what I was talking about before I started chasing rabbits..... Linda and I are totally OK with restructuring our direction for the better... even daily. Today we decided we might buy a house 2 doors down from Erin's place and rent it out.... how's that for shooting from the hip? We looked at it yesterday and are deciding what to offer. A complete and swift redirection in life is easily..... even enjoyably mounted by us on a regular basis. I totally get it, that this much fluidity would totally freak some people out.... lol. Linda and I have honed our skills of jumping in the car and heading out.. then buying the map at the first gas station.. and deciding where we want to go from there...... Sure we got lost a lot.... and bump into corners from time to time, but we have figured out how to not mess up too bad and we certainly enjoy the ride.... For us no errors mean we aren't doing anything, and that's just not an option..... lol.
We have both been on the computer looking for townhouses or apartments to rent in Houston..... It looks like we move pretty much every 6 months the past couple years... lol. Linda will be checking out the short list of accommodations in Houston Monday while I'm enjoying my first day at work.... cool huh?
I have a couple chickens on the grill... I better go check them.
SYL !!
July 12, 2011
It has been a while since I have blogged. Land life is very busy and I was having a few health issues which thanks to a good friend and a great nurse practitioner have gotten under control. I have been working on the lake house converting it from a weekend place to a full time home. I am a long way from being finished, it will just take time. I have a lot of things stored in Beaumont that needs to be brought to the lake, again it will just take time.
Last Thursday Rusty woke up with a minor back ache. We thought he just slept wrong. We were to leave to go to Beaumont for a weekend of activities for the wedding of Keli who is like a daughter to me. We had been next door neighbors for over 20 years. All three of the Rod girls are like family and Erin is considered the 4th Rod daughter. As the day progressed, Rusty's back got worse. At 3:00am Rusty woke me up in excruciating pain. Rusty has spent the last 6 days in bed. He missed all the wedding activities but he is better. We finally remembered he had this happened about 4 years ago and started him on the right meds. We will probably go back to the lake today. It seems he will most likely go to work next week.
The wedding was beautiful and it was good to see so many old friends.
| | |
| --- | --- |
| | Erin and Michael at the wedding of Keli and Lane. Such a cute, nice couple. |
| | |
| --- | --- |
| Let the party begin!!!!!!!!!!! | |
July 11, 2011
We are in Beaumont visiting Erin. I'm sitting next to El Nemo.... the fish we brought back from the Bahamas last year. He is alive and doing well in his 4 gallon fish bowl. Nemo is a Brazilian Basser. If you have ever been snorkeling in the Bahamas you have seen his type I'm sure. He is a small yellow and purple fish. It's neat that he sailed with us most of last year on the boat and is still kicking here in Beaumont.
I'm not sure when we will head back home to the lake, probably tomorrow.
SYL Rusty
July 5, 2011
We can't find the charger for the camera battery... lol. It will show up, but right now we are without. I did manage a picture or two of the 4th of July events, but will have to wait to get them off the camera.
Granny and Pappy left the lake this morning so it's just Linda and I.... we will head to Beaumont the end of the week to get ready for the big wedding. Not much to report... we had a good visit with friends and relatives... ate lots of good food and did little else. We strictly followed the "Lake Rules" so things went well.
New visitors are told upon arrival what is to be expected and so far we haven't had any compliance issues. Our rules here are not to be taken lightly or strayed from in the least.... If you come here to our place.... I hate to be rigid about anything but we are unwavering when it comes to what works and doesn't work here on Hummingbird Lane. Our "Lake Rules" are: Do what you want to... when you want to and if you want to.... so far we haven't had any major deviates and hope to keep it that way.... lol. My primary "boat rule" for visiting crew probably should apply here as well: (If your fun interrupts anyone else's fun.. you lose). Beyond those two, we don't have much use for rules or schedules for that matter around here..... lol.
The garbage man comes on Mondays.... that's about the only schedule compliance we face here at "Sitton on the Lake". When we get hungry we eat... sleepy we sleep, and when we want to get wet we go swim... otherwise it's watch the lake through the picture windows and relax. It's tough duty but somehow we manage.
7:51PM We found the camera charger.. lol I knew it would show up.
What do you think? ....

My Italian Stuffed Brisket.... it didn't even last the day. It was so tender nobody needed a knife and we all kept eating it until it was gone. You can see in this cross section the stuffing takes up quite a bit of the inside of the brisket.

One thing I like to do is not over season the meat while it's cooking, it's better to dust the finished slices with Texjoy, garlic pepper and onion chips after it's sliced.

The first slice you see is centered with mostly Italian sausage... the next slice has more of the bell peppers, celery and onions that flavor the meat lusciously.

I already want more..... maybe we will cook another one before we head to Beaumont the end of this week. If I get industrious I may do one.... chances are I won't be that energetic.
A picture out the kitchen window.......... The Yamaha Limo and the Kubota are still in their 4th of July attire after the big parade..... We had a fun trip thru the neighborhood.... including Rebel Ridge.

"Rebel Ridge" is across the cove from our place. Rebel Ridge was a Confederate stronghold during the Civil War sporting two cannon emplacements to protect the South from Union soldiers entering Southern territories via the Sabine River.

The strategic location sits atop an 80 foot cliff looking directly up the river, underneath the cliff lies a 90 degree turn in the river that leads directly away from the cannons.... so the enemy would be perfect targets coming and if they made it... going as well.

The emplacement didn't see action as the Yanks never invaded this far South. The Rebel flag still flies ceremoniously on the lawns of many of the "Ridges" residents.... no animosity intended... just a badge of honor remembering an important.. sad part of a common American history....
July 2, 2011 Saturday
The parade was a success... We decorated the Kubota and the Yamaha Limo with 4th of July sparkles and pinwheels for the big event. This year was the biggest event ever. We had about 25 entries in the parade. My overnight pita pocket brisket turned out scrumptious.... After slicing it with the electric knife I dusted it with garlic pepper, onion chips and more Texjoy Steak Seasoning. It's sitting on the warming plate ready to go..... Of course I had to sample it several times to make sure I had the seasoning just right....
July 1, 2011
Tomorrow is the big Independence Day parade. I made country style ribs today.. tomorrows fare will be Italian stuffed brisket, Baby back ribs and baked beans. The brisket is stuffed and in the oven.. it will cook at 225 for 10 hours. The first thing I did was cut a pocket in the brisket from the side that creates a huge meat pita pocket.... lol. Then grill some good Italian sausage at the same time your searing the brisket on the grill salted with Texjoy steak seasoning. When you get a good hatch pattern on the brisket and the sausage is cooked, take the sausage out of the casing and stuff it in the brisket along with a chopped onion, chopped celery and 3 halves of chopped bell peppers (red, orange & green) once the pocket is full of the Italian sausage and veggie mix, pour as much Italian Salad dressing in the brisket as it will hold... sew the opening up with a stainless steel wire, lay it in the roasting pan fat side up and cover it tightly with foil and cook it slowly all night. Cooking it this way (with the condiments inside) guarantees that the seasoning and veggies will completely permeate the meat.
Erin and Michael arrived around 5PM. It's good to have them here. They went to town with the next door neighbors (family friends) for Mexican food... lol. The biggest reason for going was to visit while they ate.... we have plenty good food around here.
SYL Rusty