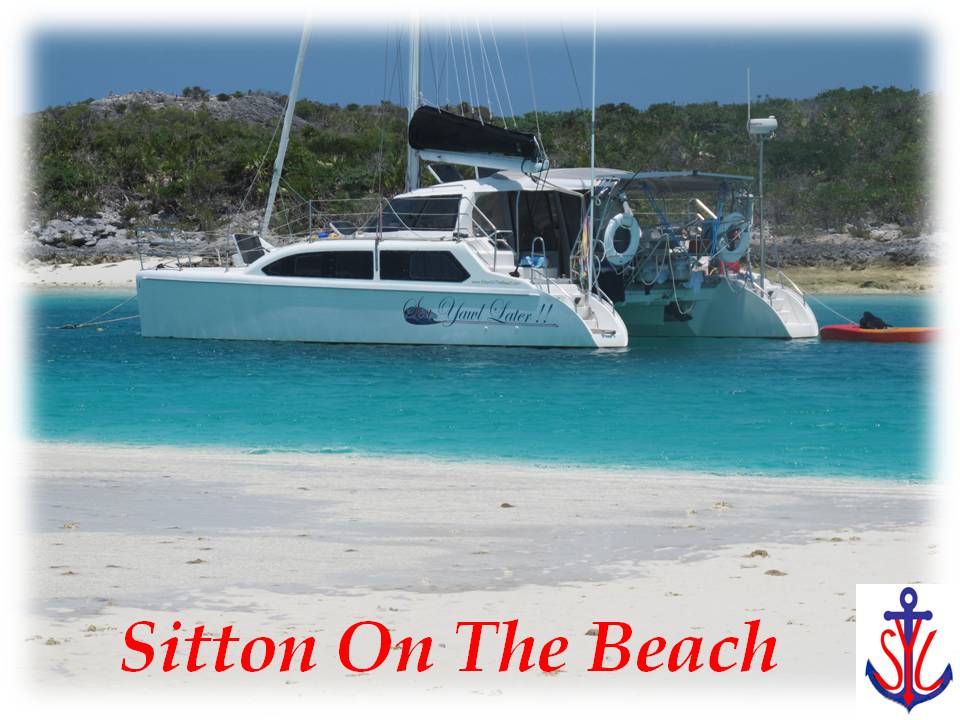 January 31, 2011
We all enjoyed the car trip today, it was fun driving around... especially on the wrong side of the road. The car we rented was a Nissan "Sunny" a small white 4 door with the steering wheel on the wrong side... lol. I picked right hand steer to help me remember that something is different.. and which side of the road to drive on... I only messed up once for a moment as we pulled onto the road and switched right over.
Our immigration papers are extended thru May, so our main reason for driving to GT was accomplished. We also stopped at the Exuma Market, Top to Bottom, Mimm's water sports, basically any store that was open... because it was easy by car. We did a lot of touring too, there are several historical sites to visit on Great Exuma.
| | |
| --- | --- |
| | |
| | Until his death in 1797, the 710 acres of Rolletown were part of Squire Denys Rolles extensive land holdings on Great Exuma. All the Exuma properties were inherited by his son Sir John Rolles. Neither father nor son ever visited the Exumas, instead they depended on overseers to manage the properties. Captain Alexander McKay, an Exuma landowner himself, may have been acting as overseer. The British government has awarded McKay, a Loyalist, land in the Exumas in restitution for land he lost in North Carolina. The McKay's started the Hermitage Plantation but most likely ran into money troubles and sold the plantation in 1792. The McKay's probably moved to Rolletown. Sadly in 1792 Captain McKay's wife, Anna, age 26, died as well as their infant son. Alexander died two years later. The large tomb is an elaborate memorial that houses Ann McKay. This stoned fenced burial ground also has their infant son and Captain McKay. |
The photo above is the "road" to the burial site. It is typical of most of the ground in the Bahamas. Where ever you see cleared land you will also see large piles of these rocks that have been removed to clear the land.
| | | |
| --- | --- | --- |
| | | |
| | | It was from this cove that the slaves fled from led by a man named Pompey. They stole their masters salt boat and sailed off to Nassau to plead their case. They were apprehended before they got to Nassau and sentenced to the workhouse where they were routinely flogged. The Governor was appalled by the harsh treatment of women, some who were nursing babies. He found out that the transfer was illegal and ordered all the slaves back to the Exuma's. Pompey was given 39 lashes as an example. |
The jailhouse is on the same site but is unrelated. The jailhouse was part of several government building including a post office and a commissioners office that was built in the 20th century. This part of the jailhouse is all that remains of those buildings.
There were two tomb sites dating back to the 1700's.

One of the ruins was a prison, the view from the back door was awesome, it overlooks the beach.
Linda here: The Tombs are the gravesites of Constance McFee, age 52, native of Georgia who died in 1807, George Butler, age 65, native of Hartford Connecticut and resident of Nassau for 33 years. He was a friend of Henderson Fergerson and died at Hermitage in 1822. The third tomb is that of Henderson Fergerson, age 53, native of South Carolina and died in 1825. These Tombs are located in Hermitage settlement that takes its name from Hermitage Plantation which was land granted to Alexander McKay, a native of North Carolina who was a loyalist. It was fairly common for Americans that were supporters of the England to be granted land in other places to reward their loyalty to the crown, hence the name Loyalist. It is felt that Henderson Fergerson bought the land that became Hermitage Plantation in 1792. When Henderson Fergerson died his wife left the Exuma's but maintained ownership of the Hermitage.
The major roads in the Great Exuma's are blacktop with sections that have been carved out of the rock. Many of the roads however, are little more than trails like the one on the far right. We were told that 200 years ago the Bahamas were covered in hardwoods. These trees were harvested and with that the Bahamas lost most of their top soil. We were told of some "pot farming" in Baratarre so we decided to visit. We didn't see any pots and mostly what was planted was cabbage. There were small patches of carrots and onions but without any irrigation and poor soil it must be difficult. Bananas and papaya seem to do well.
| | |
| --- | --- |
| | |
Something we have noticed here in the Bahamas.... unfinished houses are everywhere.... there are those that have fallen into disrepair... but the strange thing is building projects ranging from just the slab to walled in buildings with a roof are seen on every island that is inhabited. I found out in Fresh Creek that Bahamians can claim the land if they start a house. The law doesn't say build a house.. but if the foundation is done, the land is theirs so it's like a claiming stake when you put up a foundation.
Again on this land based tour, we found the best place to eat is our boat.... We stopped at the "preferred place" for lunch but found it to be only edible. Universally we find a hamburger to be the best option. Maybe that's why the Jimmy Buffet song touts a "Cheeseburger in Paradise".
We got back to the boat and settled in before dark.
January 30, 2011
We followed "Guiding Light" to Barraterre for church this morning. The Bahamians are loud people... It will be interesting to see what a church service looks like here. Yesterday we went to where the locals go.. few cruisers make their way into Barraterre because it's off the beaten path and so close to the big Georgetown.... The grocery store sold shoes, sink faucets, canned goods and a fair assortment of basic grocery items. If you asked about vegetables they would go to the garden to see what was ready. Shane bought some salt, candy a cabbage, some tomatoes and a pack of gum for the kids running around the store. If they didn't have the vegetables you wanted they would have it by the next day. I assume they bought from neighbors or went to GT for it.
Linda is making breakfast, Shane and I were out past dark last night and didn't bring a radio so Linda was worried about us. After checking on the church schedule and going to the store, we walked a few blocks to the bar that had internet. We both needed to post web sites but Shane had to do some writing, so it took a while. My fault, I should have brought a radio to coordinate our return time with Linda.
This place is wide open to the East and North so there's little protection, but winds are up today so it's no problem, we slept well. We will move today after church, I imagine Shane will too. We need to go to Customs in GT before the 6th to renew our cruising permit. They only gave us 30 days, I understand that's the new rule..... then when you go back the second time they give you pretty much whatever time you want.
I checked on SV Kaleo's progress last night, they are in Shroud Cay... enjoying the Exumas. I'm happy for them, I know my first time here (last year) was amazing..... You know how you go on vacation and remember a place better than it actually was.... that doesn't happen here... On the Banks you go from simply pretty to amazing as you round the next bend. Case in point.. yesterday we were wandering through the shallows after the crossing.. the sun was bright.. the shadow of our boat vividly cast on the sandy bottom as we slowly drifted between small rocky islands surrounded by baby blue water.... We saw a pair of sea eagles nested on a big rock in the middle of Children's Bay, their call is loud and distinctive. SYL drifted by within 200 feet of their nest. As we approached the bay I saw the first one perched on the headland, he circled into the bay and landed again near his original position, then I saw the other on her nest.... located on a rock the size of a 2 story house in the center of the bay, it's like they were welcoming visitors to their majestic and beautiful home.
| | |
| --- | --- |
| | |
I am amazed every time we sail the Exuma Banks. In this place you actually forget how pretty it really is. You know me... I love to play with my boat, add this location to the experience and it just doesn't get any better.
I intend to do more of what we did yesterday... drifting around the banks... taking our time........ soaking up the memories. Pictures are nice, but I make a point to record mental snapshots of times like yesterday. Commit them to memory by running them over and over in my mind... so I can pull them out like a soothing warm towel to calm the mental storms that WILL occur when things go badly. Everybody has mental storms, when something happens (like my dinghy incident) I don't know anyone that doesn't get that flash of anger, then regret of loss when something like that happens. But if you have a warm towel handy..... a mental picture that you keep close, after the inevitable storm passes you can clean up your mental mess more easily. I'm not saying you can prevent anger... the electrical fires in your head... I'm saying you can more easily remove the smell of burning wires if you have a nice warm towel fairly close.
I have some favorite pictures I took... 8 years ago we were sailing a rented Seawind 1000 across the gulfstream. As the morning light came in it replaced the faint twinkle of lights marking Bimini... our night journey's end. It seems easy to make strong memories after all nighters doesn't it? My most pleasing memory was recorded as I sat on the stern steps watching the black water churning away from the sterns... then it turned to India Ink with a froth of light foam, finally to the deepest purple you can imagine.... shimmers of light penetrating it's depth with snow white sea foam trailing away as the sun filled the sea with color. The sound of our bow wakes beneath the catamaran.... the smell of salt air mixed with the excitement of being in the Bahamas... the cold stainless steel of the wheel as the day woke up. All warm towels I have used many times. What if I didn't have that? Would I be as happy? I don't know. Go... record some memories doing whatever it is that makes you smile. If you're brain stinks from fires past.... record over it........... revisit a good memory. I keep visiting until other people can stand me again... lol. Just kidding.... I doubt I have been repulsive for long periods of time.... My smooth naturally comes back pretty quick. Question: If you have two dogs... which one gets the strongest; easy.. the one you feed the most.
| | |
| --- | --- |
| | Church was fun.... We were welcomed by name and asked to say something... they clapped for us! The service was structured very much like any Baptist church but the characters were much different. The message was about grace and the whole service was designed to comfort it's patrons. "When the role is called up yonder" "Put you're hand in the hand of the man who stilled the waters" It was very much worth the effort. |
Tomorrow we are going to share a rental car with Shane and drive back to GT instead of sailing there to take care of our Customs date. Then we can ease toward Farmers for the 5 F's.
Rhiannon called on the radio this morning to say they are heading our way. We will likely meet them again at Children's Bay (the Eagle spot) tomorrow evening after the GT run. I am currently sitting in the "Same Old Place" restaurant and bar. We ordered burgers, fries and conch fitters. I'm drinking a Goombay Fruit Champagne Punch. I'm sure the amount to sugar and carbs in this drink would be illegal to sell in the United States... lol.
Our "spot" looked a lot like a confused worm this morning because I left it on overnight.. it is zoomed in to our anchorage. Spot only shows 50 locations and all of them were at anchor.. zoom out....
Lunch was good, not much else to report... I'm full and sleepy... a very nice Sunday.......
SYL !! Rusty
January 29, 2011
We said good by to "Alta Mae" with Kent and Shelley on board, then to "Sea Fury" with Kevin, Kim, Haley and Justin on board. I told them the fish story so I'm sure they will be trying their luck tonight. There was an awesome wooden Schooner that came into the anchorage yesterday evening, it started life as a 1930's Grand Banks fishing schooner. This guy had the boat beautiful. I believe the boat name was "Reflections". It was a fine thing to see. He was the last boat in the line so I told him about the fish too.... It may be a busy spot tonight.
10:20, 22.7nm miles to go on our 36 mile crossing to Rat Cay Cut. We will be easing our way toward Farmers Cay for the five F's regatta the next few days. Farmers is very close to Rat Cut so we will have 5 days to make 20 miles. After we gain the lee side (West side) of the Exumas we will enjoy easy seas again... right now we are running 45 degrees into 3's and 4's on about 10 knots of wind. Progress is good, we are making 7 knots on sails alone. Earlier this morning seas were pretty confused with lots of 5' peaks. Hopefully seas will continue to settle, as they already have to some extent. I have been letting sheets out all morning as the wind clocks to our beam. We started out at 35 to 40 degrees apparent and are between 70 and 90 right now. Seas have definitely settled some, no 5's anywhere in sight. Winds are ranging from 8 to 11 knots, so the waves are bigger than the wind right now. There is unsettled winds North of us that built these waves, I'm glad the front stalled that made these waves.... lol.
Our ETA for Rat Cut is just before 2PM. That will give us time in the calm waters for Linda to try some different ways to cook fish! The freezer is full and there is quite a bit in the fridge that needs to be used soon. Well, I let the jib out too much last time and it's shaking.. I better go give it a crank.
The charts say the water is almost 6K feet deep here... no problems about hitting a reef I guess.... lol. Linda got a couple bug bites last night so she took some Benadryl. She's down below napping while we make this semi-spirited sail. Winds will be 15 to 17 tomorrow so that would have been a more active crossing. Not bad or dangerous but just more than today. That's why I chose today.... We will certainly be fully protected on the banks by 3:00 today.
10:57. 18.7nm miles to go. ETA still looking good. I thought about trolling on the way today..... but why! I don't have anymore room for fish... lol. The day is still 50% overcast and there's a chill in the air from the front that stalled just before making it this far south. It's probably in the low 70's... brrrr.....
11:33, 14.7nm to go. Winds are averaging a knot more than earlier so our ETA is a little better (1:37) Our peak speed on this crossing is 8.9 knots. I was typing when that happened, we must have gotten a 14 knot puff, it's been staying between 9 and 11 knots today so far. Heading slightly into 3 to 4's I'm happy with 8 knots on winds of 12. In smoother seas we could be sailing within two knots of wind speed which is very good for a 33' boat this loaded.
LAND HO....... At noon there is an hour and a half left of open water.. I'm glad we left early so we will arrive early. I imagine we will spend the night at Children's Bay, just 2 miles North of Rat Cut. I just pumped out holding tank out, I hope everyone is as conscientious as we are about not polluting the harbors. It's not hard to take care of... of course we sail a lot and some don't so they would have to make a special trip offshore to pump out.... but we have done that before....
All in all our trip back for the motor cowling was stupendous.... a flat motorsail over, got the motor cover back on, met some really fun cruisers, filled the boat with fish and are having a very nice (although a bit hilly) sail back to the southern Exumas. We will see Shane around the middle of next week, he's going to the five F's at Farmers too.
I just checked our course.... we were off, high of the rhumbline... I guess as the waves go more abeam the boat didn't have to beat into them as much so it tracked higher.... not much but that doesn't really make sense.... Either that or we are beginning to pick up a current. We are picking up a current heading up the Exumas. My speed is closer to wind speed. I just looked and we were at 7.5 knots with 8.8 knots of wind, there's probably 3/4 of a knot of water speed hidden in there... that's always nice. Oh yeah there's a current, 6.6 knots on 7.5 knots of wind.... lol. Things are literally "going my way".
1:00, 4.5 nm to go. I see three other sailboats around Rat Cut. It looks like all three are in the Exuma Sound headed SE toward GT. I have seen more flying fish today than normal. I saw them as soon as we got out of the Joe Sound cut, pretty much all day then a big herd just now very close to the boat. Linda here... it was a very spirited sail with several waves going over the top. Last year I would have been a nervous wreck but now I am not scared but I tend to get sea sick when it is that rough. When I lay down in our berth motion sickness is not a problem. As we were pulling into Children's Bay I told Rusty we should get on the VHS and hail Shane. Those words were not out of my mouth when Rusty said, "Hey, I think I see Shane over there". Sure enough Shane was right there. Currently we are anchored with Shane at Barraterre. Rusty and Shane are going on land to post and get some groceries.
Sea Yawl Later!!
January 28, 2011
What a nice day we had. Early this morning we got in touch with Alta Mae who we understood had our cowling. They were not sure when they were going to be in Georgetown so we decided to go back to Joe's Sound on Long Island. We sailed some but mostly motored sailed. I took all the cushions off and deep cleaned the salon seats. You can't really tell what I did unless you lift up the seats but "I" know it is clean and that makes me feels tons better. I had to wash and rinse them four times but they are clean. Yesterday I used this product from West Marine called Star Bright. It is amazing on rust and if got the stain from the ICW off as well. SYL hulls look great.
When we arrived at Joe's Sound we met Kent and Shelley from the Alta Mae. As it turned out Alta Mae were not the ones who found our cowling but were the ones who had heard about the "dinghy incident" and took the time to try and find us. The couple who found the cowling were Kevin and Kim on a boat called Sea Fever. They were diving and found it about a quarter a mile away from the cut. I baked each couple a loaf of bread and we had them over to visit and really enjoyed meeting them. Both couples arenew cruisers and are on monohulls. Kevin and Kim also have two delightful kids, Justin and Haley. Justin is quite the orgami expert. They really liked the openness of SYL and were very complimentary about her. Kim is a professional organizer....Wow could I use her services. Unfortunately, I think we all are planning on leaving tomorrow. We are probably going to head toward Little Farmers for the 5F festival. It is the first Friday in February Festival.
| | |
| --- | --- |
| | WOW!! After everyone left Rusty put some cut bait on his rod and reel off the back of SYL and he had been catching pompano like crazy. He caught 6 and filleted them. He quit because we have filled our freezer. Yeah!! Now I have to figure out how to cook them. The food value has them listed as excellent in our fish book. |
Rusty here: Man....I have never got into fish like I did here at Joe's Sound tonight. While we were visiting I had a line out on the heavy trolling rod with 80 pound test on it.. when I checked it the bait was gone so I went to re-bait and the hook was straightened out, and this is no small hook! When everybody left (about 7) I baited my light rod..... it's a bass fishing rig with a nice Shimano reel on it and 40# test line. I immediately hooked up..... it was tough to get him close to the boat, and when he saw my lights he would rip all the line back off the reel..... It took about 15 minutes to get him to the boat on the light rod.... He was probably about a 15# African Pompano. I was ecstatic because I ate one of these fish on Texas Two Step and it was delicious... I cleaned it and decided to throw the bait out again.... As soon as it hit the bottom I got another one, this one was about 10#, I cleaned him and threw out again... same thing... about a 10 pounder. This time I didn't stop to clean them in between casts.. I piled up three of them right in a row the biggest of the three almost as big as the first one.....! I stopped and cleaned those three.... then I heard something hitting the top of the water out there and I couldn't stand it... I put a top water lure on the light pole and the third cast I brought in another big one..... I put him on the boat and cast again.... the second cast I felt a big one hit.... the fish was so big I couldn't turn him... I immediately tightened the drag as soon as I saw him start stripping line.. he ran all my line off and popped it off the spool when it got to the end. I never phased him.. He had to be huge. I said OK, that's enough...we probably have 15 or 20 pounds of fillets!
So if you are ever in Joe's Sound.... fish the cut where it meets the main body of water with cut bait on the bottom about 7PM. The reason I decided to try it was, Wednesday I was in line to get my butane bottle filled and a guy told me he did good there at Joe's too, but you know how fish stories go.... but I wasn't expecting THAT!
What a great night of fishing... right off the back of the boat. It's 10:44, I might be too excited but I'm going to try to go to sleep.....
SYL !! Rusty
January 27, 2011
I just got a radio call from "Rhiannon" a steel schooner that was at Long Island with us. Another boat in Long Island "Alta May" was diving yesterday and found my engine cowl just outside the cut. I'll call them via SSB on 4.003 in the morning to see what their plans are. If they are coming to GT all the better, if not I'll go get it or meet them somewhere else. The "Five F's" Regatta at Little Farmers is next week, that's the only plan we have about needing to be somewhere for a while.
We woke up to pond still water, zero winds this morning.... Today will be a great day to beach the boat to clean the bottom and sides. We have some other boat projects on tap today, I'm going to do some caulking and scrub the bedroom floor, Linda is rearranging the "garage" again. I believes she thinks she can find a place for all the stuff she couldn't find a place for last time she did it....... I'm not sure about this.. but I think the laws of physics may win again.... moving something from one place to another doesn't reduce it's volume, but who am I to argue, she does some amazing stuff.
We are spoiling ourselves while we work inside this morning... the AC is on. I got the caulk removed from the area around the throttles so the hard part of that job is done, I'm about to go caulk it now. The next job for me is hand scrubbing the carpet in the bedroom. Linda doesn't do well on her knees so that's my big job of the day. Then I plan on beaching the boat here on Sand Dollar. I got new anodes for the Yamahas so I'll install them and we may do some cleaning under the boat, if nothing else we will have a nice bobbing day from noon until...... bobbing around under the boat is our favorite sport.
3:44 We got a lot done today... The caulking, scrubbing the floor, Linda reorganized the garage, we both cleaned the sides and bottom of the boat. The bottom wasn't too bad, only some green hula skirts along the water line..... I replaced the anodes on the main engines... good day.. we just finished our showers. One thing that happened today... the Honda quit putting out power.... It ran just fine and the circuit breaker was OK, it even showed a green light marked "output indicator" but it wasn't..... I took the front plate off and when I stretched the wires to check connections it started working.... so I started to screw the plate back to the front and it quit again... as long as I had the wires pulled out it worked... so I worked every connection I could get off and back on... after that I put the front plate back on it was fine and its still working as it should.... weird...
Just as we pulled up on the beach to bob around and work on the boat from the water.... there was a young couple from Sweden walking the beach.... The couple had flown in so they didn't have a boat... they had walked miles around the island on the beaches. He asked me if I knew where a cave he was looking for might be located, I didn't but invited them on board to look at the charts. I gave them a glass of water and we talked a while. They were very engaging and a good looking Swedish couple... we enjoyed them stopping by. It was quite a walk back to the Chat-n-Chill so I helped them finish their adventure rounding Stocking Island via dinghy. I wish we had taken pictures of them so you could have enjoyed them as much as I did.... but I guess you just had to be there... sorry... lol. I have never met a Swedish woman face to face... but this one definitely represented her country well.... they both did.
We have a light breeze on the anchorage now... I hope it holds thru the night so we won't have to run the fans. I put the wind scoop over the bed hatch to gather all the wind that comes by.
We watched "Wind" last night... it's a great movie about the "America's Cup" sailboat race. It was well done and will surely be one of our movie night selections for the regatta crowd. While the movie was on, we ran the Honda, made ice and water... our water tanks are almost full.... not just full, but full of great RO water.... The water you buy at the docks wont hurt you, but it tastes like every old barrel and hose in the Bahamas... Our water tastes as good as the best bottled water you can buy.
I just did a mast count.. 44 boats just in our cove. Sand Dollar Beach is on the fringe of the Chat-n-Chill zoo. There are two main coves on Sand Dollar, we are in the smaller Southern anchorage. It's shallow, and provides good protection from the North in the harbor... the winds are so light today though.. protection isn't really required.
The bows and sides of the hull needed to have the intracoastal scum peeled off badly. I used Comet and an "eraser pad" but it didn't phase some of it... Linda has some Star Bright rust remover that worked well on what I couldn't scrub off. We triple rinsed after the rust remover...... she looks like a new penny again. I'd still like to buff and polish the sides, but at least she's white and clean. I used a scrubbing pad on the bottom, most of the bottom was clean and smooth, the waterline and 4" below were the only places than needed attention.
We were going to the Zoo tonight because Thursday is "Texas Holdem" night at St. Frances, we planned on playing but time got away from us.. so we are on the boat tonight..... They limit play to 5 tables of 10 people, it fills up fast, so you have to get there early. There's a 5 dollar buy in so the pot is decent, enough to fill your gas tanks (if they aren't too big) Gas is 5.18 a gallon here.
Sea Yawl Later !! Rusty
January 26, 2011
Linda here...it has been a busy couple of days. The kitchen was a mess. The water drained not only on the floor but through all my cabinets under the sink which is the full length of the galley. It also went into the area on the other side where I keep plastic ware, and my supply of comet (which is in a paper containers and doesn't like water) It took most of the day but everything has been washed, cabinets cleaned and reorganized. While I was at it I cleaned out the two drawers that holds the forks, knives, etc. This morning I got up at 6:00 am, made jello, started the bread that is currently in the oven and made sausage balls which we are having for breakfast, listen to Chris Parker and finished cleaning the kitchen.
9 AM: We pulled up anchor and are about to enter Kid Cove which is the closest anchorage to the Exuma Market. We have to pick up our laundry, get propane (they fill on Wednesdays) go to market, get gas, get rid of garbage, Rusty has to go to the Marine store and I will post the web site. The winds are suppose to lie down some today. The weather is apparently pretty bad in the northern Exumas (Nassau, Abacos). I want to stay in GT until we have everything done to the boat we want to do. I want to change out the life lines, scrub our bedroom floor, caulk around the sink and in the salon, scrub the salon seats, clean the hulls and caulk under the hulls, reorganize the garage and the v berth in our bedroom. I think that list should take maybe 5 days.
I called home yesterday and found out that Erin has the flu. Being away from family is the hardest part of cruising. I don't know if I will ever really reconcile that issue. I think that when I go home next I will be able to really enjoy being home. That didn't happen this summer. Selling Berry and buying a house, helping Stu buy and move into his house was all consuming and very stressful. I guess I am going through a homesick phase. We have just anchored in Kid Cove so as soon as the bread is finished baking we will dinghy into Lake Victoria for our errands.
Rusty here.. we got our daily chores done, we have milk, fuel and water, after that (in that order) everything else is gravy...... I sailed back across the harbor on the jib just piddling around... it was easy so I did it.. almost 3 knots there at times.... lol. Our plan was to to go the chat-n-chill but anchoring anywhere near it was just too close to the hundreds of boats circling the beach like Conestoga wagons during an Indian raid..... we tried really hard, but there just wasn't a good place to stop. I'm so glad it was full because we decided to head over to Sand Dollar Beach..... I am backed up to a beautiful beach with pure white sand under me..... lots of elbow room and well protected from the North winds that will come in the next few days.... I didn't realize how much we needed to get away from the maddening crowd... THIS is nice....
We have apparently been challenging authority here in GT this time in....... As you know they filled the best place to anchor with mooring balls so nobody goes there.... why pay $100 a week when you can anchor just outside the mooring balls for free. Lots of these folks stay here all winter, so it's just not economically possible to pay for moorings... basically they ruined the best spot to anchor your boat. Here comes the part where I "challenged authority".... but only on purpose. The number one best spot (that is now off limits) is a place on the beach that gets deep quickly, so you can pull right up to the beach (out of the way) and still have plenty water under you.... well, now it's in the "mooring field" so you can't anchor there. Yesterday Linda had worked hard on the kitchen and I wanted to take her to the chat-n-chill for a burger... so.... I beached the boat on that #1 spot.... now check this out... I didn't anchor.... I BEACHED it so I didn't anchor in the "no anchor zone" There were boats all up and down the beach with their nose on the beach chillin'.... like I wanted to do, but they were all power boats. Well, here comes the harbor patrol.... I was very anxious to talk to "Elvis" and have him explain to ne what I was doing wrong.... (his name really is Elvis) He told me what I was doing was illegal, you can't anchor here... I said "I'm not" just like all these folks my nose is on the beach, I'm going off the front of my boat to get a burger.. I'm not staying.. only (like everyone else) going to get a beer and a burger.... Well, he's not used to a big sailboat that act like a Hobie Cat so he was just as determined about me not staying there as I was about doing it. After 5 minutes or so of discussion he gave me two hours to get a burger and then move out.... I didn't check my watch.. but we were done in about that time and moved back out to anchor... I made my point.
Also yesterday we got change from the Exuma Market that included a Costa Rican 100 bill. I imagine in Costa Rica it's probably worth about 3 cents... and we didn't get it as a hundred dollar bill, because for the 100 we used for groceries we got three 20 and this in change, so they didn't jip us badly... but when we tried to redeem it they acted like we were the criminals.... Linda was very frustrated at their demeanor.. they not only didn't want to help.. we suddenly became invisible and couldn't even pay for the groceries we were buying..... geez!!! It seems like "the man" is out to get us this time into GT so Sand Dollar beach away from the crowd really looks nice to us this evening. Movie time!!!!
G'night Rusty (rebel without a cause)....
January 25, 2011
Yesterday we sailed back to GT from Long Island, the wind was only 15 but it was kind of hilly. The previous blow had the waves stirred up, mostly it was 5 to 6 foot with some 7'ers in there to keep you're attention... lol. They were behind us or we wouldn't have gone in that kind of seas. We made the 20 miles of open water just fine, in fact I skirted Long Island at the 100 fathom line fishing instead of going direct.
I put several hand lines out with old lures on them just to attract attention and one of the lures that looks like a huge rattle trap picked up a small barracuda, but that's all we caught. We docked temporarily at Exuma Docking Service, hauled laundry to the cleaners, uploaded the site at the market and I went to Mimm's Marine to order some marine parts.
We saw Skip and his wife from "Wind Dancer" a Lagoon 410 in town, they had dinghied across the harbor downwind, the trip back would have been very wet so we tied their dinghy to the back of my boat and brought them back across the rough harbor.
This morning we are listening to the GT net. Linda is busy in the kitchen, yesterday I created a mess in there.... I turned the watermaker on and made about 15 gallons of water during our sail, unfortunately I didn't check the 3 way valve we pull our drinking water from... it was valved to the hose, not the main tank so all that water went on the kitchen counter, therefore in the cabinets and about a half inch deep on the kitchen floor. I got the majority of the water up with the dinghy pump but Linda is going through all the cabinets washing everything again.
I did my penance though.... I cleaned the bathroom including under the sink and helped with the kitchen as much as I could. What's the deal about if you make a mess on the boat in one place, EVERYTHING on the whole boat has to come out and start from square one. Anyway.. while I was in the mood I went outside the boat and rolled up every line, even went into the spare line hold and rolled everything up in there. I had been using line then just throwing it back in the hole while I was sailing or too busy to put it right the first time. There are NO lines on the decks.. everything is off the floor or coiled. I also put a smaller line on the "trial sized" Manson anchor. I have a little 5 pound that I use to keep the stern from swaying on a day hook. Linda wanted a better dink anchor so I put a smaller diameter line on the little Manson so now we have one.
There are more boats in the harbor than when we left and more will come as regatta gets closer. I'd be interested to know exactly how many are here. Last year somebody did a count during Family Island, but there are already more boats here than that and the regatta is over a month away. I'm sure somebody will do an unofficial count during the Cruiser Regatta.
We took a lunch break from boat cleaning to get internet access tickets at St. Frances then a burger at the chat-n-chill. When we got back to our spot I anchored next to a big monohull, after getting set I got in the dink to check the anchor then eased over to see, and sure enough the big monohull was "Just Driftin" a Beneteau 473... we met Dennis and Trey in the Louisiana ICW. I stepped aboard and chatted a minute, Trey had some friends (or relatives).. not sure which on board, they were in rare form... drinking beer and passing a cigar around.. Dennis was off fishing.
January 23, 2011
Eight boats in the anchorage this morning. No squalls or rain last night, just winds to 20 or 25. I did see a squall with cloud lightning in the distance about 11PM, but nothing here, it's a little cooler this morning but still in the 70's. The barometer didn't lie... not much change in this front other than wind direction.
This morning it's overcast with N winds @ 20, they will moderate to 12~15 tonight and stay that way for 3 days... (good sailing weather) Looking at the charts, we are on the top of Long Island so the rest of the island would be easy but we will probably save that for when we go to the Turks & Caicos, heading South would be away from the Exumas. We want to talk to Dave and Leslie about doing Long Island by car, possibly tomorrow. The Womacks are a good resource because last time they did just that and said it was fun. The island is 45 miles long, so going by car and back up to here at 45 miles an hour sounds like a good option.
Linda is making pancakes, so it's smelling good in here..... after breakfast I'll head over to Texas Two Step and talk about land travel and their experiences on Long Island.
Linda here... Rusty has gone over to Texas Two Step to see about making land travel plans. They have an extra four on board visiting making 7 all total, one of which is a 3 1/2 month old. I am making bread this morning, sweet tea and jello. Now I just have to decide on the main course. We have a little gumbo left but not enough for the day. I may make a pot of 15 beans soup. It seems like soup weather. We watched a couple of movies last night. The projector was over heating but I think we may have solved that problem. I haven't decided if I want to just be lazy today or if I want to tackle some of the projects that need doing. It is going to be a little to cold to get into the water today. I want to work on cleaning the hulls but the current is too strong at this anchorage.
January 22, 2011
| | | |
| --- | --- | --- |
| | | |
| | | |
| | These are all photo's of our anchorage at Joe Sound. This is one of the few times that our photo's really do not show how absolutely beautiful this anchorage is. The sand looks like snow and has an unusual feel to it. I think it is because it goes under water several times a day. The only bummer is the current is so strong you can't just bob under the boat like I like to do. I tried it once but I had to hold on to the ladder because the boat would move back and forth about 25 feet constantly. The sand in front of SYL gets completely covered with water at high tide. | |
Better day so far.... I didn't break anything between the bed and the table this morning... lol. That's about all I've done but we will see....
Chris said we have a front coming thru with a chance of some squalls, but they end before midnight. Nothing big but we will take the towels off the line and cover the sails so nothing will blow off the boat or get wet. I'll bring the generator in under the back canvas and cover the dinghy motor with a garbage bag.... We get lazy and don't stay ready for weather on the hook, so we need to get ship shape by tonight, no biggie.
The boat was pretty humid this morning so I'm running the AC to dry us out. We are getting acclimated to the warm weather but not totally there yet so the AC feels really good.
There are six boats in Joe's Sound and several just outside the cut in the bay. I'm anxious to explore the rest of Long Island. Today I'll read more about the island, see what we want to do while we are here. It looks like there are quite a few services here, not just a deserted island by far. Two more just came in, it's very protected so they may be in for the blow tonight.
I took a long slow dinghy ride looking for the motor cowl, no luck. It was fun to putt around though.... When the sun was not behind a cloud you could see the bottom well enough 50' away from the boat at any time with my Polaroids on, so I covered a lot of territory. I'm sure small fish somewhere are checking out their new accommodations as we speak....
I cleaned out my dinghy tank and filled it with fresh gas, so that's back in order. I also added 5 gallons to each main tank. Each tank could have used another gallon or two, but not much to be full... that's all we have used since Nassau... nice. So I am back with almost 20 hours in the main tanks and 10 gallons in reserve plus a partial can for the Honda.
Linda here...We have been getting the boat ready for the blow. It shouldn't be too bad. Mostly 20-25 knot winds and scattered squalls with up to 35kts. We will be ready. Rusty is happy with our anchorage so that is good. I fixed a big lunch since tonight might get a little rough. I had about 5 little new potatoes that were starting to sprout. Grannie I made your white sauce and I must say you taught me well because it came out great. I used the white sauce on the new potatoes and we had one of our filets with the last of our mushrooms. I added Cindy's Waldorf salad and we had a wonderful lunch. Two more monohulls just came into this anchorage. One of them is really close to us but what can you do. Everyone is going to need safe harbor. I just hope they have a good anchor. The blow should be over by about 2:00 am and our anchorage is well protected. The really only threat is another boat dragging their anchor.
I'm not sure why Linda has been so spooked about this blow tonight, it's like she's getting ready for a hurricane. To her credit though.. she has been so much better this year. She's really been a trooper that's why it's strange that she has been so edgy about this frontal passage.
Alright.. I gave in and rigged for maximum gale force winds..... lol. I had two anchors out, one on the nose toward the beach and one astern to keep the rudders off the sand in a blow. We would have been fine 99.9% of the time but with all the sideways looks I was getting.. if something happened.... lord. So I put a float on the stern anchor and released it, then backed out to near mid channel stretching the bow chain off the beach to the SE. Then I reset the old stern anchor (a 35# CQR) to the SW where the winds will start tonight and rigged it to the bow. THEN... I took the huge fortress anchor I keep for emergencies and set it dead North (where the winds will finish and remain after the blow) I am triangulated with a diameter of over 100 feet! all of it tied to the bow...let it clock baby ... let it clock on me now! I won't move 10 feet from dead center of my circle.... The best part is... when the blow comes it will be directly across the channel so if another boat drags, he won't hit anything but the beach... (not me). All this is massive overkill, but that's OK, what else was I going to do with my evening..... That storm fortress is massive, when you drop it that thing leaves a mark! I imagine it's 60 pounds and has 6' of 3/8" chain on it. The galvanized shank on that thing is probably 3 feet long and big as a baseball bat.
Linda here...I wasn't so much spooked as concerned. We had a chance of 35 kt gust. This anchorage is very narrow with rocks on one side and a sandbar on the other. The currents are incredibly strong, the boats on anchor "swim" like crazy (and not the way you would expect) and they are anchored very close to each other. I always think of worse case scenario and like to plan for it. I really appreciated the "overkill" (and it was overkill). As it turned out we did not see any of the squalls so the blow was not bad at all and I slept great knowing we were secure.
Our watermaker has been running since noon or so... we have added 5" to the tank. It was getting below half so we put a gallon of gas in the Honda, made ice and charged the batts while we made water...... it's 4:04..... still going........................ did I tell you I like that Honda? Earlier in the day we ran the AC to finish off the gas that was already in it. When it ran out I was out looking for the cowl, Linda called and told me she turned everything off and that it had run out, but the day was already dry outside so everything was good.
5:16 Sure enough we are clocking around... Winds are SW so the prefrontal low is passing us. The barometer has dropped some but not a lot... so the intensity of the weather change shouldn't be very strong either. The tide is just now slack low so the wind is determining our point. Normally you set anchor in Joe's Sound by the current, not the wind. It's pretty weird how the wind and currents move your boat around in here. Earlier when I was setting all the anchors... the wind was from behind the boat, and the current on it's nose... BUT.. the boat was straining against the chain up current.... It seems to me if the wind was the driver we would be looking into it, but we weren't.... like I said ... weird. The bows were throwing a wake into the current as far forward as the anchor chain would let it go on a single bow anchor... (up current).... I dunno.
5:30 I just closed up the salon because I saw a gnat. That caused me run the AC again for two reasons.. mainly Linda was warming up gumbo (the stove makes the kitchen hot when the boat is closed) and secondly.. we will enjoy dining in a cool salon. It won't run long... an hour or so past dark we will open back up... after the bugs find their victims (and not us) so this is a sunset AC run.. it will dry the sheets nicely too... well worth another quart of gas. I turned off the ice and water maker while the AC is on so we won't pull too hard on the Honda. It will do it, but it revs pretty good running everything and there's just no need.
Eat, Pray Love is tonight's movie... I'm done with gumbo so I need to set up the projector.
SYL!! Rusty
January 21, 2011
I shaved my beard off last night... big mistake... I think all my good Ju-Ju went with it. Today started fine enough.. but proceeded down hill as the day progressed.. I can't say all day was bad because most if it is fixed at this writing..... but MAN what a day.
I planned to go spear fishing with Dave and his brother-in-law On "Texas Two Step" around 10, so I dinghied over early.. my new spear and sling in hand. On the way out to the reef (about 1 1/2 miles offshore) my new Tohatsu quit running.. I mean just quit. I already had to clean the carb once due to US gasoline that contains ethanol.... as it turned out I was right about the diagnosis.. a chunk of goo hit the main jet.... but the whole story is not that simple.... after it quit the first time I hand choked the motor to get on plane and went on out to the reef since Dave had his boat too... no problem if I need a tow back in Dave was there. The reef was about 15 feet deep and I had fun.. I made 3 shots at fish.. and got better each time, but again.. no meat... lol. The last shot was really close though, so I am encouraged....
OK, here's where it began to really go downhill. Dave and his guest were going out another mile or so to another reef but I said I'd limp on in and clean my carb. About half way back the motor quit all together.. I couldn't even choke it to make it run..... no tools... Dave was out of sight by then, but I knew they would have to come right by me on the way home so I wasn't really worried.. I have an anchor so I could have just waited.. but.. I also have oars and oarlocks on the new dink.... so... I start playing old man of the sea and started rowing home.... The waves and the wind were on the beam so it wasn't too bad. I knew if I ever made it to the cut where our boats are it would be downhill from there.. the current has been screaming in all day.. I'd drift quickly to the boat after making the headland. I stopped a few times to rest and to see if I could get the motor going, but ended up rowing all the way in. When I got to the cut, a very narrow cut about 28 feet wide... current was ripping out.. so I had to go Olympic on the oars to make it in..... When I cleared the cut I found I was looking at the sterns of our boat........ the current had changed. ANYWAY.... I made it to the boat "uphill" and hooked the dinghy to the lifting rings.. the shoulders will be sore tonight but that's OK... not a bad thing. After a few minutes I began the job of taking the carb apart to clean it...
Lets hold up right here and do a dinghy inventory.... the contents of the dinghy are: multiple little carb parts and screws, my new sling and spear, several tools to work on the carb, my flippers, mask, dinghy anchor, dinghy bailing pump, gas can, battery, one of our nice body chamois, a can of carb cleaner, a rug to put the anchor on, and the engine cowling... just then Linda asked me if we weren't a little too close to the bank since the tide changed... I agreed and jumped on the boat to re-anchor nearer the beach side. I had the dink on the lifting lines so before we moved in all that current I tightened the front line so the bow would ride high, just off the water and the stern would trail but be still tight enough to stay close to the boat.. Well, when I was driving forward into the current toward the beach the dinghy turned upside down and dumped everything in it to the bottom (except one carb screw I found later)... the tank and battery were still hooked to the motor so we got them once I got the dinghy turned back over... which was no small chore in itself... It was just over half way upside down (because it was still on the davits) so I had to do the Hobie cat thing, stand on the low side and fall backwards into the water to right it.... I knew once the boat came back right side up the current would sweep me away quickly... so I grabbed for the dink fast. OK, with all that went wrong... here are the good parts of that total malfunction ..... #1 good thing; the stern dinghy lifting line was tight enough so the power head didn't go totally underwater. That was a biggie. #2 good thing was that I didn't have the whole carb off the motor yet, there is a plate on top of the carb that lets you clean some of the passages without removing the carb all together and that's all I had removed so far... but I think those parts were fairly important... lol
After collecting myself and thinking about all the stuff I just lost, I went down and took the whole carb off the motor and brought it to the table for dissection. I was definitely gummy... I have even been running all the gas out of it and everything... but the tank of gas that was in the dink came all the way from the states so it was polluted with alcohol. I haven't yet.. but the tank contents (that have now been underwater too).... will be poured on ants or something as useful next time I get on land. The main jet was totally plugged with goo so I did a thorough cleaning with "Gumout" carb cleaner.... I put all the parts I had back on the carb... and got to looking at it. The lost plate is just a flat plate that holds a gasket down.... shoot... I can make one of those so pulled my grinder out and a big fender washer and started shaping it. I had the screws I needed from stock.. (amazingly enough).... then I took the heavy paper off the back of a notepad and made the gasket. The motor started on the first crank and ran like a champ... albeit without a cowling... the cowl is miles down current I'm sure... We may look for it along the shore tomorrow... I'm sure they give those away at every convenience store here in the Bahamas huh... Ok, now things are getting a little better in my mind since we have a dinghy again....
When the tide rested at it's low ebb, a fellow cruiser snorkeled over and found my spear and one screwdriver for me. I hate it when I do dumb stuff... I like being the smartest or fastest in the group.. not the one guy in the harbor that got his butt kicked all day. Oh well, the worm had turned, today was apparently my day in the barrel.
As the sun closes out the day.... nobody is bleeding... the gumbo Linda made was awesome, I have my dinghy running, the Ibuprophen is finally kicking in... what more can you want...(besides an engine cowling).....
My previously impervious face (due to two months of whiskers) is now sunburned... I told you I shouldn't have shaved!!!! I tell you I lost my Mojo when I took those white whiskers off.... I'm sure I'm not Samson or anything that serious... but I feel his pain. Lets make the call right now that the loss of Mo-Jo was a one day event.......
FINALLY...? Most of our posts have been: "It's warm in Paradise and today was totally awesome" finally... we have something else to say.. the contrarians that we haven't run off yet will be reveling today...... Here's something for you.. I clearly remember seeing the dark cowl bouncing along the bottom heading South... Sometimes clear water can be a curse.... lol.
The next boat downstream picked up my flippers, the dinghy pump, the rug, the can of gumout, all the things that floated... so I ended up losing the cowl, carb pieces, my mask and snorkel, the nice chamois and some tools. It happens I guess.
Here's hope for a better day tomorrow......
Linda here...I know how hard a day Rusty had, but think about what he did. He fabricated a plate out of a washer and made a gasket out of the back of a notepad. When all this was happening, I told Dave "Rusty can fix anything". Dave replied, "yeah, but you have to have the parts". I just smiled to myself thinking, "you don't know my Rusty" and sure enough we have a working dinghy which is really important. Tonight we dinghied over to "Texas Two Step" and visited with all onboard. It was a nice evening. I really liked their boat, it is a Leopard. It is one of the few Cat's I have seen that has a separate cockpit and living area that is done well. Usually I feel both areas are too small. This is not the case on the Leopard and the storage space is awesome. But they can't really beach her like we do SYL. I got to bob in the water for the first time today. This is a lovely anchorage, in fact I would call it perfect if it were not for the strong current. I baked bread today for the first time this trip. This Amish bread is really good and easy to make. Well, Rusty has already gone to bed so I am headed that way also.
SYL!! Linda & Rusty
January 20, 2011
This is the date we planned on leaving last year, but didn't get away until the 30th. Weather was much better this year, leaving earlier. In fact the right time to come over is late October before the fronts even begin making it down to Florida.
Linda is rounding up laundry for me to bring to the cleaners in GT. I'll include a trash run and get 5 gallons of water in the can. The Exuma Market has a hose on the dinghy dock where you can get free water. That water is fine but the taste of our own watermaker water is much preferred for drinking and making ice. I'll use the free stuff to wash the boat. I need to clean the windows at least after the trip from Black Point. We got some salt on the boat getting here.
Breakfast is almost ready.... the GT net begins at 8 so it's about to start. They welcome new boats to the harbor so we will check into the social circle of Elisabeth Harbor this morning.
Well, by 9:00 am our plans have changed. Awwww, I love that about this life style, the freedom to change on a whim or the wind. Texas Two Step hailed us and invited us to join them to Long Island. They have family down and are going to stay a couple of weeks. Long Island is only about 20 miles and we have never been there. So, forget laundry...Long Island here we come. TTS is at the Exuma Market and we have come to Kid Cove to unload our trash and to get fresh water to clean SYL. I went through my fresh produce this morning. I forgot about a mango I let ruin, I cut up yellow, red and green peppers to put in the freezer for stir fry and I made a batch of "the trinity" for gumbo. I learned last year that produce does not last long here, a few days except for onions and potatoes. The weather is fabulous, sunny with a cool breeze. I told Dave that we would go to Long Island if he would teach us how to fish. They are always catching something.....always!
We had time to make a garbage run and buy our regatta tee shirts that just went on sale by the Exuma Market before we left. "TTS" had to make a few water runs before they left to fill their second tank to accommodate the guests so they were going to be a while, I decided to drift on out under sail and wait on them to catch up. It's much more fun sailing even slowly.... that sitting on the hook waiting... We did 2.5 to 4 tacking out of the harbor, they caught up just as we exited to open water.. which was perfect.
The trip over was fun... 20 miles of open water and we are here.... we arrived well before dark. We are in Joe's Sound on Long Island.... There are many sand flats to walk at low tide. This is a do again because it's close to GT.. a day trip if we want it. Calabash Bay (that has been on the 10 best beaches in the world) is 2 miles away.. we need to check that out I guess. I think Dave likes Joes Sound so much because the fishing and spear fishing, and the protection is good from every direction. We didn't catch fish on the way over.. but we did get to race each other... lol. Whenever there are two sailboats going the same way... it's a race, right? Lets just say I was very proud of my little 33'er against the 38. I hung back and let him get a pretty big lead then came up quickly on the downwind side.. then pulled up high and passed him at close range.... it was lots of work trimming and tuning, but fun. The rhumbline was right at 30 degrees upwind for 20 miles. He was motorsailing and I had the creatcher up with no motors at first... I couldn't stay with him on sails alone, so I tacked upwind and motor sailed hard to get an angle on the wind. When I took a heading back to him, I had 35 to 38 degrees in the sails and both motors running full on... lol. It didn't take long to catch up. I found out when he saw me coming he put the throttles down and was tweaking as much as I was for all out max speed... lol. After that we both stopped the motors and sailed for a while. It was neck and neck on sails alone pinching. After sailing for an hour it was time to crank up and make the narrow cut before dark so I followed him into the anchorage all smiles.
I was actually disappointed in my top speed, yes... we were close hauled, but I only peaked at 7.4 knots with both engines wide open and sailing.... I noticed the bottom is getting a little green around the edges, I may spend some time in the water today cleaning. Some of the loss of expected speed certainly could have been the fact that we were into the waves. They were only 2 feet or so, but I guess I'm thinking about 9+ knots, but that's in following seas with more wind.... the thing is, I can motor on flat water with no sails at the same speed I was making yesterday. I guess the waves play a bigger factor than I'm accounting for.
Pinching at 30 to 35 degrees I had the jib rolled out 3/4 of the way running double slotted. As wind went more abeam I had to roll in the jib because it closed the front of the Creatcher. I had the main halyard in the front hole to open the top of the main a bit for upwind work. With it in the back hole it does a good job of cupping the top of the sail for light or off the wind work. For an explanation: The top of my main has two places to haul it up the mast. One is right at the front of the sail and the other is 2" directly behind the first. When hauled in the back hole it tends to pull the top of the main to the mast more creating more camber in the top of the sail. I need to go out one day and just experiment with it, once I haul the main up I always just run it that way all day. I need to do some speed runs... try the front hole, then drop the main and move to the back hole to see exactly how to optimize the main on all points of sail.
SYL !! Rusty
January 19, 2011
The theme for the day is "Kumbamatada" take it easy.... I got up around 9...... took my shower and my time getting started for the day. When we are "on the road" trying to get somewhere my day starts like a farmers, up at dawn to use every hour of daylight available. I hit the ground running and it's a race to get the sails set.... today it's not like that. At some point we want to get to the Batelco office and check out the market to see if today is fresh produce day... you have to get there the day it arrives if you want the good stuff.
We watched "Mr. Baseball" last night. Good movie. I want to go up to Gaviota Bay (the chat n chill) to see the mooring balls, that used to be open and free for anyone to anchor but I understand it has been filled with mooring balls so they could charge you to be there. There are advantages to mooring balls, but it's a shame the price of cruising is escalating. All the "good places" are being capitalized.... I guess it's the way of the world. Today I want to tour the harbor and look around, winds are maybe 5..it will be a nice day to drift around in Elisabeth Harbor, see who all is here and put the hook down again for the night... big day huh?
| | |
| --- | --- |
| | 12:30 We eased across the harbor to GT about 10, Linda went to the market and I went to Batelco. The problem with the phone was that the sim card goes inactive if it's not loaded for a period of time. The lady here in GT (Ms. Thompson) was very knowledgeable and helpful. I got the phone up and running at the window, then Ms. Thompson is helping me figure out how to use the phone to update the web site. It will be a while before we get a smart phone so we can upload until then.... but that will be nice. I have found that every harbor with internet has MUCH better equipment than last year. Warderick Wells was fast and strong, it looks like Gaviota Bay has also boosted their signal. All good things. |
I also went to "Top to Bottom", you can't call it a hardware store.. I guess chandlery is the right term.. they have everything from stainless cable to muffin pans. I lost my pole spear in Fort Myers off the back of the boat as I was getting the boat hook to take a mooring ball. I found a nice one, and also purchased a Hawaiian sling. There is absolutely no way they will pay for themselves.. but like this whole folly... it's for the fun of it. Prices were amazingly good. Florida would have been exactly the same.. so that was a gift. I may not have bought both if the price was high, but as I found it.. I got a spear and the sling so everybody's happy..
When we came back to the Chat-N-Chill Cameron and Nancy were on their boat "Double Wide" a Seawind 1160. We talked across the water a moment then anchored right in front of them in a good spot just vacated by a large cat. We will see them later this evening.... Cameron was in the water cleaning the bottom. I need to go get internet minutes from Gaviota before they run out...
Linda here...I just finished cleaning out the refrig. These chest refrig's do a good job but you really need to empty them and Clorox once a week and it has been since Ft Myers so it was in great need. Right when I finished the refrig I dumped by 32 oz full glass of root beer and it ran all into the freezer which didn't need cleaning but now does....lol. I cleaned the best I could without defrosting and that will have to wait until later this week...I don't want to overdo...lol. We are anchored right next to the Chat and Chill which is the hub of cruiser activity. Domino's, cards, crafts and a 2:00 pm volleyball game is always going on. I am glad we hurried to Georgetown. The climate is wonderful. Warm with a cool breeze and of course the water is exquisite. I will do a deep cleaning on SYL this week in stages. Vacation has truly begun. Erin will be coming on February 25 and I can't wait. I finally got to talk to family today and that felt good. Jim and the nieces are coming at the end of the Regatta and then we are meeting the Whynots in the T & C at the being of April. May is reserved for some special friends we are hoping will be able to come. Keli, one of my Rod girls, got engaged last night and I understand the wedding is on July 9th. That means I need to be in Beaumont at the end of June at the latest. I know you don't read this Keli and Lane but Congratulations!!! I am sitting writing this blog with the cool wind blowing through the salon, listening to XM, drinking my root beer and looking out on the prettiest water anywhere with lovely, lovely mast swaying on the gentle current. Hummmm, I am a happy girl!!!
Cameron and Nancy just came by, we talked about our mutual friend Mike Zotsky (Seawind 1000 owner) and his good friend Tony, wishing they were all here with us.... some day we both said. I think Mike and his wife are building a house or something right now.... Everything in it's own season and time. Cameron and Nancy got to meet Gary and Celeste on "Sol Surfin".. I sure miss those guys. I had looked forward to seeing them but they snuck off to the Virgin Islands before we got here.
Cameron and Nancy are headed to the beach to the "Chat-N-Chill" we will go after we eat... Linda is making steak and baked potatoes with sherry mushrooms. I'm pretty sure that trumps a walk on the beach... especially since we can walk on the beach in a few hours anyway.... It really feels different since we made it to GT... hurrying to get somewhere is over.. at least for several days. I just realized, I have seen two water taxis, but haven't seen "ELVIS" and his cab yellow water taxi that has been a fixture here in GT. Maybe he is in one of the other boats... upgraded... or expanded his business.
The steak and mushrooms smell is filling the air.... we are directly upwind from the chat-n-chill 2 boats away from the beach...lol I wonder if it's helping them sell their 10 dollar hamburgers and 5 dollar a bottle beer....
I have some projects I want to do while we are here in GT... I want to put the whale tail planeing device on the dinghy motor and the other Power Thruster on the Seawind engine. I also want to change oil in everything and work the props again. I'm going to reduce pitch in the tips a little to get back some slogging power. I brought the tips up some too, but I think I'll drop them back to stock. Everything in it's own time... pace yourself son... lol.
| | |
| --- | --- |
| | We had a nice visit with Cameron and Nancy (Double Wide) at the beach... and met the folks on Southern Cross (right in front of us in the anchorage) It looks like they are on a 40+ foot Beneteau. They were all in the volleyball game. |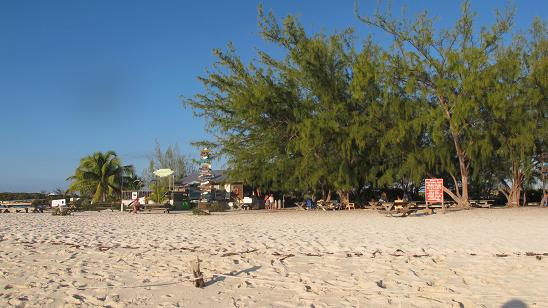 This is the Chat and Chill Island. All the cruisers meet here and play cards, domino's, crafts, etc under the trees and it is also where the volley ball sand court is located. The Chat and Chill serves American and some Bahamian food.
When it was over we chatted a while and made it back to the boat by 5PM. We talked boats and sail design a while... they are all East coasters. New Jersey.. etc. After the game I'm sure they all wanted to clean up so it was back to everyone's respective boat. OH, Elvis: they said Elivs's yellow boat is still working but he might have another one going as well. I just didn't see it today.
Double Wide's dingy is named "trailer trash" because on a long trip that's where they store garbage bags.... lol. They should be honorary Vidor Texans with those names..... It's quite the oxymoron though.. a Seawind 1160 is a $700K boat..... hardly trailer trash... only half a million more than my boat.... a big step for an extra 5 feet of boat huh? Let's see, mathematically that's an extra 100 thousand a foot.... the word ludicrous comes to mind... OK, it's a nice boat but uhhhh... NO. If I wanted to spend a half mil on a boat it would be a Lagoon 440..... hands down, but then again that isn't happening either... so there you go. There is room to dream.. in reality we REALLY like our boat. I wouldn't trade it for a 40' Lagoon... but for the 44'er... I'd be a fool not to swap pink slips with that fool.... lol. I am talking new price to used as well, so apples to apples was not adhered to... The 1000 I'm on is 325 new, and the 1160 is 750... so that's really the delta. All numbers that boggle my mind.... buying a new boat is just showing off. In 8 years you can sell it for less than half price, if your lucky.
I
t's almost Conch horn blowing time..... the sun is setting behind the fish shacks on the GT mainland.... It was glorious.. horns blew all over the harbor... part of the fun here in GT.

This is taken from SYL on our anchorage in front of the Chat and Chill.
Next event is... the 8AM welcome net on VHF channel 72. Pretty much a party line for all information related to Georgetown.. if you need a 1" torque wrench.. somebody's got one... it's about where you get butane... if you want to sell something or give it away there's a swap meet segment. It's part of the community we like so much here in GT. MAYBE we can get up by 8.... lol.
Come see what it's all about. The Exumas IS the place to be.
Rusty
January 18, 2011
Yesterday Lorraine made us a good hamburger, peas and rice and macaroni and cheese. Her internet is working much better than last year. Linda surfed on our computer while I checked passage weather on the house box. The trip back to the boat was after dusk, but a full moon on the harbor lit the sandy bottom up like it was daytime... it was really cool. We watched "Bruce Almighty" and went to bed.
Tuesday the 18th 10:10AM SYL is approaching the half way point to Georgetown. Half way from Black Point that is. We lifted anchor before 7 and listened to Chris on the way out of the bay. He affirmed that it really wouldn't matter much if we stayed on the banks or did the sound to Georgetown today so I chose the most direct path (the sound).
The first half of the trip was bumpy... there was a 4 to 5 foot SE swell all morning that has just now diminished. If you were following "spot" this morning.... that's called a tack... lol. I'm sure mom thought I had gillflirted something and was heading for land..... but the 90 degree direction change was to put me in the best position to make GT on the wind. That may have been the first time I tacked since we left Texas... lol. We motorsailed out Dotham Cut, turned SE and took the motors off for about an hour. When the seas picked up I put one engine down and when they got taller (5' or so just off the port bow) and the wind dropped off I lit both motors to push on through. At that point I was thinking.. the banks might have been the better choice. Now, on long 3 foot ground swells holding 7 knots this side looks pretty good. The sea state is getting nicer as we go. The bow is no longer breaking the tops off the swell.. washing the leeward deck, we are comfortably gliding over everything. The wind also clocked a little.. very little, but it gave me a better angle on GT to hold the 32~33 degree angle to the wind that has been working for me best today as far as velocity made good. I thought this side of the islands (the lee side) would be smoother, but the incoming swells from no telling how far away met us most of the morning. The seas are becoming more what I expected now.
About Rudder Cut is where conditions improved, we are almost holding rhumbline now... I'm still angled slightly offshore to keep the wind in the sails.
Earlier when I tacked I was curious to see if the seastate improved as I got closer to shore.. it didn't. Another interesting observation I wanted to make was if the onshore breeze that occurs as the sun heats up the land mass was strong enough above the narrow island band to significantly affect wind direction. I got as close as a mile from shore and didn't see any significant wind direction change due to convection so the land mass I was nearing either wasn't large enough to cause convection.. or the sun hadn't warmed it enough yet that early in the morning. Probably both actually apply just as evenly.
When your needing wind to move, you can play the onshore day breeze and the offshore nocturnal breeze to power the sails. At night the land cools faster than the sea so a nice offshore breeze can fall off the land, especially mountainous islands like the Dominican Republic and much of the Virgin Islands. Cool air slides down off the slopes at night and can become fairly strong.
Conditions are really getting better... I'm almost right on line for GT now, and the seas are settling. Our ETA at Conch Cut is 2:43, less than 4 hours.
We collected some house flies at Black Point inside the boat, and they are fast! I have managed to end a couple of them with the fly swatter but I've been more successful chasing them out the back of the salon (into the wind) to get rid of them. I bet we still have one or two buzzing around but I don't see them right now. They are probably hiding.... stowing away, purposely relocating themselves to more fertile trash piles they heard about... Georgetown... the veritable Charlotte's Web "smorgasbord".... trash Mecca of the Exumas... smart flies.
SYL is right on line for the Conch Cut waypoint... nice. The winds have allowed me to go to Starboard a bit more and more until now... we have 33 degrees in the sails and are on target. Both engines are still on 3/4 throttle, I may check and see if I can reduce power and hold enough speed soon. If I get as much as 45 degrees, I'll take at least one motor off... we will see if the wind clocks as much as predicted. 11:04 we just passed the cut to cut half way point doing well....
High Noon: I lifted one engine and it took almost a full knot off the speed..... but we are holding just under 7 so that's OK with me. 15.5 nautical miles to go, ETA Conch Cut = 2:44. I'm beginning to hear channel 16 chatter from GT on the radio. Seas have continued to subside... there is very little swell, only a little wind blown chop. Now all of it is coming from the same direction as the wind..... (as it should be).
I just talked to an acquaintance in GT on the VHF, I'm glad we came in tonight... Michelle's birthday party is not Thursday as he first told us, it's tonight, so we lucked out there. I hear there are a lot of catamarans in the harbor this year. I believe "Doublewide" a Seawind 1160 is there, I wanted to meet Cameron last year but didn't make it in time so it will be fun to finally get to know those guys.
13 more miles until I toss the fishing rod overboard..... I've dragged all the color off that 16 dollar lure that was "guaranteed" to hook up for me... lol. Oh well, there is still hope I guess.
OK....4.9 miles to fish... it's over.. I hereby declare this boat absolutely safe to all creatures of the sea....... no threat at all.... lol. I guess I should jump to the other side and declare myself a bunny hugger.... align myself with my habits... seriously I have drug a fishing lure probably 500 miles.. it looks like I would have inadvertently hooked one in the top of the head swimming by if nothing else...! But Nooooooo.... fine survivor man I am.
Well... I had my chance and blew it. 2.07 miles out of GT... I just hooked a 3' Mahi Mahi, got him to the boat and he got off as I was about to gaff him. It was super fun though... maybe the gear can stay onboard..... That was a beautiful fish.....I'm not that disappointed that he got away because Mahi isn't our favorite meat.... Ohh noooooo.. have I inadvertently become a conservationist.... ! gads...
| | |
| --- | --- |
| | We are HERE!... Georgetown.... We are anchored at Monument Beach, getting ready for the big party tonight.... Michelle Womack's 17th birthday party... there will be salsa dancing... I guess we will get our lessons tonight... lol. I doubt it takes long for us to get our fill of it... but we'll try in honor of the occasion. Linda put some Jambalaya on the stove.. it is wafting around the anchorage making everybody hungry I'm sure.... I know it's working on ME... |
| MONUMENT BEACH TAKEN UNDERWAY TO KID COVE | |
It's definitely warmer here.... it's a bit warm even with the 8~10 knot breeze thru the hatches. I haven't been in the water yet, but I imagine it's warmer too. That's why we go South first.. then work our way back up as comfort allows.
I got the boat set up in camp mode.... Zipped the sail cover, coiled all the lines, put all the shade up and put the rugs down on the salon floor. Linda has the inside looking good.. so we are ready for topside visitors if it happens. I let the dink down and checked the anchor, then ranged out as far as the chain would let us swing in all directions to check depth.. it's all good. We had the music blaring pretty loud on the boat and the generator running so I stopped a downwind boat away to listen. I could barely hear the Honda much less our music so the good neighbor sign is not hung out in vain.....
The big party is about to start.. we will arrive fashionably late.. we are eating first.... mmmmm, the jambalaya is awesome... Melissa saw us as we came in the harbor and raced over in the dinghy to welcome us.... she's a sweetie. She made a 90 degree turn when she saw us.. it was a leg slapping good time...
We are about to put our party clothes on and leave (shirt with a collar)...
| | |
| --- | --- |
| | This is the birthday girl, Michelle. She just turned 17 and is one neat kid. We met her and her mom and dad, Leslie and Dave, last year. They are on a Lagoon called Texas Two Step. They are from Oregon but bought the boat in Kemah last year and were at Waterford Marina when we were. Great family! |
9:20 the party was nice, I met a guy and his wife (Steve and Cheryl) that built his first boat (a 40 ' wooden hull) 36 years ago, sailed her around the world then sold it, built a 50' steel boat and lives on her today in Hawaii. Steve and Cheryl have been married for many years, He's 62.. they are here in GT visiting friends on "The Yellow Rose" they are a delightful couple. Not that I want to be that couple... but they do seem very happy. I actually don't want to be them... but it's great to see their happiness and impressed by his accomplishments. A big bonus for the night.
The harbor is perfectly calm and flat.. not a ripple or whiff of air stirring... The moon is full and all is right with the world.
Linda here...It is good to be in Georgetown. I am ready to have my anchor down in the same place for a while. We left Kemah 35 days ago, this was a really great trip, nothing like last year. I went with Rusty to the party and around sunset a few insects started to bite. That is no biggie except somebody said there was "no seeums" on that island. "No seeums" strike terror in my heart. You don't feel their bite and to most people they are like most insect bites, a nuisance. For a very few, and I am one, the make you miserable for weeks! I have never met anyone that has the reaction I do but I have read about it. I would rather get bitten by red ants then "no seeums", at least red ant bites only really hurt when your bitten. I don't feel the "no seeum" bite but in a few hours every bite itches, not burn, itch. But this itch is different than all others, not scratching is not an option. I have tried everything, including, as suggested in an article, putting boiling water on the bites with Q-tips. The best combination is to wash your bites every 3 hours, apply hydrocortisone cream and stay on the maximum dose of oral Benadryl. I got some early in the trip and it was a week and 1/2 before I could stop taking the Benadryl ( which renders me pretty much useless). When this guy said "no-seeums" I ran (not walked) to Rusty and said "no-seeums, I have to get back to the boat". We have special netting we bought in Marathon last year and made a screen that covers the front of the salon so I put that down, closed all hatches, started the generator so I could run my fan with everything closed up and hid. No seeum's come out at dusk and dawn. Once it is dark or the sun is fully up they go away. Fortunately, there were not any "no-seeums" because I have bites but they are not "no-seeum" bites. I hated to miss the party but nothing is worth that misery. Truly, if we had not found a solution (me hiding at dusk and dawn) no-seeums would end my sailing, they are that bad for me. Time to watch a movie!
Sea Yawl Later !!
January 17, 2011
I'm up early to listen to Chris Parker. The boat is floating free on the end of the chain this morning. We felt the first hull lift about 4AM, the keel bumped about 5 times on the shallow waves then it was off, about 2 hours later the other keel bumped about twice and the light breeze put us straight off the beach.....nice. After Chris's weather I'll dinghy up and bring the anchor to deep water, it's on dry land right now.
I count 30 mast lights in the harbor this morning, this is probably the most popular anchorage in the Exumas after Georgetown. Dawn is breaking thru low heavy clouds this morning, As forecast... winds clocked a bit more East. I am interested to know if there have been any changes in Wednesday's forecast. We are looking to make the last leg to GT Wednesday based on previous broadcasts.
The forecast included some possible squalls from the South late tonight so we moved to the best protection in this part of the Exumas at Black Point. Big Major is almost as good, but we wanted to refuel so we upped anchor and headed around the corner to the Staniel Cay Yacht Club. After our $5 a gallon fuel stop and $5 a bag charge for trash.... we went another 4 miles or so to Black Point. I had targeted Little Farmers tonight but decided it really didn't matter how far we went today.... we are only one long or two short days from GT so no need for long mileage. The sand is clear and clean so the holding is the best possible... I moved as deep as I could into the bay for the best Southern protection. Predictions are for settled weather after tonight, even so much that there may not be enough wind to sail later in the week.
Tomorrow (Tuesday) winds will swing all the way from SW to NW by nightfall. It's 46 miles from Dotham Cut (right here at Black Point) to Conch Cut into GT and it's a bee line (no fairways to follow in the Sound).... tomorrow might be a good day to go outside and take advantage of the Western component... run the lee side of the Exumas to GT. I'm filled with fuel, topping off the water tank with the watermaker as we speak... tomorrow looks like a good travel day to me. Less than 60 miles seems like a short trip considering the 100 mile plus days we made getting here. If the blow is over by daybreak we can hop right out into the Sound.. and since the blow (if it comes) will be from the South, the sound won't be whipped up. Tide should be high and settled exiting Dotham.... sounds like a good plan. If 46 miles of trolling at the 100' depth line doesn't get me some kind of fish tomorrow I'm throwing the rod overboard... lol. That strip IS the most fished corridor in the Exumas so it's well harvested.. but we will see. Anybody heading to GT must travel the route.. so why not troll, I think most do.
LIFE IS GOOD!!

Rusty set his lounge chair up so he settled in for an after lunch siesta. It's a hanging affair, It hooks to the boom between the helm stations and rotates all the way around comfortably.

I have the best looking Captain in the Exumas!
| | |
| --- | --- |
| | |
| | This is what the water is like in all the Exumas. Can you see why we love this chain of islands? The first thing I want to do when we hit Georgetown is to finally get in the water!! It should be warm enough there. We will take our time coming back this summer to all the islands we missed. The further south we are at this time of year the warmer the water and the less you are effected by all the Northers. Black Point anchorage is fairly full... I see 22 boats not counting local powerboats, five are cats and one big trimaran. There is lots of room yet, but the best spots well into the bay are all filled with shoal draft boats. The bottom here is like Big Major, generally 9 feet deep and pure sand... it sure makes a beautiful anchorage especially when the sun is bright on the baby blue water. |
Lunch was nice... chicken and rice with glazed carrots and crescent rolls. I told Linda it was so good she can take the day off tomorrow... lol. She looked at me kinda funny. I'm anxious to do the movie night in GT.. I think it will be a big hit. We may become known and the multi media multihull..... Lots of M's huh?
I just colored Linda's hair.... that's right friends.. her naturally blond hair is a bit lighter if not touched up. Later I'm going to cut it for the first time.... she's all worried.... lol. I guaranteed her it would be shorter when we finish.. what else do you want??? I checked the scissors.. they work... no problem, what's there to worry about?
| | |
| --- | --- |
| | There is a very light sprinkle in the wind... it's not enough to close anything up. I do hope we get a bit of rain tonight to wash the boat off. Cool, I see a rainbow in the harbor.......(got up to take a picture) then.... OK I just closed the boat... it's officially raining... we are getting a good one but very little wind in it... YET. Maybe if I say yet I won't provoke it like I did the full blown rain. Actually the rain is very welcome like I said.. cleaning the boat without paying for the water! |
Linda's hair is decidedly shorter... on both sides and everything... what's the deal? Gay people get lots of money for this???? no way. I found it much easier than raising the main or tacking in a blow... She doesn't have that weird scared look anymore so I guess I did OK. She actually said she was relieved that it "didn't all fall out when she washed it"..... lol.... I read the instructions.. come on! If I can sail from Texas to Florida.... traverse the Gulfstream and make it 1465 miles (I just looked at the trip meter) by sea..... surely I can be trusted to make hair shorter...... we will see I guess. I'm thinking it will be perfect... I know how to overcome.. adapt... learn new skills on the fly....
I cranked the AC up... after the rain it got hot and humid..... the AC feels very good. I imagine it's in the mid to high 70's today..... it was warm before the rain.. it's a bit stifling now without the AC. More proof that we aren't warm weather acclimated yet, 80 still feels like 90.
Linda came out after blow drying all smiles.... she's happy I'm happy.. see how that works? And the world was worried about my beauty salon skills.... ppfffft.
The big dark cloud passed and made the boat feel better... it's so nice walking on decks that aren't salty.. it's almost a squeaky feel if they are clean. Windows are the main thing... You can see through them without the salty water spots. The ropes get sticky when they are salty too... thanks for the rain.
Another cat came into the anchorage, a Leopard 38. "The Moorings" (a bareboat charter company) is Leopard's biggest customer, so much so that The Moorings orders special interiors that lend themselves what they expect the charter market wants. The hulls are designed by Robertson Caine. Good boats and there are a lot of them around now.
OK, Linda is ready to go to Lorraine's and see if we can upload the site. So that's all folks...
SYL !! Rusty
January 16, 2011
It is 9:30 am and we just left Warderick Wells. The skies are a little overcast but not gloomy and we are sailing gently at 4.5 kts out to the Exuma Banks, listening to the Love channel on XM. All you hear is the nice, soft music and the wonderful sound of the keels cutting the water. We are sipping our cranberry juice and the smells of the kosher sausage, that will be breakfast, is filling the salon. Life is good!!
| | |
| --- | --- |
| | Last night we attended a Happy Hour on the beach where most of those anchored attended. Everyone brought their drinks and usually some kind of snack. It was nice meeting new people. Most will be in Georgetown at some point. We came home and watched "Iron Man" with Shane. Shane is staying another night at Warderick Wells. He is making videos (that are worth watching) for his web site that has a detail summary of what to see on each island. He is not coming back this way so his progress is much slower than ours. We know we will be back probably several more times. |
| | |
| --- | --- |
| | This is an photo of a Hutia, the only mammals indigenous to the Bahamas. This is the first time I have ever seen them. They are more shy than the birds or iguanas. They were scampering around the hutch at Happy Hour. The little birds were everywhere stealing food! |
While I have been writing this Rusty has been fine tuning the sails. We are now heading down the banks. As we left Warderick winds were behind us but now we are beam reaching, going a steady 7.2 kts with spurts to 8. Rusty is soooo good about getting the most out of the sails and wind. We have changed to knots now since all the charts we use now are in kts. Skipper Bob guides have been lovingly put away and all the Explorer Charts are out. SeaClear has been amazingly accurate this year. Last year we didn't have the same Bahama SeaClear charts we have this year so we didn't use them as much. They are Rusty's first choice this year as far as electronical charts. There is no substitute for Explorer Charts though.
IMPORTANT: If you want to put your boat plaque at Boo Boo Hill it must be made of wood and you have to have brought it with you. We have been to Warderick Wells several times but had never climb Boo Boo Hill. We didn't realize that you couldn't put anything there but wood. The flipper Shane found and gave us that Rusty did his art on will probably be removed. Next year we will bring something special made at home. You can not remove ANYTHING from the park and that rule is strictly enforced, so you can't find a piece of driftwood in the park to use. You are to "take only photos and leave only footprints". Last year we had our fishing rods in their holders on the stern and were mildly hassled by a Park Ranger for just having them out. Not in the water mind you but visible. We knew to put them away this year.

To the left is Shane with his contribution to Boo Boo Hill.
12:30: We are here... Big Majors Spot anchorage. I was going to fuel up at Staniel and continue sailing today but it's Sunday so the fuel docks are closed. No problem Mon..... Tomorrow is good enough. We have more days than we need to get to GT by Thursday. The Thursday goal is to attend Michelle Womack's birthday party, she's on "Texas Two Step". Wednesday looks like the best day to go out to the deep water "sound" side for the final 15 mile leg to GT, so life is good. We are only 60 miles from GT... having Monday Tuesday and Wednesday to get there requires absolutely slovenly sailing.
I REALLY enjoy playing with my boat..... being on an anchor ball in a beautiful place is nice... hiking and seeing new sites is cool... but I'm sorry... sailing in great conditions is better. Today was one of those days. We had a great beam reach sail today... 2 miles off palm lines beaches, then angled in toward one of those beaches and glided through 6 to 7' deep water between islands on sails alone... finally anchoring in 9' at a beautiful place. Some people call it "Piggie Beach" we have been here several times with guests. The anchorage is probably 80 acres of 9' deep pure sand bottom behind a high wall that is "Big Major's Spot" island. It's one of the easiest anchorages to enter at night.. wide open to the world on the Banks side but well protected from the "sound" and prevailing winds.
I just counted 27 boats in the anchorage and nobody is crowded.... this is popular spot for mega yachts since it's 9' deep and easy to enter. There are many Canadians (flying the maple leaf) here.... "High Noon" is here. We met David and Mary last year. They sail down to GT this time of year (January) and put down the anchor... then pick it back up in May to go home. There are many GT season residents that do the same. High Noon is a 65' long Sloop. She's very narrow and probably sails really well, but I imagine a challenge single handed.
2:45: I just put out a public announcement on the VHF that we are going to show "Avitar" on the beach tonight at dark.. anyone interested bring your dinghy... lawn chairs... blanket and popcorn. This will be our inaugural trial of the "Movie night on the Sail". I got 4 responders instantly that said "I'm IN!" so it won't be just us..... Linda thought a movie kids would enjoy might be a good choice. All the responders were women.. probably mothers of kids looking for something to do tonight and Avitar sounded good I guess.... I can just hear the kids saying .... MOM.. we want to go!!!!! If it goes over well, the expenditure we be well worth it. Don't get me wrong... we watch the 60" screen almost every night in the salon using the projector and speaker we bought, but the fun of sharing is bigger than just us.
David came over from "High Noon" to chat from the dinghy.... He, Mary and David's dad are heading to GT to put down their roots for the season. It's cool to see them not in a stationary position off Monument Point. About 4:00 I'll go over to the beach to get the anchor / sail angle and speaker set just right. It may take a couple hours to get it all set up this first time... see how things work and sound from the beach.
8:51PM.... Movie time is over and it was awesome! about 15 people showed up to watch Avitar. It turned out as good as I expected and better than Linda expected. The projector and sound system was perfect. It was great to host such a fun thing to do... people clapped at the end and were greatly appreciative of our efforts. We are sitting high and dry on our keels at the beach.. next time we may stand off a bit so we can anchor out again.. but no problem..... the boat looks good and the rudders aren't touching so we will sleep like a real house tonight on solid ground. The boat will float again about the time we get up in the morning so that's nice.... the winds are gone, we are on the lee side of all of it anyway so I didn't have a problem putting SYL on the beach tonight... no threats of weather.
I cranked the generator to put some amps back in the batteries, we started full, but the sound system pulled it down a bit... we also forgot and left the icemaker on... that ice maker pulls more juice than anything else we have. We had a good time tonight and found the perfect seats here on the boat for the movie. Linda and I sat on the aft seats looking up and it was great.... we could get refreshments.. go to the bathroom.. and not have to be in a dinghy or off the boat... mighty cool.
Linda here: I have to add that it WAS so much better than I could have imagined. It really was like being at a Drive-In movie. The colors were bright and clear, the sound was awesome and we had front row seats. I love the set up that Rusty has put together. This is going to be great fun.
OK, bedtime... Sea Yawl Later !!
January 15, 2011
Linda figured out why we used all the bandwith yesterday, chatting on facebook is apparently a bandwith hog. We have done well with the second 100 MB's so we will try to upload the site today from here. The weather is brighter today, normally the clouds clear by 10 if they are going to, it's 10 now and I see lots of blue.
Something new this year at Warderick Wells... birds.. little begging birds land on your boat and come very close begging for food. They are pretty little wren sized birds with yellow breasts. I have never seen wild birds so willing to get close to you, almost eat out of your hand but not quite that trusting.

This is the same kind of bird that did a Kamikaze last year at Fresh Creek into the salon window that Linda thought was dead.. but got up and finally flew off. He was flying into (and he assumed thru) the salon until he found the polycarbonate front window inside at 100 miles per hour.
I know what we need to do, tomorrow we will fuel up either at Sampson or Staniel. I still have 15 hours or so of fuel, but we are more empty than full so we need to change that.
We just got back from a hike up Boo Boo Hill. This is not a hurricane disaster scene... each board has been lovingly inscribed by visiting boats. It's a custom for cruisers to bring something to the top of the hill and add it to the mass of home made placards with boat names and dates. What a view from the top of the hill back to the Harbor..
| | | |
| --- | --- | --- |
| | We only saw one sign from people we knew "Texas Two Step" | |
| | Pretty huh? Our boat is hiding behind that point on the left.. you can see the Black sail cover and jib cover. The trail up (left) | |
3:13: I went to park headquarters to get tee shirts and buy another 10 bucks worth of internet..... I left with both for $60 bucks.. we are definitely not at Wal-Mart. But you have to admit.. the parking looks allot nicer here. The tee shirts are great quality and very well conceived. Mine has a map of the park on it and is nice and heavy, Linda's is bright yellow Androsia Batik fabric with "Exuma Land and Sea Park" stenciled in Batik on it. Great finds. The gift shop really has some nice stuff and well stocked for the cruiser. The lady remembered us from last year.... she's a very beautiful and gracious lady. It was a joy to be here.
We are leaving tomorrow, probably not early... who knows. Depends on how we feel. I don't know if Shane will go with us or not.. I doubt he skips an island and we most certainly will. His printed itinerary shows another day here then 3 in Compass Cay. There are more trails here today than he can cover in a day so he will probably be here all day tomorrow too. We did the short one with him then went back to SYL. He's still out there hiking.
January 14, 2011
It's still cool and windy today... not as windy as yesterday, very fine sailing weather actually so we may head South today if only to Warderick Wells 15 miles away. In 30 minutes the Exuma Land and Sea Park at Warderick assigns mooring balls based on availability. They hail awaiting vessels at 9AM on VHF channel 16 then move to channel 9 for mooring assignments. Not much happening around here this morning, Linda got some bites on her legs that are giving her discomfort, but we have a solution... bug screens.. we just need to put them down before sunset.
Listening to Chris Parker this morning weather will be good and getting better all week. We have full cloud coverage today but that will also get better as the week progresses. We are in the right spot for to be able to drift down the chain of islands on sails alone all week. The end of the week is supposed to go light and variable.. so that would be a good time to make the last 15 miles to GT on the outside (Exuma Sound). Shane wanted us to stay with him and do his itinerary (very detailed and slow progress South) but we want to get to GT soon to get in the warmer water and see everybody that we know is already there so in a day or two we will break off and sail South. It's nice to see people we know, but everybody has a different idea of what they want to do and when.
9:20AM We got mooring ball #11 at Warderick Wells, Shane on Guiding Light got 16, so we are IN.... we will have internet there so I expect to stay a couple days, do some land exploration / hiking while Linda soaks up some cyberspace then drift on down toward GT unless something else becomes priority... Our plan is to sail off about 9:30... now... so I better get the engines warmed up to get off anchor.
5:55, We have been at Warderick Wells several hours, the 15 mile trip was easy to sail except for the last 2 miles...which was into the wind.... we motored the last 2 miles with the greatest of ease. Most of the trip winds were a beam reach at 17 to 20 so we travelled briskly flashing to high 9's along the way, I put my main up and Shane only flew his jib so I passed him about half way. I wanted to get on Ball 11 before he entered the anchorage. Shane is singe handing so I thought he might need help on the bow picking up the mooring ball.. but he didn't. He slicked it right in there, hooked up in a flash. I was there in the dinghy just in case.... but he didn't need it. Good job.
Shane and I went to park headquarters to pay up about 3PM. I paid $50 bucks total; 2 nights on the ball and internet ($10 a day) Shane noticed they had Explorer charts for sale... yes!!! I filled in my collection with the Far Bahamas and Near Bahamas that I didn't have. "Explorer" charts are undoubtedly the very best made for the Bahamas. We were going to have Erin buy and bring them over when she comes in GT, but now that's taken care of...
There is a lot to do here on Warderick... many trails and exhibits, tomorrow there is a potluck dinner at the beach pavilion for the cruisers... that's a must do.. Shane is bringing his leftover lasagna over and Linda is making bread for dinner.
Tomorrow we expect the clouds to clear and be a bit warmer. Warderick is beautiful in full sun so that's a good thing. The shallow water on pure white sand is just amazing. I'm super glad we got inside the main anchorage on our first day. Last time we had to stay out at Emerald Rock and dinghy in to headquarters until we got a turn inside the beautiful arc of mooring balls next to the park headquarters.... the view here is 100 times better than Emerald. As far as pretty anchorages, this tops my list in the Exumas.
I'm smelling Linda's bread....mmm. Not many smells rival the aroma of fresh bread in the oven. It looks like we may not get to post the site here at Warderick.... the band with limit may not allow it. Linda already went thru the first day's 100 MB in about 3 hours on face book....... She just fired up the second days data limit.. so if we can't buy more we are out of luck. I'm not sure how many MB's are in a single upload.
We can upload in GT, and possibly at Black Point if there aren't too many people at Lorraine's already.
January 13, 2011
Tuesday we did raft up with Shane at Shroud Cay and stayed the night there. He gave us lots of good information about the US East coast anchorages and things to see. Wednesday the 12th we moved to Hawksbill Cay about 3 miles away in an attempt to get more protection from the upcoming two days of blowing winds. We did get wind protection but the rollers found their way in all night and we were still rafted up... it was like two elephants walking down a narrow hallway.. bumping butts with each other all night. We had fenders out so no problem.. but it was unnecessarily uncomfortable... it won't happen again tonight. Last night we watched two movies, stayed up a little late then played bumper cars all night tied together.... lol.
Today (Thursday) We slept in because the rollers eased up about daybreak so sleeping was easier and we had a late night the night before. We got up about 9, ate some breakfast then I took Linda to the beach... she walked the shallow water while I hiked up the trail to the Sound side. It was quite an exercise... probably 3 miles in all and much of it up hill.... We are in the Exuma Land and Sea Park so there are many trails to explore. Warderick Wells is 10 miles away as the crow flies.. we will probably go there tomorrow. I need to call and see if they have any balls available for tomorrow inside the park. I know we can stay at Emerald Rock.. but Emerald Rock is nothing like view sitting on a mooring ball in the beautiful arc approaching the ranger station. The picture at the top of the page is Warderick Wells.
We are now "on the list" at Warderick for the inside anchorage. Hopefully somebody leaves the anchorage tomorrow and makes a space. We will see.
Shane and I just did a walk on Hawksbill. We saw the Russell Ruins, they were built in the 1700's but today little more than hand dug wells (thru rock) and partial walls of the houses remain. We had Shane over for Fillet Mignon and visited until after 9.
1,11,11 (Tuesday)
All 1's today.... We left Fresh Creek at 7:15 for the Exumas. Winds were on our nose, but light and variable so we tried it.... if we didn't do today we would be committing to Andros for the rest of the week at least. Not a bad thing.. but we decided to take off. We left with a semi clean boat.. (fresh water washed anyway) and full tanks of water. We are half way on the 60 mile trip and conditions are lovely. It's motorsailing.. but it seems "that's what we do". In the beginning I had 25 degrees over the starboard bow, so I got a knot of speed from the sails. I have changed course a bit all along to keep wind in the sails.. or when it slacked all together I'd motor upwind so the next leg would be at a better angle when the wind returned. If you found my "spot" line wavy from Fresh Creek to Norman's that is why... playing the wind. Now (12:11) winds have shifted to 10 degrees off the port bow... I can see wind on the water North of us, so I'm hoping for a little more from the North to give us the angle. It's getting closer so I imagine it will at least fill us in a bit. There is barely a ripple where we are now and the sun is out so the bottom is awesome in 22 feet of water. It's mostly sand with patches of small rock and grass.
The wind I saw on the water is here 12:21... it didn't change direction but it increased a full knot so out comes the jib! We got a bump... we are flashing to 8.2... wind is about 28 degrees apparent (which is good) it's been less most of the day so far. Our ETA at the anchorage is before 4, so we are in the green! I have chosen an easy place to approach from the West and a quick route into Norman's pond mid morning tomorrow. Our anchorage is just behind Long Cay (above Normans and Saddle Cay)
I think we will hang out in Norman's Pond while the wind blows 25 Thursday and Friday. There is a possibility of squalls to 35. Norman's is protected 360 degrees.... and there is lots of stuff to dinghy around and do there... so that's the plan. Good shell hunting can be found just south of the pond, I have always wanted to sneak in the "Pond" and check it out. This looks like a great opportunity to do so. The weekend is supposed to carry East winds at 10... excellent for heading South toward GT.
It's been a very pleasant day.... I have a solid 30 degrees of apparent wind... nice. It's 12:42... 22 miles to go on the 60 mile trip. The only plans we have after Normans is to fuel up at Sampson Cay and head South taking what the wind gives us. Sampson is 50 miles or so from Normans so we may break it up in two days, Warderick Wells is in between, that sounds nice.... The fresh wind is staying with us... still coasting along nicely. Sampson's is on the South end of Pipe's creek... we really like that area.
Eleven minutes until 11:11 on 1,11,11...... I wonder how that will change my world... probably not much... lol. 20 miles to go, I backed off on the throttles to keep it around 8. We have a full bite on the wind now.. nice... 40 degrees! just not much of it.
OOPs, I missed the event.. it's 11:14 now and somehow I feel the same... hmmh.
We have been on the Exuma Banks for several hours, like the Great Bahama Banks, the water got smoother immediately when we came up on it. I tell you what though... there are NO fish around here.... I have been dragging different lures all day and all I caught was seaweed. I did everything I know how to do and still no meat! I can only deduce that all the fish run away when they see my boat. Apparently fish ARE smarter than birds....
2:33, one hour until landfall.... this has been one of our nicest days.. 8 mph on almost perfectly flat water... arrived well before dark.. all good things. We did have to motor, but the distance required it purely for "get there time". We are HERE!!!! the Exumas.
Whitney Houston is singing "I will always love you" at the top of her voice on the XM radio... Land HO!!!! Wind 50 degrees apparent at 6 knots sweet. Throttled back maintaining 7.9. Still no fish dinner.. oh well, we are probably too shallow for anything but Barracuda now anyway.
3:30: BONUS..... BONUS..... 20 point bonus!!! I called for my buddy Shane on the VHF 8 miles before landfall. SV Guiding Light, a Lagoon 410 and he answered!.. He is at Shroud Cay.. so for those of you watching my spot.... that's why the hard right! He has Lasagna going and Linda's making a salad... We will raft up with him about 5:30 and have dinner... cool huh? We met Shane last year in New Orleans.. he did the super bowl experience with us... I knew Shane might be in the area so I tried his radio before we got all the way to land.... eureka! Still doing 8 mph, so we will go the extra miles and still have daylight... bonus.. bonus......
January 10, 2011
We left Simms Point at 7:20 am. We had a super calm night with a cool breeze coming through the hatch. We had coffee while we listen to Chris Parker and set sail. We started off with a "spirited" sail, the kind I like. The wave direction was such that you could feel your speed which was between 8.5 and 9 mph. In about 45 minutes the "spirited" sail turned to a rough sail. Nothing to be afraid of just not comfortable. It remained that way until Fresh Creek. We rarely have to "batton down" but we should have this trip. Even one of my Corel bowls busted into a million pieces and those things are hard to break. Rusty Here: OK, we need some man perspective on the "rough" Seas started out 2 to 3 on 12 to 15 knots of wind, and went to 5 with some widely scattered sets of 6'. Winds were generally 15 with flashes of 20 near Andros. We saw some 10 mph peaks.. but mostly in the 9's.... It was almost a beam reach so I could hand steer and coast over the waves nicely... there were a couple that surprised me how steep the backside was and they rocked the boat hard enough for Linda's eyes to get big (and break a bowl that wasn't put up)... OK.. back to Linda's entry.... Linda---> We arrived at Fresh Creek at about 10:30 am. Fresh Creek is probably the most frequented harbors by cruising boats visiting Andros.
I was to go to the Androsia Boutique. You will see Androsia batik thorough out the Bahamas and it is manufactured here. Last year I forgot the days and it was a Sunday when I was going to go and it was closed. You can make your own if you want but I am not sure we will be here long enough but maybe.... We bought our Batelco phone here so we will get it activated again.
THE ENTRANCE TO FRESH CREEK

Fresh Creek gets its name from the fresh water creek that runs back into the wilderness of Andros for some forty miles. At one time a hurricane raised the level of the creek over 10' and some vessels that were tied off in the creeks for protection were swept inland as much as 5 miles where some still sit today. I will have to take their word for it because I am not into hiking (Dianne, it isn't Colorado, but...) Fresh Creek has a quiet nice hotel and Marina, the Lighthouse. Last year we checked in at Fresh Creek and it was more of a hassle than other places because you have to take a taxi.
Lady Gloria is a landmark at the entrance to Fresh Creek. The Lady Gloria was tied to the government dock for years when somebody tried to move her out of Fresh Creek, she wound up where she rests now with her bow almost on the beach. Probably not what the community would like new arrivals from the sea to encounter, but there it is.

We put down two anchors due to the current in the creek. It's not a large anchorage.
We are going ashore after lunch and will try to find a signal to post... we have a lot of stuff to put on the site... we haven't had internet since the US.... I seem to remember you could get something at the marina. Somebody upwind just fired up a big BBQ pit... much nicer smell than what we smelled in Cat Cay harbor... they burned garbage the whole time we were there and the harbor was down wind... nice huh? Lunch was interesting. I have a lot of leftovers and cruising, food should not be wasted. I had left over meat loaf ( next time I will cut the recipe in half). We have had meatloaf twice so I crumbled the meatloaf, added a can of tomato paste with a little chili sauce and water and heated it. I took potato hot dog buns and put either mayo or miracle whip, mustard, wickles relish, purple onion and Vermont white cheese and covered the bun with the meatloaf. It is kind of Sloppy Joe. Necessity is the mother of invention or at least new recipes.
| | |
| --- | --- |
| | |
Above: Sunset at Fresh Creek Andros. It was very calm at night so we had a great sleep. This is looking back toward "Alicia's" trimaran that is a fixture in the harbor. Last year when was there too. the bridge that goes over fresh creek is in the background. This is a very large Bonefishing area... the river goes all the way to the West side of Andros.

Right: Androsia factory store and boutique. This was the main reason we went to Andros, Linda wanted some fabric and to see how they make it. They sell just fabric or ready made clothes made from the fabric they color thereon Andros.
We are sitting in the lobby of Lighthouse Hotel and Marina getting ready to post. I personally am in internet withdrawal!
Sea Yawl Later!!
Linda
Rusty here: The sail over was glorious... I certainly understand Linda's less enthusiastic response to it.. but for me it was all kinds of fun. The waves were not dangerously high.. but big enough for me to learn what works and what doesn't on my boat in particular (in case we get into really big waves) it was good experience in above average seas, I am glad to have it under my belt...
Winds were initially 10 to 12 and built to 20 just before we arrived. There was an unlimited fetch so the waves steadily increased with the winds. Starting out they were 2 to 3's most of the trip I'd say they were 3 to 5's but near Andros I saw several good 6 foot plus sets come by. The way to gauge wave height is to measure from the waterline to your eyeball seated at the helm... (mine is 7 feet). When you can't see over the peaks... that's a 7 foot wave.... easy...
We were essentially beam reaching so I could try all kinds of stuff to see how it worked.... I could put the sterns into the waves first... this was fast, but lifted the boat a lot and had a lot of side to side movement.... the fastest was a true beam reach where the stern and bow lifted together as the waves rolled under... BUT.. that was also the roughest because the windward side dropped pretty briskly into the valley between the peaks, so it was the least comfortable... a LOT of side to side action. The most comfortable was angling into the wave so that the leeside bow and the windward stern sliced thru the top of the wave crest... that essentially took a foot or two off the apparent wave height and let the boat stay pretty flat side to side. It was a bit slower because the downwind bow plowed thru 2 feet or so of the top of the wave and wet the decks.. but it really improved the ride so that's what I did most of the time.
I could recognize the wave patterns in sets of three... when I saw 6 footers,, there were 3 of them every time... I could actually run from them by going off the wind because the waves were not long like you would think... the higher ones were only 3 or 4 boat lengths long. If I saw a big set coming I would go beam reach and outrun the end of them. Or if they were in front of me I would round up more and pop the last one with the bow and drive off into the lesser waves behind the set. Like I said it was really fun learning how to handle the waves... quite a study in 4 to 6 footers.
The harbor is still tonight.. tomorrow is supposed to be light East winds.... I'll talk with Chris Parker in the morning.. if it's doable to make the Exumas tomorrow we will... otherwise it will be next week before we can go.. winds are due to be 20 to 25 until the weekend... In the Exumas... a 20 to 25 knot wind on the other side of the islands makes great sailing.. no waves and all the wind you want.... so if we can get over there tomorrow we can South it all the way to Glass Cay and wait for the Exuma Sound to lay down. The last 15 miles or so to GT has to be made in the deep water on the Eastern side of the islands.
If we can't go tomorrow comfortably we won't... there are a couple places to go on Andros South of here that have well protected anchorages. Middle Bight looks the most protected. If we can't go to the Exumas tomorrow.. like I said we won't push it.. we will hang out on Andros until next week when the winds are supposed to lay some.
Today I took the dinghy and drove a couple miles inland... I met a couple from Denmark that is renting a house on the water up the river. They have been coming here every year and love the place. He is a fly fisherman. The bone fishing here is supposed to the some of the best in the world. I noticed the couple leaving "Hanks" across the way earlier, then on my river run I ran across them putzing around on their deck so I went over to say hi... that's what cruising is about... meeting people and hearing the stories. They enjoyed my company and I enjoyed theirs just as much..... a fair exchange, it's about the people... not the places and things you see. Of course Warderick Wells could be totally uninhabited and still be one of the top places on the planet to hang out..... It's funny about people though, some are great conversationalist but some just want to tell you their story with little pauses in between while you talk... it doesn't matter to them what you say... because they aren't listening... have you met those guys... ? I don't stay long when it's like that. I let them expound for a bit then politely leave. They had fun and I'll donate my time to their happiness easily.. but not for long.... the ones that truly want to hear your story are golden.. good hearted people.... and there are lots of them out here.
8:00.. Linda is freezing me out here... lol. The AC is on and I have a blanket over my legs. The thermostat is set on 69... brrrr. after all this IS the Bahamas! It was warm today, probably low to mid 70's. We read Dave and Diane's blog on "Assisted Living" and they talk about being in Port St. Joe with 30 mph winds.. raining in the 30's ... lol.... come on guys... it's nice down here. In fact we are going to GT as quickly as possible so the water will be warm and easy to get into... then work our way back North in the Exumas as water temps allow.
Brother Jim said he and his girls might be able to come next month... that would be cool. It's fun when you can share your fun with family. Somehow it multiplies it for me... We have a river camp that is very "rustic" by rustic I mean you can only get there by boat and you can see thru the cracks in the floor of the camp up on 6' piers.... I used to love going out there but after a couple days of "just us" it was exciting to see family or friends round the bend in the boat coming to join you..... I hope it works out. Jim lives in Kansas City.. it gets COLD up there... lol... Jim is in the Avionics business and KC is Aviation central so that's where he needs to be. Jim makes an assortment of high tech electronics.. his claim to fame is being the world leader in flight inspection systems. His clients are the US Navy, Air Force and many foreign governments. Check him out at www.airfield.com
I washed the boat today.. she had lots of salt on her after the crossings we have been making. We will leave here full of water and clean. Not bad for 50 bucks I guess. We need to turn the money spigot off for a while though.. every time we hit town we "stock up" on whatever they have there... I guess we are typical consumers...... today we spent 80 bucks at the fabric shop... but then.. that's what we came here for.... Androsia Batik.... now we have it in the ships stores.... at last.
8:32.. that's more than enough for tonight.. sorry for the extended banter......
SYL !! from Fresh Creek Bahamas... Rusty and Linda
January 9, 2011
Nassau: SYL made over 120 miles yesterday arriving just before midnight. We chose the first spot that looked good on the charts along the beach to anchor rather than go into the craziness of the harbor. It's fairly settled so the night wasn't bad. Winds are less than 5 from the NNW.
I guess we will go shopping today, it's Sunday so only the fuel and grocery stores are likely to be open. I want to see if the marine stores have a buffer to polish the boat but I'll probably have to wait until tomorrow for them to be open. Other than that there is not much on the schedule. The sun is bright this morning.... I dropped the movie screen to shade the salon from it.
We are on a point called Old Fort Point, the guidebook says there is a marina close to here called Lyford Cay Marina.. I think we will cruise in there and check it out. Supposedly Lyford (according to our book) is one of the "wealthiest residential areas in the world". I might just have to take myself right on in there and look at that.... I wonder if they cater to the "Redneck Yacht Club" crowd? The guidebook reads that they are friendly, more so that Cat Cay. I doesn't say that.. but it infers you are welcome there and welcome to all their services.
Linda here: What a difference a little bit of class makes. Lyford Cay Marina is home to the very wealthy. This Marina makes Cat Cay look like a Wal-Mart parking lot and yet they could not have been more gracious. We were met with smiles and a sense of being "welcome". We bought a whole nine gallon of gas...lol. When we asked if there was a grocery, Vaughan, the attendant, said yes it is within walking distance but why don't you use one of our golf carts. He drove us to the golf carts and gave directions. Now this is a highly secured private island, but when we approached the gate in the marina's golf cart we were waved through unlike the car in front of us that had to provide identification. We shopped at the Winn Dixie which was very nice, got our groceries and were told to just leave the golf cart by SYL and they would have someone come and get it. We would have liked to have washed the boat and to have taken a tour but we felt that would not be kosher. The yachts in this marina were unbelievable. The only place I have seen so many huge yachts was at Atlantis. I would have loved to have taken pictures of the gorgeous yachts but again I felt that would be invading their privacy. Though you will never see this, Thank you Lyford Cay Marina for being so delightfully friendly.
| | |
| --- | --- |
| | |
| | |
| --- | --- |
| Entering Nassau Harbor | Atlantis |
We are now making our way toward Nassau's harbor. 1:15 we are here... docked at "The Point" restaurant and bar in Atlantis (just for lunch) we checked on dockage, it would be $200 minimum to stay overnight.. we haven't decided if it would be worth it. We are actually considering it if we come in early tomorrow and "do Atlantis".. the pools and enjoy the grounds tomorrow. If we get here early in the morning and stay 24 hours... if we can somehow consider half the dockage as entry to the resort... it's less painful. The pools and grounds might be worth the price... maybe.

The photo on the left is "The Point" at Atlantis.
Linda here: Well, we enjoyed our little $35.00 hamburgers but decided to be sensible and not stay at Atlantis. It is not like we haven't seen it before. I was tempted because I really enjoy all of the architectural nuances you find at Atlantis. The attention to detail is impressive. But not worth $200.00. We struggled with anchoring out in Nassau Harbor and going to the Marine Store. We are look for a buffer and a spear. We elected to move on. I want to go to Fresh Creek to purchase some batik fabric. I want to make some curtains for the master berth and the galley. So I persuaded Rusty to uncharacteristically backtrack. Rusty will stop anytime and anywhere but backing up is hard for him (even in driveways). When we left Nassau we came back the way we came but moved on about 5 miles further to the southwestern tip of Nassau called Simms Point. This anchorage entrance would be hard to negotiate if not for the computer program Sea Clear. Sea Clear has proven to be very accurate in the Bahamas. This entrance has an abundance of coral that is clearly marked on Sea Clear so we could just pick our way in. When we arrived there was a mega yacht in the small anchorage. Interestingly, this yacht followed us out of the Lyford Marina. We were going to try to find a spot beside and in front of this yacht but as we approached we realized they had pulled anchor and were going back to Lyford. It was just a nice day trip for them. Now we have this lovely cove to ourselves. Hopefully tomorrow we will be able to get internet. Fresh Creek is only 26 miles from here so we should be able to post tomorrow. The end of another lovely day is coming to an end. It is 7:45pm which is near our bedtime. Chris Parker is on at 6:30 am and we need to listen to him in the morning and then we will be off once again.
Sea Yawl Later!!
Linda
January 8, 2011
We had a pleasant night though a little rougher than usual with the front that came through. We listen to Chris and confirmed the weather then set sail, literally. Rusty set the main, pulled up anchor and sailed out of Gun Cay, never having put a motor down. We have been on the Bahama Banks for a little over 4 hours and have been averaging about in the high 7's . Rusty put our spinnaker up, I love that sail. We will make it to Nassau around 11:00pm if this average speed is maintained. There is no hurry. We don't have weather to consider until tomorrow evening. The wind will get lighter and lighter all day so the good sailing is almost over now (12:35). We had to put one motor down to maintain 7's. That's OK because we love to drift across the banks with light winds and enjoy looking at the shallow bottom. The last few times we did the banks it was at night so we couldn't enjoy the water. This is what we wanted this time and we got it.
We haven't planned passed Nassau yet. The only thing we knew was we needed to be to Nassau before the winds turned East tomorrow night. They are supposed to stay East for several days so we would have been stuck in Gun Cay or Bimini. From Nassau though, going South to the Exumas an East wind will work just fine. The sun is bright with no clouds so the bottom is bright and easy to see, our big pink and purple spinnaker is flopping around up there, very nice.
With East winds in the Exumas, the shallow side of the islands (which we like best) will be protected from the waves. I imagine we will do day trips seeing how far the wind takes us each day until we get to Georgetown. The water is warmest further South, so that's where we will start the season. At some point we want to go to Andros. I imagine we will go after we get to the Exumas, maybe on the way back North.
Rusty here: The sedate bank crossing is coming to pass.... this morning it was good sailing, but it's settling into a calm motor day. I have the stbd. motor down now to maintain speed. Later both will be on I'm sure and we will sock the Spinnaker when the motors go faster than the wind and it loses it's fullness. I really wanted to do a "drifter" across the banks... we used to do that quite a bit in our charter days. I'm glad to have that opportunity again.
| | |
| --- | --- |
| | I tell you though.. setting the spin was a hassle and a half this morning.. everything that could go wrong did... ropes wrapping around.. the sail twirling around the jib.... with wind dead astern, it's really hard to pop the chute if the main is up. I ended up dropping the main to get it set right. I could never get the main back up because it killed the chute. Like I said.. it's hard to run exactly downwind with any headsail. When I got things working the wind would shift 10 degrees and I'd lose the spin.. it would wrap up and cause a cluster.... I had to re-set the spin several times go forward and unwind it... so I finally dropped the main all together and now it's staying full with one motor down and all is well with the world. |
I put the Honda on so we could charge up a bit and make water at the same time. I'll probably run it 3 hours, make enough water for both of us a shower..... We will also make ice while the AC power is on and store it in the freezer for tonight's "get there" drinks. It's almost 3.. I'm surprised the spin has stayed full... I expected to outrun it by now... glad the light winds have hung in there this long.
I took a short nap here in the salon.... nothing to run into... no depth problems.... just a degree or two left or right every now and then to keep us on track.... I think tonight is going to be leftover gumbo....... we had sandwiches around 11. The spin is slacking more and more.... as long as it's full more than it's slack I'll let it keep pulling. The wind actually went 20 degrees off the stern! cool.. I put the main back up and we are doing well. We are bumping between 6.7 and 7.2... not bad for a slow drift day. Apparent wind is less than 2 so we are using almost everything there is out there by running one motor. When we were flashing to 10 this morning apparent was in the 7's.
Winds are more South than expected... nice. I re-sheeted the spin to the lee side winch block and we are definitely asymmetrical now.. nice. Running down wind I had both the tack and sheet thru the bow pulleys.. but now I can run it like a true headsail rather than a downwind spin. 4:30, spin in the sock... on the jib now.... not much wind. 6.5 mph average on one engine... good enough for me. I haven't cranked the port engine all day so that tank is full..... 5 miles from entering the tongue of the ocean... we will be off the banks into deep water again for the 50 mile Nassau run.
7:39PM 32.2 miles to Nassau, 4 hours to go. Winds had died off about dark so I fired up the other engine and stowed the sails. The Honda is still running, making water and charging. Chubs is just behind us to Port, we considered stopping there for the night but the winds have actually picked up enough to add 2 mph to the boat so I'm taking advantage of it. I hated to raise the main again today, but the winds were too good to pass up. I'd rather do the 4 hours now, get there before midnight and have all day tomorrow on the hook. Who knows what the weather will be tomorrow, it's supposed to be good but things change so I'm taking what I've got now...... 8.3 to 8.9.
January 7, 2011
We were right to stay put last night, it was blustery and even rained a couple hours. At 7:30 this morning, it's relaxed some but still blowing 20 to 25. Our window for Nassau looks like tomorrow morning thru late tomorrow night. We could go today, but a secondary front will build higher winds at the end of our trip. If we wait until tomorrow we will see less winds all day moderating even more at the end, so that's looking good to me.
If winds lay some today I vote we anchor out tonight instead of dropping another $120 to be inside the harbor. I may be outvoted though, the crew is playing it pretty safe the past few days. I may put the dinghy down and go check out the conditions just outside the harbor in the anchorage.... see if I can sway some votes my way. With only two voters, the tie breaker usually goes to the crew (not the captain) I thought it was supposed to be the other way around.... I do get to drive the boat....! I'm just having fun about the voting thing... in truth the way it works is... the most conservative member... be it the captain or crew usually has the hammer, or the less conservative member gets to do it all by himself.... so it really IS the captains decision after all isn't it? There are a lot of those "real men" captains sailing around out there..... by themselves.
8:20 I did the dinghy run.. it's all about wind direction. Right now the wind is too North for the island to protect the anchorage... when it goes back to more West... it will be just fine outside. It's cold out there on the water though... lol. A morning dink ride in 20 knots after a cold front is like that I suppose. I got to taste the fresh salt water though... that was nice.... A couple waves splashed the bow of the dinghy enough to spray water up and on me a bit as I exited the harbor... it's always choppy right in an entrance... When winds change to WNW the anchorage will be easy.
Breakfast is done and today will be little more than a movie day. Nothing to do here on Cat Cay. You know the docks aren't even that nice here.... all fixed (no floating docks) and they aren't in that great a shape. They have single shared finger piers that don't go out but 25' or so.... it's really not much for he price. Upscale places usually have nice floating docks... but come to think of it.. there aren't many of those in the Bahamas.... Chubs is, but that's all I know of. Even Atlantis has fixed piers.
The twin airplane is back this morning.. with the North winds he doesn't have as much a crosswind today. He's about to take off.
12:35 Linda is making Chicken and Sausage Gumbo... the cold front brought all that on I guess. I walked to the dockmaster office and told him we are checking out. He came and read the electric meter so I guess I better go get some of my deposit back. Winds are light and variable so moving outside is acceptable. I'll troll around and look at the water, then pick a spot to anchor. It will be nice in calm water to go putt around and look at stuff. I'm in 14 feet at the dock and the bottom looks like it's 3 feet away. Be back in a second....
They owed me 2 bucks so we called it even... (big tipper huh) We can depart at our leisure.. after the gumbo I am sure. Linda used Tony's roux this time..... I think the wind is starting to clock West now.. it's very light, that's normally an indication of a wind direction change. The dockmaster confirmed the forecast we expect. He's a skinny little Bahamian guy.... Mr. Sears.
| | |
| --- | --- |
| | Sunsets are a special time for cruisers. Any time you are in a area where there are a lot of cruisers you will hear conch horns being blown at sunset. Rusty made this horn from a shell he found in the lagoon where he went for our Honeymoon. This conch is very special in a lot of ways. |
GUN CAY: it's 4:30, we left Cat Cay about 1'ish. We eased along the lee side of Cat and across the Gun Cay cut to Gun Cay itself. It's a popular anchorage having 4 other boats here already. When we found our anchor spot Linda, brought out the gumbo.... excellent I might add. After gumbo we dropped the dink in and motored to the beach.... it was nice to spend relaxing time walking in the sand... seeing what shoes we could find.... there is always shoes..... at the wash line of every remote beach there are shoes... guaranteed.
We got back in the dinghy and went to the ocean side. Waves are barely existent... swells were long and comfortable then only 2 feet... with this weather it seems like we ought to be crossing the banks.. but we know it will blow tonight so we weren't fooled. It always calms before a wind direction change... that's what we are in now.
Linda here.... Well, "the crew" did as the captain recommended and we have left Cat Cay. There are very few things in the Bahamas I dislike. Nassau I am not fond of because it is so commercial and the water reflects it. Cat Cay I DISLIKE! There is some history there I will share for those who want to continue to read. This part of the blog may approach "ranting", so be forewarned. Rusty and I married in 2001 and for our honeymoon we charted a Seawind 1000 (SYL is a Seawind 1000) from Miami and headed to the Bahamas. When we were approaching Honeymoon Harbor we hit some submerged rocks we were not aware of and broke our rudder. Seawinds have "frangible" rudders which means they are mostly foam that breaks up when they hit something hard. This is to save the rudder shaft. Anyway we the rock we hit destroyed the bottom part of the rudder. We then anchored in Honeymoon Harbor with the anchor that came with the boat which was an aluminum plow ( I don't recommend them). That night a storm came in with 60+ knot winds. The anchor would not hold and we were being pushed on the rocks. The charter also did not have a windless which means we were in 60 knot winds when Rusty says to me "Linda you HAVE to get that anchor up ( hand over hand) the first try". I guess I had so much adrenaline going that it was no problem. Crippled, we made our way into Cat Cay during the storm. Cat Cay is close to Honeymoon Harbor. Only Rusty could have gotten us in with those conditions as safely as he did( that is why I will sail with no one other than my captain). So here we are in Cat Cay ( never had been there before) crippled. They had an annual Azimuth yacht run, that had lots of BIG powerboats. We really needed help. Cat Cay is a private island. Rusty needed some tools, fiber glass, etc. One guy offered to take him to Bimini (12 miles) for almost $400.00. Now money was tight at this time, I think we had $260.00 with us. Everyone made it abundantly clear that we were unwelcome. To most we were invisible. Finally, Rusty found a grinder with one well used disc at the power plant that the fella begrudgingly let him use. He paid a Bahamian named "Diamond" ( he had a diamond implanted in his front tooth) to get him fiber glass in Bimini where he went everyday to take his daughter to school. Rusty worked like a dog for several days. He would have to carry this broken rudder through the town and people never offered any kind of help and in fact they treated us like lepers ( I know this is strongly worded but it is true). Rusty with that one disc, rebuilt the rudder. He did such a good job that the charter company said it was better than the original and didn't charge us any fees. We were a Cat Cay for over 4 days and no one... not one person even talked to us except the captain of a boat who wanted to charge us to take us 12 miles. I have never been treated so badly....EVER! Let me just say that in the last 10 years Cat Cay has not changed. They Do Not want cruisers there or maybe it is just sailboats. I really don't know, but I can say that our welcome was just as cold and unfriendly as it was 10 years ago. Last night the security guard knocked on our boat about 10 pm wanting to know if we checked in with the Harbor Master. It was like he couldn't believe we were there with permission. Cat Cay is so unlike the majority of the Bahamas. Ok, I feel better now...:)
January 6, 2011
| | |
| --- | --- |
| | |
| Entrance to Cat Cay | Houses on Cat Cay |
Weather changes everything... scratch yesterdays plans..... This morning the banks weather kicked it up a notch so we needed to hide out for a day or so before drifting the banks. It's going to go 30 knots before we could get into Nassau or good harbor instead of maybe 25 for the last couple hours, so.. plan B.... go 16 miles North of Riding Rock to Cat Cay........ a lovely place if you light your cigarettes with hundred dollar bills. If you don't your existence is inconsequential.... but Cat Cay does have good protection from the winds that may go as high as 40 tonight. Dockage... 3.75 per foot and you pay extra for electricity and 40 cents a gallon for water (twice what I paid for gasoline when I was in college) they punish you with price to insure their neighbor isn't Joe Blow the construction worker...... but surprise!!!! here I am.
You have to wear a shirt with a collar.. no bathing attire is acceptable on the island or "you will be asked to leave their island"..... it actually says that on the dockage papers. I was very pleased that we could check in to the Bahamas here though. The customs lady was actually very friendly and helpful, even semi-interested in our trip....how strange is that. NOWHERE in any of the customs offices has anybody been more than competent (if that), but here where the word "snob" is worn on a lapel badge.... customs is nice...
17 gallons of gas from Islamorada to here... we are full again... I didn't even ask the price per gallon. I left two hundred dollar bills to pay for fuel and an overnight stay... that's just ugly.... good thing I don't smoke..... that would have been another C-note.
It's pleasant outside right now. Enough wind to keep the salon cool.. isn't that strange, worried about being hot. We haven't acclimated from the stupid cold weather yet. I actually ran the AC when we got here for an hour to dry out the boat down below. In the morning the batteries will be smiling too... full and happy from seeing the charger on shore power all night.
There's a little air strip here... and when I say little, it's probably 400 yards long. This small high wing twin has been making round trips to the US I guess ever since we got here. He's landed three times. It's not as big as a Twin Otter.. but looks similar. He gets off pretty quick and stops in about he same distance. To make things interesting they lined both sides of the strip with palm trees. I guess if you go off the runway they don't want to have to dive for the wreckage because there is water on both sides. They want you to hit something nice and solid. Encourages centerline landings I imagine. Something strange.. the plane just taxied to the end of the runway.. then chickened out and went back to the terminal. Must have forgotten something. He changed ends from last time. The strip has a direct crosswind right now of about 15 knots.... sweet.
They have WiFi here, we can connect to the modem, but can't get fast enough service to post the site, that's a shame. I'm surprised some young rich chicky doesn't have them by the throat needing her IPad connection to survive the day. "Island time" must even be acceptable here on Cat.
I am almost back in shape as far as getting my "power" back. During a turnaround I do nothing but punch computer keys for 6 months so I lose some stamina. Then for the first month of a cruise it's like going to a gym... you hate it at first because you hurt.. but then you get to feeling good... I think I am almost to the feel good stage. I do think my cruising diet program of eat anything I want and sailing the boat is working.. I think I have lost a little weight already.
There goes the plane again.. right to left this time... I guess the crosswind died down enough to try it. That must be why he chickened out a while ago... he changed takeoff direction.
I'll try to post.... apparently rich chicky got her boyfriend to walk to the front desk.. I have a connection.
Well, the connection is good enough for email but not posting... so we will try again tomorrow. It looks like mid morning Saturday will be our best time to leave (today is Thursday). We will most likely get on our own hook tomorrow instead of draining our wallet. The heavy wind will be over by 3AM in the morning and we are good here until noon tomorrow. Friday (tomorrow) is only supposed to be 20 to 25 and the anchorage here is almost as protected as the harbor... in fact it's just at the harbor entrance.
6:11PM It's a little blustery, but nothing bad. When we talk about strong winds in Texas we talk about pine trees blowing over.... when I talk about strong winds here it's anything I wouldn't like sailing in.... 25 to 30 mph instead of 70..... In fact I got an email from my mom that we had large hail at the lake house, no damage but quite a bit of marble sized hail.
I am full.... Linda made meatloaf, green beans, new potatoes and corn. If that's not a southern feast I don't know what is. I had a huge plate.... I haven't eaten that much in quite a while. We decided tonight is movie night.. we haven't looked at a Movie in a while. Linda is cleaning the kitchen.. I better get set up for the movie.
SYL Rusty
January 5, 2011
This was our last sunset in the US for awhile. This was last night at Islamorada, Fla. We currently are in Hawks Channel headed for the BAHAMAS!!! To say we are excited is to say it snows a little in Alaska. This has been such an easy trip. Soooo much better than last year. As hard as being away from family was at Christmas it was so right for us to leave early. I WILL be home for Christmas next year but SYL will not be in Texas. We will be losing internet shortly. Our Sprint card will not work in the Bahamas and we will have to use Wifi when we can find it. Of course, our buddy, SPOT will be on the job. We will still blog everyday but the postings will be when we can. Usually that is every few days. We love you all. Please e-mail or write in the Guestbook. We sooo enjoy hearing from home.

Sea Yawl Later!!
We are about 2 hours from being out of the Gulf Stream. It has been a good crossing. We left US waters about 3. It was a little rougher than anticipated but for a crossing of the Gulf Stream in January, I am not complaining. I had to fight motion sickness but I am doing ok. I am able to type this because I don't have to look at the keys to type...lol. We have made really good time. We have probably averaged over 9mph. I have seen over 10 a lot. This whole trip we have seemed to make better time. I asked Rusty why we are making better time. He said some is the new jib but mostly it is the work he has done on the props. Rusty's is a master at fine tuning props. This comes from his boat racing days. It is amazing how beating on that metal prop (if you know what your doing) can make such a huge difference when we are motor sailing. Tonight we will anchor on the Great Bahama Banks and make our way into Nassau tomorrow. SYL has salt water spray and mud from the anchor so she needs a bath in the worse way. I feels good to have the crossing out of the way (well almost). I am looking forward to seeing cruisers we met last year. We learned a couple of days ago that our dear friends, Gary and Celeste on Sol Surfin, left Georgetown a few days after Christmas headed South. I am sad we will not get to see them this year. I learned a lot from Celeste. They have been cruising about 7 years. They live in California. This past year they left Sol Surfin in Georgetown. Anyway, if you are reading this Gary and Celeste, we love you two. Hope our keels are in the same water in the future.
7:27 PM We made a record crossing... we broke out into Hawks Channel about 8:15 and drove up on the Banks at 6:15.... I just checked.. we are 92.4 miles as the crow flies from where we raised the sails just out of Snake Creek. After dropping the sails it took a while to get my bearings here at riding rocks... there were some lights that were "in the wrong place" so I had to stop.. check the radar to validate what the GPS was saying.... the lights were other boats... after seeing reality on the radar... (not trusting zoomies from space for our safety) The GPS was pretty close so we drove North a little over 2 miles to tuck in behind Riding Rock Island. Winds are going West tonight so we are sitting squarely on the lee side 1/8 of a mile off the beach.
Like last time.. the gulfstream waves turned into a light ripple on the banks..... saweeeet! Like Erin says. Linda is cooking a fillet with mushrooms again..... we had a departure... AND will have an arrival celebration.
When I connected the anchor bridle I had Linda turn the spreader light on, it shines down on the front deck to make it easy to work outside..... with that little light I could see the bottom easily.... we ARE in the Bahamas! We got on the banks right at dark.
I did a lot of small course corrections all the way over... initially I had 30 degrees apparent over the starboard bow... I knew it was going SW from NW so I kept my 30 degrees while it changed... tacking slowly (once). The direct route across meets the gulfstream at about 45 degrees, so I took the opportunity to go just South of East to get into the stream as quickly as possible so it would carry us along faster. The stream runs SE to NW where we crossed. Once we gained the current I changed heading so the current would give us half it's speed. That course brought us in a lazy U shape as we crossed the center of the current that lies only 1/4 of the crossing away from Florida. After going with the flow and going below our rhumbline I kept hitting 1 degree South at intervals until we would hit the rhumbline again before the banks. The route was the best I've made.. and the speed was undoubtedly the best ever. MMMMMMMmmmmmmm steak, mushrooms, baked potato and Cindy's waldorf salad ..... oh yeah.
Our first sunset in the Bahamas!

There are two other boats in the anchorage.. One appears to be a pleasure boat to the North, and what looks like a fishing boat or workboat to the South of us. The commercial boat arrived about the same time we did but from across the banks, or at least from toward Bimini. (he was the light that confused me earlier thinking his light was land).

8:17.. finishing off dinner.... listening to XM radio. last bite.. a hunk of potato and one mushroom to roll around in steak juice...
.
I like this "no overnighter" kick we are on... If you can make 90 to 100 miles in a day and only run an hour or two in the dark... that will work! In fact I just looked at tomorrow. It's 63 miles to the NW Channel light, a total of 80 to Chubs in the Berrys. I kind of like stopping for the night there, then head south to Fresh Creek or over to Nastyau the next day. The "we are here" speed has definitely set in. I'm relaxing about the need to accomplish a long trip. We have crossed the stream and are indeed HERE. The only need for extreme mileage now is if weather required it.
We arrived with over 13 volts in the batts.... and the generator is running while we make ice.. so we are fat and happy on power.
January 4, 2011
| | |
| --- | --- |
| | This is what greeted us this morning. We spent the night on the hook out in the middle of no where. Last year this would have worried me to death. I was afraid of open water last year. I have come to realize we are probably safer out here in the open water then in a busy harbor or even a marina. That does not hold true to shipping lanes of course but out here in Florida Bay, our main worry is the crab traps. We put out a lot of anchor line, turned on the mast light, set the anchor drag alarm, took it to bed with us and the gentle motion of the waves rocked us to sleep. I have grown to love the open water more than the shore. It is so peaceful and you can not help but feels God's presence in his unspoiled creation. |
Can you still call it "Cutter Rigged" if the headstays are side by side instead of inline? What ever you call it I got a tenth out of opening the jib with 4 rolls left on the furler.... if you make the jib bigger it interferes with the Creatcher and slows you down. I've got 3 to 4 mph of wind at 60 degrees off the port bow, motorsailing at 7.8 to 8.3 at 3/4 throttle. I cupped the bottom of the creatcher to drive air up into the sail. This thing is fastest if air exits 3/4 of the way up the leech.

I also found a little speed cross sheeting the main. With the light air I travelled the main up almost 2 feet then let the mainsheet back out to put the boom back at the same angle. What that does is drive air up in the main so it exits higher. It basically piles air up in the sail when there is not much of it to play with. Air has weight and energy so the more of it you can "hold" in the main and still keep it flowing the more power you can make.
Check out these numbers,,,,, 9 mph motorsailing on 4.9 mph of apparent wind.. not too shabby. We are .57 from the next waypoint, 43.2 miles from Islamorada, ETA at destination is 2:42 at 9:32 in the morning.

I'm cutting the corner on the waypoint as you can see and it's 13.4 feet deep.

For me the most impressive number is 9 mph on 4.9 apparent.. now the motors were full on to see how fast we could go, but backing to 3/4 again only dropped three tenths.

I raised one engine and was holding 7.3 but arrival time was later than I wanted so I put the second engine back down.

The mine field of crab trap balls is back with a vengeance......
I have a route all the way to Islamorada set in the GPS. Talking to Chris this morning he thought leaving tomorrow night might be too late to enter the Bimini cut... the West winds will build beginning early in the day so it might be too late to head to Bimini tomorrow unless we wanted to hang out a couple days behind the island and enter Saturday evening when the wind lays and goes North. We could leave tonight and have a flat motorsail over, so that's a consideration. Another is to head out tomorrow night and skip Bimini... the West wind that make a Bimini entrance tough would be awesome across the Great Bahama Banks. So this evening we will make a decision, after we leave Islamorada if we want to do Bimini or take the very favorable winds all the way across the banks. Winds will go East after the weekend so it would be on our nose across the banks... BUT if they are as light as expected it really won't matter the direction so I would enjoy a slow stroll across the underwater desert.
Those are our parameters.... IF early next week will be very light on the banks we will leave for Bimini tonight and arrive in the morning, stay 3 days or so then coast across the banks on a slow boat. If the banks aren't forecast to go light... we will probably skip Bimini and use the winds we have to cross the Banks ASAP. We kind of have our heart set on Bimini.. so we will see.
The dastardly enemy....... prop fodder... a royal pain in the butt traversing the West coast. Vast mine fields that mar an otherwise placid passage.

I know.. I know.. the poor fishermen need to survive and it IS a food source to them.. and only requires the occasional swipe from a sharp knife for me. On occasions a prop removal at night.. over the water... reaching out in a bind.... to remove the 4 wraps that melted behind my prop before it stopped the engine dead.

There is no compromise needed nor asked for.... the only cure is putting up with each other (the cruiser and the fisherman) No malice, no lack of love.. just different objectives to be politely managed by both. You win some.. you lose some, it's understood, those that go to sea respect it's wildness. There is no "perfect harmony" when it's perfect.. look out, something is about to change.. but when it's good it's really good....
OK...... here's the plan.... after much discussion with each other and Chris Parker via cell phone... and internet weather searching.... It's not going "light on the banks" early next week so we are leaving the Keys early in the morning for a 100 mile run to South Riding Rock (just on this edge of the banks) we'll get there about 9PM tomorrow evening and find the anchorage behind riding rock. There won't be much wind on the Gulfstream Wednesday.. we'll motor or motorsail it. When we wake up Thursday morning we will have 10 knots on our starboard rear quarter that will build to 15 as it comes more behind us during the day, then it will fill in to 20-25 dead behind us driving into Nassau by 10 or 11PM Thursday evening... that means no overnighters..... all day on the banks in the daylight (just what we wanted)... winds and waves behind us... ohhh yeah. We are skipping Bimini on the way over because the banks crossing weather is just too good to pass up.
Last night in the US for the season... Linda "put on the dog" in the kitchen...Fillet Mignon, mushrooms in a wine sauce, Lesure English peas with pearl onions, fresh bread and waldorf salad.... Cindy your salad recipe is awesome.... We are suffering here on the boat I tell ya..... We just got fueled up in Islamorada, bought fresh veggies and more milk.. liquor... more fishing lures, polishing compound (but no buffer) We are ready to put our toes off in the Gulfstream about 9AM in the morning. Snake Creek 8 miles away will be our departure point.
I found a station on XM I like.. it's "The Bridge". It's WARM here in the Keys... the salon is still open at 7PM... I might break out the shorts tomorrow! I feel like we are "here" now.. the weather is warm... the crossing is planned an will be in the books tomorrow... it's downhill from here. We don't like Nassau much.. but we still need a couple things so that's where you get it, plus it's closer than going all the way down to Fresh Creek. We don't have to bee-line it to GT this year, so Nassau is easier than the long trek to Andros. After a day or two in Nassau the North winds will chase us down to the upper Exumas wonderfully.
I wish every cruiser the week we just had and the days we will have tomorrow and the next. The experience was and will be special.. that's the only way to describe it. Last year I planned on 5 knots (6 mph) average for routing. This year with the new jib and prop work.. I can count on 7.5 to 8 mph with ANY wind helping us... that's a huge difference. Last year we beat head on into 4 footers for 40 hours... I haven't seen a 4 foot wave this time.. even behind us. I had confidence last year... but this year things seem much better. One BIG difference is that Linda has become a trooper... she doesn't have that irrational fear she had last year and it makes my day 200% better. When she got home last year she apologized for making the trip tense and irrational at times... but I guess she just had to go thru that. This year we are both enjoying ourselves more. My advice for the new cruiser..... don't sweat it... go with it... you will regret it if you don't. Logic and good planning WILL take care of you. Trust in the logic of it and leave irrational fear alone... it's not your friend. I truly believe fear steals your joy.... don't let fear steal your joy on this possibly once in a lifetime adventure. One thing my mom said early in my life that has stuck with me.... if anybody can do it... by golly I can too! When mom came upon something she didn't know about... that was her mantra. If other people can I DANG sure can too and she did. That has been one of those things as a kid that made an impact on me. I guess the confidence of the message is empowering. If others have lived thru it.. I guarantee you I will.... then the fear is gone and joy fills in the blanks. Adventure with logic and good planning is strong medicine for the heart. It thickens your blood, LIFE.... instead of just living.... confidence comes from stretching your limits.
It's kind of like succeeding at a diet..... if you ever get to the point that you understand.... when your hungry.. that's a good thing.... enjoying the hunger makes a diet work.... enjoying the unknown makes adventure work, for you AND for your partner.
It's 7:30... good food, good music... good company... warm weather... this should be a beer commercial... It just doesn't get any better than this. It is absolutely flat and calm outside. We will sleep like kings tonight. Flat crossing tomorrow.. easy banks run...oh yeah.
SYL...... Rusty
January 3, 2011
We left Ft. Myers at 7:30 undecided about how far we would travel today. After discussing the gulfstream with Chris Parker, there may be an advantage crossing early Thursday. The West winds that would carry us over well Friday but they would also make it hard to enter the Bimini Harbor... there is a sandbar you must stay very close to when entering, and if there is an outgoing current combined with west winds it's ill advised to try the Bimini entrance. We saw this lonely shrimper out of Ft Myers in the fog. I took a shot of my handsome Captain when he was playing with his sails. Man, I love this guy.
To the left is this year leaving Ft. Myers, flat and hazy

Above is last year, they should call it Fog Myers.
The fog has lifted and there is nothing but blue skies. Still not much wind to speak of but the Yamahas are doing their job when the pesky crab traps will leave them alone.

It's been flat and calm... almost no wind. We might get a little tonight, but either way it's all good. We will probably stop along the way before we reach the Keys, Go North to Blackwater Sound for Tuesday night, then leave Wednesday night for the Bahamas in calm weather. We could leave Bimini Sunday morning for Andros.
5PM, still flat as a flitter out there... I haven't seen over 3 mph wind all day. Early we were holding 7.7 to 8 mph, but looking at our timing... there isn't any hurry. I dropped it back to just over 7 and let the wind add 1 to 2 tenths when it can. We will probably drive until 7 or so... then pull over to the curb and go to sleep. If we pressed on we would arrive at Long Key about 2AM in the morning but there is just no need.. We will go until we get tired then do the rest tomorrow and still have a full day to wait for the crossing. I want to get a buffer and boat cleaning stuff so we can compound and polish the boat somewhere along the way. We will make that stop in the next couple days.
We are enjoying the XM radio. We change between "The Blend", 60's, 70's, classics and a couple country stations. Right now it's on 70's.
I put the fishing rod out for the first time today... I'm not expecting any action... but you never know. I saw birds hitting the water a lot so I thought I'd troll a while. It's nice and warm. I have been in a tee shirt ever since the haze cleared. We finally got out of all the crab trap balls that are EVERYWHERE along the Fla. West Coast. We are now outside the Everglades so there's not any towns along the coast.... the balls have thinned out. Earlier I wrapped one up on the prop so tight that killed the motor. It was so wrapped up I had to remove the prop to get it off... I hate those dang things. Luckily we shouldn't be bothered by them again, at least thru the night.
I am using the same route I put in the GPS last year. It's nice to just choose one instead of having to make all the waypoints. 5:15PM... 65 miles to Long Key. 72 miles behind us today so far as the "crow flies" probably 80 miles traversed. I really think my prop work has improved our mileage quite a bit. I did a test earlier... I could run 6.5 mph on a single engine and 8.2 on both on flat water. My top speed is better by almost a full mph, but my intermediate cruising speed at 3/4 throttle is definitely more than one mile per hour faster.
As expected we don't have internet service in the "boonies" About 3 we were going to post.. but it was too late... no service. I suspect we'll get it back around mid morning tomorrow.
The only interest my fishing lure has gotten is birds.... they dive at it but veer off about 15 feet above the water... lol. If they can tell it's a hoax from that far... I wonder how much dumber fish are.... I have seen 3 birds go for it... snap their fingers and fly off unsatisfied.
I just looked at where we might stop for the night. It's 25 feet deep here, in 4 hours or so it will be 15 feet deep or less and almost 10PM... sounds good to me. I have taken a couple naps but there's really no need to push thru the night. Two more birds just dove at my bait... lol. They were racing for it so they got closer than most as they looked back and fourth at each other to see who had the advantage... who was going to win!
| | |
| --- | --- |
| | |
| Our Sunsets | |
5:55PM EST: The sun just sizzled out as it hit the open water. It's still light, but not for long. I plugged in my headlights so I could see the dreaded crab traps if we get into them again. I am about to give up on any useful wind and roll up the jib. Maybe that thought alone will supply the wind we have been looking for all day.
Linda's below making stir fry.... I think I'll roll up the bird lure.. OK we are no longer in danger of catching a fish. The instrument lights are all set on low beam for night travel.. our light is fading. The jib is furled and I closed the salon divider to retain Linda's cooking heat... it seems smart to retain heat in the salon that will cool with the night air. 6:11 and we are set for night running.
It's official... no wind today. We probably had as much as 5 mph.. but driving at 7 we had a net -2! That's OK, that made the day peaceful and easy. It's going to be a dark night, no moon. It rises at 6:32AM, but it's only a sliver then..... Tonight should be great for star gazing this far away from city lights.
I got to thinking about our ICW Florida West Coast run. I bet the state of Florida spent $500 dollars on just ME.... big ole' 3 phase electric motors driving those bascule bridges.... raising and lowering 10 or so bridges a day just so I could pass. Thanks Mr. Florida taxpayer.... I imagine what Florida spent on me in 4 days eclipses what Texas spends on it's coastal water sports activities per capita for a whole year.
We will end up doing almost 100 miles today.. not bad for only running a couple hours past dark. Other than the crab traps it's been a very pleasant day. The radar is fired up.. nothing around within the 6 mile radius it's set for. 6:56, the stir fry was very good. Linda made a lot so we could have leftovers.
I just caught another ball under the boat... what a nuisance.... at least this time it didn't wrap around the prop it only lodged between the hull and engine. I can tell you this...... dragging a crab trap only costs you half a MPH if it doesn't get in the prop...
This will be our last night in the Gulf of Mexico!!!! Yea... Early tomorrow we will enter Florida Bay. 7:30, the stars are bright tonight. I'll enjoy them once we are on anchor with the lights off. I'll run the mast light all night like your supposed to on anchor... but only after a bit of star gazing.
We must be catching a good current, the boat is waddling a bit and we are bumping over 8 every now and then. The winds aren't doing it.. they are still under 2... maybe the road is downhill a bit around here... huh? Just kidding...
I put a gallon of gas in the batteries today. I filled up the Honda and let it charge the batteries until it ran out. Last night we left the ice maker on so the batts were down a little, but still over 12 volts. I don't let it get very low, the battery charger is set on 14 volts, with the charger off and the batts full they stay about 13.7 at rest.
8:36, the anchor is set in 19' of water, we are done for the night. Music is back on.. and all is well with the world.
I found the wind....! It was behind us for sure... when we stopped I was showing 6 mph of wind (on my new wind instrument) at anchor. I let out miles of anchor line, 70 foot of chain and about 40 feet of 8 plait nylon rode. I would have liked to find shallower water, but this will do fine. That's over 5:1 with most of it being chain. I'll set the drag alarm, but I guarantee you we will be in the same spot in the morning.
44.4 miles to Long Key another 10 to Islamorada so it's an easy day tomorrow. If we get to Islamorada early enough we can go on to Gilberts for the night or stay there overnight and go Wednesday.... plenty time since we aren't leaving for Bimini until Wednesday night. It's a chip shot from Islamorada to Angelfish. Today represents almost 100 miles in 13 hours, not bad considering all the fishing gear I wrecked on the way (stopping to remove it from my engines). There are 5 or 6 less crab trap balls floating around in the Gulf tonight... at least balls that are connected to anything.... lol. Today I found something BAD about catamarans... you have two times more of a chance to run over something than a conventional hull.... but we averaged 7.6 mph at 3/4 throttle with .2 to .5 added by the wind now and then..... so that's redeeming enough for a little 33' boat in my book.
9:12, closing down for the night. Will post as soon as we get a signal.
SYL !! Rusty
January 2, 2011
For some reason I woke up early so, I decided to post some photos.
| | |
| --- | --- |
| | |
| Fort Myers | White pelicans. I have never seen all white pelicans before! |
| | |
| | |
| --- | --- |
| Cape Haze - Jim and Maggie's Island Packet, Phoenix. | Tug Ferries. These are privately maintained and operated by the people who live on the strip island. We were told it cost $50.00 ONE WAY. |
Shopping day today... I am about to motor over to the Publix and get started.
2:10 Back on the mooring ball after shopping. Fort Myers is tha bomb as far as provisioning, laundry and cheap mooring. It's $12 a night for the ball... that entitles you to the laundry facility. It's really nice but it's 1.75 a load. As usual the dryers hold two wash loads at time. We haven't had to put the dinghy down yet. When we arrived we pulled up to the marina dock to pay, this morning we motored 2.5 miles up river to "Snark Bight" marina and took an empty slip to go to the ship store and Publix. The dock master welcomed us to take the slip. The Publix is literally in the same parking lot as the marina. I brought 3 buggy loads of provisions right down the dock onto the boat... it was sweet! If you want to anchor that's no problem either. Just follow the river in until the mooring field ends and pick a spot.. there are many.
For those not familiar with the Ft. Myers layout... to enter the harbor you come around the end of Estero Island a couple miles after the big bridge on the ICW. If your offshore, Ft. Myers is sort of off the direct path South by 12 or so miles. After you pass Sanibel Island you have to go East for 12 miles for Ft. Myers. The moorings are controlled by Matanzas Inn just under the harbor bridge to the right. We usually buy fuel on the way in at the Shell station on the right before the bridge.
I refreshed my memory about the bay to bay inside passages in the keys last night by looking at the charts and my old Florida guide. The "Yatchman Cut" that cuts off several miles if your headed North in the Keys is 7' deep plus. I remembered it being shallower, but it's good for 5-1/2 foot drafts if you pick your spots a couple times. It puts you in the keys 15 miles further North than Marathon (at Long Key). I'll leave Ft. Myers full of fuel and refill at Gilbert's Marina between Blackwater and Barnes Sound (Jewfish Creek) before the crossing. From Gilberts it's 15 miles more to Angelfish Creek.. our jumping off place. You can stay at Gilbert's and make the run north before crossing, but the best plan is to stay in the creek. If it's time to stop at Jewfish.. it's only 2 -1/2hours in the morning to get to Angelfish so it's no sweat.
The only thing we need as far as provisions is a liquor store, and Linda wants a couple things from Target... The cruisers we met last night said they would take Linda, we will see.
Time to rest from all the loading.... lol.
6:45PM Linda didn't get to target, but she's OK with it. Some guys a few boats over were working up the mast of their boat so I went over to see if they would put my wind instrument on. Sure enough they offered and we got it done. He needed a small clevis to attach the bottom of his jib so I brought four over to see which one might work and he kept them all..... lol. I didn't have the heart to ask for the 3 he didn't use back... I just considered it a fair trade. I hung around a while to see if he would offer them back but no big deal. If it would have been I would have asked.... my wind instrument is working great!
Everything is checked and ready for tomorrow. The route is punched in the plotter.... it's only 38 miles so we may look for something past Marco, I think we anchored at Indian key last year... I'll have to look. That would give us over 60 miles tomorrow, a better launch for the next day's run through Florida Bay.
The gulfstream window is still looking good, in fact Saturday is now a possibility too. A Thursday night leave and Friday arrival still looks best when you factor in wave direction..... but it looks entirely possible for 3 full days, Thursday, Fri and Sat.... cool.
Conditions for Southing look good the rest of the week too, lets hope it holds as predicted. Winds look light.. but as I said before they have been a bit higher than forecast so we may be able to sail the next two days.... either way, we are moving South by sail or by Yamaha. I am really pleased with my prop work. I think I have gained a lot.... I seem to be able to motor at half throttle and make much better speed than I could have otherwise, even under power alone.. not just motorsailing.
OH... Mike, I can tell you the power thrusters made a big difference yesterday in the open sounds where the 700K+ yachts don't slow down for you. The stainless pieces that surround the prop that I put on the left engine helped, it didn't aerated once, and the right engine (without the power thrusters) probably did it 15 times rolling over boat wakes made by the aristocratic highly talented yatchmen of Western Florida. This seastate was big rolling boat wakes at 30 degrees aft and on the bow both. Mike you and I are more concerned with short choppy gulf waves, and luckily I haven't had the opportunity to check that out. I can only assume if the part helped rolling over big boat wakes, it will do the same job on more natural challenges. Mike, also the engine with the thrusters is mounted 1/2" higher than the one without... so that improves the test. The engine that aerated is even mounted deeper in the water.... so there ya go. I'm sure there will be a time soon that I can attest to their short chop performance... more on the subject of the addition of "Power Thrusters" as conditions allow...
7:30PM... time for a shower. Linda just finished so it's my turn. We had a productive day getting 3 grocery baskets of food loaded and mostly stowed. I shopped for cold drinks and paper products that filled up the first basket.... I checked it out and loaded it all on the boat.. then stowed it before I went back to the store. When I got back to Publix Linda had another cart ready so I checked it out and loaded it on the boat. By the time I returned she was done with the third.... so we both loaded the last one together. I tell you... Ft. Myers is at the top of my list for a re-provisioning spot. The marina and supermarket in the same parking lot... ohh yeah.
SYL Rusty
Linda here: I just have to say what a blessing it was to be able to directly load onto the boat. When you are buying moving andstoring months of provisions not having to load a car then unload the car and take everything to the boat was nothing less than awesome. 5 stars to provisioning in Ft Myers at the Publix.
SYL Linda
1-1-11
So far this year has been a good one. We made it comfortably from Cape Haze to Ft. Myers arriving about 2, we filled up with fuel on the way in then docked at the Matanzas Inn and Resort restaurant (that controls the mooring balls in the harbor). We paid our fees and washed all our clothes in their laundry mat.... 4 nice washer/dryers easy to get to. While the wash was going we ate dinner at the restaurant. By 5:30 we were hooked to ball 17 and done for the day.... This year... so far.... we made a passage, got fuel and did laundry all in one day. On top of that... Linda met another cruiser who has a car so she's got a ride to Target tomorrow for major provisioning before heading to the Bahamas.
Our friends Matt & Christi are going to try to catch up to us Thursday to make the Bahama crossing (if the crossing window holds) Right now Passageweather.com is showing a good looking 36 hour window.... but it's also 5 days away.. so the forecast could certainly change but I expect it's good. I may need to get me along rope in case the kids can't stay up so I can help them hold 7... lol. It's only a 10 hour crossing and is supposed to be easy seas and light winds... so we will probably both motor-sail and will make it just fine. It would be a gift if we get that flat a crossing. I'll be talking to Chris Parker mid week about the window so we have good intel at our fingertips. When I talk about weather Matt already has a handle on it.. he's no slouch on planning. He, like me is more comfortable talking it out with a friend so I'm glad we are talking and buddy boating over. Winds are supposed to go North the next day which will be wonderful once we cross. North winds on the banks is a good thing. We may spend a couple days in Bimini, so the weather that far out is deep inside the crystal ball right now.... it's anybody's guess. Once we cross though.. it's downhill form there.
I really like the Great Bahama Banks between Bimini and the NW channel. It's 9 to 25' of totally clear water.... you count the starfish on the bottom for 80 miles. It's like a sunken desert.. nothing but pure white sand on the bottom. Last time we did a lot of it at night... I hope this year we can have some smooth day windows to enjoy the 80 miles of underwater beach. I bet we can plan on it and make that happen.
Winds have been from 120 to 130 degrees the last 2 days. This evening it went more South.. it's 185 right now. Matt will have it on his nose coming out of St. Pete unless he stays on the ICW until late tomorrow. Winds have been a bit higher than advertised the past 2 days.... but not much, 3 to 5 more than expected. Sometimes that happens, a trend of higher than forecast winds.. or rainier than forecast can be observed.. so you adjust your plans accordingly.
Linda had a good burger at Matanzas today. I got a platter.... it was good but not a wow.. truthfully though it was excellent for the $15 price. I have paid a lot more for the same quality. When my food came.. the weirdest thing happened...... The waitress sat it on the table and before she let go of the plate a seagull swooped down and took the fish fillet right off the plate....... ! How odd is that. The sweet little waitress took the plate back to the kitchen and remade it. Your not going to believe this.. but as soon as she let go of the plate at the table the second time... a gull took the fish and two shrimp!!!! OK.. time to move inside. The third time was a charm.... this time I got to eat all my food without the Alfred Hitchcock scene.
The weather was on the nose today so it was not as warm as yesterday. Tomorrow will be an easy day... provisioning will be the focus.. but I am sure we will have some chill time too. I want to pull out Monday morning for Marco Island.. and easy days run. Last year we left Marco early and arrived at 10PM in the keys.. so that's probably what we'll do this year.
I need to refresh my memory about the inside bay passage from Long Key to Largo in the Keys Cruiser guide. I remember it as pretty straight forward... but I want to check out fuel stops and bridge heights to Hawks Channel. I imagine we will go all the way up to Angelfish Creek to get out... just above Largo. That's a nice angle on the "stream".
Well.... it's after 7 so I'll post and close up the salon for the night. The divider is still open and it's quite nice.
SYL !! Rusty and Linda