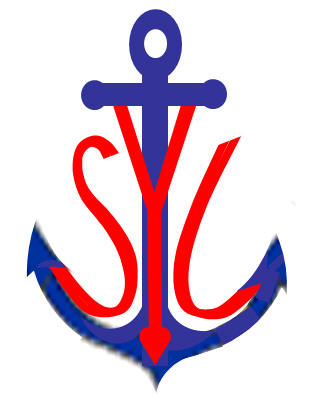 Sitton On The Beach
January 30, 2010
Bummer!! That aptly describes today. I take full responsibility. I have frequently been told, usually with a hint of admiration, that I am so adventurous to be going on this trip and our other trips. I have learned to quit trying to explain that I am not adventurous at all, in fact I am somewhat of a chicken. I go on these adventures and enjoy them because of the competence and trustworthiness of my husband, my Captain, Rusty. I have full confidence that he can handle any situation we find ourselves in plus (and for me this is the most important) he will do his dead level best to see I don't get out of my comfort zone (that can be a very narrow zone). These last two days are a prime example. Were it not for me, Rusty would probably be in Louisiana by now and a happy camper. Instead, he is sitting at the same dock he has been sitting at since October and he is severely disappointed.
This morning he was dressed, smiling from ear to ear and ready to set sail by 6:30 AM today. He looked like a little boy at Christmas. Enter the Grench, that would be me. I said I would go but... The conditions were not great. By Monday we would be looking at east winds (straight at us) for several days. That is not fun sailing. I left the decision to my Captain. He struggled, but he ultimately decide not to set sail not because it was dangerous but because he knew I would not like it. Presently, it is 4:00 PM and he is looking at the ICW once again but to enter above the Port Arthur mess. I think the plan is to leave around 2:00 AM and get to the ICW at Bridge City before dark tomorrow. We will then ride the ditch until the winds are favorable in the Gulf.
Also, I received a phone call early this morning and Erin is running a temp and probably has a sinus infection. Fortunately, she had a Z pac and Cindy ( her other mom) checked on her and got her on Musinex, etc. E called me a few minutes ago and her temp is up to 101 but she as not taken anything for fever since this morning. I feel like she will be better tomorrow when the Z pac has a chance to work. I talked with Cindy and she is going to check on her in a couple of hours. Pray for my little girl!!
Sea Yawl Later!!
Linda
January 29, 2010 6:25 PM
| | |
| --- | --- |
| | |
| ADRIAN SEEING US OFF ON FIRST ATTEMPT TO LEAVE KEMAH | |
| | |
| --- | --- |
| | It was an interesting afternoon. About 1:30 PM after looking at the weather forecast, we decided to try and leave this afternoon. We made a quick run to Tom and Cindy's to pick up packages that had been delivered and for Rusty to get Tom's opinion of our plan. Tom thought our idea to try and leave was a good one. The problem we were facing is that around Monday the winds were to change to the east which is not good for sailing to Venice, La. After Venice we could sail with east winds to Mobile. The thought was to get to Venice by Monday which was doable if we left today. There were Small Craft Warnings that were to end by early evening. We got things ready and Adrian waved us good bye and at 3:38 PM we left the dock. All important family was notified and we were off. It was rather choppy waters and very cold but we expected those conditions. We got past the Kemah boardwalk for a little ways and I checked the weather forecast again. It had changed. Now the Small Craft Advisory was not going to end until Saturday morning and the winds were going to pick up to 20-25 miles an hour with 4-6 ft seas. I asked Rusty if we could just return to Kemah and look at the weather again tomorrow. He agreed. I know if it was just him he would have continued but I so appreciate that he is mostly concerned with my comfort level. So we are now warm and toasty in the salon. |
We found out our SPOT was not working because the tracking feature is not included in the basic package. We had to upgrade to the premium package so now the SPOT tracking feature should work. Right now Rusty is on the phone with the Coast Guard about whether the ICW is open because of the spill. We may have to take the ICW. Rusty just found out that they are alternating the traffic flow in the ICW in Port Arthur at 6-8 hour intervals. Rusty said we could avoid that confusion by going in at Sabine Lake if it becomes necessary to take the ICW. Our hope is that will not become necessary. Well, I have lots of "stuff" to stow away. In the rush to leave not everything was put up. Please pray for good weather!!
Sea Yawl Later!!
Linda
January 29, 2010
The weather front is HERE... yeah! We woke up to rain this morning so the weather we needed to look at is here. I have been waiting to see what this front would be like to decide if we can leave behind it. There is a lot of moisture in it, but not torrential rain. It rained heavy this morning, but it's only cloudy and blowing now (9:30 Friday morning).
If you have been following the national news, a barge ran into a ship that spilled a record number of barrels of oil into the ICW at Port Arthur Texas. Where is Port Arthur you say.... I'll tell you... it's about 40 miles down the ICW from Galveston on my way to Florida....... so it's blocked and I'm not sure when it will reopen. Winds have been whipping up waves so I PLANNED on running the ditch for a day or two until the waves settled but now... I can't. I'll check wave heights and periods (seconds between waves) all day today and decide if we can go surfing tomorrow. The wind will be at my back with a very short fetch (wind blowing from shore to the sea) then over my port quarter so we may be able to reach on 2 to 4'ers along the coast for 2 days to get to Venice Louisiana (depending on the wave periods). The sun is supposed to shine tomorrow! My little boat should do very well in those conditions.
I'm off to get my work computer (from the shop)
Hi - Linda Here!
While Rusty was doing his errands I was washing the last of clothes, making the last Walmart run for perishable and settled up with the Harbor Master here at the Marina. Rusty and I got back about the same time. He came home with a surprise, two two-way radios that have a 16 mile range. What a guy, he doesn't want me having to send out an SOS on facebook any more. We discussed making a short (4-5 hr) run to Galveston area maybe Redfish Island, but that would be on the hook and we decided to go see Cindy and Tom and leave early, early tomorrow morning. Excitement builds!!!!!
THE CONSUMMATE MULTI-TASKER
January 28, 2010
We woke up leisurely. It is really strange not to hit the ground running. We still had things to do but they were not things that would stop us from leaving. Unfortunately, the weather is stopping us from leaving. Rusty was really pretty quiet this morning and I knew he was a little down because of the weather. He has been pushing so hard and now we can't leave. Karen and Heidi came today and it was a bright spot. Heidi is 4 months old and such a good baby. She smiles and flirts and only gets fussy if she has a legitimate complaint like being hungry. She will steal your heart in a heartbeat. We had lunch at Joe Lee's which is right down the road on 2094. If you want just great fried seafood and awesome fries, Joe Lee's the place. After lunch Karen and Heidi left and we came back to the boat for a nap! Yep a nap! I didn't even feel a hint of guilt!
After our nap I got the sailmail started. We had to apply for a FCC license, which we did today, so we are now waiting on the FCC. We did get our SPOT working. SPOT is a device that sends a satellite signal every two minutes showing our location. If you go to the link below you will be able to follow our travels. Right now it shows us sitting at the Marina. Imagine that! It won't always be on (to save batteries) but it will be transmitting if we are travelling.
To see Spot run.... lol copy and paste this URL, it should load right up and show you were we are.
There shouldn't be any passwords to worry about and Rusty is going to leave it on until about 10:00 PM so we can make sure it is working.
Right now we are waiting on weather to leave, it looks like Saturday morning might be the best shot at decent weather. The Gulf will probably be so churned up that we will take the ICW for a while till it lays down. Winds will be to our back after the front passes.
Good night all.
Sea Yawl Later!!
Linda
January 27, 2010
This day started out with Erin and Cindy Rod coming to see us and bring us meat from Hemphill, floats from the lake house, mail from home and other items we needed. It was great to see E and Cindy. Cindy had the grand tour since she had never seen the boat then we all went to lunch at the Classic Cafe. Erin and Cindy went back to Beaumont after lunch. Rusty got a much needed hair cut, I went to Kroger and picked up some decals we had made at the sign shop. This afternoon a lady I had met a few days ago came by. Paula and Adrian are on the next dock over. They are a delightful couple who are from Holland, have been married 43 years with two grown boys and a girl. Paula was 16 years old when she and Adrian became sweethearts. They have lived all over the world and sailed 15 years. They now have a trawler. They are soooooo cute. Paula is so full of life and wisdom. She was so enthusiastic to share her wisdom. I had such fun hearing her stories and soaking up valuable tidbits of information. Rusty came home briefly during our visit, announced he was going to buy a cable for the modem and he was gone. Paula left around 4:30 and I did things around the boat. It got to be 6:30 pm then 7:00 pm and still not Rusty. By 7:30 pm I was really getting anxious and my imagination was starting to work overtime. I no longer have a phone so I really didn't have a way of getting in touch with Rusty. Finally, I sent a plea out on facebook asking somebody, anybody, to call his phone and find out if he was ok. A friend of mine, who does not know Rusty, did call and he told her he was fine and would be home shortly. We have to work out a system. Tomorrow Karen and Heide will come to see us.
Sea Yawl Later!!
Linda
January 26, 2010
This morning I was really concerned I had torn my rotator cuff. Prayers were requested and prayers were answered. I am not 100% but I feel confident that I will be in short order. God is good. The boat was finished being buffed and polished and she looks great. Rusty got more caulking done and all our gas tanks filled. I got all our washing caught up, some shopping done, organizing done (seems an never ending task), reworked our final list and had a marvelous dinner with Rusty at the Classic Cafe! Erin and Cindy ( my next door neighbor at home) should be here tomorrow morning. Erin made a trip to the Lake today to pick up our meat and a few things at the Lake house. She also ran several errands we needed done in Beaumont. It was a real blessing that she was able to do that for us. We really didn't have time if we are going to make this weather window we are hoping for. I will enjoy seeing them. We still have to get our decals, have boat cards made, get scuba gear (including a bang stick) we have to get sail mail set up, our wifi booster set up and right before we leave we need to get perishables. I am defrosting the freezer and the refrig tonight. Most of that should be done tomorrow. Thursday is going to be a rainy nasty day. We are still hoping for a Friday departure. Well, the sandman is slapping me around so I think I will quit resisting and go to bed.
Sea Yawl Later!!
Linda
January 25, 2010
Rusty had his last into town business meeting. We had a fella here today buffing the boat and WOW she is shining like a new penny. He will be back tomorrow to finishing buffing and then waxing. It is still looking like we may be able to leave Friday. Our WiFi booster was delivered to Tom and Cindy's this evening. It had us worried. Hugh and Sally Whynot came by and we took a sunset sail. It was awesome as you can tell by the pictures. It was great to see them again. We are super excited that they will probably be joining us in March. Whoo Hoo! I slipped on a top and wrenched my shoulder so I am on Ibuprofen and a heating pad. I have decided I will be fine tomorrow!!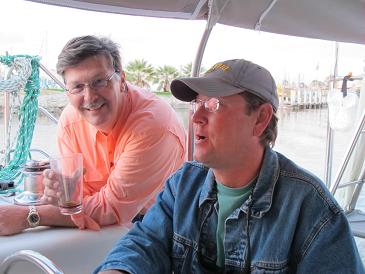 Rusty and Hugh Taking the Ladies for a Sunset Sail!! Awesome!!
| | | |
| --- | --- | --- |
| | | |
| Tonight's Sunset Sail | | Sally and Hugh Whynot at Waterford Marina |
I have been looking for a weather window to leave, the forecast changes drastically every day, so it's a wait and see. There is a confusion of frontal patterns for the next few days..... no big clearing fronts that are easy to see come and go. The only consensus from the 4 sources I'm looking at... is that the weekend winds will be against us, if they are as heavy as predicted the Gulf will be chopped up. We have the ditch option and I'm not against using it, but it's not my first choice.. If the winds pound the Gulf for 2 days.. no matter the wind direction... I'll probably go play with the tug boats until the seas lay down. My guess is that the winds might slack Saturday (this is Monday), but the seas will still be lumpy from a hard 2 day blow Thursday and Friday. If we run the ICW we won't run at night like we would if we were offshore, but at least we would be Easting..... finally. The motors are running great, so spending 4 days or so getting East of Louisiana is fine with me.
This evening we took a short cruise out past the Kemah Boardwalk and back, our timing was great.. arriving back at the slip just as the sun set, Linda took the money shot above... good time good friends..... That's what it's all about.
We need new snorkel gear, we were looking at our old stuff yesterday and it's OK for a backup, so we need to make a run for that tomorrow or the next. The boat polishing crew said they will finish tomorrow but I just don't see it happening. Today I left my work computer to be tuned up before we leave, so I need to go get it tomorrow. I'll be doing the four letter thing (work) every now and then while we are cruising remotely via computer... so the computer needs to be on it's best game.
I can't tell you how nice it was to take the boat out of her slip even if it was just for an hour or so. It was chilly out so we left the heater running on the batteries and inverter while we were out just to see how long the batteries would carry the load. In the 1 1/2 hours we were out, it pulled the batteries down from 13.8 volts to 12.5. Not bad I guess, we won't be running the AC on the batts while cruising, but I was curious how quickly the 16K BTU AC / Heater would pull them down. The inverter showed 14 amps out of the batteries running the heater, nav system, autopilot, vhf radio, stereo, nav clearance and steaming lights. No batteries could survive 14 amps for very long.... lol. It was fun and actually pretty nice to have the heat... mostly it's fun that I could even run the big Cruise Air unit on batteries....
It's great to transition from boat mechanic to boat driver.... I haven't fully made that transition.. I'm not sure you ever do, but 80% boat driver would be a nice change from 100% mechanic. Sunsets and charts will definitely be more fun that 11:00 PM bedtimes and Ibuprofen... lol.
Sea Yawl Later !! Rusty
January 24, 2010
| | | |
| --- | --- | --- |
| | | |
| Breakfast with Jonathon!!!! | Scott and Trina Duffee | Trina, Scott and Captain Rusty |
What a great day. Jonathon spent the night and we so enjoyed having him on the boat. All to soon it was time for him to leave to go back to Caldwell. He has become quite the photographer. He took some awesome photo's of the boat. I will post them when we get them.
Jonathon had not been gone long and Scott and Trina Duffee arrived. Scott and Trina has sailed with us twice. The first time was a few years back and it was to the Bahamas (Rusty posted some pictures of that trip earlier). The second sail was the Florida Keys with Erin and Mary Catherine. We are hoping they will be able to fly over sometime during the cruise. Scott is the proud holder of the prestigious DUFFEE CUP (a neat story - ask Rusty!)
As you can see we "goofed off" today. It was wonderful!!! The weather has been beautiful though a bit cold because of the wind. We are considering going the Intercoastal so we leave sooner. Time will tell. Tomorrow Rusty has a meeting at work and I am going to see my friend, Cindy Ibert, probably for the last time for a while.
January 23, 2010
| | | |
| --- | --- | --- |
| | | |
| Tom Finishing Last Window! | Sweet Girls!! | A Love Gift!!! |
The WINDOWS ARE IN!!!!!! There is still finishing work to do but they are. Tom and Rusty started at daybreak and finished around 1:00 p.m. Jonathan, Rusty's son, came down to see us before we leave, so Tom, Cindy, their two granddaughters and friend joined us for lunch at a really good catfish restaurant. I then went to see mom and my brother, Wayne. It was a great visit. I think Mom knew me which isn't always the case. We are looking at weather and we may not be able to leave Wednesday. We will just have to wait and see what the weather brings. We made our "Last provision list". Exciting!!
January 22, 2010
The pictures of the graphics lost some sharpness when they were resized, but you'll just have to come see us in person if you want a better view.. I got the dinghy motor on the boat, the 9.9 Nissan is a brute of a little motor. It jumps the boat on plane much better than I expected.... I rolled some new plugs in it, sprayed all the linkages and changed the lower unit oil. When I put it on the boat it cranked on the second pull... It doesn't get any better than that. In the first pic you can see the Creatcher tack point.

I like how the graphics turned out, we will have to be careful how we place our bumpers now...
This evening we got the rest of the windows off and most of them prepped and ready. I found somebody to compound, buff and wax the decks, he's starting Sunday. I'm having to think hard about what's left to do.. that's a great thing. I need to work on the modem, but the windows are still number one. Linda came back today, she's down below "nesting". With all the work I have been doing I had some cabinets and spaces empty to work in or through them, now everything is hers.... she is so excited to have all her spaces to pack and organize.
Tom is coming in the morning, we will see how far we can get on the windows. I'll start buying my gas and pick up some final things in town, get a haircut and start looking for a weather slot. I'm hoping the front slated to get here in 3 or 4 days will push through lightly and we can use the north winds to head out after the frontal passage. This front is coming more from the west, so it may bring NW winds which would be perfect. Linda picked up the new ladder today, it is much more substantial than the original, I'll install it tomorrow. My son Jonathon is coming tomorrow to see us before we head out. Sunday more guests will drop by, I still can't believe we are actually leaving in less than a week! Monday I need to check in at the job. I'll be doing some remote work while I'm away. Enough rambling, I need to get my shower and get ready for tomorrow.
Sea Yawl Later !!
January 21, 2010
We have WINDLASS.... but it was not until after the fight.... at 5:00 I had it all wired, mounted and done... I hit the helm switch and nothing. OK, something must not be tight, so I went over the system and found one positive battery lead loose, tightened it and hit the switch.... nothing. OK, when I mounted the solenoid pack one of the leads was not very tight where it entered the pack... maybe it isn't connecting inside the pack like it should. Now to get to the solenoid pack I have to do the Houdini contortionist thing and put my whole body in the forward lockers. I had already been in and out of that locker 5 times on the install and wasn't looking forward to doing it again, but I did. Back in the box....... removed the solenoid completely fixed the loose terminal and remounted it. Crawled out and this the switch.... you guessed it, nothing. OK, back to the Maxwell install instructions and look at the wiring diagram again. Yep, everything was right. OK, throw down the book and think this thing out. Multi meter, plus and minus screw drivers (will explain the algebra later), flashlight, jumper wire and me back in the Houdini box. OK, we have power between the Maxwell breaker and the ground on the winch motor... good, trace power all the way into the solenoid pack... lookin' good. Jump the high amp side of the solenoid with my little jumper wire, it fried the wire but the motor ran!...OK... why isn't the helm switch working. I use my crispy wire to jump the low voltage (switch side) of the solenoid pack to make it work and nothing... we are getting close... Is the solenoid bad??? I'm laying in sawdust and fiberglass dust beneath the holes I drilled for the windlass, it's nice in there...lol (kidding) now it's pretty dark too. OK, lets think this thing out..... the 2 wires from the helm switch do what? Its a two way switch so it should energize one side or the other of the solenoid.... wait.... the switch has no power to it. Back to the Maxwell book...... The only power it shows in the book to the switch is for the backlighting. But I KNOW it's gotta have power to signal the solenoids, so I ran a hot wire to the (backlight) wire.... I hit the switch and brrrrrrr...... we have WINDLASS at 7:45. The windlass shouldn't have been the hardest system, but sometimes things just don't go easy and this one didn't. There was a lot of fabrication to mount the winch and I had to make the chain roller, there were some scary moments when I started assembling the gear drive and motor in the Houdini box and the rotation of the gear box and motor wouldn't fit like I expected it to, but I was able to turn it 180 degrees and it's just as nice, I had to relocate the solenoids because the cables wouldn't reach swinging the motor 180, but it worked out well. The only thing not perfect about the install is that if I have to change the on demand water pump, it will be tight with the solenoid pack saddled right up next to it, but if that's the only gripe I have it's all good.
The weather was awesome today... it was 80 degrees without a cloud in the sky. Winds were 10 to 12 out of the West, picture perfect sailing day and I'm learning new positions a body can get into if you HAVE to. Erin.. I think I could do some of that Yoga now.... It wouldn't be pretty, but I think I could stand on one foot and reach under my butt, lock arms and stand up straight with one leg looking straight up like you do..... and that's hard for an old man....
Linda has the camera, when she gets here tomorrow I'll post some fresh evidence. It's down to getting the sail mail up and running and finishing the windows. I had hoped to square the dinghy motor away today, but the windlass kicked my butt. Man the weather is nice... I had the whole boat open all day, that's the way it ought to be!
Linda ordered the wifi booster this morning, it will be here tomorrow. We chose the 5milewifi unit. It had good reviews so I expect good service from it. With the completion of the last major system, I'm feeling pretty good about next Wednesday being our first available day to leave contingent on weather. The weekend should bring a moderate cold front our way, if the front is light and doesn't kick up much wave action, it may give us our 2 1/2 day window for the first leg of our trip. I plan to sail 2 nights straight to get to Venice Louisiana. There's really not much to speak of between here and there (other than a million oil rigs). I plan on Linda spelling me off for a couple hours a night, I can do two days round the clock easy. With radar and some "headlights" I put on the bows, I am as prepared as I can be for the rigs. If the weather is nice we'll stay out, if it kicks up we will go into the ICW around Morgan City, go through the locks and New Orleans and come out at the Pearl River marking the East Louisiana border. From Mobile to Panama City Beach we have opportunities all along to hole up at night. I expect to do less night sailing once we get past Louisiana. We will look at the weather in Panama City and decide if we will go for Fort Myers direct, or hang close to the armpit of Florida. We will likely wait on a window to leave PCB so we can aim to make Fort Myers with the opportunity to chicken out and head into Tampa if we need to.
From Ft. Myers we will bump along the coast, go down to Florida Bay and hit the backside of the Keys just North of Long Key at the channel five bridge. There we will stock up on provisions and leave the country... Once we get to Ft. Myers, I'm not pushing hard anymore, actually when we leave Louisiana I'll put her on have fun mode. If we decide to stay 2 days in Destin, we will. If Panama City is fun we might soak some of that up. After we leave Long Key we have less than 200 miles to get where we are going.... the Exumas. I feel like we will skirt the East coast of Andros and make Fresh Creek a destination. From Fresh Creek we will Make the 50+ miles to Alans Cay near the top of the Exumas across the tongue of the ocean. Iguana Beach on South Alans Cay is my first Exuma target.
From Alans we will go into "no schedule" mode. If we like where we are we say, if we get antsy we will move. The next 4 months we will range no more than 100 miles from where we entered the Exumas. Erin finishes her Yoga certificate training in Nassau early June, so we will pick her up then, but between March and June we will be "Sitton on the Beach!"
I gotta get my shower, I need to plant this dirt or wash it off. I imagine I could raise a good crop of Okra off the dirt just on my arms. Good night all.
RCS
January 20, 2010
Yesterday (the 19th) I was in Beaumont, moms doing great. I feel like she is on her way to 100% now. Her day surgery went well and we are all pleased. During the surgery I was talking to my Brother-in-law Harry about what motor I wanted to bring for the dinghy. He has a Nissan 9.9 that he was raving about and offered it to me for the trip. I'd love a 15 horse, but the 9.9 is the best thing I can bring that I didn't have to go buy brand new so I followed Harry home and picked up the motor. I brought it down to the boat this evening and tomorrow I'll service it and put it on the dinghy for a test run. I'll change the lower unit oil, plugs and go with fresh gas. She ought to be just what the doctor ordered.
Monday (the 18th) was windlass day. I decided where to mount it, drilled the holes in the foredeck, figured out the chain routing, mounted all the relays and breakers, I made up new power cables and routed everything where it needs to be. I also mounted the Creatcher tack points on the bows. The biggest things left on the windlass is to make a base plate that fits the curved deck where the windlass mounts, and install a chain roller to direct the chain to the anchor roller.
Today (the 20th) my first job was to re-caulk the entire starboard side deck over the kitchen. Linda has been fighting water coming into the lower shelves. I got the caulking done and 2 hours later it started to rain..... the test was successful (so far) the kitchen is dry as a bone. Hopefully that leak is history. After the caulk job (while it was raining) I took the opportunity to service both the Yamaha 9.9 4 stroke outboards. They are '08 models that are freshly broken in. I changed the oil, screwed new plugs in them and adjusted the carburetors. Start up and idle performance improved dramatically with the new plugs. On the trip from Georgia the little motors had to swallow some gas that wasn't brand new, they did fine but the plugs showed the gunk on them that old gas can cause so I rolled some new ones in. I'm happy with the motors, they are good to go.
After the engine work I made the rounds and picked up parts I'll need. I got a spare rebuild kit for the head, the rebuild kit for the Whale pump I had ordered, a chart set for the Florida West Coast, some pieces for the anchor chain roller, tools, bolts, and miscellaneous boat stuff. I didn't buy anything major but I probably spent $300 today on "stuff". This evening I got the chain roller plates made and ready to install tomorrow. I was going to put the Whale pump together, but I decided I'm done for today at 7:30. If the weather cooperates tomorrow, I'll probably finish the windlass install. I know all this is boring and mundane, sorry for the uninteresting post, I'm just logging in my daily grind for posterity.
Lets see... interesting... OK, I got something for you. The other day (when Linda talked about Murphy's Law day) I was hurrying around on deck in the rain wearing some worn out Crocs with slick bottoms and took a hard fall. I have been sporting multiple impressive bruises, a back spasm and probably a cracked rib the past few days. Not a good way to start a cruise.... The spasms have subsided, but it's still a bit hard to sleep on the cracked ribs. That same day I was at Tom's finishing the window fabrication and fell (with those same slick shoes) AGAIN!!! on the wet slick concrete entering the garage. That incident didn't seem to add to any of my maladies, but It dang sure didn't help either. Ibuprofen has been my best friend the past few days. Other than the lower left ribs, I'm good to go now. Needless to say those Crocs are in the trash and I have 3 new pair.....
Linda is at home wrapping up the last few things and finishing provisions. I'll top off the gas tanks and put on the extra gas we need for the Gulf of Mexico run. This weekend (weather permitting) we should complete the windows. The windlass might complete tomorrow if all goes well... it's almost time to sail!!!!! There are some little things still to do, but nothing that would keep us in port.
Something else that was pretty cool... when Tom and I came over to check on the starboard side window patterns, we had to turn the boat around in the slip so the stbd. side windows would be easier to reach. I disconnected the shore power cord with the A/C Heater running to turn the boat around and the A/C never missed a lick. The 2000 watt inverter held up the 16K BTU Dometic unit just fine. We even played with cold starting it on the batteries and it fired right up! When we plugged back to shore power the inverters charge mode kicked in throwing 50 amps at the batteries, then 36 amps.. stepped right on down and in a few minutes had topped off the batts after our playing with the inverter. It will charge up to 100 amps, needless to say I'm very pleased with the Xantrex 2.0 Sine Wave inverter. The batteries stay on 13.8 volts religiously... on shore power.
Well, it's time to lay in the bunk and study charts again. I like the Explorer charts, you can hold it up like a book instead of having to lay charts out on a table to study them. I'll take my evening ibuprofen, get my shower and hit the sack.
Sea Yawl Later!!
Rusty
January 17, 2010
Big day today.... Tom and I Installed all 4 lower port windows. The masking tape is off them and tomorrow I'll remove the inner and outer protective film. Then I'll shape the inside sealant bead. After Tom left I worked on small projects; I mounted the two forward running / docking lights. They will be useful in many ways, not the least of which will be lighting up the beach in front of the boat at night. They are very nice LED pieces. Then I hoisted the new "Creatcher" to see where I want to place the hard points for the tack. Here are some pictures of the new sail, it will be very useful when the weather warms up and the winds go lighter. This time of year there is plenty winds to play with, but around June they start laying quite a bit. After I brought it down I screwed the tack guides on (not shown on these pictures) I bet I can point with this bad boy. It's impossible to sheet in this straight with this much sail on any boat with the sail tacked to the center. The "Creatcher" has a bit of negative luff curve in it and an amsteel blue luff rope. I am extremely pleased with Barracouta sails in Australia. They were very patient and worked well with me to get just what I wanted. A nice modern screatcher goes to wind decently,.... but this thing is very flat and should go to wind like a hound dogs nose out the truck window... He put me a rope in the foot that will work like a leech rope to cup the foot or open it to let air off the bottom of the foot. I will use it to hold light air in the sail. As the wind pipes up and the hull develops lee draft, I'll open the foot and neutralize the low pressure area created on the lee side of the hull.
| | | |
| --- | --- | --- |
| | | |
| Barracouta Sails Logo | Almost 500 square feet, tri radial cut poly mylar | Looks Sweet on the boat! |
Now THATS a honkin' big headsail......lol I'm excited to go fly this thing. Of all the additions to the boat, this one might give me the most satisfaction... or.... it might just be good shade when there's no wind....lol We'll know pretty soon. There is no way a regular screatcher will point with this thing... For pure downwind work I have the "Pink Thang" a big asymmetrical spinnaker so I'm hooked up for pretty much any wind state.
January 17, 2010
Aaron and Mom...special times! Dylan, Ginger, Aaron and Ryan
WE WILL HAVE WINDOWS SOON !!!
January 16, 2010 10:06 pm
Rusty and Tom hard at work on the 8 bottom windows.

They have all the port windows ready to install tomorrow. The starboard windows have about one hour of prep and they will be ready (they ran out of primer). Tomorrow they plan on starting early because Tom has to go to Wisconsin for the day on Monday. Cindy and I had a great day keeping them full of nourishment and playing with our new hobby, Pandora bracelets. Rusty and I are starting to see the end in sight. We feel like we will be departing around the 27th or so. The excitement builds! I will be in Beaumont Tuesday through Thursday. Note: Rusty has not suddenly turned gray, he is covered in window dust.

Sea Yawl Later !!

Linda
January 16, 2010 8:00 am
Rusty is still sleeping. He took 1/2 of a pain pill yesterday evening and he is still zonked. Oh, I forgot to mention that yesterday when he was carrying the windows into Tom's garage he slipped and fell again. Not as bad as the day before. Apparently he has worn all the tread off his Croc's and they are like walking on glass. Tom loaned him a pair of his Crocs. We have a pair ordered just for the boat but I think a trip to Academy is in order. Those other Crocs are in the garbage.
I tried to take a shower but we don't have any hot water. There is a little filter that apparently is getting plugged up. This has happened twice before. Most of the issues we are having is from the boat not being used for a long time. Some issues are just part of boat ownership. When your home is floating on saltwater then a lot of maintenance is just part of the experience. The magnitude and quantity will diminish as she is lived on and all issues are discovered. I would rather discover and deal with them here then in the Bahamas.
More later.
Sea Yawl Later!!
Linda
January 15, 2010 8:44 pm
Today was a much better day. Rusty got the wire run for the windlass. I got the windows on the master berth side taped up from the inside and Rusty removed the windows and we both got them taped and a tarp over them on the outside. Rusty is hurting from his bad fall yesterday (we still are not laughing) but is doing ok. Tonight we took the windows to Tom and Cindy. The guys worked on cutting out the new windows while Cindy and I played with our Pandora beads. Cindy made some three bean soup and cornbread and it really hit the spot on this cold night. When we got back to the boat a few minutes ago the kitchen shelves were full of water again (one of yesterday's disasters) so we are fairly sure the water is coming from the top of the boat where some caulk appears to be in bad shape. I am glad I didn't put any of my can goods, etc back up. We will take the other windows off tomorrow and go back to Tom and Cindy's . Tom and Rusty will work on the windows all day tomorrow and Cindy and I will play. Doesn't seem fair does it? There really isn't anything Cindy or I can do when it comes to the windows. Rusty and I enjoyed our evening with Tom and Cindy, we have missed them.
January 15, 2010
You know how some days Murphys law seems to be working overtime? Days when things continue to go badly and then a few days later you sit back and laugh about it. Well, yesterday is not funny yet! I'll write about it when it is. Enough about yesterday.
Today Rusty is installing the windlass. He is having to run cable from the helm to the front of the boat. It is quite a process. He is running wire through my kitchen right now. Today it is cold, rainy and the wind is really whipping--- Grrrrrrr. I have taped up the bottom windows on the port side. My kitchen is in disarray because a major flood occurred yesterday but I am waiting to see if the leak is fixed before I put it back together. This afternoon we will take the port side bottom windows down and get them to Tom.
January 14, 2010
It's a bit moist out this morning but not too rainy to work outside, I just finished my bacon, biscuits and egg breakfast. My first task is to decide how to mount the electric anchor windlass. I have lots of ideas, but nothing pops out as just right yet. So far the installs I have done finished nicely with no unpleasant trade offs, however there is no "perfect" place for the windlass. The anchor chain leading to the bow will no doubt be under foot at some time no matter how I mount it. I can't stand it, I'd like to write more but I can't stand not getting out there to look for a mounting solution. The smells from the kitchen are awesome.... Linda is putting a pot roast on for later today...
We had a nice visit from Erin yesterday as Linda posted earlier. I believe the path she has chosen (Yoga Instructor) is perfect for her, with her Bachelors degree she can rise to whatever level she goes for in a corporate situation. I am very proud of Erin. OK, I can't stand it anymore, I have to get to work... SYL!! Rusty
January 13, 2010
This morning started early with scrubbing the "patio" as we like to call it. I spent a couple hours on it but I am far from done. It is a start at least. It is sooooo nice to have water and hot water at that! Rusty fixed the hot water heater. He has the whale valve apart and found the problem but the part had to be ordered from West Marine and will not be here until mid-week of next week.
Erin came to the boat today to bring us the windlass, anchor and chain with some other "stuff". We also had her take a load home. Well, it is official, she is registered for her Yoga Certification. She will spend a month on Paradise Island, Nassau at the Sirananda Ashram Yoga Retreat. When she is finished she will have her Yoga Alliance (US) and her International Certification. She will fly down on May 4th and we will pick her up June 5, 2010. She will then sail back home with us. The airfare is only $146.00 one way. Sweeeet as E would say. It is the same 200 hour course she was going to take here and it would take her 6 months of driving back and forth to Friendswood. Unbelievably the cost is almost the same. She is going to substitute teacher at the Christian Schools in Beaumont between now and when she leaves for her Teachers Training. She is thinking of teaching yoga on cruise ships or Resorts or maybe just specialize (she has some cool ideas) and stay in Big B. All those options are open for her.
Sirananda Ashram Yoga Retreat

They call it a "retreat" but the dorm is more like a camp. Meals are twice a day and strictly vegetarian. No meat, fish or dairy. The routine is very rigid, very disciplined and starts at 6:00 am. E is excited. They have one day off a week and they are a 15 minute walk to Atlantis (guess where she will be eating once a week).
We really enjoyed her visit. We went to Joe's Crab Shack- Yummy! Erin's visit did not slow Rusty down. He got my light installed in the kitchen, the storage berth behind the head organized and is presently working on the windlass and anchor. He just came in breathless. He is hauling 150 lbs of anchor chain around to its new home in the front of the boat. Well, sounds like I have a cleaning job to do (that is my expertise) in the hole where the old chain has been kept. He says it is real nasty and doesn't want to use our good broom. Problem is I either threw every other broom/mop away or gave them to Erin to take home. Humm, this should be interesting.
Not too bad. The Captain said it didn't have to be perfect since anchor chain was going back in the compartment. So a little "Simply Green" and a little knee grease ( I used my feet not my hands) and whaa la - done!
Tomorrow I may ask the Captain if I can have shore leave and go see my friend, Cindy.
Sea Yawl Later!!
Linda
January 12, 2010
We have water!!!! We got water this afternoon! Yea! Our pilot won't come on so we don't have hot water yet but that is ok. I can heat water on the stove. Rusty will find the source of that problem and fix it tomorrow. The fresh water maker is installed. It gave Rusty trouble for a little while this morning. He had worked on it until 11:00 pm last night and thought it would be easier to finish out than it turned out but I got my kitchen back around 4:00 pm. Erin is coming with the windlass and anchor tomorrow. The main sail repair is done and it was delivered today. Rusty is playing with different positions for the name on hull. If it wasn't for the rain that is forecast I would say that the name would be on this week. The windlass install, repairing a whale valve and the windows are all the big items that are left. The windows will be the biggest worry mainly because Tom is so invaluable and he only has weekends. We will get her done. Grannie is having surgery on the 19th so we want to be here for a few days after the 19th. We will be happy if we can leave before the 1st of February. Heck, we will be happy whenever we leave but it would be nice to leave in January.
January 11, 2010 5:17 pm
I am FRUSTRATED!!!!!!!!!!!!!!!!!!!!!!!!!!!!!!!!!!!!!!!!!!!!!!! We have been without water since Thursday and I must say I have been a real trouper. I have hardly whined at all, I have showered in marina public showers and washed dishes with boiled water that Rusty hauled in. We were to have water at 9:00 am TODAY! At 11:00 am I called when we still did not have water and was told they had started the process and it would take 3 hours. Ok, three hours later they were turning the water on and it looked like we had water coming out of the hose. It was a trick. At the time we were grounded about 10 feet from the dock ( I'll explain that in a minute) so no big deal, I'll have water when the tide comes in and we can get back to dock. Well, it is 5:23 and yep no water. I called the Marina about 45 minutes ago and there are problems (probably busted pipes). I know it is not their fault and if I had not counted on having water I probably would be fine. But, I have a sink full of dishes from breakfast and lunch I wanted to clean the dinghy and safety rings and I need a shower.!!!!!! I told Rusty I was on strike until we have water. Predictably, being the calm, nice guy he is, he just tried to soothe the savage (me). Now mind you he is upside down working on installing the fresh water maker. Bless his heart, he is such a great guy. No water tonight.
Rusty just turned on Barbra......Love is the Answer....how can you stay upset when you have such a great guy? The answer is you can't!
I am all better now :) I think we have mentioned that lately our slip has found us aground several times a week. Usually that is not a big deal. However, today we had the sign company coming out that is going to make the vinyl name that Rusty designed. They needed to take a picture of the boat from the side. They can then show us how the art work is going to look.....cool huh! Well, we were aground. Rusty tried to get us out but we just ended up away from the dock but not far enough to get the picture. Later this afternoon we started floating and Rusty pulled the boat out and I was able to get the pictures needed and emailed them to Sign Quick. We should have a proof tomorrow! They are also going to digitize our logo as well. Fun Stuff.
This Barbra Streisand album is great. Dr. C gave it too me and I love it!!
Sea Yawl Later!! (hopefully with water)
Linda
January 11, 2010
Ice on the water again this morning..... much more today than 2 days ago. The boat is still toasty warm... I'm having breakfast and coffee. Ginger brought some great cranberry & macadamia nut bread and some kind of souped up coffee that sure is good. The cold has slowed our boat projects down, but increased our play time, so it's a win win situation. I am getting antsy to leave though, last night we were discussing what things we can do without this trip. This week will tell the tale; if I can get the water maker and windlass in it might be hard to stay for the lower windows because they don't leak.. they are just ugly. Some maintenance items like the buffing the upper decks and changing the engines oil are still to do, so I'm sure next week won't be our last here at Waterford. I'm going to check around and see if I can hire the buffing done. We still need to get the boat name on, but I can see the end of the major projects approaching.
I got my patio lights done and relocated the dinghy davit blocks yesterday. This morning I need to clean the bat cars and replace a reefing line before they put the main back on.... then I'm starting on the water maker. The windlass is still in Beaumont and I have to decide just how I want to install it. I have two places in mind, each with it's own operational pluses. I need the part in my hand to make the final decision.
There are lots of pictures and details of the refit that most would find absolutely boring. If I have time later I'll qualify a section as geekazoid so normal people can skip over it and get the pictures and details here on the site.
Well, I better get to work outside before the wind fills in. With it so cold the morning is calm, if you add any breeze to this weather... I'm back inside! I need to get the cars cleaned and reefing line up early.
SYL!! Rusty
January 10, 2010
| | |
| --- | --- |
| Ginger and Crew came down to the Marina yesterday and had the grand tour of Sea Yawl Later !! Ginger and Dylan went with us to the Bahamas a couple of years ago. It was fun discussing old times and making plans for this next trip. We are in hopes Ginger and Crew will be able to fly down sometime while we are in the Exumas. We had dinner at the Marina and all too soon it was time for them to leave. Ginger is a principle at a unique charter high school, Quest in Humble. Her school is really awesome and is always coming up with innovative programs. She is extremely dedicated to her students and they are very lucky to have her. | |
Jose, Ginger, Dylan and Kathy
| | |
| --- | --- |
| | Our dear friends, Tom and Cindy, treated us to a great lunch at Boudreaux's and then we went to the movie Avitar! Good food - Better friends. |
January 9. 2010 11:54 am
Well, alot has transpired since I had time to defend myself here on the website...lol Actually Linda has been doing a great job with her fun banter and pictures, I'm proud of her for taking the time to get it all down. She is a gem that most cruisers would kill for. We are meeting Tom and Cindy for lunch and might go see "Avitar" afterwards. It's absolutely too cold to work on the windows which is definitely our "critical path job" so the windows will be the last thing we finish before we leave. I have tons of small things to do, so I'm throwing a small project in as we go along. I have lights to install, I need to rebuild a whale valve, etc, etc.....
I saw something this morning I thought I'd never see, there were patches of surface ice in the harbor at 9:30 this morning next to the bulkhead in SE Texas!!!!!! I took the camera down to gather evidence around 11 but it was already gone.
The inverter is done!.... another major chore off my list. So far I have finished the Inverter, A/C, the mainsail is off being repaired as is the ladder, we designed and built a "Creatcher", the dinghy is repaired, most of the running rigging replaced, the Bimini.. done, Sailpack...done, Garmin 478 w/XM weather and radio... done, new boat speakers.. done, restocking bolt/screw/electrical toolbox done..... Propane bottles filled... Bottom Job & hull polishing done..... Nav chips for Texas and Bahamas done....
Gotta go.. time to meet and eat... bye!
Rusty
January 9. 2010 8:11 am
Brrrrrr it is cold. I am in the salon. Rusty is still asleep and most of the warm air is diverted into the Master berth. When he wakes up he will change the vents and it will be nice and warm in the salon but for now it is frigid! We are still without water which is a pain. We can shower at the Marina and the head uses sea water so the biggest problem is washing dishes and hands. I still have last nights pots and pans to do. We could eat out but it is too cold to venture out if you don't have to. All part of the adventure! I don't think Tom and Rusty are going to try to work on the windows this weekend because it is so cold. I think Rusty plans on solving a problem with a valve that pumps out the holding tank and perhaps start the install on the water maker.
January 8, 2010 6:19 pm
Ok, we just had a bit of a scare. About 4:00 pm Rusty turned all the power off so he could finish the inverter installation. About 5:00 pm the big conversion was to take place except when he turned all the switches on....nothing. Now we have been without heat for over an hour and it is in the teen's. Things freeze in the teen's, even on a boat. Me for one, pipes etc. To make matters worse his electrical tester (which is new) was acting weird it was giving him readings from 0 to 295. He got another, still in the package, but it was not the right kind. He hooked up the generator thinking we had flipped a breaker and didn't have shore power and this goes on until about 10 minutes ago. He called Tom (Rusty says Tom must be a space alien because no human is that smart) and they talk through the problem and Tom says "failure in this is not an option". As it turns out the inverter needs about 10 to 15 minutes to "load up". Big sigh of relief! We now have heat!!!, lights, music and everything! It is an ibuprofen night for Rusty! We love you Tom!!!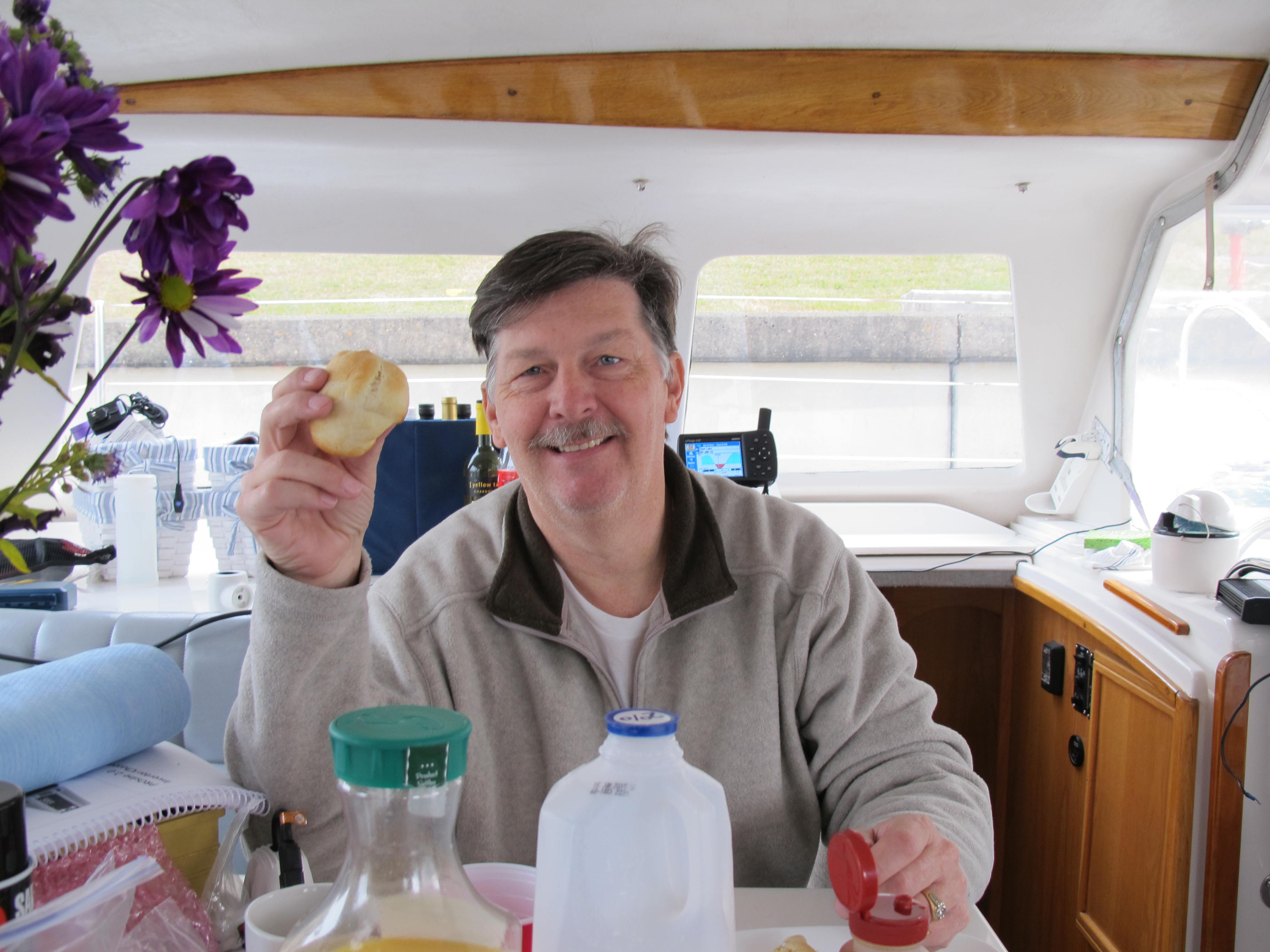 January 8, 2010
First Scratch Biscuits
Linda: Wait, wait I want a picture. (fumbling with camera, fumbling some more with camera...............)


Rusty: Linda, honey, PLEASE it is cold out here and this bag over my shoulder with lots of wet towels is heavy.
It is in the 20's and it is cold. Rusty worked until after midnight last night installing the inverter. It is now 4:00 pm and he is still working on it. It has been a massive undertaking. He has explained to me that he is doing it in a more complicated way (somehow involving a breaker) but it is much safer and better. As you can see from the picture above we did our laundry here at the marina for the first time. It was surprisingly easy and nice. Much easier than carting the clothes home or to a friends. I was pleasantly surprised. I seem to have an aversion to public showers and Laundromats. Not sure why. I guess I better "get over it" since I will be using Laundromats a lot unless I want to get a scrub board, NOT! I am really enjoying taking pictures and publishing them. I think Rusty would like for me to find another subject to photograph :). I am constantly holding him up and I am still on the low end of the learning curve with this camera so it is not like I can just point and shoot. I will get there but I am in the process of getting there.
Sea Yawl Later !! was resting on the bottom around 10:30 am. It was low tide and when the tide is low in combination with a sustained north wind the water leaves the lake. This has happened once before. It is not a big deal. We just have to watch the through hull for the AC/heater to make sure it still has a water supply. We are floating once again.
Sea Yawl Later !!
Linda
January 7, 2010
Rusty took this picture while I was making this entry. We didn't leave the heater on when we left this morning and it was freezing. It is better now!

You will have to read this entry to understand the significance of the water jugs on our table.

I love our boat but I am ready for a warmer location!! Say the Exumas.
I am writing this bundled up in a wonderfully warm fleece my dear friend, Cindy, made for us for Christmas. We have been doing errands, yes, again errands. This day started out "interesting". I usually prefer to take my shower onboard and Rusty prefers the Marina's showers. This morning Rusty was going to go to shower and I said I would go with him and we could take the dirty clothes and wash them at the same time. Rusty was ready in about 5 minutes. I, however, required more time (in my defense I did have to pull the sheets off the bed and gather up the remaining dirty clothes). Finally, I was ready to go and was looking for the clothes detergent. I couldn't find it anywhere and then I remembered I had taken it to Cindy's. Since I couldn't wash clothes I decided to take my shower here on the boat. I got distracted with my new toy and was still playing with my MAC when Rusty returned. I decided to fix breakfast and then take my shower. I fixed biscuits from scratch (first time) and eggs with Mango orange juice. After I washed the dishes I noticed that the water gauge was registering empty so Rusty went to get the hose to fill us up. Here is where I need to go back a bit. All of our water goes into holding tanks that hold about 100 gallons of water. I will not drink the water because I envision little microscopic organisms happily swimming around in those tanks. Rusty puts a little Clorox in every time he fills but I wanted him to put "A LOT" in. I want to KILL those little suckers. We decided now was as good a time as any to overload the tanks with Clorox. Rusty started the hose and said I should wait a little while so I wouldn't be bathing in 100% Clorox. I waited quite a long time and as Rusty went out to turn off the water, I went to take my shower. When the water came out it smelled really strong of Clorox, I mean really strong, but I thought that should kill anything that is in there and smugly started taking my shower because I knew all those little bugs were goners. I got wet and was just about to put my head under the shower head when I heard Rusty yelling, "STOP, STOP don't use the water." As it turns out what was coming out of the shower head was almost 100% Clorox because the hose was not working. By this time my skin was starting to burn. The only water we had was bottled water that was OUTSIDE. Outside in this freezing weather. To say the water was cold is like saying it is chilly in the Tundra of Alaska! It was painfully cold but it was the lesser of two evils. So here I am standing in my birthday suit as Rusty is calling the Harbor Master to find out the problem and learns that all the water has been drained from the pipes because of the freeze and we will not have water until Monday. Poor Rusty, I hear him asking if they could please just turn on the water for 10 minutes so his wife could take her shower but apparently it takes 7 hours to drain the pipes. After I recovered from hyperthermia, we decided to run errands, get some clothes detergent and I would shower this afternoon and wash clothes.
Hence the water jugs on the table. We could go to our friends house, or go home but we really are enjoying being on the boat. I am all warm and toasty now with our heater going. I have thoroughly enjoyed our little excursions. Well, these are the highlights. We are having a blast and we haven't even left the dock! We had two people write in the Guestbook yesterday and we got soooo excited.
Sea Yawl Later !!
Linda
January 6, 2010
What a great day! Right now I am sitting on the Sea Yawl Later !! having salsa and chips, listening to XM radio ( just got installed) and writing this entry. Music is a huge deal for me. It can change my mood almost in an instant. Rusty knows this and surprised me today with XM. It is somehow tied into his GPS for weather. He will have to explain all that to you techno geeks! All I know is the music is coming out of the boats speakers and sounds awesome. The LOVE channel is my favorite on XM.
Let me recap today. First, we didn't roll out of bed until 8:30 am. Unheard of! We were expecting really bad weather so we didn't start any outside projects. I went to Target and loaded up on flour (now that I know I can make bread), tomato paste, rotel, velveta ( it will last unopened unrefrigerated until May) and other staples. While I was gone Rusty played with his Garmin 478.
| | |
| --- | --- |
| | This afternoon we took the ladder (see picture) to a ladder fabricator who is going make us a new one but with a "Rusty invention". One of our favorite things to do is to beach the boat with three quarters of the boat in shallow water. After snorkeling and play on the beach we need a respite from the sun, so we lounge under the boat, in the shade and see what treasures we can find or just relax. We frequently stay "downunder" an entire afternoon. The Lagoon 380 had a window you could access from under the boat and we could put little snacks there to enjoy ( we actually forgot to close the little window once and things got little wet in our master berth before we realized our error). We loved this feature but we don't have that on the Seawind 1000. Our ladder is in-between the front tarps and goes from the front of the boat into the water. Rusty is having the fabricator make an accessory for the ladder that will have 4 drink holders and a spot for a tray for our goodies. How good is that? |
On the way back from the ladder fabricator Rusty pulled into BayBrook Mall. I just happen to mention they had an Apple store there. Rusty is NOT an MAC guy. He really doesn't understand why I can't use one of our five PC laptops for my photo's and ITunes which is going to be my hobby while we are cruising. Let me explain, MAC ( I have a desktop at home) is the only computer that I can read the HELP and understand what to do. I can used I Photo and ITunes without soliciting help from anyone else. OK, truth... I COULD learn to use the PC but I don't like it. Anyway the point is Rusty bought me a MAC laptop today so I can do IPhoto and ITunes. It is even more special because I know he HATES Mac but he got it for me anyway. What a guy! I am a lucky woman! So here is notice, don't get near me or you WILL have your picture taken!
Sea Yawl Later
Linda
January 5, 2010
What a treat we had. We had some friends come by. Hugh and Sally Whynot came by the boat today and we really enjoyed their visit. It was fun showing them Sea Yawl Later !!. We are hoping they will come and see us in the Exumas. Sally and Hugh sailed with us on the Stiletto in Florida a few years back. That is really camping on the water. They are real troopers. Their daughter, Kristy, and Erin were good high school buddies. Infact, Kristy and Erin graduated from college on the same day this past December. We are hoping more friends will drop by while we are still in Kemah. So don't be shy, come see us!!
Tonight we are going to dinner with Tom and Cindy. I have been surprised at the number of good restaurants in this area and Tom seems to know all the really good ones!! My vote is for Tom to always choose the place to partake of culinary delights. I haven't been disappointed yet!
January 4, 2010
PRETTY, PRETTY WINDOWS!!!

Rusty got the protective film off the installed windows. We still have two more on the top and eight on the bottom to install. Rusty's major effort today was on the AC/Heater unit. He finished the port side and installed the control in our master berth. Sweeeeeet!! He did it in such a way that I have a new storage space.......AWESOME!! The starboard side is already done so he only has one more vent to install in the salon and WhaLa the AC/Heater is done. We have really enjoyed the heater. We would be two miserable puppies if we did not have a way of warming the living quarters.
I baked bread and made tomato bisque for lunch! I am definitely keeping the bread machine. I can see getting the ingredients in the machine and then snorkeling or sightseeing and coming home to fresh baked bread. My major effort today was cleaning the stove. Rusty dismantled it for me and I cleaned a decade of someone else's grime off. YUCK!!! But she is pretty, clean and installed!. We are having a little libation (as Rusty would say) at the moment in our neon pink and yellow Carnival Cruise glasses. I think we are staying in tonight. I will make grill cheese (one of Rusty's favorites) in my newly cleaned stove. I am in the process of gathering books to read on the trip. I use to be a voracious reader before children and I am excited to have the time to read once again. I had collected a large library with the intension of reading them someday but one of my off spring, who will remain anonymous, decided to use them for target practice since he had never seen me read one. So I am trying to gather a collection for the trip.
I registered our EPIRB, Emergency Position Indicating Radio Beacon, transmitter with the Coast Guard today. We have to have a new battery which has to be installed by an authorized dealer and the battery plus installation is $340.00. It is a GPS that when it hits the water it will tell the Coast Guard the name of the vessel and where the vessel is. We feel we have to have it but geeeee.
Waterford Marina, Kemah, Texas slip 11-2 will be our home for awhile. We would love to have visitors so if you are in the area drop by.
Sea Yawl Later
Linda
January 3, 2010
We are in Beaumont for the day. Rusty and Erin are taking defensive driving..:) Tonight Rusty and I will go to the boat and the refit on Sea Yawl Later !! will be Rusty's full time job. We so enjoyed our time with Grannie and Pappy. It is good to see Erin and Stuart. Stuart helped me with the website. We are going to miss that boy's expertise!
9:56 pm
We just made it to the boat. Rusty and E worked on the Defensive driving all day and most of the evening. They were so tired of the course I think it will be a deterrent for a while. We will be here for an undetermined amount of time. Erin has already moved us out of our bedroom. The only bedroom downstairs is ours and she will be using it while we are gone. I feel a little displaced but that is ok. Tomorrow is the start of the major push to refit the boat.
Sea Yaul Later!!
Linda
January 1, 2010
| | |
| --- | --- |
| | Happy New Decade..... We spent New Years with my parents at "Sitton On the Lake" Toledo Bend. Linda took this great sunrise picture off the deck this morning (I was zonked out) It has been wonderful to chill out with Mom and Dad at the lakehouse.... I'm glad to have the time to wind down after the long work hours before I jump headlong into the rest of the boat projects. I got my 27' Stiletto Catamaran (that was in the water here at the lake) settled comfortably on it's trailer. I forgot how many steps it takes to lower the 38' mast. Dad and I took it over to the boat ramp to lower the mast and pull it home "right quick"... some 2 hours later with the help of a couple guys that showed up to watch... we left the boat ramp and took her home. The Stiletto is the original "Sea Yawl Later..." the Seawind cruiser was named "Sea Yawl Later !!" two (hence the two exclamation marks) Instead of "II" I thought the !! would be more descriptive and less conventional, always a good goal.... The effort was not without a hitch, but every thing went OK and it didn't cost me any money in replacement parts...bonus!..lol. Raising and lowering a $10K piece of aluminum can be hairy. I am glad to have it settled, it's ready to handle any winds and weather the lake has to throw at it while we are away. |