February 27, 2011
| | | |
| --- | --- | --- |
| | | Erin and Rusty playing volleyball on Volleyball Beach! They played 4 on four and 6 on 6. |
Sunday morning..... Beach Church is at 9:30, last week I enjoyed it. This will be Linda's first time to go. I talked with Kavali House last night and got an OK to use the hill top gazebo for Yoga this evening at 4:30 so I'll pitch it on the net this morning.
2:18PM We did beach church and had to break away early to get to the Chris Parker seminar on advanced weather. Linda and Erin were outside the seminar when I got out... so we ate lunch at St. Francis, it was good food (cracked conch and hamburgers). I also met the neatest fellah John Conser. He designs performance catamarans... google him, he's a neat guy. The term "performance" by his definition means that a boat sails at or above true wind speed all the time, not just in freak conditions. Linda was sitting next to him on the plane when they arrived in GT.. so that's how we met. Then he and his group were sitting at Linda's table at St. Francis when I finished the weather seminar. We talked a long time, it was neat explaining some of my theories to him... having somebody with relevant experience that understands my ideas.
February 26, 2011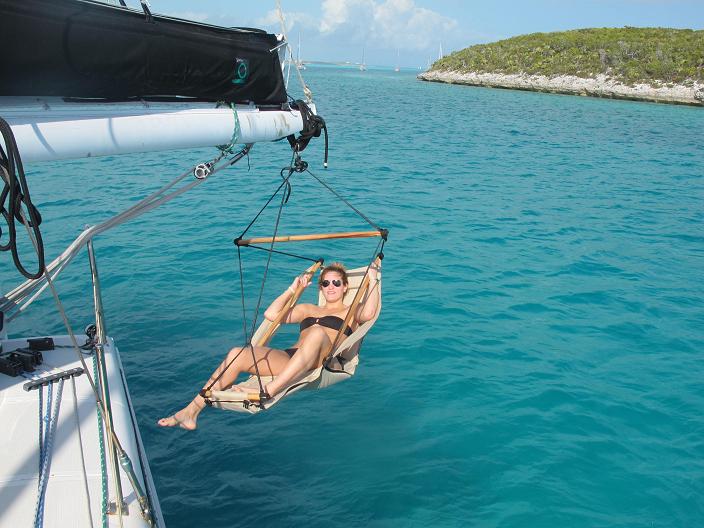 "Hanging Out"
Linda here: I am home (SYL) and E is with me. The only thing better would be if Stu were here!! Our return trip was not bad. In fact, a true miracle has occurred!. My flight home was ok. I didn't get terrified and have all those old gut wrenching feeling I have always had. God's grace. I flew out of Staniel Cay. They do not have an airport what they have is a barren piece of cement that planes can land on. You check in at the bar. The pilot checks in with the bar bartender. There is no air traffic control. I got on a golf cart that is to take me to the airplane. About 3/4 of the way there the battery is dying to the point we are barely moving. We have a small hill in front of us, and I knew we would never make it over the hill so I got out and pushed us up the hill and we were able to coast using the last of the battery power "close" to where the plane was sitting. When we pulled up I saw a very small prop plane with a guy sitting in shorts on a small pull down step. I turned to the lady driving the golf cart and said "Tell me that is not my airplane". Of course it was and the Bahamian guy in shorts was my pilot. The take off was a bit bumpy and I was a little concerned about one of his gas gauges that flickered wildly. The pilot would tap it hard and it would behave... The rest of the flights back to Texas and back here were just not a problem. If you know me at all you know this "not freaking out about flying" is a miracle. When Rusty and I first met he talked about flying and had done some flying. I remember telling him, "if flying is a passion for you and is important in your life then we need to say nice meeting you and move on". I told him I had been there, done that, earned the T shirt and I would NEVER do that again". After this latest experience I don't think I will be afraid to fly anymore. I still would not be eager to ride in a small plane but I would not avoid it at all cost as before.
My time home was good. I was brought home by Jefferson County to be an expert witness in a criminal case. I spent the first 4 days going over the work. We were to go to trial on Wednesday. Wednesday came and she plea bargained. I got to spend the next two days visiting with Stu, friends and E. I also just about completed my taxes. At least enough I can file and extension until I am home in June.
| | |
| --- | --- |
| | When we arrive in Georgetown, we found a couple who were going to crew for our friend Shane, on the Guiding Light, and we shared a taxi together. A bunch of our friends met us there at the Exuma market; Rusty, Christie, Matt, Michelle and our friend and Shane. It was so good to see everybody. We all hopped on SYL and motored over to our anchorage by the Chat and Chill. The Texas Navy gathered on SYL, Troy played the guitar and sang for us. We had a great time until we had to cry uncle and go to bed so they just moved next door to the Guiding Light and continued their party. Matt said he went home to Kaleo about 3AM. |
This morning was great. I fixed bacon filled croissants with eggs for breakfast. Erin is hanging out in the swing and I intended to "nest" today. It is sooooo good being home!!!!!
3:45PM We went to the beach and played volleyball. Erin talked me (Rusty) into playing with them, they said I did good.... I have only played vollyeball at family reunions so I didn't know anything about rules... but when it came to me I hit it.. so that's about all I know. I have always been pretty athletic and judged distance and angle well, so it worked pretty good..... for an old man..... Erin had a blast playing 5 or 6 games. She got sunburned. It's almost 4 now, so I'm taking E over to Yoga at the Monument... see ya' later.
Linda here.. great day. I didn't get unpacked and SYL needs attention but "hey Mon, we on island time". I took gumbo out of the freezer to make room for the meat so that was our lunch. Rusty really did good playing volleyball. I knew E would but Rusty really held his own and this is with the SERIOUS 4 on 4 volleyball players. Volleyball Beach has three sand courts. Today besides the volleyball you could play domino's, weave baskets, play cards etc. I just enjoyed watching E and Rusty play ball. I just finished making Taco soup for tonight's dinner. We don't have sour cream but hey....we in deh Bahamas Mon!
Rusty here.... I had a ball watching yoga this evening..... some of the participants literally stopped what they were doing to watch Erin... lol. it was great. I'm going to talk to Kavali House about letting Erin lead Yoga up at the gazebo on top the mountain like they did last year. The venue is awesome and so is "E". I can't wait to see Erin this year at Kavali House.
February 25, 2011
Our little girl is coming to the Bahamas!!!!! Back to the place she began her Yoga training.... I can't wait to see her today! Erin has accomplished so much in her career since this picture. This is from last year....... leading her first Yoga class at Kavali House here in GT. Now Erin has her US and International certification and teaches professionally. She teaches at two locations... sometimes 4 or more classes a day.

I knew when I saw how "E" could relate to her students during this first session she taught.... that she would be an awesome instructor..... Erin is so relatable... of course I'm prejudice... but that aside.... she truly is a wonderful teacher and a strikingly beautiful young lady.

I look forward to seeing Linda and Erin.... It will be fun having E on the boat... and awesome having my wife back...... today is the day!
February 24, 2011
Last night after the movie I came and rafted up with Shane and Dan on Texas Two Step. We were three catamarans 60+wide all night. I actually stayed up past 10 last night.... it was fun walking between boats and hanging out. I think I have figured out how to chill out during the day and not be so "ready to move" all day...... stay up late and it makes you draggy the next day........
I need to go get my St. Francis internet minutes soon (before they run out). Today I would like to clean my port side carburetor, it still suffers from Texas gasoline that is laced with ethanol... isn't it nice that we make pure gasoline right there at home yet it's the worst product they sell anywhere in the USA because it clogs up your carburetor with corn shucks......, hopefully I'll gather the initiative to do take my carb off today... maybe not.
Leslie made big ole' pancakes this morning for everybody, I haven't had a good breakfast since Linda left..... it was nice. She had good coffee too. I felt bad eating over there and not contributing... but not bad enough to refuse....
The wind is picking up, it will be a good sailing day out in the Sound for Texas Two Step, they just left to go for a sail and drop a line in the water to see if they can pick up a fish or two.
The morning net mentioned the movie night that I did the last 2 nights and said thanks... that was nice. Once it gets warmer we will do it again. If there is a heavy dew, or any dew for that matter you get chilly pretty quickly just after dark. I only had one projector glitch last night. I thought the overheating problem might be that the power input was fluctuating on battery power so the cooling fan might not be running all the time, but I hooked directly to the generator and had the same issue. I put the fan in front of it and it lasted the rest of the movie.
OK, I'm heading to St. Francis for internet tickets, I want to have enough so when Erin gets here we won't run out. They fly in tomorrow!!!!
1:46PM my first run for tickets was unsuccessful, they hadn't brought them over yet so I went to Chat-N-Chill for a while. I met a couple under the trees, she was Bahamian from Nassau and he was from Washington DC. We chatted a while, I checked back at St. Francis and they had tickets so I just got back to the boat.... I warmed up the last of the chicken spaghetti and sat down to eat. The chickens around here are apparently "tough little critters" because the meat is dry and hard, not like corporately raised chickens in the states that never leave their little feeding box.... KFC would make a killing around here.... lol.
Wow, what a good evening.... Matt & Christie, Troy and Deana, Steve, Shane, and the couple from Zero to Cruising sat on SYL this evening talking and watched the sun go down with me. Plus.. my sweetie called so I got to talk to lots of people I love today. That's always a good thing. It's almost 7... hopefully a lot of people are off the net with all the GT functions going on tonight.... so I'll try to post and fix the website. I tried to post earlier and it only posted part of this months stuff... It's all here, but I couldn't load it on the web during the day with so little band width.
Sea Yawl Later !! Rusty
February 23, 2011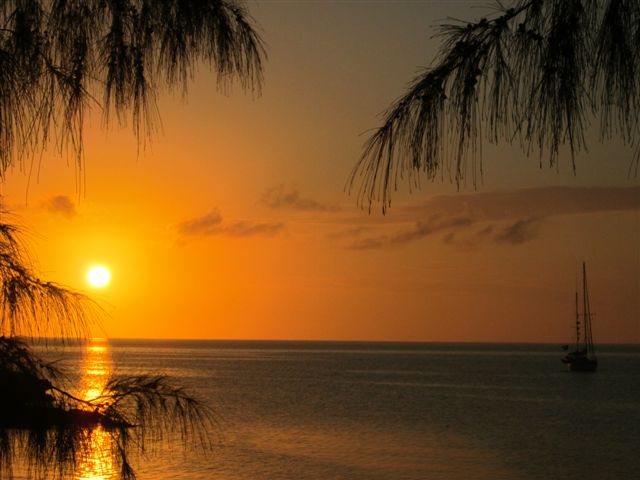 Good morning from the Bahamas......
I got up early this morning (5:20) I guess I had enough sleep so I got up and whipped the boat back into shape. I had a back anchor set so that had to be stowed, I put up all the cords and moved the speaker back to where it goes, I had to re-raise and put the main back in the stack pack because I let it down before the lazy jacks were re-set.. last night lol. I brought all the dishes down...... The dishes need to be washed before Linda gets here for sure.......
There is a lot to do today, but nothing big. We should be done with chores like filling the propane tanks, picking up our laundry, a garbage run, picking up parts for a friend off the mail boat, signing up for Chris Parker weather seminars and signing up for the regatta. We should be done with all that by 2:00.
11:39AM The butane is filled, trash gone, everything except signing up for Regatta and seminars is done. We did good this morning. Linda; the store had 2% milk with a good date on them so I got two for you, some of that great Irish Butter and a pack of good bacon.
I went by Mimm's again to see if they ordered my outboard parts yet and they hadn't so I told them never mind..... I'll see if I can get somebody to bring it to me from the states... it's just not that hard.... three weeks to decide if they wanted to order them.. that even stretches "island time" a bit.
Almost time to go sign up, I'll post this much.. more later
February 22, 2011
Tuesday... 3 more days......
2:32PM I did something fun this morning, I asked Ted to go and the two of us spent almost 6 hours scouting the route of the "Around the Island Race" for the regatta. If you watched my "spot" track today I wasn't drunk.... we were checking out the course... lol. We learned some very interesting things that will certainly help during the race. I'd tell you here... but ... no.... lol. Some of my competitors might read the blog... lol. It was fun to have Ted on board, he knows the Seawind systems... it was great to have him raising, lowering and trimming sails for me. Not only was it great to have crew... it was extremely useful bouncing thoughts off each other to determine tactics and to verify that the results we were seeing were correctly interpreted. We came back hungry... I just warmed up and ate some chicken spaghetti.
Shane and I just jumped in the dinghy and ran to get some internet tickets at St. Francis, now I'm back about to post.
The weather in the Sound was nice... I think we saw winds from 9 to 4 knots..... mostly in the middle there somewhere. Waves were less than two until we got almost to Conch Cut where we picked up a long 5' swell. Winds were from the SE, so it would be hard for the rest of the Texas Navy to sail to GT... tomorrow we may get a North component, that would make it a soft and easy sleigh ride from Little Farmers.....
I got some sun today... so I'm hiding this evening in the salon. I have several things to do tomorrow, pick up the laundry, dump my trash, get butane and pick up a part at the docks for a fellow cruiser that will arrive on the mail boat. The sail today satisfied my desire to get off anchor for a day or two.... it was super nice out there today. It was really fun talking through ideas and sailing tactics with Ted.
9:50PM I just rafted back up with Shane after showing Avatar. Participation was light, but enough to make it worth while. The night is dead calm... perfect for showing a movie. It's way past my bedtime so I'm outa here... lol
G'night, Rusty
February 21, 2011
Well, it's Monday.... that means I have things to do in town today. Chris Parker's weather is over and the GT web is about to begin. Shane has 30 boxes of donated books that he needs to get to the school, since I'm taking the big boat across he wants to load them on mine instead of transport them by dinghy, so we will do that. His dinghy is out of commission until tomorrow anyway, we are letting the patch we made dry the rest of the day today.
Cameron on "Doublewide" announced a Seawind Catamaran gathering on the net this morning. We will switch to channel 81 after the net to make plans......... The plan is to meet on Doublewide at 5:30 with heavy horderves, I know that's not how you spell it.. but oh well.. I think I will make my fish boats with picante' and queso-cheese topping.
| | |
| --- | --- |
| 12:40 Shane and I got a lot done this morning..... we teamed up and boated over to town. We hauled my dirty clothes to the laundry, then we went back to the boat and loaded 30 boxes of school books that Shane picked up in Florida for the Georgetown school. Kidd Cove was rough, but we got the books to the school without getting them too wet.... lol We dinghied the load into Lake Victoria and over to Mimm's Watersports dock (their property borders the school) Mimm's lent us a 2 wheeled dolly and was very helpful in delivering the books. Shane rounded up several of the strong young school boys to bring the books into the school.... The guys at Mimm's thanked Shane for the books while the teacher at the school didn't seem to care much either way... maybe she was having a bad day. It was nice to hear thanks from one of the locals there at Mimm's. You don't do that kind of thing for the glory, but it's nice to hear a thanks for the effort. | |
Shane and I made a good team, he helped me pack groceries and liquor to the boat... (Linda I got you some root beer and everything you need for root beer floats) I found Tonic Water and bought my Cokes.... we are stocked back up! When we arrived in Kidd Cove "Morning Glory" already had her hook down so we rafted up.... it worked great in the tight quarters. By 12:00 we were all done in town, so Shane and I eased back across the harbor all done..... before lunch.
7:37... almost bed time... lol The Seawind owners party was a smash hit. I cooked some of the fish I caught in Joe's Sound. I did the foil boat trick, but ended up doing it a bit different than I ever have before. After thawing the fish I marinated it in the juice of a single fresh squeezed tart orange for a couple hours. Then I put butter on the fish and basically boiled it in butter on the grill for 15 minutes in a foil boat just big enough for the fillets... topped with minced garlic. Then I poured the butter and gravy off the fish onto a bed of cooked rice that was already salt and peppered, then chunked the fish up and grilled them for a bit directly on the griddle to give the fish a charred flavor. Then I put the fish chunks back in the foil boat and topped it with picante and cheese queso. After that cooked down... I slid the fish/cheese/picante topping onto the rice bed, dusted the top with cracked red pepper and Texjoy steak seasoning and put the whole casserole on the grille to bake a while. It bubbled and simmered on the grill for 30 minutes,.... I have to admit, it was good! Linda you would be proud of me. There was enough leftovers to bring Shane some after the party. I actually cooked and it was edible! how cool is that.... I qualified it as "man food" when I boarded Doublewide, that the bottom of the rice may be black.... but it wasn't so I was pleased as punch.... it was good to the last grain of perfectly cooked rice.
Well, I guess it's time to sing "happy trails" ......... it's after 8. Four more days until my women come back!!!! yes! I look forward to Linda and Erin coming (home) to SYL. Just another day in paradise.............
Sea Yawl Later !! Rusty
February 20, 2011
I'm going to "beach church" at the Chat-N-Chill tables this morning to see what that's about. I have no doubt it will be casual, hopefully it will at least be semi-reverent. I just heard an unofficial boat count of 326 in the harbor, by this time next week there may be 100 more. The morning net (where I got that information) on VHF channel 72 just ended.
1:07 I went early and sang in the "choir" The morning announcements said they were short at choir practice so I went to lend another body. The service was better than expected, and the people were exactly as good as I expected...... Services were held on the beach under the trees at 9:30, the morning sun was bright but everyone was comfortable in the shade. An Englishman gave a really good message, he started with boating relatable topics and went straight to the cross... how we prepare for years for a trip over here.... but are we prepared for the trip all of us take. How much time do we take every day to prepare for a much more important part of life. It was well done in a relaxed tropical venue.
After church I moved from Sand dollar over to the other side of the Gaviota Bay entrance (right in front of David's boat "High Noon") I warmed up my chicken spaghetti and had lunch.... now I'm about to go get Shane and buy some St. Frances minutes so I can post.
2:30 I couldn't get a signal from my boat... I went to Shane's and got a good Gaviota Bay signal, so we rode together and purchased internet tickets from St. Francis. When we returned, I helped him put a patch on his dinghy.
5:30 We attended the "Trivial Pursuit" game at St. Francis. Ted and Millie, Shane and I made up our 4 man team named "Texas Navy and Florida Interlopers" ..... The questions were bogus.... lol. We actually did pretty good, but many of the questions were only answerable if you have been in Georgetown a long time, I imagine 5% of the 40 questions came from the game "Trivial Pursuit" the rest had something to do with Canadian provinces (there are a lot of Canadians here) a boat belonging to the owners of St. Francis, the color of the ropes that hold a local dinghy dock in place... etc. We got 25 right, so that put us first place... of the bottom third..... lol. It was fun though, we ate sliders and french fries then played the game.... it was fun. We got some of the tough ones right, but messed up on one or two we should have known, then there were the "ringer" questions that only Canadians or locals would know that put us out of the top half. One we got was: What does the zoological term "Ruminant" mean..... do you know? Another we got was what part of a cowboy's attire has a heel chain and rowels..... ! Thanks Daddy... (Pappy makes spurs so I knew that one) still ruminating about the "ruminant" question? Another country boy answer...... a "ruminant" is the cud that a cow chews.... Look it up.
What movie did Sylvester Stallone and Dolly Parton star in? We got that one too..... "Rhinestone". What is the only mammal that can't Jump (besides white people).... I'll leave you hanging on that one... but we got it right. And Hah! they asked "if you double the size of a pipe, how much more volume can it now handle"... duhhhh .... I am a pipefitter! we got that one right too!
Here are some we missed, see if you know them: #1. What US president got in trouble for picking his beagle up but the ears..... #2. Who was Sitting Bull's right hand man. #3. What term describes the wind blowing on the front of a mountain. #4. What metal is combined with Gold to make varying karats of gold for jewelry. answers: #1 We said George Sr., it was LBJ. #2 we said Geronimo, it was Crazy Horse. #3 We said updraft the right answer is "Adiabatic". #4 We said palladium, it is copper. OH by the way.. an Elephant can't jump and the pipe carries 4 times more volume if you double the size.
Well folks it's 8:30... almost time for me to retire..... I guess I really should stay up later.... but I really don't know why. Today I sang in the choir, went to church, straightened up the salon and worked on the kitchen..... I did all kinds of good stuff, all kinds of hard work..... I lifted the anchor and moved the boat to a new location almost a 1/4 mile away..... PLUS.... I need to rest up for tomorrow (Monday) because I have to do Laundry while Linda is away! That's right I need to bring 3 bags of laundry to the cleaners.... I need to rest big time to handle that chore! Ahh life is tough here on the high seas..... lol.
SYL !! Rusty
February 19, 2011
What a glorious day... we sailed 36 miles in 12 to 15 knots in the open ocean..... 5's and 6's.... Shane, Moring Glory and me.... there were many other boats as I suspected, I counted 14 sails in view at one time. The sail was just rough enough to call it adventurous but the consistent winds and waves made it more comfortable. Don't get me wrong, I was ready for some smooth water after 6 hours, but it was fun. We averaged about 7 knots, maybe a bit more, Shane on his 410, me and Ted on SW 1000's.
| | | |
| --- | --- | --- |
| | | |
| Morning Glory at speed in the open water.... | Full picture of Morning Glory | Bookin' in 5'ers |
I took several shots of my fellow Seawind, Ted took some good ones of me yesterday so I returned the favor today on the way here.
I called Matt on Kaleo about 20 miles from Farmers and he answered..... I told him about the seas, they were indeed what was forecast. It looks like Tuesday or Wednesday may be a pretty flat day so Kaleo, Storyville and Anchor Management will probably come to GT then.
We arrived about 1:30.. there are masses of boats in the harbor... double what I have ever seen here. We went all the way thru to Sand dollar beach because it's usually empty..... I had to park on the far end of it because there are probably 80 boats just off this beach. We jumped in the dinghies and made a run to the Chat-N-Chill, it was fun to show them the place with all the people...... We heard about a pizza party back at Sand dollar so we stopped by on the way home, the organizer invited us to eat even though we didn't bring a pizza, so we did..... duhhh. Only one problem with the pizza... I went back for one of the last pieces and ate it.... it was anchovy...... so now I can't get the fishy taste out of my mouth... lol. After pizza we idled back to the boats for showers and put the boat lights on... good to go now... in night mode.
7:21PM I have almost cleared my mouth of the anchovy surprise pizza..... you know.... you just can't spit out free pizza in front of the cook.. right? I don't care how it tastes, you just have to eat it..... I'm full and my mouth is almost back to normal.... what more could you ask for?
Winds are light tonight. It was a great day to sail, we are all glad we are here..... It's Ted & Millie and Shane's first time here. They really enjoyed the whole Chat-N-Chill area. There are people of every age here. I think Erin will have a ball.
I sure look forward to having my girls back on the boat............ I miss you babe.....
Well, It's close enough to bedtime to call it I guess, the salon needs straightening up bad.... maybe tomorrow.
SYL..... Rusty
February 18, 2011
Talking to Chris Parker, it still looks like tomorrow (Saturday) will be the best day to make the hop outside to GT. Today we will all head South and stage at Little Farmers.
Looking at the charts just now, it's 36 miles from Farmers Cut to GT, in the morning I can do almost 7 more miles inside then go out Rudder Cut at high tide (9AM)... that reduces the 4 to 5' wave mileage down to 29. I imagine there will be several boats waiting to make the Saturday window around Rudder Cut so it will be fun sailing with a fleet if I'm right. After Saturday winds go on the nose to GT, so it's definitely the day to go.
9AM Around 8AM "Morning Glory" took off for Farmers and I wanted to sail with her, so I uncoupled from Shane's raft up and took off to chase them down. I had to run full engines to catch him, but then it was a fun sail side by side with Ted and Millie the rest of the way to Farmers. I took off so quick to catch up, I forgot to turn "spot" on but I just did it here at Farmers so my present position is logged. I'm anchored near the yacht club (where the internet comes from) so I'll try to post from here then decide if I'm going to do the cave with anybody that might go. I imagine the rest of the crew are only now leaving Black Point. The run with my fellow Seawinder was fun... I tried really hard to go as fast as I could...lol. I was tuning, hand steering.... playing the wind...... The only thing I didn't do was put flippers on and kick off the stern steps... lol. If I could have reached the wheel from there I probably would have! Any time there are 2 boats going the same way it's a race.... right? Not to mention similar hull designs. Ted is a great sport, we talked afterwards..... I confessed I was running every thing I had at him... lol. Ted took some great pictures of my boat "at speed" in the awesome Bahama blue water. (notice how busy the captain is... lol) There was a bit more I could have gotten out of the boat, but not without losing ground. The main sail was not fully hauled, and it should have been hauled from the front grommet hole for this run to shape it better.... but I could stay up... so that's the good thing. There was too much wind for big headsails, so it was fun to run side by side. I wish I had returned the favor and taken some pictures of Ted.
| | |
| --- | --- |
| | |
12:30 I think everybody that was coming to Little Farmers is here. The internet is glowing with activity... everybody is getting their fix. The mail boat is in, so that interferes with my signal quite a bit. Hopefully when he moves I'll do better.
The Oven Rock cave expedition may be lightly attended today. It's a little windy for a long dinghy ride and dark clouds loom to the East. Shane will be crushed if he doesn't get to lead the team to his discovery...... It really is a neat cave and shouldn't be missed, but Shane wants them to see it so bad he is a little pushy.
Here are some shots of last night made by Ted from "Moring Glory" he's got an awesome camera.
The Dock at Regatta Point (Black Point) Good friends, Steve and Troy "Captain Ron" movie from the venue deck
3:30 We just got a couple nice rain showers. The wind temporarily moved from the South so that means local showers are causing convection currents that overtake the broader gradient wind flow. Another meteorological fact is that we just experienced low tide because I bumped bottom about 6 times then it quit, so tides are coming back in just that quick. That probably means I'll bump again about 3AM........ I may move down the anchorage a bit to find deeper water before dark so I'll sleep all night.
Well, not much else to report, sailing was the fun for the day.. and to make the sailing even better.... mother nature rinsed off the salt water that sprayed the boat.... with her evening showers, so it was a good day.
7:15PM I did move to deeper water after sitting with Ted and Millie for a while on their boat. I enjoyed the visit, they are some "good folks" as we say in Texas. While I was near Morning Glory I looked around for a spot to move to. I got it done just before dark. That means I'll sleep good tonight.
This evening (without much to do) I declared war on Staniel Cay flies that still lingered in the kitchen.....I must tell you I have dominion over the flies....... very few are left after my expert flapping and shooing maneuvers. The ones that weren't scared off out the windows died an honest flies death....
7:30 Linda just called.... her flights home were better than expected... she didn't panic at all, I think a lot of her flying woes are over. Not that she likes it.. but the sky may no longer fall if she has to fly somewhere. I'm really glad for that. Lowering anxiety levels is a win all the way around.
Bedtime for me.... I think I'll hit the hay so I wake up naturally.... early enough for the 6:30AM weather. I suspect I'll still go tomorrow unless the forecast has deteriorated. Confidence isn't as high as it could be in the forecast because we got several rain showers today that I didn't expect. No big winds... but we will see in the morning. Tuesday looks like the next possible window if tomorrow doesn't pan out and that's still early enough for me to be there for my women arriving in GT.
Sea Yawl Later !! Rusty
February 17, 2011
It's windier than forecast today, we even got a shower last night. I love it when it rains at night because it cleans the boat without interrupting my day! How cool is that.
8:05 I moved the boat already this morning. As I said yesterday I anchored out away from land to avoid the flies, but with 16 knots blowing that makes a wet dinghy ride into Staniel so I moved close to the dinghy dock for our debarkation.
Linda is travelling very light, only a backpack so she doesn't have to check baggage anywhere. OH, I have to tell you about this product we bought at West Marine, It's called "CorrosionX" It was stupidly expensive but I bought it anyway. The reason I just thought about the spray is; the zippers on Linda's backpack were a white ball of corrosion after being on the boat for 2 years so they naturally wouldn't move. With just a quick shot of this CorrosionX the oxidation totally disappeared and the zipper worked like new. I was amazed. The only previous use (and why I bought it) was to spray my copper tubing fuel vent lines, they had turned green with corrosion near the tank. The green disappeared and a shiny residue of oil is all that was left on them.... so I suggested it when Linda asked about her zippers. I was equally impressed with both applications. I think the can was $25 dollars or something crazy, but it doesn't take much and I have never seen a product eliminate corrosion better. WD40 loosens it and washes it away, PB Blaster is a great penetrant and is twice as good as WD40 but it still has to wash the corrosion away.. this stuff makes it disappear.... It's a Dallas based company with a web presence www.corrosionx.com It's the best corrosion product I have ever seen, I used to say that about PB Blaster.
Linda got away on time and reportedly had a good trip to Florida, I think her plane had no other stops so I'm sure she was glad of that. Erin called and had talked to her in Florida. She was due to arrive at almost 11 PM Texas time. I'm sure we will talk today about her trip. I purchased a 6 pack of Coke waiting on the plane to arrive at Staniel and in all the hubbub getting Linda off I left them on the counter..... normally that's no big deal but that's 12 bucks worth of soda. I realized it about a mile away from the marina sailing away so I called on the VHF and asked them to put my name on it and put it under the bar, I'd try to find somebody to pick it up. I had been talking to a friend "Pirate" on a 54' Hatteras from Treasure Island Florida earlier, he and his wife were out in the dinghy. I knew they were going to be in the area a while so I called them on the radio and asked that they pick up the 6-pack and hold it until we all meet up in GT. Amazingly they were standing at the Yacht club, walked in, picked up the Cokes and ran them out to me in their big nice 50 horse dinghy!..... how cool was that.
The Navy and many others had a big night last night..... we all gathered at the Pavilion at Regatta Point here in BP for a pot luck dinner. I ate like a KING.. the fare included fresh made spring rolls, peas and rice, macaroni and cheese casserole, and several other dishes that were spectacular.. it was the best food layouts I have had the privilege to participate in here in the Bahamas. I did the typical man addition... I brought ice..... but it was greatly appreciated. Just before dark I put "Captain Ron" up on the sail. The venue was great, you could look right down on the boat from the pavilion. As it worked out, several from Castle Beach wanted to go, but the dinghy ride would have been pretty long and wet so we piled up on SYL and docked right at the pavilion pier. I didn't count but we probably had 12 to 14 people aboard for the pre-party bus ride..... it was a fun trip over and back. Everybody tied their dink up to "Storyville" where I rafted up to gather my friends. They took good care of me (being I'm flying solo for a week).
I hate to say it this way... but it was almost a "typical" day in the Bahamas lately... lol. Most every day is filled with good friends, pretty water and fun. I am worried a bit though... how many times can I say "it was a great day" and people still believe me... lol.
February 16, 2011
It looks like Saturday will be the best day to hop out in the sound for the final leg to Georgetown, so that works well with our needs. If I leave Staniel tomorrow (Thursday) after Linda gets away I can sail South on the Banks to catch up with the group before the weekend. Winds are almost due East this morning and will remain generally from the East for several days.
I hope Ted and Millie travel with us a while, I look forward to becoming good friends with them. Us Seawind folks have to stick together...... there are not that many of us out here.
Well, I need to finish wiping grease off the boat this morning.... where I pulled the rudder on board, the line I had tied to the rudder was all greasy so it got on the hull. I'm off to the morning chores...
9AM I got most of the grease off, cleaned the floors, wiped off the BBQ pit and surrounding tables, moved the ice chest and gas cans back where they go, when the floor dries I'll put the rugs back down and things will be close to normal again. The biggest remnant of the rudder change is some grease streaks on the Starboard back steps that wouldn't rub off with a rag. I need to use comet and scrub down the whole area.
Linda here: I finally got up to help Rusty. I couldn't go to sleep last night. 2:30 am and I was still wide awake. I started going over my testimony, over and over and over. I made some more spaghetti to go with the chicken spaghetti sauce I made yesterday and made extra for garlic, parmesan pasta. That plus the gumbo and friends should have Rusty set for while I am gone. He can be quite self-sufficient but he does not like it and we both like it that way....lol!! He is fun to spoil because he is so appreciative. Erin and I called each other giggling a couple of times yesterday because I'm going to see her soon. She said she told her class " I'm so excited because my mommy is coming home Thursday". She said the class asked "Now, how old are you?" She said "I am 24 and I am stoked my mom's coming home". I want sushi, a plate of Carraba's mussels, sushi, Jason's turkey wrap, sushi, Pei Wai's noodles, sushi and did I say SUSHI!!
We sailed around to Black Point so I could check my email for my flight confirmation. I HATE to fly. I especially hate puddle jumpers and I have to ride two tomorrow. One from Staniel Cay to Ft Lauderdale and one from Houston to Beaumont. I told the lady a Staniel Cay that I hated to fly and if they had heavy drugs or a large rubber mallet I would appreciate being rendered unconscious for the flight. Poor lady didn't know how to respond. I will miss my hubby, but I sure an excited to see Erin and Stuart..
I just read the end of yesterday's entry... No I had not thought about the flight out of the Bahamas requiring more than one STOP!! I AM NOT BEING BRAVE......GOSH I wish I had a knock out pill. Problem is I tried that before. I think I took a Valium before a flight. I have so much adrenaline pumping that as long as I was on the plane I was wide awake but as soon as I got to the hotel I passed out. This won't get published until it is over. When I fly on a large commercial airplane I always take an isle seat and play like I am on a bus. This visualization serves me well except on take offs and landings. I don't mind landings so much because I know it is almost over.
3:02 We left Black Point and followed the groove we have cut in the GPS screen between Black Point and Staniel again today... lol. Winds were 90 degrees apparent @ 10... we needed to go slow because we left Black Point just before low tide. Sailing conditions were absolutely stellar today, it's a shame we didn't need to make more than 7 miles.... Our "groove" carries us through thin water just before reaching Staniel so we didn't need to hurry. Sure enough there was barely enough water to make it over the bar. I had to push the top off of some sand ripples with the keels but it wasn't bad or for very long. In order to go slow and wait on the tide.... I only flew the jib.... we averaged almost 4 knots in 5 to 6's... that's five to six INCH seas as we skirted the Exuma islands with the wind blowing across the islands and my beam. Prevailing winds are SE, so you almost always get short seas and good winds sailing the Exuma banks. It's really a sweet setup... Having a skinny water boat in the Exumas is 'da bomb!
You know... I want to say something here....... I feel some folks will say "haaah, you broke your rudder beaching the boat..... I knew you would do that... you shouldn't be doing that, I know better than that and you should too", but you know what....... I'll do it again every time I get the chance. We so enjoy being on the beach that if it takes me a day and a half , a little fiberglass and a few bruises to fix the rudder... I'll do it every time. The reason I had damage was I didn't check to see how low the tide would go and the rudder found a rock.. OH well..... now I have a faster rudder and bolts that won't be corroded next time... lol. I guess the deal for me is, I would rather enjoy my life than constantly worry about what MIGHT happen and not risk what it takes to enjoy life. That's just me. Living life beyond the Clorox and concrete world of the masses may include some calculated chance of failure, or having to try it again until you get it right... What's the IBM slogan..... "we want more failures"! they tell their employees to risk failure... that's the only way to expand the envelope and find the good stuff. If it takes 15 dollars worth of fiberglass and some work every now and then to enjoy one day on the beach swimming under the boat..... I'll probably risk it again and again. I bet I win more than I lose on that deal..... and the boat will continue to improve, not degrade... the rudder is now better than factory because it's not a mass produced item. It's now a custom piece that has some proven performance improvements, so it's better than new. It's a win win in my book. Ok, I'm off my soapbox....... sorry
Well, we are anchored behind Thunderball Grotto again, this time further off to try and stay out of the houseflies that come from Staniel this time of year. They are not terrible, but there are a few flies flitting around.. even out this far from land. Linda is making Nachos, I'm finishing up here. I have to say... the weather has been absolutely beautiful today.... Ok, the Nachos are ready so I'm done.
Sea Yawl Later !! Rusty
February 15, 2011
After pulling the rudder I found the damage less than expected, but it needed to be addressed so the effort wasn't in vain. The two halves of the rudder were not damaged, only separated at the bottom. The easiest part of the job was the fiberglass work. I blow dried the rudder for hours keeping it hot to the touch on both sides then prying the bottom apart enough to blow up inside it for hours the night before last. Yesterday morning I repeated the process to ensure the lowest moisture level possible before I closed it back up. The initial closure involved putting resin inside the split, then clamping the bottom of the rudder back together with vise grips and letting that dry. Then I sanded it and began the re-shaping by wrapping a one and a half inch wide strip of biaxial woven cloth (with fine stranded matt sewn together) around the outer edge of the rudder to better join the two halves and give me the material I needed for the reshape. The cloth is really good stuff (I brought it from home) the woven side gives you the strength while the other side gives you a nice smooth finish. You apply the cloth with the mat side out.
The fairing process began by shaping the cloth application as close as possible to the desired shape, then I made 5 thin applications of fiberglass resin sanding between each one to fill any voids and provide the desired shape.... I got exactly what I wanted. The final finish was done with a wide flat file working 45 degrees to the water flow in both directions to reduce any waviness in the surface. There is a school of thought that if your rudder isn't completely immersed, waterline drag is also substantial, but that's not something you can easily change. My rudders are immersed, so there is no question the lower tip deserves the most attention.
The bottom of any rudder creates a vortex, that vortex is the single most important place to address drag for several reasons, one is because its the deepest in the water... water has weight, so water's density quickly increases with depth.... therefore the bottom of the rudder sees the heaviest water. The bottom also creates the largest disturbed water vortex so it's easy to see why the bottom of the rudder deserves so much attention.
The best part about about this whole repair is that that rudder is a bit stronger and definitely faster than it was. I finished the bottom and back edge differently by applying a proven advantage that I found during my boat racing career. Another win is that all the corroded surfaces and bolts are freshly cleaned and coated with a great grease called Aqua Lube, so in years to come if I need to pull it to change seals or whatever... it won't be as difficult.
Today I'll re-pack the garage and get the boat back in order. I had to move quite a bit of stuff to the bow in order to access the aft rudder compartment. We intended to move down to Farmers Cay today, but tonight is supposed to bring the last of the 25 knot winds for a while, this anchorage is a proven commodity... a great spot to hang out so we will.
Another Seawind 1000 came in the anchorage today it's "Morning Glory" with Ted and Millie Cook aboard. She is a 2000 model with many good ideas applied by the inventive and industrious couple. Ted came over to help me get my rudder back in. I hope to see more of those guys in the near future. It's great to see so devoted couples out here like Ted and Millie.
9:07 Well, my coffee is finished, I need to help Linda get things in order. More later....
11:45 The garage is cleaned and repacked... plus... I changed oil in everything that needed it. I did the Honda 3 days ago, the Tohatsu (dinghy motor) isn't due yet but it was almost time for the main engines.. so I went ahead and did those today.... I bought a little drill mounted Jabsco pump that works super for changing oil, I have one of the old plunger type suction pumps, but it's slow and hard to operate. That little Jabsco is sweet!
I still have some arranging to do outside... I moved all the heavy 5 gallon cans of gas to the bow to transfer some weight so the rudder hole wouldn't take on water while the shaft was out and the back deck is not in order, but that won't take long.. Here is something I found interesting: When I was putting the fiberglass resin away I moved an item that we used to use every day.... every Bahamian cruiser has but one but normally forgets about once they are here in the islands.... It's something I wouldn't leave without... but since we crossed the Great Bahama Banks has been completely in the way every time I open my forward port storage door..... It's the shore power cord..... we just don't dock much here. In this place the sand holds your anchor like a mother holds her newborn baby.... and if you follow that sand from 9 feet deep up to Zero there is normally a picturesque beach to look at, not boats lined up like chord wood. The wine and cheese crowd certainly enjoys the amenities available at the end of the big yellow cable... but out here it's just heavy and in the way because there are very few places to insert it... lol
12:42 Here's an interesting turn of events..... Linda may be flying home soon..... We just got a call, there is a court case that's been on the books for years where Linda is registered as an expert witness.. suddenly the DA decided they need to get it off the books, so they may fly her home for the trial. We think it's better than 50/50 so that's new! Amazing the things that change our life isn't it?
7:15 Linda's flight home is booked, she will be gone for a week. She leaves out of Staniel day after tomorrow (Thursday). We'll go back up to Staniel and I'll put her on the plane the next morning. I'll go to the pink and blue stores to see how much bologna they have... maybe I can make it on bologna sandwiches for a week... maybe I wont! Seriously though... we have some frozen leftovers on the boat and Linda has been assured by our cruising buddies that "Rusty won't starve by his own hand"... lol. I'm very spoiled and like that a lot......... in fact Linda likes me being spoiled so I have no desire or reason to get over it.
For those of you that don't know... Linda HATES to fly... especially on the puddle jumpers like the planes that fly out of Staniel.... I don't think she has thought about this... but I bet she will take off and land 3 or 4 times before she sees the USA... lol. They stop at every island long enough to land a plane on.. trying to pick up enough strays to pay for the gas ... lol. I don't think they let farm animals on the plane... so that's good..... lol. Linda is being brave about it though....
Tomorrow the weather will be amenable to sail to Staniel, only then because it's inside the banks.... we can't go outside (in the sound) due to high seas until the weekend.. and then only if the forecast is right so flying out of GT on time was impossible. We had to stay holed up here overnight because the winds are too high for comfort even on the shallow banks. Tomorrow winds will pipe down some so the trip North (away from our destination) won't be too bad. The rest of the "Texas Navy" is heading South.... I'll catch up with them as I can.
SYL !! Rusty
February 14, 2011
Rusty has been hard at work since right after church on our rudder. Getting it out was the hardest job. Rusty pounded on the steering quadrant to separate it from the shaft hour after hour. That man is tenacious! Ultimately the parts had no choice but to submit. He then dropped the rudder and managed to get it onboard without ever getting in the water. He has been fiber-glassing all day. I came in our dinghy to post with Leslie from Texas Two Step. TTS arrived this morning from Staniel. It was good to see them again. The entire "Texas Navy" contingent is here at Lorriane's eating conch fritters and using the internet. It may be a few days before we have internet again. I suspect we will pull anchor tomorrow and go to Little Farmers. Rusty will want to sail. Well, the group is leaving so I need to close. Love you all.
Sea Yawl Later!!
February 13, 2011
The morning is windy and overcast, I can see a break in the clouds on the Southern horizon but it's otherwise socked in. We haven't gotten any rain yet.
Sleeping in the salon on the big bed was nice, I think we may leave it set up this way for a while. Shane has the Honda and my amps are pretty low, so I may go get it this morning.... it's dark enough to show a movie during the day so we will need the juice for that. All of "Texas Navy" went to church today in Black Point. To our surprise the guest speaker was our own Shane from Guiding Light. His sermon was on the Five Languages of Love, which he applied not only to our personal relationships but to our relationship with our heavenly Father. It was an awesome sermon. I seriously considered wimping out and not going this morning because the weather just screamed...."stay inside, snuggle in bed ALL DAY". I am so glad I went. I thoroughly enjoyed the day. Charles who is a missionary here picked us up so we didn't have to make the 2 mile walk into town. We dinghied to the beach and walked a little ways and found our pick-up waiting for us. Most everyone climbed into the bed of the truck and away we went. After church we went to Lorriane's Cafe for lunch and to post websites. I uploaded two more video's and when I was about to post I did something and the file that holds "current month" disappeared. Our ride was outside so I didn't have time to try and find the file and post so we came back to the boat.
Rusty had left on foot a couple of hours before the rest of us to work on SYL"s rudder. He discovered that one of our rudders cracked at the bottom, we got set on a rock a couple weeks ago so he suspected a possible problem. Apparently, when we showed the movie on Big Major a couple of weeks ago the tide went out further than we thought, our rudder doesn't touch unless we let the boat ground quite a bit, and unfortunately the starboard rudder found a rock to set on instead of sand and point loaded it.
When I returned to SYL, Rusty was deep in the bowels of the boat hammering away on the bolts that hold the rudder in place. As he predicted the bolts had rusted and were refusing to come out. He has been down there hammering away for several hours. He says he is making progress but it is slow. When I checked the program that we use to blog on our web site I could not find the month of February. I did everything I knew to do and then I radioed Matt. I was on the verge of tears and he immediately came to my rescue. Christie even sent popcorn (I am sure she could tell I was upset). In a matter of minutes Matt found the missing file and had it back where it was suppose to be. I am sooooo greatful. He even figured out what I had done and showed me how to find the file if it happens again. I didn't get the web site posted but at least nothing was lost.
February 12, 2011
I am sooo excited! Matt showed me how to compress video's and then how through You-Tube to have them on our web site and on facebook. Such fun. Yesterday the first video appeared on our site. I have compressed four more that we have taken over the last couple of weeks. I will publish them the next time we have internet at the top of our web site and then move them to the appropriate day when I get time.
Yesterday the "Texas Navy" comprised of Sea Yawl Later (SYL), Guiding Light (GT), Storyville (SV), Kaleo (K), and Anchor Management (AM) spent the majority of the day at Lorriane's Cafe using the internet and eating cracked conch. I do not like conch salad and have tried conch (battered and fried conch meat) before but have not cared for the texture (very rubbery). Lorriane promised me, hers was not tough, so Rusty and I split a platter. True to her word it was not rubbery and in fact reminded me of tender calamari which is one of my favorite's. I will now relent on my ban of conch and may even encourage harvesting our own. Apparently you must beat and hammer it aggressively before serving to achieve a tender morsel.
The water is as calm today as I have ever seen it. Rusty made a video this morning as we moved from the Black Point anchorage to the south side of Black Point to ride out the front headed our way. We might be here several days. As much as I grieved not being home for Christmas, leaving when we did was absolutely the right decision. If we had left when we did last year we would still be in the states in miserable weather. It's one thing being captured by the weather in an expensive state side marina in 30 degree frontal passages where you pay $100 a night for the privilege of tying to four posts, or another here where a "front" means temps close to 70 with enough wind to sleep well at night suspended in 10 feet of invisible water over pure white sand..... for FREE! Quite the difference.
1PM We just returned from "bobbing" under SYL. We walked around the shallows in calm water..... listening to country music loud enough to hear, but not so much as to upset the neighbors..... We thought we should get in the water before the weather hit... perfect bobbing conditions should NOT be wasted..... especially when cabin fever may hold us in it's gray grasp the next few days. Our location is perfect for a North blow... so all is good... our off boat time may be limited, but a few days in a windy tropical paradise trumps frozen freeways and stressful work weeks every time...
Shane has organized "Game Night" aboard GL tonight...... hopefully the brunt of the North winds don't hit until game night is over.... lol. If conditions make it easy to travel 50 yards West by dinghy.... we will certainly attend to be with the group.
I dinghied over to "Storyville" earlier to check out their 41' Morgan.... it's a big beamy Ketch with a walk thru aft cabin arrangement..... a very comfortable and powerfully rigged full keel vessel. I compare the boat to the pricier Island Packet that cuddles it's owners comfortably on anchor (which is where you are 80% of the time) The IP has a skeg hung rudder, where the Morgan is full keeled... so the Morgan is even more comfortable on anchor (for the weight) than an Island Packet. Troy has applied some smart and well executed custom work to "Storyville". She is a well found long term cruiser, I like the boat and more importantly her crew.
2:30 An "away team" consisting of Shane, Kaleo and Deana from Storyville just left for town...... they parked dinghies on the beach and walked the mile and a half to Black Point across the island to the North. I'm not sure why... Internet I guess... they may have felt driven to see just how far it was from the back side of Black Point to the settlement for church tomorrow. Winds have climbed from 7 to 17 knots in the last hour. My "high wind preparations" consisted of removing the wind scoop that nicely filled our master berth last night with just enough breeze to sleep like babies, and wrapping the main halyard around the spreaders then down to the reefing hook so it won't slap against the mast all night..... I just got back from that endeavor.. winds are much more apparent at the front of the boat....... lol. OH, speaking of apparent winds..... I didn't know that the paddle wheel speedometer had to be in the water to measure apparent wind on the wind indicator.. I put the paddle wheel in today (for the first time since we bought the boat) and now I have true AND apparent wind at the push of a button..... how cool is that! thanks Shane.
Behind this big "dodger" of a salon... winds always seem pretty sedate. I am in 8 foot of water, 80 yards off the beach to the North, there is NO WAY a Northern swell will wrap around Black Point to get here... I like our spot. Shane is off our port beam... he's good, then 2 boats over is Storyville against the North bank as well..... Anchor Management and Kaleo are in the second row from the beach... but still in great position. All 12 boats in the anchorage will ride comfortably in the North winds for the next few days. I feel like boat projects will easily occupy our next few days, and evening gatherings with the "Navy" might titrate any cabin fever that may arise in the next few days.....
The past couple weeks have been our best here so far.... one reason is the warmer weather... the other is good friends and the shared love for our mates.... good Christian people that bring you UP at every opportunity...... Matt and Christie are simply A+ people in every sense of the word.... Troy and Deana are deep and so real it makes you cry..... I love those guys, Steve is the shark bitten entrepreneur.... smarter with less butt and more heart than ever..... Shane is always looking for the love of his life.... happy but anxiously waiting on the Lords offering.... putting himself where he needs to be... keenly watching for the right female opportunity. I think this group of Texans have been supernaturally placed here for my personal enjoyment.... "Thank you Lord"... as my fishing buddy Larry often says.
We dropped the table down to create a "playpen" arrangement in the salon this evening. I think we will sleep up here tonight..... Linda is propped up in the other corner on pillows reading her book and I have a blanket on my legs in the other corner because she has a virtual tornado coming thru the hatch on her side... lol. It's not that bad.. but she does like the wind. She sweetly got up to get.. and wrap the blue blanket around my legs.... she "fixed me up" what a woman!.
6PM The away team is just now going back to their respective boats off the beach..... "Game Night" on GL is 50/50 in my book.... If one boat shows up, I probably will too, but that seems unlikely.
What else.... let's see.... boat projects tomorrow I imagine.... oil changes all around and I'll call it a good day.
6:30.... I'm good for the night right here..... leaving the boat isn't in the cards for me tonight.... I just heard everybody begging off game night on the radio.... travelling in the windy darkness after a full day isn't very appealing.
Sea Yawl Later !! Rusty 13 more days....
February 11, 2011
Happy Birthday Junior!
I think we are moving toward Black Point early, Chris Parker is on right now, no surprises since yesterday, we will probably not be moving much the next 3 or 4 days. It looks like things may clear up by Tuesday, the run to GT can be on good North winds, but they will probably be 20. The winds won't be a problem, but the waves may be surfable.
Linda here... I am sitting in the salon with a cool breeze blowing having had a wonderful nights sleep. I am looking a large sprig of bougainvillea that Matt and Christie brought me yesterday when delivering some groceries Deana was kind enough to get for me. This group is soooo thoughtful. I had just causally mentioned how much I love cut flowers and now I have these lovely flowers gracing my table. Good music, beautiful flowers, crystal clear water, dear friends and the man I love....God has blessed me abundantly ( reading back I must add that the list is not in order of importance.. lol).
Rusty ran the A/C for several hours last night and our sheets were cool and crisp becoming cold when he turned the A/C off. For two days we did not close up the salon at dusk and as Rusty predicted, I did not receive any no-seeum bites. Awesome! Rusty strongly encouraged me to try out his swinging lounge chair. He may regret that decision because I liked it a lot. It was surprisingly comfortable. It cradles your body well and just gently swings, it reminds me of my favorite chair which is a glider. We had a lovely evening.
Currently, Rusty is pulling up anchor and we will "drift" our way to Black Point. Listening to Chris Parker this morning it sounds like we are going to be at this next anchorage for several days as we have fairly high winds coming our way until Tuesday or Wednesday. Nothing scary, but we will want good North protection. Rusty has the "creature" up and we are "drifting" at 2.5 knots out of the harbor at Staniel Cay going to Black Point. I think I will kick back and read my new book. Nirvana!!!
Note: I added two recipes to the recipe section.
We arrived about noon in BP, going in to Lorraine's now to post.
Happy, happy birthday Russ!!
February 10, 2011
Today the group will gather on SYL for a pig beach run at Big Major (right next door) around 10AM. We will probably sail around a bit too, just for the fun of it. Winds are the same direction as yesterday, but will be 10 in the morning dropping to 5 by tonight so we won't have much power. Big headsail day!!!.....
Steve on "Anchor Management" came in yesterday, so they want to show him the grotto before we leave. Low tide (Grotto Time) is late today, so we will spend another night here in Staniel before we head South. Tomorrow we will go to Black Point so the kids can do laundry, from there we will decide where we want to be for the weekends moderate blow. We are so spoiled about having 10 to 15 knot winds most of the time that when it goes to 20 people run and hide... lol. Saturday and Sunday we will get the remnants of a front thru the central Exumas, so wind could be 25 Saturday and 20 Sunday which is no problem, but there is a possibility of gusts if we get any showers with it. I'm considering Lee Stocking Island for the weekend blow, but a better place might be just around the corner from Black Point in the next cove... it's a great big beach with nothing on it but white sand and good Northern protection. If we hang out there for the blow we can stop by oven rock for some spelunking on the way South, after Tuesday it should be easy to step out into the sound for the leg to GT. All these plans are tentative of course.
There are 5 boats in the "Texas Navy" right now... I can barely make up my own mind regarding the next days travel plans.. much less keep track of any corporate decision. From now on I'll likely post only what happens rather than guessing the future..... that way I can be as much as 90% accurate... lol. Hmmmmm.. "Texas Navy" not a bad nick name for the group of SYL, GL, Kaleo, Storyville and Anchor Management. Our drafts range from 3' to almost 6', so we will see how that works as we choose routes South.
Linda is making a pot of beans and rice for the day.
3:15PM We began a short sail about 10:30 ending at pig beach where we got some great pictures and video of everybody on the bow feeding the pigs. Shane jumped in and did some creative shots and underwater video of pigs swimming.... it's quite a site! I may have the only documented underwater video of pigs swimming to eat soggy bread off the water in the known world.... lol.
About 12:30 the majority of the Texas Navy went to Thunderball for the high tide session but the wind was whipping so it was harder to get inside... we arrived a bit late for true high tide so the current abbreviated the excursion. We all had a bowl of Linda's rice and beans (with crab boil seasoning) then dispersed to other duties of the day.... right now the provision officers are in town raiding the Pink and Blue stores since the supply boat arrived today..... around here it's get it while you can. We sent money for milk and some veggies if they have any.
Around 3 the wind had shifted to the SW so we were starting to get some waves in the anchorage that made my boat rub against Shane's quite a bit so I broke off to my own anchor. Every person in the "Texas Navy" adds something unique to the group. It's a wonderful situation.. that is why we love the cruising lifestyle. The camaraderie and fellowship of good loving people (without jobs) is an awesome thing. I am pretty sure this...... is what they call living... life is when you only see your good friends on weekends and at church.
Shane came by earlier... visiting all the boats in the Navy bearing fresh, chocolate chip cookies...... luckily ours was the first boat he came to.... what a good guy.
Linda is reading a book and I'm relaxing here at the keyboard blabbering about our day and the people in it... lol. I really hope our blog adds something to it's readers rather than subtracting.... I always want to be part of the solution.. rather than part of the problem..... We pray our banter here is the former.
Linda here: Christie and Deane recommended Embarrassment of Mangoes by Ann Vanderhoof and her sequel The Spice Necklace. I just started the book and it seems to read well...it is about a couple in their late forties from the corporate world that decided to take a two year sailing sabbatical. I'll share more later.
RCS: The boat is riding nicer on it's own hook. I know Shane likes to have us on his hip, but sometimes conditions warrant a disconnect. I just got a call from the away team... they told us what they found in the store so we refined our grocery list on channel 17.... the selection sounds good!
Steve on Anchor Management looks and sounds like Richard Dreyfus..... he even sports the full brim sun hat worn in Jaws... lol. Steve has been travelling a lot and is still bushed from all the connections and airports, but I'm glad to know him.... I can already tell he's definitely high ranking officer material.
We are getting more Westerly component winds than I expected, that might mean more of a frontal presence this weekend... we will see. When the Westerly component doesn't linger.. the front has stalled further North so this may signal a methodic wind clocking more indicative of a true passing front. We will see what CP (Chris Parker) says in the morning.
The idea of the moment is to do Black Point in the morning, then gather back up around the corner in the next cove close to the "Castle" for the blow Saturday. If you have the Exumas Explorer chart books, look on page 34 about Latitude 24.05 North. The North protection looks good, and it's a deserted beach.... everybody tends to stay over in Black Point's anchorage.. we will see tomorrow how crowded my spot is. I can tell you there are quite a few more boats cruising this year than what we saw last year so we might have company over there... but it's a long beach so there won't be a problem finding a good spot.
We heard from Texas Two Step today... they are at Black Point. I guess we will see them tomorrow. They have a new group on board to bring to Thunderball! I just found out their group flies out of Staniel Saturday so they are heading this way in the morning (Friday) We may have to fire a shot across their bows in the morning as they head here and we go where they are now. I imagine GT will be the next time we get to visit TTS for an extended period of time.....
Here are some M&C pictures taken the last couple days.... check out their blog at SVKaleo.com.............. good folks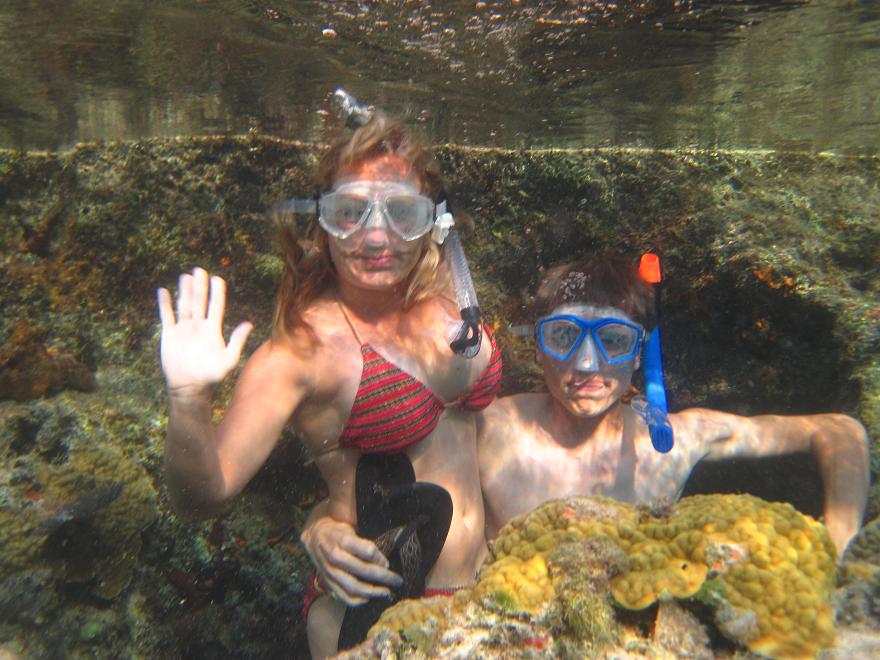 Our evening was spent resting... Linda read her book and I got my swinging chair out.... right now (7:53) Linda is in it.... she is more than impressed with the comfort. It's her first time swinging to the waves in the relaxing chair. It truly is hypnotic.
I hesitate to say this, but the beans we ate are reacting a bit across the board.... lol sorry, maybe that's TMI..... Too Much Information. I sent out a radio broadcast on the hailing channel to the "Texas Navy" (we all imbibed in the beans and rice) I cautioned them about indoor activities at this time...... symptoms seemed to have eased a bit, so by bedtime all might be well again.
Wow, what a week... we have so enjoyed the weather, the water temp, and the group of friends that make our days so special. In the past 7 to 10 days the water has warmed significantly.... in fact Steve commented on how much warmer the water temp is now than when he left a week ago.... hopefully in another few weeks and it will be absolutely bath water warm.....
8:00.. getting close to bedtime...... we are like working farmers these days (except for the working part).... asleep soon after dark and awake by daylight. If we don't have company Linda and I are normally in the bunk by 9, sometimes earlier. If we have friends over there is a good reason to stay up. Otherwise it's on to the next day.
I hope you enjoyed you're day 1/4 as much as I did........ take time to make yourself happy tomorrow, you're worth the effort. Even if it's 30 degrees like back home, or -5 like KC...make yourself some hot chocolate and don't forget the marshmallows.
Sea Yawl Later !! Rusty
February 9, 2011
We slept in this morning, not much happening yet. Shane borrowed the Honda last night to charge his batts, it ran 9 hours on one gallon of gas.... sweet. Shane wants some of Lorraine's mammas coconut bread so Black Point will probably be our first stop when we leave here, then maybe the Cave behind Oven Rock near Farmers. Another Kemah boat "Anchor Management" is here, the owner "Steve" flew out a few days ago. He is a friend of the "new crew" and is expected back today. They will want to bring him to Thunderball and probably the pigs.. so that will likely be tomorrow. I may talk to Shane about sailing over to Black Point and back today for bread just for something to do. It may be close to a beam reach both ways. Sailing conditions on the Exuma Banks look wonderful today, the wind is 12 right across the islands.
4:30 We are back from Black Point, the sail was indeed on the beam both ways... 8 to 13 knots of wind.... nice jaunt. Shane, Matt & Christie came with us. We ate at Lorraine's and messed around on the internet. It was nice to sail the boat instead of just sit on anchor all day. We brought home bread and got to sail.... so the mission was fully accomplished. After dropping the kids off we went to the dock and fueled up, it's nice to be full again. Now we are rafted back up with Guiding Light and about to take an evening siesta..... It was fun having two extra sailors onboard, they raised the main and did all the run around work where all I had to do was drive.... nice.
This evening we chilled.... after rafting back up with Shane we didn't do a thing, just read and slept.
SYL... Rusty
February 8, 2011
Linda here...We had such a fun time last evening. Matt and Christie (the kids), Troy and Deana from "Storyville" and Shane from "Guiding Light" all came over for a spaghetti dinner and a movie. We played "Catch Phrase" for several hours and it was a ton of fun. We played guys against the girls and though the girls totally dominated at first the guys blew us away in the end. "Catch Phrase" is a fun game. I think it would be fun to have this crew over for "Mexican Train". Everybody contributed to the meal, however, Deana brought a "to die for" desert. Deana has promised the recipe so I will publish it as soon as I have it. It uses croissant rolls as the top and bottom and is filled with a cream cheese mixture and sprinkled with cinnamon sugar and almonds. This morning I will get everything tidied up and then I think the plan is to go visit the pigs on Big Major. I think we will use SYL as a shuttle and just take everyone over on SYL. She is the perfect boat since we can get so close to shore.
8:22 I got up at 8, Linda is still resting.... she got up before light and worked some so she went back to bed for a while. Last night was fun, we ran the AC all the time, after dark people were even getting cold.... lol. We can do 8 people in the salon, but if the AC is on that means the partition is down so it cuts the floor space drastically. If the boat was open 8 would be very comfortable. If our immediate cruising circle gets much bigger we are going to have to start meeting on the beach!
The movie last night was "Wind".. the new folks had never seen it so it was an easy decision. Personalities were great all the way around the table, I hope everyone enjoyed themselves as much as I did. Deana's cream cheese and almond desert with crescent roll crust and cinnamon sugar was the highlight of the meal for sure... it was still warm when we ate it.... mmmm. I want Linda to get that recipe. It makes me hungry just to describe it.... Matt is a smart guy.... I knew talking to him he was a good problem solver but he's got a great mind and a personality to match. Christi is an absolute joy to be around and watch.... she's so cute and her mannerisms are unforgettable. The best thing about all of it was that everybody was just being themselves.... out here on the cruising circuit most are that way, you get a few squirrels but the majority are awesome individuals. Troy worked on yachts in Kemah.... what a fine friend to have huh? He and I see eye to eye on.. well..... everything so far. Troy's clues during the game were masterfully animated.... you should have seen his caricature of the catch phrase "silly goose".. we got it! He and Deana are a devoted loving couple, as are Matt and Christi. It's great to have that kind of friends.
10:30, we all decided to drift through pipe creek on SYL and go from there on the day.... Tide is high at noon, so that will be just right. The boat will be open today so we will have good walk around room, winds are 90 degrees on our intended path so we may do some jib only drifting thru the shallows..... Pipe creek is a sweet 3 mile run that goes from here North to Sampson. Most folks have to go by dinghy, at high tide we won't have any problems.... The colors of the thin water with beaches on both sides are pretty spectacular.
Well, I better go raft up with Shane.. the crew is gathering to tie dinghy's up on Shane's boat and step over to SYL for the short tour....
| | |
| --- | --- |
| | Linda here...Today's excursion represents in large part, what attracted us to the cruising life style. Troy and Deana from Storyville, Matt and Christie "the kids", from Kaleo and Shane from Guiding Light all boarded SYL and cruised Pipe Creek. Pipe Creek has lots of shallows which means it has the beautiful variations of blue, white, and emerald water all close together. It's difficult for deep drafts to negotiate Pipe Creek and of course SYL is made for that kind of cruising. It was a bright sunny day, the only negative was we had to motor because there was no wind but the current was with us, so it was downhill all the way. The calm winds really made the water surface look like a swimming pool, so visually the calm was a huge bonus on the day. We traveled the up the pipe and back down outside in the uncommonly smooth Exuma Sound to Staniel. We had such a great time. I'm not sure how we can top the last two days..... I'm afraid it's all down hill from here.... lol. |
This is Troy, Deana, Matt and Christie's first time to sail the Bahamas so they are having "first" experiences most everyday. It is sooo much fun to watch the excitement and appreciation of all that the Bahamas offers. They found their first starfish which we took onboard for awhile and then relocated to Thunderball. Rusty let Deana "auto snorkel" behind the boat. She was ready to "auto snorkel" all the way back home it was so much fun. Auto snorkeling is when you hold on to a line on the back of the boat and the boat goes less than a knot and you just hold on and watch. In the middle of Pipe Creek there is a lovely sandy beach where someone has created a "shrine" of flotsam and jetsom. We stopped a while and just enjoyed the water.
| | |
| --- | --- |
| | |
| | |
| --- | --- |
| | |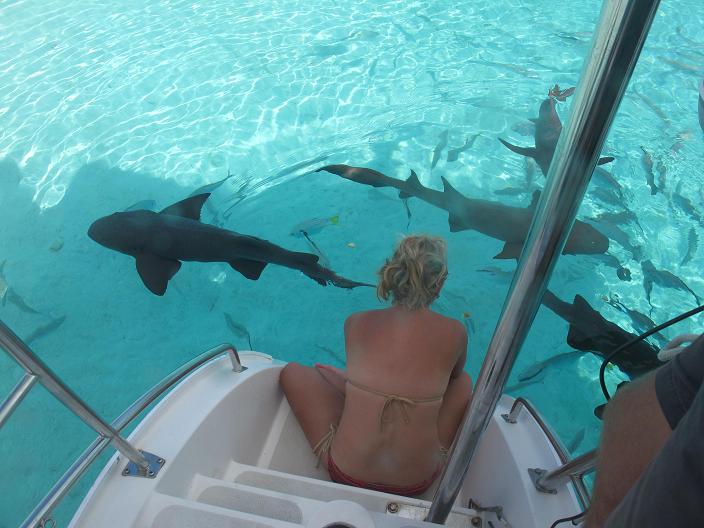 Then we went to Compass Cay where we learn from last year the people are not entirely welcoming, but they have resident nurse sharks so we went into the harbor to feed the nurse sharks and the yellow fin snappers. Sure enough we hadn't been there long an the "overseer" came out to let us know they had "someone" coming in urging us to leave as soon as possible. They said the same thing last year so we are highly suspicious they were telling the truth. They have a sign posted that it is $8.00 a person to step on the dock. Crazy. We said we just motored into the harbor to feed the fish. Rusty also said we would come to their little store and buy something but not if it cost us $8.00 a person just to see what they had. We had great fun in spite of the unwelcoming attitude. We fed the fish and sharks and left without ever setting a dock line or a foot on their property. There are very few places in the Bahamas that have "attitude" Compass Cay isn't the worst, but they are certainly on the opposite end of the spectrum from Farmer's Cay. We haven't been to a friendlier place than the home of the 5F's party, Little Farmer's Cay in all our Bahama travels.
After our "shark encounter" we headed back to Staniel Cay and got back just in time for slack tide, the perfect time to do the Thunderball Grotto. Two of our more adventurous comrades made the jump from the small opening at the top of the Grotto into the cave. Shane and Matt have gone down in history as two of the few who are brave enough (or crazy) to make that leap. James Bond didn't even attempt that feat, all he did was get hoisted up thru the hole by helicopter.... lol. Tonight we are all going to Shane's boat to have dinner. Beautiful country, wonderful weather, awesome friends and great food! Does it get any better? I don't think so.
| | |
| --- | --- |
| | |
| Matt and Troy at Thunderball Grotto! | One of the many beautiful residents of Thunderball |
GL and SYL are rafted together for the evening so we have quite the platform to walk about..... We ended the day with a fabulous dinner on Guiding Light and then went to SYL for the after dinner entertainment. Troy kicked it off by singing and playing his guitar, he was quite good. The day ended with the movie "Illusionist" It was a full day of good fun, well timed with perfect weather for seeing Pipe Creek.
February 7, 2011
Linda got on the horn this morning and invited Kaleo, Storyville and Guiding Light for a Spaghetti lunner (lunch/dinner) around 2. The kids are going into the grotto at slack tide (about 4:30) so eating early then snorkeling is the right move. Since we are the closest boat to the entrance, going from here will make it easy. We may even move right to the entrance and snorkel off the stern.
Linda is all into this evenings meal already. She's making bread, I'm about to make a grocery run.. she's going to set the table with real plates, cloth napkins and everything... lol.
I'll probably run the AC all day to dry the boat out, I turned the mattress over, put the seat cushions in front of the salon vents, we haven't done a full dry out yet on this trip. Today is the day.
Linda here: I am excited about our Lunner. Having the ability to have 6-8 guest for a sit down dinner is one of the many things we love about our Seawind. I continue to be glad we chose this boat. For us it is perfect! My yeast is not proofing and I was not sure why, then I remembered we have the A/C on and it is really cool down in the galley. Normally, the galley is almost stifling hot when cooking but not today. I may have to prepare the yeast mixture again. No biggie. The sauce is ready, it just needs to simmer. It is usually better the next day but... I have to add that yesterday's sail was one of the best. I LOVE the spinnaker. One, it is a beautiful sail and two, I love the sailing conditions that allow you to fly the spinnaker. We had such fun sailing from Little Farmers to Staniel. Perhaps our entry was a little to boisterous, it was definitely "Texas Style". We have never heard the speaker when we are off the boat but from all reports it is "LOUD". When we were entering the harbor one lady looked at us and covered her ears...we immediately turned it down. Hopefully, we did not alienate anybody. I thoroughly enjoyed last evening. Troy Deana from "Storyville" are a great couple and from Kemah no less!!! It will be fun getting to know them better. It was great seeing "the kids". A couple who sat behind our table leaned over during the night and asked if Matt was my son. I said "no but I would claim him". She said she had talked with him at the bar and he was such a nice man she wanted to compliment me on a job well done in raising Matt. So I will pass this along to Matt and Christie's parents, since I am in complete agreement, "Job well done".
10:45 I'm back from the store, the blue store was my first stop and got almost everything there. Then we went to the pink store, they didn't have the sausage or Velveeta I was looking for either so I just bought a can of Pringles and called it a run. Shane was already in his dinghy so he travelled with me there and back. Blue and Pink are truly the store names.. not just the wall paint.
Noon Christie called and said they would wait until today to do the grotto as the winds might be lower tomorrow. We discussed changing meal time but decided 2 was just fine. Everything is set for a fun evening of food, games and a movie.
SYL!! Rusty
February 6, 2011
Plans change, new game today: We were invited to a Super Bowl party in Staniel today after church, I think I would like to go. Linda likes football and the winds are blowing that way, so it sounds like a plan. It will put us nearer the front, but oh well. Maybe the front won't be too strong.... it isn't expected to be and Staniel has great anchorages.
We just got a radio relay from "Kaleo" that they are going to Staniel today! yes.... "Storyville" has been travelling with the kids since Marathon and were gracious enough to make the relay. This sounds like fun in the making... it will be great to see Matt and Christi and share stories. We both blog so we keep up but it's better to see the smiling faces and happy eyes when they describe seeing the clear water for the first time.....
We are about to post and head out to Staniel... the only thing certain about our plans is that they always change.... viva the "no plan" thing. Speaking of speaking French.. there are several of French boats about... not only French made, French speaking people are all over the radio. In GT some of the announcements are made in French to cover the harbors population.
OK, I'll post and get ready to make the inside sail down wind to Staniel, it's only 2 or 3 hours.... I love getting to play with my boat.... I have the Creatcher bungees off, it's laid out and ready to fly.
10AM Plan change....... only about what head sail to use though.. lol.... I de-rigged the Creatcher and hauled up the big pink and purple spinnaker in it's sock while Shane soaked up some last minute internet. There was an armada of boats heading to Staniel after the 5F's, by 10 we were near the back of the line so it was fun to see the sails in front of us.
The run to Staniel was nothing short of glorious.. I know I say that all the time.. but this jaunt was special. It was only 11 miles so we didn't need to hurry... Winds were just off the stern at 6~7, the Spinnaker was all I flew the whole trip... we averaged about 4 knots coasting through 10 feet of water with full sun. I put the big speaker outside on the top of the salon and cranked up XM radio's "Prime Country" I was told it could be heard before they saw me... We showed up in Staniel..... COUNTRY!!!!! If I'd had a cowboy hat I'd put it on.... The Superbowl being in Dallas... I felt it was my obligation to set the tone for the evening...
We are anchored the first boat SW of the Thunderball Grotto. It's a convenient location being right next to the cave, out of the main current stream and just around the corner from Staniel Yacht Club. When we came in, Matt and Christie were in their dinghy. It was great to see them again. There were smiles all around with the country music blaring... I'm sure there were some folks that didn't enjoy it quite as much... so we turned it down soon after entering the anchorage but our arrival was no doubt noticed by all. We played it loud all the way from Little Farmers and watched the big headsail fly.... it was indeed glorious.
| | |
| --- | --- |
| | We all took a table at the Yacht Club for the big game.... the group was Linda and I, Matt and Christie from "Kaleo", Troy and Deana from "Storyville", Shane and Carol, Wade and Michelle. The club served a fine buffet with two meats (pork and grilled chicken) peas and rice, steamed carrots and broccoli, a salad, and desert along with all the drinks you could afford.... I bought Linda and I a frozen Daiquiri each and got 2 bucks back from a $20. That was before happy hour when drinks were $4... Shane got a $4 drink and an $8 drink later.... he said the four dollar drink was half water, so you get what you paid for I guess.... Dinner was supposedly $18 a head so Linda and I shared one, but they tack on "gratuities and tax" (right.....) so it was over 20 a plate. The food was good and we did share a plate so all in all the price was not bad. I guess the price of drinks kept us pretty straight... lol. We only had the one..... which was a win too! |
Linda and I left early in the 4th quarter after Green Bay scored again clenching the game. I wanted to avoid all the drunken dinghy drivers that would flush out of there in all directions as soon as the game ended..... We got back to the boat and cranked up the AC.... we were more comfortable than the game crowd for sure... We thoroughly enjoyed everyone at the table, we knew Matt and Christie would be fun, but their travelling companions on "Storyville" were a great addition to the night. I see us doing some serious hanging out with these guys.
SYL....
February 5, 2011
7:45AM I asked Chris Parker when the best today to go to GT would be, he said Tuesday or Wednesday so after the races and events today we will decide where to go tomorrow. It will be South because there's a front that will make it part of the way down the Exumas, so if we go North we would be more likely to see it. With the current wind direction (150 degrees SSE) going South means tacking, but that's cool because the fairways South zig and zag so we will be naturally tacking anyway. I have my eye on Big Galliot Cay beach, it's South, it's only about 4 miles away and we can sail there.... sounds like a plan. We have anchored there before and enjoyed it.
Linda here: We had another fun day watching the races. Janie and Jim from the Pirate came by to say hello. We met them last year. They commented on how often we move the boat. They said you move your boat like it is a dinghy. I had to laugh because I don't know of any other boat that moves around (in the same anchorage) as we do. Most people anchor their boat and it stays there until they leave the area. If they want to go somewhere they use their dinghy. Not us. If we want to go somewhere we just take our home with us. SYL is pretty easy to anchor and we like to beach her a lot. I have spent most of the afternoon re-creating the days of blog we lost. I have added a lot to January that had been lost so you may want to revisit the last couple of days in January. It is mostly about the historical sites we visited. Right now, Rusty and Shane are on the beach at what I presume are the awards ceremonies. I chose to finish the blog since I have been putting it off for days and was half way into it when they needed to leave. I think we have decided to stay here through tomorrow. Shane really would like to see the Super Bowl and we don't care much one way or the other. My guess is we will spend tomorrow night here, check weather and head south. Little Farmers is a delightful little community. You can tell they are trying very hard to encourage cruisers to come to their island. In my opinion their are two types of communities here in the Bahamas. Those that are excited to see cruisers and those large islands or resorts that cater to the large power boats or mega yachts. Those that cater to the power boats range from down right rude to cruisers to lukewarm friendly.
February 4, 2011
We had a ball today at the 5F's.... The "word" on the radio was they were starting the race at 11 at White Point, so we sailed down there with Shane aboard to watch the start... as it turned out.. island time and island directions were about normal... it started 2 miles toward White Point from Farmers at 2:00. Regardless, we had a nice 10 mile round trip sail while nothing else was happening so that's a win... We were at the starting line on time. As the boats were lining up a call came out on the VHF that one of the boats needed one more person to help crew. I looked at Shane and he said... "I wouldn't mind doing that" so I called and got him a ride on "MORE FIRE" a C class sloop. I'm pretty sure he had lots of fun... it's lots of work too... they didn't just invite him, they TOLD him to come back tomorrow and race with them again. Shane is great help. The boat leaked like a sieve..... I let them borrow my dinghy pump and a bucket to bail the boat out... I'm guessing from bone dry the boat leaked bad enough to sink in 3 to 4 hours if not constantly bailed out... lol. Shane did a lot of bailing, but as you can see in the pictures he rode the "fry" a lot too.
| | |
| --- | --- |
| | |
Their first race was a shakedown for the crew, but the second race they were 3rd..... only 5 boat lengths from the winner!
All the boats lining up for the first race. It's a blast to watch a start, they pull hard on the long anchor ropes to get the boat up to speed before they raise the sail, then one of them decides which way they all are going to tack because every start is up wind....
Shane and I walked back to the Yacht Club and the town where all the food was just before dark... we talked to some cruisers he knew and some new ones we had just met... We met a couple that is going to the Ragged Islands, maybe Shane can buddy boat with them.. I don't think we are going out there.... I'm not into adventuring much right now... I kind of want to take it easy for a while. I enjoyed the day so much... getting Shane the ride today was fun.. we got tons of great pictures and lots of video. The owner of "More Fire" hauled her out last night to work on the leaks, hopefully they stopped some of them.
Fun day for sure.... Today was the first day Shane got to ride on my boat.... he seemed to enjoy it. I ran only the big headsail down to White Point, and the jib and main back since we were 30 to 35 degrees apparent on the way back into the small 1 to 2' waves. Winds were 13 so there was plenty to sail on just inside the islands of the Exuma Banks.
Farmers is a fun place... the people are beyond friendly here... this is a do again....
SYL !! Rusty
February 3, 2011
Internet was the goal today, Shane could get it from his boat but I couldn't. I ended up moving to the end of the bay near the Yacht Club where the wireless signal was good. We worked on the boat some, I messed up and overwrote three days of blogging so we are rebuilding all that, most of the day was spent fixing the web site.
About 4 Shane came by, we went to Oven Rock and a cool cave.

The hole in the center looks like a large Bahamian oven so that's it's name.

From there we walked up the hill to a very nice cave. You land your dink next to Oven Rock and walk up the hill quite a ways... you have know where the cave is or you'll not find it.
Inside the cave there were thousands of little red shrimp. I was standing in the water and something started biting me (so I thought).. it was the shrimp landing on me and pinching me with their little pinchers.. checkin' me out..... It's hard to tell how red they were in these pictures, we had a light on them that washed out the color in the dark cave.....
After spelunking we had dinner and watched "Apollo 13". The cave was awesome.... it was the largest I have seen in the Bahamas.
SYL !! Rusty
February 2, 2011
This morning I'm looking at the charts to see where we want to go today..... Our target is the 5F's in Farmers, but it's 3 days away and with only 20 miles to go so we have lots of options. Winds are ideal for travelling up the Exuma Chain today so I believe we will go out Adderly Cut (a couple miles North) then sail the Exuma Sound all the way to Farmer's Cut instead of taking advantage of the many nice little beaches along the Banks side. If we go on and get there... we can check out the lay of the land.... find out what happens and where.... if there is a preferred place to anchor it will be taken if we show up just before the event... so it makes sense to me to go on to our destination.
Sailing the 20 miles today was great fun. I tried all kinds of headsail positions to find the best off wind sets in the 130 to 90 degree apparent wind range. Like a spinnaker, the deeper you go the higher the bottom of the sail needs to be fore speed. There is a limit to that and I found it. Then I experimented with windward/leeward tack positions... I found tacking fully windward was the way to go in the 90 to 130 range. I've done a lot of 30 to 45 degree work with the Creatcher and and know tacking to lee is the way to go, but I need to do some testing in the 45 to 90 range. I have very little sail time at that angle with the big headsail. The boat is pretty fast at those angles so I haven't used the Creatcher in the (power band) very much. I tried some main sail tricks too, like travelling up and sheeting way out, but it didn't pay off because the wind was consistent enough to keep the sail full. That trick works when your off in light winds or gusty winds. Cupping the bottom of the sail helps hold air on it, but with steady winds it's all about flow. The biggest gain I got (.4 knots) was slacking the main halyard down wind. I heard about that so I tried it. I let it out as much as a foot and saw no more advantage after about 8" I imagine 6 to 8" is about what my boat wants. I'll do more testing with that trick, but it's a biggie. I need to replace my outhaul car, I know there is speed to loosening the foot of the main down wind, but my car is so hard to move it's not worth the effort (I have to beat it with a hammer) getting it loose isn't the hard part, tightening it back up is...... I know the trick about using the traveler to adjust for wind direction changes after you get the main sheet working it's best, so I did that all day. If you get the perfect set on the main sail for the wind and waves of the day (and the wind speed doesn't change) it makes sense to never change that sail shape... as the wind clocks a few degrees each way... travel the main sheet car to adjust for clocking. There was only one trick I was too lazy to try..... My main has two attachment points, I suspect I would have done better in the front hole so the top of the sail would flow better down wind.. but I didn't want to reset the main. In the back hole it cups the main, which is nice on most points of sail, but over 100 degrees I expect the front hole is the way to go.
The cut was choppy with waves against the current as we went outside, but soon calmed to 2 and 3 foot semi trailing seas. Shane's 410 and my Seawind were very evenly matched on sail speed until I put up the Creatcher..... the big headsail let us arrive about 15 minutes before the 410, so I reconnoitered a bit and was sitting on the best spot in the bay when Shane arrived. We wanted to raft up, and I wanted to do it on Shane's big 73# Rocna anchor so I told Shane the place I was sitting looked nice to anchor then went over to a nice looking beach to see if it was steep enough to pull up on, and it was. We dry anchored while Shane got set just off Farmer's Yacht Club. The boy sailed all the way into the harbor and only cranked the motors to test the anchor set..... single handed on a 410....!
As soon as Shane got set I picked him up in the dinghy for a trip to the store. Linda wanted lettuce and milk. We did that then walked over to "Ocean Cabin". I have heard people call them forever on the radio and didn't know where they were. The building is nice sized with burgees (sailing club flags) handing from the ceiling everywhere and lots of pictures and items of interest on the walls. The furniture arrangement consists of many picnic style tables and a small raised bar area. I understand "Ocean Cabin" will be the hub of the 5F's event.
The water is colder here than in GT, Linda bobbed a while but it was too cold to stay long... soon we joined Shane on a raft up for the night. Spaghetti and fresh bread are the nights fare.. the movie is "Village".
SYL !! Rusty
February 1, 2011
Mid morning we lifted anchor in Barraterre to sail the 2 miles to Children's Bay (where the Eagles were). After poking around to find the deepest spot, I finally anchored just inside the Southern headlands. Shane rafted up with us later and we all went to the beach in the dinghy... Children's Bay is different in that the land behind the beach is a big flat yard with trees on it, so it was nice (other than the grass burrs) to walk around under the palm and pine trees. The beach has a very shallow long bar, so it is a good place for kids to swim.. maybe that's why they call it "Children's Bay".
When I brought Linda back to the boat (before the bugs came out) I picked up a lawn chair and a butane lighter. Shane wanted to see if the piles of sea grass that washed up would burn. They didn't, but the pine straw next to it did... so I got a few sticks to keep the pine straw fire going.. next thing you know we have ourselves a full blown bonfire on the beach....... so I took a few pictures..
Fiiaaar! See what I have made... Fiiiraaarree!!!! I just HAD to stand up with my arms stretched out and do the "Castaway" scene where Tom Hanks creates fire from rubbing sticks together. Mine wasn't quite as difficult.. therefore probably not as satisfying... but a beach bon fire was exceedingly nice. Shane and I discussed women and men.. and the intricate and convoluted relationships thereof........ We stayed until we had only coals... then quenched them with water and sand... (Shane is a fire fighter) we had a great time on the beach doing the male bonding thing....... arrrghhh man stuff...
SYL... Rusty