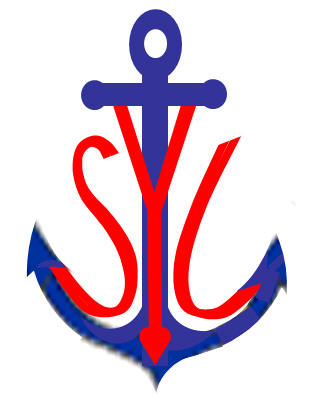 Sitton On The Beach
February 28, 2010
| | |
| --- | --- |
| | A visitor ~ If this guy isn't the very picture of a salt sea captain.. I don't know what is.... |
| Rusty Checking Depth | Captain D S/V Lucky Fin Check his post on Tugnuts.com |
| | |
| Sunset Entering The Keys in Florida Bay | Celebrating our Keys arrival with Key Lime Pie |
We are in Marathon. We got here early yesterday. Most of the day was spent trying to find anchorage. Marathon had no mooring balls or a slip so we had to find a spot to anchor. Many boats were coming in the get ready for the "big blow" The forecast called for winds of Gale force up to 35 miles an hour. I have learned that gale force winds are defined as anything between 33mh to 63mh. We were told to go to a place called Sister Creek which we did. Most of the day was spent securing SYL. Everyone was about the same business. Rusty put two anchors out and tied us to the mangroves. We were set. I don't know if we were just that protected or if the winds did not get as bad as predicted but our night at Cape Haze was rougher. I am not complaining. This morning we got up and motored into the harbor and went to the City Marina. We paid for 1 week of dinghy fees and in return we have dinghy dockage, laundry ($3.00 a load), showers, a community room with WiFi and TV's. Very nice overall. There are about 350 boats here. At the dock while we were getting water we met several people. Everyone is so nice. I continue to be impressed with the community spirit in cruisers. Only once in a while do you run across someone who is "grumpy" but hey maybe life isn't going so well for them at the moment. We look for another anchorage for about an hour. We thought we found one, but one of those less than friendly person's didn't want us there so we moved. We found another lovely spot and got all set up, had visitors and then we received a call that this was private property and we will be asked to moved tomorrow. We were told when we were in Marcos Island that a big controversy about whether anyone could own the water was fought out there and it was legally decided that one one can own the water. (deep sigh) I always want to be a good neighbor or guest so I guess if we are asked to move we will. I don't know where though. I think I will go into Scarlett O'Hara mode and worry about that tomorrow. Marathon (other than anchoring) is great. The weather is really quite lovely. We think we can go to the Marina and get the web site downloaded. We do have a concern that the Verizon program is blocking our ability to use WiFi but we aren't sure. Guess we will find out when we dinghy into the marina.
The weather was great today. Forecasts showed windy and bad weather but we just haven't seen it. It isn't millpond, but it's close. Like Linda said we met some great characters today. We pulled up to the "water" dock at the marina to check out the facilities and get a map of the area. While we were there several cruisers stopped by and complimented us on the boat and her name... people smile when they read it.. so we chose well. Last night when we anchored in Sisters Creek I apparently set the anchor very near a car tire that was buried in the mud. The reason I know is that this morning when I pulled up anchor I had a tire speared right thru the tread.... cool huh.. The tip of the anchor poked a hole right thru the tread of the tire... I love my anchor!
Notice how clear the water is... you can see the bottom of my boat. I have to brag on my anchor.. that thing sets like a rock when you drop it. I have learned to feel when it hits the bottom as I am letting out the chain. It's 38 pounds, so the boat nose lifts a bit when it sets on the sea bed. One time I let out the chain too fast and it wrapped around the anchor so it didn't set right, but even then we didn't drag. I found the chain wadded up on the anchor the next morning.

The Garmin GPS has an anchor drag alarm on it.... if we move more than a preset number of feet from where I activated the alarm it beeps enough to wake me up. I bring the GPS down stairs with me to bed when we are on the hook..... the internal battery charge lasts all night and I can see the track the boat is making swinging around the anchor, if we move more than 40 feet (I have it set on 40) it lets me know. Pretty cool technology...

I also have a CQR anchor that sets really well. I use it as a backup or second anchor, and as a stern anchor when I don't want to swing.
No room in the inn.....Today we felt like refugees.... The first place we set our anchor inside boot key harbor a fellow a couple boats down came on the radio and said "You just chose the very worst place in the whole marina to anchor" after thanking him for the compliment, his acidic demeanor weakened a bit, but mostly I think he didn't want neighbors so in order to find a friendlier neighbor we moved on. Attempt #2: Captain Acid (from attempt #1) recommended we go to the next cove up. We did that and as you see in the photo I got in the dinghy to try to find a way in or deeper water to occupy in that cove. It was too shallow and he knew it.... he probably figured I'd move on from there if he could get us to pull up anchors.. and we did. Attempt #3: A friend told us he anchored near the mangroves by the marina, so we started scouring the coast looking for deep water up to the mangroves. We found the perfect spot...... it was deeper than anywhere in the marina... a nice channel that went all the way up into the mangroves in a cove by ourselves.... nirvana.... It was on the north shore too, so the north winds would be negated by the shoreline. We set our anchor and even a back anchor to keep us in the center of the channel... it was a great place. In fact it was almost right next to the marina so the dinghy ride in was short... what else could be better. We did notice that many people were out by the marina looking at us (and being jealous). Shortly we got a phone call from the marina saying that the owners of the land we were next to (a fuel supply business) owned the water 150 feet out and when they came to work the next morning (Monday) they would ask us to leave. I was good with that.. when they asked us to leave I would, but I'd spend a very comfortable night in my private marina. I didn't believe the spill about owning sea bottom, but I'm an easy sort.. so I'd move. Linda and I took the dinghy in to upload the web (that didn't work) and found out the whole harbor was talking about these people that anchored on private land and would be fined (estimates were between $500 and $100,000) if we disturbed the sea grass on the bottom...... We were definitely the talk of the town. Our location was totally harmless, no signs to not anchor.. no problems whatsoever.. but to avoid the stir we hurried back to the boat and moved ... again.... Attempt #4: We chose a nice spot in the designated (hopefully) anchorage area and set a bow and stern anchor where we comfortably spent the night. Linda said she never felt so unwanted in her life... I have to agree, but we had a great meal and slept 10 hours.
SYL... Rusty
February 27, 2010
This morning Linda woke me up early to get her to Marathon.... We need to wait on good weather to cross to the Bahamas and she heard Marathon was "the" cruiser hangout waiting on a crossing. Evidently she was right because the docks are full, the mooring balls are full and they didn't have gas at the main marina. We came into Boot Key Harbor through Sisters Creek, boats were lined up on anchor and tied to the mangroves.. it looks like Nascar pit lane around here. We did find gas close and filled up. If you were following us on spot you had to think I was lost when we got to Marathon...lol We did some nosing around in the harbor, looked for gas and came back out sisters creek to anchor so our SPOT path looked pretty crazy. Gas was $3.99 a gallon.. I guess they were too ashamed to make it an even $4.00 a gallon. That's the highest price we paid so far. The cheapest was in Intracoastal City ($2.69). With both engines running 7/8 throttle I burn a bit over a gallon an hour. The main tanks hold about 28 useable and I carry 20 gallons spare gas so I can count on a 250 mile range.
Tonight was supposed to bring a gale force blow... but like I said before fronts are converging / backing up and going sideways so nobody knows what the weather will be. So far this evening we got a couple showers but now it's dead calm. We may get a blow tonight.. but we are ready for it. I have a massive overkill in anchors and lines set up for the blow. My main anchor would have been fine, but I also set the CQR and tied another line to the mangroves. I was just bored and didn't have anything better to do. I dinghy'd around and had fun mostly.. since we got here so early I had lots of time to piddle. It was almost like you had to outdo your neighbor in anchors and lines...lol. I met the guys on both sides of me... One guy is Norwegian so communication was sketchy, the other side is a guy in a trawler that retired from Rhode Island.. came to Ft. Lauderdale, bought a boat and is out for his first big trip. He's headed for Key West then heading up the east coast and doing the great loop. The "loop" brings you back down the rivers from the North, it's a kind of a standard run people make. Google "the great loop" and you'll get the jist of it.
I did a little fishing... (caught one small one) took my shower and opened a bottle of Zinfandel... it was a tough evening I tell you. We are sitting here now (7:30) listening to XM radio, Linda is doing Soduko...
When we filled up today we took a hose to the whole boat and rinsed her off, she had salt water all over from the big trips we made the last two days. They give you free ice with a fill up, the guy shoveled us a laundry basket full of ice and asked if we wanted another... with the ice I had that easily filled my 90 quart. I guess that was the perk for paying $4.00 a gallon for gas... huh?
Tomorrow we will probably dinghy into town and check out Marathon. It's a pretty good run, probably a mile or so to the docks from sisters creek and you have to idle around among all the boats... my dinghy will get on top and haul it.. but nobody appreciates wakes in a harbor so we will crawl around.
Linda just read me the updated forecast, basically it sucks for crossing to the Bahamas all the way thru the weekend to the end of the coming week. Wind directions get useable.. but the wind speeds stay 20+ mph, so waves would be too big. I'm glad we are in Marathon.. we will go and discover the town...
February 26, 2010
What a great day today.... we left Marco Island with the intent to stop short of the keys at Little Shark River and make a 40 mile run tomorrow. The weather dictated that we make a run for the keys tonight so we did and we are HERE!!!! Our 14 hour run started with 4 to 5 foot following seas where we sailed until noon. About noon we decided that tomorrow looked like too short a window to make it to the keys comfortably so we opted for 4 hours of night travel to make it all the way. Let me tell you.. this was an awesome day. We sailed SE until we reached a point that the northern swells were shielded by land so they laid.... but we still had good wind, it was awesome sailing. We had a peak speed of 14.3 mph today surfing on one of the last big waves. It was cool... we were going so fast the sails were fluttering because we were going (momentarily) faster than the sails were pushing us...... About noon we decided to make a turn for the keys. With the new direction and urgency to make a long run we cranked up the motors and motor-sailed averaging about 8 mph. As evening came the winds went away so I stuffed the sails in the bag and motored the rest of the way at around 7mph. It was a gorgeous sunset and evening.
The seas went absolutely flat just before dark and the full moon lit up the night. I had all my electronic gadgets going.. it was a sailors dream..... I had two chart plotters that agreed with each other and the radar tuned so well that I could justify both plotters by painting the actual markers that showed up on the charts. I got to use all my cool stuff... we had adventurous sailing in the morning.... calm motoring at night and best of all... I am watching cars go down Highway 1 in the Florida Keys!!!!!
We saw our first manatee this morning.. he was out in the open ocean... I saw his back humped out of the water and knew what it was instantly. When we got close he looked up at me and DOVE!!!! I'm sure he has developed that survival tactic to keep from getting prop marks across his back...lol We offered no danger to him of course.. but high speed powerboats are another matter.
Florida Bay is very shallow... we were in 6 to 8 feet of water the last 6 hours of the day. Right now we are a few hundred yards off Long Key.... The sea is calm and so are we. Without wind it's not cold at all... I won't crank the heater up tonight. I have the Honda generator on charging the batteries, but they didn't need much so I will shut it off soon. We ended the day with 12.9 volts, so the solar cells and engine chargers (as small as they are) held the batteries up well all day. When we stopped we lit all the lights on the boat so I thought I'd run the generator for a bit.
The last hour or so, I noticed we slowed down a half a knot.. but I checked the motors and couldn't see anything wrong.... so I decided it was an opposing current maybe... but when we stopped for the night I found a fishing buoy wrapped around the stbd prop.... I knew it.... those things litter the gulf. Truly those fishing buoys are everywhere and a real problem to boaters. For days I carefully steered around them.. now I only worry about the ones that slow me down.......lol. This is the second one I caught.....
I'm so happy to be in the Keys.. finally... 28 days. The weather has just been hard to outwit...... we lost 10 or 11 days due to the weird 2010 weather. Tomorrow we will go to the Atlantic side of the keys and make the 20 mile trek south to Marathon. Boot Key Marina is a famous waiting place for cruisers to cross the gulf stream. Asta... Rusty
February 25, 2010
| | |
| --- | --- |
| | We are at a marina and they are pricey in this area. The most we have paid so far is $1.25 a ft and The Marina at Factory Bay was $2.25. All the others were $2.50. But since we have not paid for anchorage in several days, we splurged since we needed water, intended to wash the boat (haven't started that yet), do laundry (haven't started that yet either) and re-provision (done). Now, we did walk over a mile to the grocery and West Marine. We had already decided we would take a taxi back when the lady at West Marine offered to drive us back. I fixed spaghetti and made garlic bread out of hamburger buns. It is five PM and I really should at least go wash clothes but... We will see. We have less than 100 miles to our staging point in the Keys. We will probably go to Little Shark River tomorrow and then finish our Florida leg on Saturday. Weather looks ok at this time. Dolphins abound between Naples and Marcos Island. We see them everyday. We haven't had them come and play but they will porpoise around us briefly and then they go on their way. Mostly we see them just lazily poising around. I just love them. Rusty caught three catfish off the back of the boat where we are docked but he put them back since I already had dinner ready. |
| | |
| --- | --- |
| | |
| Old ICW Between Naples and Marcos Island | Mangroves Close Up |
We pulled up anchor fairly early in Naples. We really had a blow last night. Our anchor is great. It is a new kind of anchor that Lloyds of London had to make a new category for because it is in a class by itself (I think it has a big sister). We knew we couldn't go out in the Gulf, so we thought we would find a marina in Naples and use the day to clean SYL since she is in bad need of a bath. To our surprise there was no room at the inn. Most marina's in this exclusive area do not have transient space. Naples City Dock tried really hard to find us a spot but we were to beamy for the available spaces. We were encouraged to try the old ICW between Naples and Marco Island since we had such a shallow draft. We decided to go for it. Rusty has this navigational program that is awesome. It is detailed, current charts and it has a GPS that you can plug in and it essentially guides you down the "street". It is amazing. We were able to go down this channel that was very narrow and many times was only 5 ft deep. If you got out of the channel you would be in 1 -2 ft of water. No problem. It is like playing a Nintendo game. I follow along with a paper chart so if we lose the program for some reason we would not be in trouble but it is an awesome "tool" as Rusty would say. We have two other publications we cross reference with so we are very familiar with any idiosyncrasies of an area before we get there. Now if we had something to control the weather.
February 24, 2010
| | |
| --- | --- |
| | Ok, I admit it, I am not a brave person. The fog today kind of freaked me out. Retrospectively, I was afraid for no reason. We have very good radar and I know Rusty knows how to read the radar. We had hopes of making it to Marcos Island but the weather closed in on us and the only place the guides showed for cover was here at Naples. The cove that we are tucked into is beautiful. Hopefully, the land owners will understand we are hiding from the bad weather and put up with us being in their view for a day or so. The wind is really starting to howl and I am so glad we decided not to continue to Marcos Island. SYL needs a bath in the worse way but that will have to wait. We are warm, safe and provisioned. The forecast seem to indicate we can leave Friday morning early! |
| | |
The winds are perfect to go this morning and the waves are in the right direction... everything is in sync... except..... FOG. It's so foggy I can barely see two boats over in the mooring field. Our intent was to get an early start, so when I first saw light I looked outside, saw the fog and went back to sleep. It's 8:45 now. There is a front stalled south of us and warm air over ran the front. Normally fronts march down from the North every week or so and we are clear for a week or more. This year fronts and troughs are forming up everywhere and converging.. even heading West... weird stuff... it must be a weather man's nightmare. I know predictions past 12 hours have been pretty much useless. The fog is widespread. I checked Naples airport (1/2 way to our next destination) and it's fogged in. If we are lucky it will lift by 10:00 but I'm not counting on it.
Linda took her shower and is making pancakes. Wow, I just looked up and I can see the shore.... don't get too excited it's only 100 yards away.... it's a good sign though. I know it's getting boring when I just talk about weather.... Let's change the subject because I certainly can't change the weather....
The boat is doing marvelously. There were some issues like fuel cleanliness due to lack of use the first part of the trip, but the past few days things have been peachy. Remember I said I could see the bottom paint again on the boat... that we were using up our massive stores so the boat was floating higher.. I think I figured something out... we don't have more water or fuel onboard than we did in Clearwater and the bilges are dry, but the boat is sitting lower than it was in Clearwater. I think water salinity is the answer. Clearwater was right on the barrier island so we were sitting in fresh sea water. Here we are inside a bay up a river, so salinity is likely lower. The more dense the water, the higher the boat floats in it.... sea salt adds to water density. I'll check out that theory as we go, but I imagine it's right.
The dockmaster just came by to see if we paid our $13 dollar mooring fee for the night. Linda called it in with the CC number so we are good. The fog is still lifting some.. but not clear by any means yet. Yesterday after lunch we went into our first fog bank. Radar is a wonderful thing. I could see the markers on either side of the channel and any boat moving or sitting still. I was travelling with a very large trawler directly behind me so the two of us made a very large target for anybody else that had radar. The problem is of course that everybody doesn't so we have to watch for them. It never got bad enough that you couldn't see 200 yards, so with the powerboats throttled back and off plane it was easy to keep traffic flowing in the right direction. It was funny.. the smaller powerboats clumped together with bigger boats and travelled in packs... apparently the small ones knew the big ones knew which way to go...lol
I can see both banks now and almost see the bridge up the river. One advantage to today's leg is that we won't be in a channel so traffic will be spread out and easy to see on radar. When we get out of this cut we dump back into the Gulf and will set offshore 1 to 3 miles for our trip down the coast. There are two good stops on the way so it's easy to shorten the day if we choose to.. we only have 38 miles planned, so if we can leave in the next hour or so we will be fine. Warm river waters create more fog than cooler seawater, so fog should be less of an issue once we get out of harbor.
Later that evening: We left harbor just after 10:00 and motored in the flat calm gulf for 5 hours (in and out of fog) to our next anchorage. We intended to travel to Marco Island, but rain and winds are forecast for early evening so we opted for Naples. We are anchored among some of the nicest homes on the water I have seen yet. We came inside at Gordon Pass and wound our way into a canal system touted as a great anchorage in the Skipper Bob guide. The rain just started so our decision to come in was a good one. It's nothing more than a sprinkle... but it's nice to be set for the evening with winds forecast to blow tonight and all day tomorrow. We parked in front of a house under construction. Linda and I just estimated that the house is over 20,000 square feet, probably more. We can see 10 to 12 workers outside. No telling how many are inside. From where we sit there are probably 25 homes worth in the neighborhood of 5 million each, you do the math. It's amazing that people have that kind of money.
Linda is making shrimp and wild rice with lots of onions and bacon.... it smells great. We thought about doing a marina tonight so tomorrow while it's raining we would have all the fresh water we needed from the dock hose to clean the boat inside and out, but we are on the hook so the work must wait..... ahh the tough life...
We are 113 miles form the Keys and have travelled over 1,000 miles so far. Every day we take a few off like today... each mile counts. Tomorrow will probably be an off day waiting for the Gulf to lay down. Small craft warnings are posted until tomorrow afternoon. Linda worried about the fog today. It never was so thick that you couldn't avoid something you met. Along with that I had the radar tuned up and could even see a bird flying off the water in the dead calm seas. I was extremely confident that I saw every target including fishing floats for 3 miles ahead. Linda was not as impressed as I was by our electronic eye.
Dinner is on so I'm off.
SYL... Rusty
O
February 23, 2010
| | |
| --- | --- |
| Sea Yawl Later!! at anchor in Ft Myers | Mooring Field at Ft Myers |
| | |
We had a nice sail today. It was incredibly foggy and we could not leave Cape Haze until almost 10:00 AM. I have been fighting a cold and whimped out for about 2 hours and when I got up around 1:00 PM it was foggy again. Very low fog and the radar sure came in handy. After a couple of hours it was gone. Very odd though, you could see clear sky above the fog. Again we passed one beautiful home after another. We also went through our last bridge and it was the Boca Grande Swing bridge. We were amazed at the traffic on the water for a Tuesday. You would think that a bunch of retired people lived here. As we were approaching Ft Myer the activity increased. We had wind surfers and one fella that was kayaking about a 1 1/2 miles out and was still headed out to sea when we last saw him. A Pirate Ship escorted us into harbor. I know he was just waiting for us!
The anchorage is mooring balls here at Ft Myer and I tried and succeeded (eventually) in securing us to the mooring ball. Those who know me well, know that my position on the boat has been as the cook and swabbie ONLY. I had nothing to do with the workings or sailing of the boat. I knew, however, if it was going to be just the two of us for several months that this was going to have to change. So, I eagerly went about my task of securing us to the mooring ball. Prior to approaching the ball, I asked Rusty what I needed to do. He explained that I needed to take the bridal and undo a U shaped piece of metal (I later learned this is called a clevis) that had a screw through the end of it and put the rope that was attached to the ball through the U and attached the screw. Great, I could do that. I took the boat hook, got the rope, pulled the rope onboard and set about putting the rope through the clevis. Now remember Rusty is maneuvering the boat this whole time so I am in the proper position to do all of this. Problem was the clevis was too small so it gave me a hard time. I finally managed to get it done but it was very, very difficult. I was so proud of myself. Then Rusty came up full of praise and then he saw what I had done and said "you didn't put it on the end?" He seemed very excited (and not in a good way). As it turns out there is a loop at the end of the rope that I was to secure to but I never saw the end since I hooked the rope close to the mooring ball. Rusty runs back to the wheel while I pull the rope back onboard and take the too small clevis off and reattach it to the loop. Hey, he said to secure it to the rope and that is what I did...lol. Oh well, now I know.
A little while later we hopped into the dinghy and went to Doc Ford's where we had a good dinner. We walked around a little and then came back to SYL, listened to music and now I am blogging. The weather is gorgeous. Tomorrow we are leaving early to get to Marco Island and a marina. Thursday the Gulf is suppose to be rough so we are opting for a marina. We may be stuck there until Friday. The intra coastal travel is over. I have thoroughly enjoyed this leg of the trip. Don't forget to e-mail us or facebook me so we know what is going on back home!!
Sea Yawl Later!!
Linda
February 22, 2010
| | |
| --- | --- |
| Our anchorage tonight | Cape Haze entrance, tonight's anchorage! |
| | |
| --- | --- |
| | |
| Tom Adams Key Bridge | Car Ferry $50.00 one round trip |
| | |
| --- | --- |
| | |
| Florida's Intra Coastal | Mangroves |
| | | |
| --- | --- | --- |
| | | |
| Approaching a Swing Bridge | Going Through Swing Bridge | Looking back at bridge |
We had another beautiful, sunny day going down Florida's Intra Coastal. I am glad the Gulf conditions "made" us take this route. It is really beautiful. We left our dockage at Moore's Stone Crab Rest. and headed South. We negotiated through 10 bridges and a car ferry. I saw a true Swing Bridge for the first time. Rusty says we have passed them before but I guess I was busy doing something else. I know I sound like a broken record, but this water way is outstanding. We traveled with two other sailboats at various times and that was fun. We saw a car ferry which looks just like the cable ferry we saw in Louisiana but it is not cable. The cars have to back off the boat. I would have to move!! We got gas at Stump Pass which is where the ferry is. It is the only access the people who live on this little island have and it cost $50.00 for each round trip crossing. No, that is not a typo and I did not misunderstand. I quadruple checked what I heard. That is $1,500.00 a month if you only go once a day. Better not forget milk. We are presently tucked into a lovely little cove on Cape Haze in Placido, Fla. It is so pretty. It is a horseshoe cove that is residential but apparently it is ok to anchor here. There were two power boats also anchored here. Tomorrow we will continue South. The weather is suppose to get bad Wednesday and perhaps Thursday so we are not sure what we will do. We heard from some fellow cruisers who have been waiting in Marathon, Fla to cross for over 3 weeks. To cross the Gulf Stream you can not have North winds blowing or they will develop huge waves called "elephants". Even though I am a herd animal I do not want to be in the Gulf Stream with "elephants". We heard from Grannie that Buna is suppose to get 2" of snow and 4" at the lake. Unbelievable!
We love hearing from folks so be sure and e-mail us!
Sea Yawl Later!!
Linda
Rusty here.. on today's trip:
It's finally warm... I was in shirt sleeves most of the day... it wasn't always cloudless, but it was a very nice day. The wind was always on our nose, but in the ICW it didn't matter much. After two days of motoring (from Clearwater to here) we filled up this evening just before we stopped for the night. The boat took 16 gallons of gas.... that's awesome. I have been running about 6.5 miles per hour to stay with the ICW traffic, I can run almost 8 so the engines have been running comfortably at 3/4 throttle.
Again tonight we will sleep without the heater. Maybe.. just maybe we are close enough to the tropics to finally be warm. There is a front coming.. so we will see. I didn't use the autopilot much today, the ICW was pretty narrow and curvy on this leg. We saw some awesome boats today that were heading North. We saw a grand old 1930's model wooden cruiser, probably 45 foot long. Earlier there was a 20' wooden sport boat from the same era. Every kind of boat imaginable is running the ICW, it's fun just to see what passes in the opposite direction all day long.
How about this bad boy... you can see every kind of boat you want to see cruising the ICW. Add a warm weekend to that and the scenery quadruples quickly.

The food hasn't been bad either..
When we stopped this evening Linda cooked us up some Fillet Mignon. We brought a few very special cuts of meat to have on special occasions and tonight was one. She added French bread (made from Hamburger buns) twice baked potatoes, stone crab claws we had from last night and some sesame seed encrusted baked tuna slabs (also leftovers from the above table) I imagine the guys in the next boats over at this anchorage had peanut butter and jelly sandwiches.. lol Ahh the life of a spoiled catamaran owner.... we are spoiled.......
SYL... Rusty
February 21, 2010
Cousin Jerry and Sea Yawl Later
Florida's Intra Coastal is beautiful!!

One among many Bascule bridges we

passed through.
| | |
| --- | --- |
| | |
| Docked in Front of Moore's Stone Crab | Moore's Stone Crab Restaurant |
Today was a nice intracoastal day.... we left Clearwater late, then stopped for gas at the municipal marina (3.00 a gallon) and still made 57 miles. Wow the ICW is a site to see from Clearwater to Tampa. Multimillion dollar houses line both banks for miles and miles.... We were able to motorsail the first half of the day.. then took all the cloth down as we headed directly into the wind to cross Tampa Bay. Bascule bridges were abundant...... we probably had 9 or 10 openings to time today. It went well though, looking at the charts I expected to struggle with so many bridges, but they time them well so you can travel 6 knots or so and catch scheduled openings without a wait. We probably didn't lose 30 minutes all day waiting on bridges. Some open on the half hour, some every 20 minutes and others at 15.. they scheduled openings line them up like dominoes...
At 4:30 (Florida time) we pulled up at Moore's Stone Crab Restaurant on the entrance to Sarasota Bay (ICW G39) check the spot tonight to find the stop. Dockage is free if you eat, so... NO problem..... the stone crab and platter we shared was awesome. I highly recommend the stop. Dockage only amounts to a place to tie up (no water or power) but it's a nice stop. If you choose to anchor out, that is available directly in front of the place in 18 feet of water.
We really enjoyed the day, Linda is becoming quite the navigator..... studying the charts and cruise guides. She already has tomorrows anchorage picked out. It's really nice to have someone doing the planning, all I have to do is ask what bridge is next and it's name so I can call to arrange the opening and steer the boat. It has taken a huge load off my ICW work. I'll give the computer to Linda so she can load some pictures.
Rusty
February 20, 2010
We are very comfortable here in Clearwater. Today I got in the dinghy and went all the way around the boat to wash off the oil and gook we picked up in the ICW and the Industrial Canal. It came off amazingly easy. In the morning we will make a quick stop at the city marina to fuel up and head out to the Gulf for a day trip south. Winds are slated to be light out of the East so a breeze will be blowing offshore, it should provide a nice day trip in the pretty green water just off shore. I'm looking at re-entering the ICW in the Venice Cut. We might finish the day with 14 miles of ICW to an anchorage we found in Skipper Bob's cruise guide. As with everything... plans may change.. but you have to have one I guess.
I'm very glad to be heading South... into the warm....... (or warmer anyway..) We have cruising friends that are in the Keys already awaiting a Gulfstream crossing weather window. They have been waiting weeks to cross... I'm only 4 days or so from the keys so we may make it there for the same crossing window they get. Hopefully they can move on before we get there, but you never know. The Garmin 478 I have shows frontal passages, pressure gradients, wave direction and height real time, so if it's right...... I'll have the information to make good decisions on the crossing. We have crossed 4 times and had some weather.. but usually we get a nice ride across. The gulfstream is only 40 to 50 miles across, so the exposure to major weather is not very long. Apparently there is quite a group that is sitting in Florida studying the very best time to go.. we will tap into that knowledge base before we go but we will make our own decisions. You can get into trouble following a crowd.
Later... Rusty
Every time we are greeted by dolphins, I feel the same sense of joy and connection.

I don't think I will ever tire of their visits!
| | | |
| --- | --- | --- |
| Approaching Clearwater, Fla | Next to their CSY 44 | Docked at Cousin Gay Nell's Clearwater |
Well, the whining is over. I have had a good night sleep in our warm, dry berth, comfortably docked at a lovely spot in Clearwater, Fla. Let me recap the last few days. The sail from Panama City was very, very rough. There was no way we could have known. The seas we encountered were not what was forecast. When we left Panama City the plan was to sail straight to Clearwater, Fla. However, the sea conditions changed our minds and we tucked into a little protected area called Cape Sand Blas and just anchored off the beach. We apparently were an anomaly because we had several cars that stopped and watched us for a long time. We left at 7:00 AM Thursday morning. We were not going to trust NOAH this time but we were going to stick our nose out of the cove and if the seas were still rough, we would stay put. The seas were significantly better so we left. The forecast was 3-4ft seas at Tarpon Springs (near where we were headed) At one point the decision had to be made to go for it or continue to bump along the coast. I agreed to go for it. It was fine but overnighters are just not fun. I have improved in that I was able to take the helm and give Rusty several one hour naps and then a two hour nap in the early morning. I was thinking this morning, I just don't do well staying up all night for anything. This body needs sleep!
Clearwater, Fla was not a planned trip. Uncle Charles contacted us about a week ago and told us about a 2nd cousin of Rusty's that lived here and offered us a place to stay. We eagerly accepted and what a treat it has been. Cousin Gay Nell has a place ON Harbor Island, a barrier island that is fabulous. It is absolutely beautiful as you can see. We are presently docked in front of her house. Gay Nell's brother, Jerry has shown us around and treated us so well we have decided to stay another night. I have been able to wash clothes and today we are just going to hang out, watch the Olympics and clean the boat. Tomorrow, we will head out early and make a day sail probably to the Sarasota area. The temperature here this morning is 54 degrees, which means it will be quite nice today when it warms up.
As we were approaching Clearwater, Fla we had a large pod of dolphins come by and visit. Dolphins are such delightful creatures. They are so curious and playful. You KNOW they are just playing with you when they swim along side or in front of your boat. If you stand on the bow they will usually swim in front and turn over so they can see you. They did that yesterday and then they would turn back over and porpoise as to say "Hi there, welcome!". I always feel God is saying "All is well".
February 19, 2010 9:13 PM
This is going to be brief. I will post pictures and more detail tomorrow. We left Cape Sand Blas around 7:00 AM Thursday morning sailing nonstop to Clearwater, Fla. We arrived at 2:00 PM today, Friday. We are exhausted. We are staying at a lovely place on the water that belongs to a cousin of Rusty's. It is a beautiful home on the water and we are docked right at their back door. Her brother, Jerry met us and gave us a most gracious welcome. I got to take a shower and use all the hot water I wanted. I felt decadent, it was wonderful. We going to bed and will decide when we get up our next stop. I have asked (begged would be more like it) to not do anymore 24 hr plus sails. They are too hard. I want to be on vacation. The last couple of days seems more like we are on a quest...lol. Good nite all.
February 17, 2010 3:10 PM
NOAH lied! The seas were predicted to be 2-4 feet and they were 3-7 ft (they seemed like 12 footers). It was not a fun day. Finally, we tucked into a little protected cove and are anchored about 200 yards off the beach. Tomorrow we will stick our heads out of the cove and if the weather is as forecast 3-4 ft seas we will continue towards Clearwater, Fla. Otherwise, we will stay put. I was not fun to be around today. Rusty was mostly at the helm because he handles the waves much better than Auto (autopilot). We had leftover lobster, crab and shrimp with salsa and chips and there is leftover Italian heating in the oven. This evening will be nice.
February 16, 2010
And we are off. We are presently sailing away from Destin and towards Panama City. This is the nicest sail I have had since this trip started. It is still very cold. When we first started I saw some snow fall. Sailing in the snow in Destin, Fla - what a hoot.
We arrived in Panama City this evening around 5:00 totally unscathed... we enjoyed our best leg yet. Today was an excellent day. This was a full sailing day in pretty water off the beaches of Florida, so today wins "best day so far" hands down. This morning when I raised the mainsail in Destin, chunks of ice that were formerly rain water in the folds of the mainsail peppered the boat and canvas... It was 30 degrees when we woke up in Destin.... amazing. We used the propane heater all day offshore so we were fine inside the salon, but your eyes watered instantly when you got in the wind outside.
The early morning had some wind in it, but not enough to keep pace with the waves so following seas caught us and pushed us along all morning. Mid morning the wind dropped off to a point that I cranked one engine to maintain 6 knots to take advantage of the waves. By noon winds had filled back in but came around straight off our stern. For those that don't know, you can make better speed with winds 20 to 30 degrees off your stern than right behind you. The sails just work better with the air flowing from the front of them to the back... We fought dead downwind trim most of the evening and ended up running wing and wing for several hours to keep our speed. It's pretty to look at, but hard to do. It takes fine sail trim and a good hand on the helm to keep both sails full and pulling.
The 3 to 5 foot waves helped us keep a good pace. Destin to Panama City was only 9 hours... we left comfortably at 8 and arrived well before dark. Good day....
As we entered Panama City Harbor there was a big red New York City Fire Department boat spraying huge geysers of water into the air to herald our arrival. I'm sure it was for us... huh? We found out at the marina, that the boat was built here in Panama City and going thru it's sea trials before delivery to the NYC fire department. I called him on channel 16 and told him thanks for our welcome.... he said come on by and he'd wash us off.... somehow I don't think hundreds of gallons of salt water would be a good thing.......
I had a fishing line out the whole way but didn't hook a fish. It wasn't a big disappointment... all I did was set it in the rod holder and watch it for 8 hours. There was not a lot of effort involved.
Panama City Marina is nice... they gave us a little welcome packet with maps, some neat stuff and a what else.. a floating keychain with Panama City Marina on it.... The marina has showers and a laundry but we probably won't imbibe.... We both like our own shower and we made water most of the way here so we have plenty. The winds tomorrow night are more than we want to see on a open sea passage so we will do 60 miles of ICW to Apalachicola tomorrow and stay at the mouth of the river tomorrow night. Thursday and Friday morning look like a good open sea window, so we will shorten our open water passage by 50 miles tomorrow. Clearwater is about 200NM from here.. tomorrow night it will only be 150.. that's a good thing. We can do 150 miles in 24 hours.
Sea Yawl Later!!
Rusty
| | | |
| --- | --- | --- |
| | | |
| Marlyn (from Scotland) and Jeannie (a friend) | Local Feathered Friends | Alfred Bonded With Rusty |
Yesterday was a relaxing day. We slept in and then did a little housekeeping. We walked the boardwalk, had dinner at a quaint Italian Rest.,Las Famiglia and just took it easy. We meet lots of people and had a few come onboard. It is fun sharing Sea Yawl Later!!
February 14. 2010
| | | |
| --- | --- | --- |
| | | |
| Sunrise on the Rigolets | "Creatcher" under full sail | Jetty East |
We are in Destin Florida!!!!! We left NOLA 4AM Saturday morning (actually Friday night...) Tom and I sailed Lake Ponchatrain, the Rigolets and out into the Gulf straight to Destin Florida nonstop..... We arrived at 9:00AM, so it was a 29 hour passage. We flew every sail on the boat and had a great time..... The Lake was very unsettled, left over waves from 30 knots winds across a 40 mile waterway. We had been tied up for a week, so the boat was in "camp mode" rather than sail trim. We had stuff sliding and being jumbled up very early in the morning. 2 liter Cokes were out on the shelf, LOTS of stuff found it's way to lower elevations...lol After we got off the Lake, waters were mostly smooth, what waves we had were less than 2 feet from our back, so they helped us rather than hurt us. We probably averaged over 6 1/2 knots.
The lake was rough, but it was only 14 miles or so. Daylight found us exiting the Lake into the "Rigolets"... we hit the outbound currents and zoomed out of Lake Pontchartrain like a rocket sled on rails. Initially the winds were so light we had to motor, but as we slipped outside the barrier islands of the Mississippi Sound we decided to hang the "Creatcher" while winds were low and see what it looked like. As the winds filled in.. that sail worked great! We used it like a reacher for while, it's tri-radial so it sets a reach well but is cut very flat in the center, so it points neatly too. I couldn't be happier with it. It gave me the miles per hour I wanted without running the engines. So we were able to sail 11 hours of the trip. At one point we had the Spinnaker up doing over 11 knots... but we had a halyard problem so we brought it down before dark and used just the main through the night. Winds held well and we made good time with 10 to 12 over the port quarter. Later winds clocked around from the South, then Southeast. Sunday we had NE to North winds and brought it home on that.
I am pretty tired, so tonight I'll sleep well. Linda and I had a great Valentines evening, so I'm fed, clean and ready to get some rest.... I believe I will turn the computer over to Linda and go rest. More on the trip later. I hear a live band on the wharf somewhere, we may have to hang out here a while. Destin is a cool place. I want to stay tomorrow for a while rather than speed off to our next destination and clean some gunkamosis off previously beautifully waxed hulls. We picked up some pure sludge along the water line while we were docked for a week in the Industrial Canal. Our slip was less than a mile from where the first levee breach occurred during hurricane Katrina that flooded New Orleans. I have some great pictures of the trip, hopefully Linda will bail me out and post some while I relax... Good days.. good friends.. and thank the good Lord Linda is back on the boat to take good care of me... Linda and I have a great relationship. I'm glad she's home... tonight was special.
Rusty
| | | |
| --- | --- | --- |
| | | |
| Locals walking the Destin boardwalk, good folks | The Valentine Feast Onboard | On our beach looking back at Sea Yawl Later!! |
As much as I enjoyed my time with my dear friends, Guiann and Michael, I am so glad to be back "home". I missed my fella! He made this Valentines so special. As I was walking up he came towards me with a cute little necklace he had gotten at Camellia Grill. It was so good to see him. Sea Yawl Later!! is parked at a great location. Apparently, the first dockage was not so great and Rusty managed to get it moved. When I got here I could tell he had been trying hard to get the boat in shape. We unloaded Tom's truck and he left right away since he had a long drive ahead of him. Rusty took a shower and then he went missing for a little while. Next thing I know he and a waiter come with this huge tray of food. He had catered a dinner and had it delivered to the boat. It was lobster, King crab, smoked grilled oysters, calamari etc. We ate onboard and it was awesome! Then he told me to get our life vests, he got the dinghy ready and he took me across the channel to a lovely deserted beach for a sunset walk. It was wonderful. What a romantic!! It is soooo good to be back on board. Tomorrow we will do some housekeeping and just play around the boardwalk. This boardwalk is new. It is near A.J.'s which is a seafood hangout I use to go to every time I came to Destin. This boardwalk reminds me of the boardwalk in Kemah. It is good to be in Florida.
February 12. 2010
It was cold this morning.... I usually have my bunk heater vent almost all the way closed to keep from getting too hot, but this morning I woke up and opened it all the way and it got comfortable, but not hot. I'm tired of rain and cold. I have been in NOLA for a week, it was nice but it's time to move on.......
My Uncle Charles emailed me with a possible stop in Clearwater Florida. Apparently I have a distant cousin with a place on the barrier islands in Clearwater with a dock and a CSY 44... For those that don't know the design, the 44' CSY monohull was purpose built to be indestructible. It was designed to begin the yacht charter business that now flourishes all over the world. This thing is massive, it proved it's design many times bouncing off reefs and all sorts of things that boat renters hit....it's able to scoff at any dangers that might befall it, a worthy ship. The keel is made of very thick fiberglass with no (weight saving) coring that new boats have and CONCRETE... I'm not kidding, the keel was made of heavy fiberglass and made hollow a foot or so thick and poured solid with concrete. This thing is a tank in sheep's clothing's. She's a classically beautiful boat. I estimate that 90% or more of the CSY 44's ever built are still in service. They are prized by their owners and still get the refits they deserve because they are such a fine boat.
Tom is on his way here, it's 4:17 PM Friday evening. I did some clean up today but little else. There is a white heron that lives behind the dock I am tied to. He sits all day long in a 4' area eating minnows all day long. It's been neat to see. I'm amazed how many minnows must be around here.... he's almost always busy.
He used to fly away when I went outside.... now he doesn't always leave... we have this trust thing going on.... I wonder if that's an indicator that I have been in one place too long? I have made friends with the local livestock.
I ate Raman Noodles straight from the pot for lunch.... I know... it's man stuff, but what are you gonna do. If God had not made women man would still be stabbing his food with sharp sticks and all cars would only have one seat and a jet engine..... without women, man would only lose one of his many vices. God did good...lol
60's music is on radio, I'm playing a CD. You know.... everybody says the music of the 50's was awesome.... what I know as 50's music like "Duke of Earl" "Sherri Baby" "Palisades Park" "What's Your Name" "Locomotion" "Up on the Roof" was made in the very early 60's. The beginning of that decade made some great music and some of the worlds ugliest cars..... think about it, remember the '59 to 61 Chevys? Ugliest ever made.. and what about a 60 Dodge truck.... lol. I can't believe people bought those things.... I believe the world needed the Marijuana of the 70's to expand their minds enough to make great cars again. The classics like the... '68 Camaro, '69 Chevelle, '69 Roadrunner, and oh man the '68 GTO huh? The only awesome cars of the early 60's are the Caddy Convertibles.... I'd love to have one of those land yachts.... pearl white....
I'm looking forward to seeing Tom again. He's a great guy. We work very well together and I'm looking forward to skimming the Destin Beach Sunday morning with Tom on board. We might get some Spinnaker time Sunday noonish if the forecast is right and the low winds aren't gusty.... I hope the sun is out when we glide over the white beaches between Pensacola and Panama City. I have done part of that run with great weather and it's one to mark down in your book as a keeper.
Shane has become a good friend. He's from Colorado, staying in NOLA for Mardi Gras, then moving East to Key West and beyond later this year. We will no doubt stay in touch. He is doing a web site SVGuidinglight.com. I will send him an email with some of my favorite haunts in the Keys to check out.
This 5MileWiFi is doing a pretty good job. I hooked it up while I was here. It's a WiFi booster that helps you pick up a hot spot further away that you could normally to surf the net. Shane gets one site with low bars without a booster, I get 5 to 7 sites with full bars on the closest one. Shane is looking for a cruise buddette (or buddy). He's a great guy and has an awesome boat with tons of room. His best friend can't take the time right now to cruise, so he's looking. If you know a 25 to 45 year old (he could go on either side of this range for the right person) sailor wannabe that you'd recommend put the info in our guestbook ..lol I'd like to help him get some crew. It's sometimes hard to dock and handle a 41 foot 23' wide boat by yourself. (No sponges or derelicts need apply) Shane is a good Christian guy willing to share his cruising experience with the right person. Shane intends to start his own Sailing School. He previously taught sailing for someone else at a large facility but is starting his own business this summer.
well, it's time to check the latest forecast.... life is ruled by weather these days ..lol
The forecast is getting better and better, in fact we might be looking for wind instead of hiding from it.... yea! It's 8:45PM Friday, Tom should be here any minute, I will be glad to see him. His bed is ready and I'm setting on go to leave at 4AM in the morning. I talked to the bridge tender this evening to make sure I can get out early... he said no problem. We have two more bridges that come up mid morning then it's blue water and beaches for 2 days...... when you get East of the Mississippi the water gets pretty and clean. Even before we get to Florida the waters will be a beautiful green right on the beach. The Mississippi brings tons of mud per hour down from the North and dumps it in the Gulf of Mexico. The currents take it West.. to Texas. That's why the Gulf is yucky where we live.....
The weather for the first of next week is looking favorable for a run to Clearwater and beyond. It's 130 nautical miles on to Clearwater from Panama City. At 6 knots that's 21 hours and the forecast looks good thru Tuesday... so.. we will see how worn out I am after two overnighters... we want to take advantage of good weather.. but too much of anything gets old. I like marshmallows, but if I ate them every day I'd get sick of them. Around the clock sailing can get that way. I enjoy a good circus too... but after a while you just want to go home... I may get all the long distance sailing I want for a few days this weekend going to Panama City.
Tom was stopping in Scott Louisiana for some Boudain. For those of you who don't know.. "buhdahh" is like Coonass dirty rice stuffed in a sausage skin. It's awesome. Dirty rice (for the Yankees that might be reading this) is rice and meat cooked together, often with chicken livers and other tasty stuff. Of course it has plenty of great spices in it.... I like to chill Boudain in t6he fridge and cut it in 1" sections then grill it... ohhhh yeah... Then you dip it in mustard or BBQ sauce and go to town... Tom is the best source for great restaurant and food sources I know of.... I can imagine he has found the best place on earth to buy boudain.
I found a possible reason the heater wasn't as warm as it could be.... The sea water strainer had some weeds in it so the water flow might have been a bit low. It was putting out but not at it's best...
Tom is here...... 9:34.
Sea Yawl Later !! Rusty
February 11. 2010
Happy birthday Russ...
My oldest son Russ has a birthday today.... Happy birthday son. I hope this day is special and the best one you had this year.
OK, here's the latest and greatest plan....... My friend Tom is driving to New Orleans tomorrow night (Friday) to get some boat time. He (as we have) been wanting him to come make a leg or two with us but it just never worked out. This time we are just going to make it work.. period. Linda is taking his car and will visit her friend in Mandeville while Tom and I make some boat miles.................................... Saturday and Sunday 24 hours a day weather permitting. The weather looks great for some handsome progress, just what we have been waiting for. Linda hated leaving the boat, but it was truly the best way to get Tom back to his car. She will leave Sunday from Mandeville and drive Tom's vehicle to our port of call, which will either be Pensacola or Panama City, depending on progress. Tom will stay Sunday night and leave Monday morning fresh for the 10 hour drive back to Baytown (Houston area) and Linda will be back with me. We will be in FLORIDA by the end of the weekend!!!! yeah... finally!
I don't know about this man food era we are about to embark on the next 2 days.... without Linda we may not make it.... I guess I can learn to warm up a can of soup... but it won't be the same. She made key lime bars last night.... selection and quality of food will be severely limited with just 2 guys on the boat....
From Panama City we get to head SOUTH!!!!! to warmer climates.... As I sit here and type it is sleeting outside....... did I tell you yet that I'm tired of cold weather.
We have been gone what... 13 days? Weather has held us back many of those days. We did 40 hours straight to Intracoastal City, then 2 day trips to anchorages in the ICW, then one extra day layover in Houma at the city docks, we got here Friday night the 5th, and we will have burned one full week here before we leave very early Saturday morning. So of the 13 days since we left, we have spent 8 tied up waiting on weather. If we get this window we expect... we can get back lots of our down time. I wanted to make the Keys in 2 1/2 weeks. That won't happen, but that's OK... we are Cruizin'.
I have thoroughly enjoyed the people and places we have seen. The back to back overnighters will certainly quench my thirst for mileage.... Thank You Linda for making that possible by offering to drive instead of be on the boat. I don't like it when your not with me.
Last nights movie was Mathew McConehay's "Ghost of Girlfriends Past".
February 10. 2010
Today we had a 75 nautical mile run scheduled, but couldn't leave early enough to do it. We are waiting on a longer weather window... so we're still here at Seabrook Marina in New Orleans. We could leave when the bridge opened because there are good anchorages in our path, but tonight we would be on the hook when the next rain event happens (that may include snow) On the upside it looks like the weekend might bring an excellent 48 hour + sailing window. If we could have gotten off at daylight this morning we could have made Biloxi and the casinos, but the bridges we are docked between don't open until after 8AM (we found out Tuesday night) the guide books say they close between 6:45 and 8:00AM, in actuality the bridges are not occupied until 8:00AM.
On a sailboat plans change, this is just one of may adjustments that will occur in the next few months. I wanted to do some outside work on the boat today but it's just too cold. Linda is making 15 bean soup and cornbread, that sounds like a good cold weather meal. It will be a lazy day...
The parade was crazy last night.... exciting, eventful, long... are all good descriptors. All things being equal, I'd have been just as happy watching it on TV but on the other hand how many times do you get to do something like that. We are not really "party people" so it held less of a draw for us than some, but it was fun and I'm glad we went.
We are talking about doing a passage direct to Panama City Beach. It's a 35 hour run from here, but with the short weather patterns we have seen, if we get a nice long window we might do a couple overnights (if they are comfortable) to make up a few days.
I think I'll go piddle on the boat some.
Here's a picture of my old block (jerry rigged) and the new main sheet block.
I did some minor boat work today, nothing to write home about.. but I was productive enough to feel good about the day. Mostly I laid around and stayed warm. Tonight Linda and I will step next door to Shane's Lagoon 410 for movie night. Shane has been a good friend and fun guy to hang out with. We traded boat tips and both came out the winner... cruisers do that. Shane ate with us, the cornbread and bean soup was awesome (as I expected). We watched classic movies last time, we may choose a good chick flick tonight. All 3 of us are romantics....
Tom and Cindy may be coming Friday night or Saturday! I'd love for Tom to get a leg or two with me before I get too far away. Linda and Cindy are dangerous together though... outlet malls look out... I have a limit set, if it weighs over 12 oz. it doesn't come aboard...lol. We are so heavy now it's silly. Actually though, I can motor in clam water at 8 miles per hour even with this load. I believe my motors have broken in and doing a better job. Initially we were getting 7.25 on flat water, but now the carbs and fuel tanks are pristine and we have a few hours on the engines so we are seeing better speeds.
Here is a cool picture of my GPS while we were in the Intracoastal.... notice the speed in the upper right corner. This was taken a while before we passed the French Quarter zooming down river. If I can do 8 MPH on the motors, that works out to be a 4.1 MPH current. Fairly substantial wouldn't you say?

I love my Garmin. I keep it zoomed in close and the chart plotter wide angle so I can see my position in the channel well on the Garmin and the next bend or two on the plotter. The 478 also has XM weather that gives me wave height, wave direction, wave period, frontal passage maps for the next 48 hours, wind direction and speed, water temps, marine warning areas, lightning, thunderstorms, Live Nexrad Radar, cloud cover mosaic, and some other stuff.... it's an awesome tool. I'm listening to XM music on it right now. The monthly fees aren't cheap, but it is very much worth it for all the data you get. When we go to town, it does turn by turn directions in Automotive mode too. I am totally impressed with it. The interface is sweet and so easy to use.
Linda has some key lime bars in the oven for movie night. We are due at Shane's in an hour.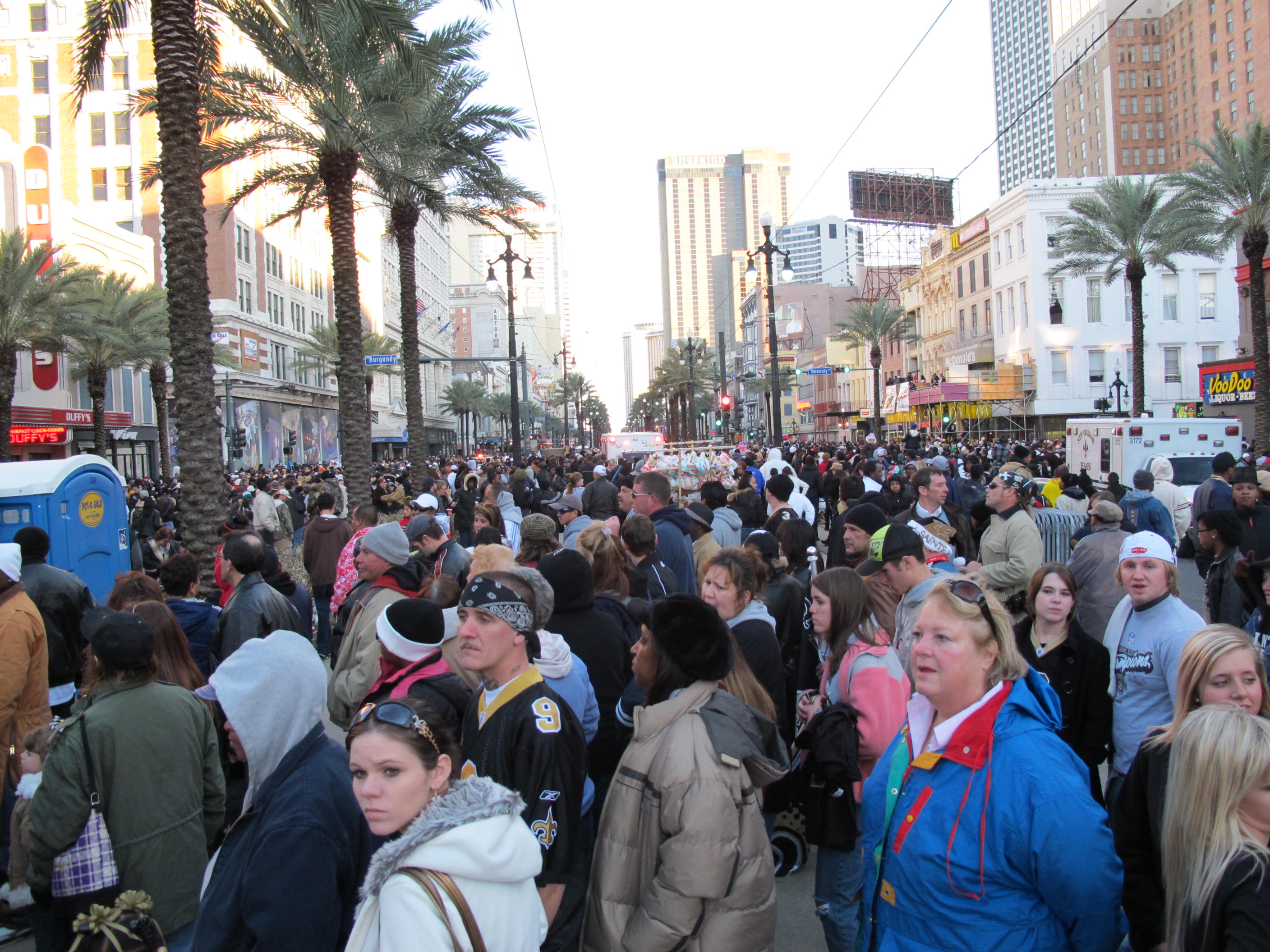 The parade was big, I wonder how many people came.. here's an early crowd shot before everybody got there (2 hours before the parade)
Sea Yawl Later !! Rusty
February 10. 2010
We went to the parade for the New Orleans Saint's Superbowl victory. We stood for several hours waiting for the floats which were spectacular. Our legs were numb by the time we left which was before the parade was over but 4 hours of standing was enough and we were parked about 3/4 of a mile away. The people were awesome. We didn't see any bad behavior or drunkenness. I am glad I went but I wouldn't not do it again. Too cold for too long standing in one place. Geaux Saints!!
Who Dat!

We were on Canal Street and University waiting for the Parade celebrating the Saint's Superbowl victory!
February 9. 2010 11:30 AM
I was just reading about the history of the King Kake. I have been around Mardi Gras since I moved to Beaumont and I knew a little about the King Kake but I thought we might like to know the history. The Epiphany, or the "Twelfth Night," is the European celebration of the Wisemen to the Christ child. It's celebrated by the giving of gifts and feasting. In honor of the occasion a special cake was baked and called ...A King's Cake. A small bean was hidden inside the cake and the person finding the bean had to portray one of the Kings. This European tradition was brought to America by the French and Spanish that settled the new world.
In Latin America the bean was replaced by a small toy baby representing the Christ child. The lucky person finding the baby received a year of good fortune. This tradition continued to grow as it moved to the new territory of Louisiana. New Orleanians perpetuated the celebration ( no big surprise) by having the person who received the baby continue the festivities by having the next party and another "King Cake".
Starting the twelfth day after Christmas, King Cake parties continue until the first day of Lent, ending on Fat Tuesday or Mardi Gras.
February 9, 2010
This morning we are headed to Home Depot for some electrical power strips and new locks for the companionways. The little locks I have are all but useless.
I traded Shane some new 6" speakers I didn't need for his Skipper Bob Gulf Coast cruise guide. He's ordered another and will be here in the marina all month, so the new book will arrive before he leaves. Linda made pigs in a blanket this morning.... good stuff. We are looking forward to the parade today.
The weather is blustery here in New Orleans. It's probably blowing 30 to 35 and rained last night. Tomorrow is supposed to be a good sailing day, we will strike out early for Cat Island some 55 miles away.
The boat is doing well, There have been issues to handle but I have stayed up with them and might even be gaining on it. I had a water incursion issue ever since we got to New Orleans in the port hull that had me scratching my head for a while, but I figured it out. It was weird because it didn't happen when it rained and the boat is solid as a rock so I couldn't fathom water coming in thru the hulls. We kept getting water in the bilge under the floorboard. To find it, I dried the bilge with a towel at a point just aft of midship where the access port to the bilge is located and waited to see which side the water built up from (fore or aft) it was aft. The SW 1000 has a history of rudder seal seepage, so I opened the rear compartment and there it was.... The heavy seas we beat into from Galveston to Intracoastal City captured a large amount of water in the aft compartment thru the rudder seal that was slowly filtering it's way into the main bilge. I pumped everything out yesterday and this morning we had barely a dribble in the bilge. I'll put electric pumps on each side in the aft compartments until I can get new seals. I need them anyway, we will see if Home Depot has a marine department.
Head Lube.... I discovered a new product that really helped our toilet! The hand pump that clears the bowl has rubber seals and o rings that were squeaky and draggy to operate, now they work like silk. The marina had a bottle of Head Lube on the shelf and I put some in yesterday. It has to be better for the pump to work so freely too.
The forecast in Mobile Bay for Friday says snow is likely in the morning.... lol. What a trip. I guess instead of a Dauphin Island anchorage, we might make for one of the big casino docks on Mobile Thursday night. We had a nice clear day yesterday, but knew it would get windy today and worse tonight so we stayed put.
Off to Home Depot... We'll post after the parade tonight.
SYL..... Rusty
February 8, 2010
Great evening....... Linda and I stepped next door to Shane's boat and watched a movie. He has a great library of movies and a wonderful place to lounge for the evening. His Lagoon 410 is very roomy and a comfortable place to be. We watched "The Glen Miller Story". Tomorrow the three of us will meet Michael and Guiann at her son's office building on St. Charles Blvd. to watch the Saints homecoming parade..... What a wonderful time to be in New Orleans.. The Carpenters sent us home with one of their cars last night so Linda did some shopping today. I am having a new triple block over-nighted tomorrow to the marina, the swivel on my main sheet block broke mid week, I was able to temporize (jerry rig) the old one but the arrival of the new part will put us back at 100% ready for anything.
There is a weather front passing tomorrow night, Wednesday morning we will strike out for Cat Island, a 50+ mile jaunt taking us through the Rigolets into the Mississippi Sound. If conditions are better than we expect we may continue on.. but our intended stops are Cat Island, then Dauphin Island, then Pensacola Beach, then Panama City Beach. If we get some better than expected weather we might do an overnight or two and catch up on our lazy schedule, but only if it's something we want to do.
I am full of fuel, the bilges are dry and we are setting on go... When it's fun to travel.. we will. Meanwhile, Shane and our local friends have been a joy for Linda and me here in the Big Easy........ The Saints parade tomorrow is going to be something to behold!!!!! Emotions and pride are running at an all time high on the right side of Louisiana. It's great being here to witness the moment in time.
Shane has been present in the city of every Superbowl winner for the last 4 years.... Guiann and Michael are paying his way back to New Orleans next year to watch the Superbowl... You just can't ignore a streak like that.... Night all..
Sea Yawl Later!! Rusty
February 7, 2010 (Super bowl Sunday)
Michael and Guiann picked us up at Seabrook Marina in New Orleans and took us to their house in Mandeville across Lake Ponchatrain. The night before he had put several big racks of pork ribs on the smoker... We ate like kings and retired to the media room for the big game. Both Guiann and Michael are amazing cooks (being from NO what would you expect..) Check out this kitchen.. 4 ovens... it's a cooks dream.

Before the game and at half time we played Nintendo Wii and had a blast. The football game was great. Most of us saw the game... Guiann couldn't stand to watch she wanted to win so bad, so she did her part in prayer..... Unless you are from New Orleans it would be hard to grasp the importance of a Saints Victory..... The Saints have played 44 years and never made it to the super bowl, much less won it. If your an NFL fan, you know the Saints consistently sold out season tickets even when they were losing.... fans came with paper bags over their heads calling themselves the aints.... but they were with their team thru thick and thin.. and brother it's thick around here right now... For the Saints fans this was an amazing thing to have happen to their city. Go in any business today and smile... everybody is high fiving and the universal warmth that New Orleans people purvey is as thick as I have ever seen it. New Orleans had officially risen like the Phoenix from the ashes of Katrina. During the storm and right after, this was a grim place..... The heritage and sweetness of heart Cajuns possess brought this city to it's feet.
Shane and Michael in an intense Wii sword fight.
Michael demonstrating his windmill technique that "Never fails him"

The spectacle of the sport... the awe of victory and agony of defeat!!
Left: The Tree of the Seven Sisters, in Mandeville, LA. It was initially thought to be seven separate Live Oaks. It has been determined it is one 1,000 year old Live Oak. How would you like that in your yard?

Right: King Kake- Celebrating the New Orleans Saints being in the Super Bowl. It is normally gold and purple Mardi Gras colors. This was the best King Kake I have ever had. Michael found the baby...So Michael we will see you next year!!!

TREE OF THE SEVEN SISTERS- 1.000 YR OLD LIVE OAK

KING KAKE -GEAUX SAINTS HOUSE SPECIAL
February 6, 2010
| | |
| --- | --- |
| | We had such a nice time with Michael and Guiann. Guiann and I have been friends since the 1970's. Michael and Guiann live in Mandeville, LA. On one of our Florida trips we broke down near New Orleans and Michael drove us all to his house and then took Rusty to meet Pappy on I10. While we were gone they saw that our transmission was fixed. That is just the kind of people they are. This time they picked us up, took us to West Marine and then treated us to the best food we have had in a while. Though we don't see them often they are dear friends. I hope they will be able to fly down to the Bahamas. It was a great day! |
February 5, 2010 8:37 PM
Most of the Bridges were within a 5 mile area. One bridge took 30 minutes to answer us. I guess she was taking a nap. I have not been impressed with New Orleans bridge systems.
| | | |
| --- | --- | --- |
| | We called up the Hwy 90 bridge and she answered amazingly quick.... she said "The bridge is broken" and she would have to call an electrician to come open it, but it would only be 30 minutes or so before she could raise it. Now think about this.. this is Saturday night before Super bowl Sunday in New Orleans, which is a week before Mardi Gras.... I wonder how successful she will be getting an electrician out at 8:00PM at night. We dropped anchor and Linda made us some tomato soup... but to our amazement the bridge lifted about 30 minutes later....what a gal. | |
| WE ARE ALMOST THERE | | MAXWELL & SEABROOK DOCKAGE |
| | | |
| ANOTHER BRIDGE | AND ANOTHER BRIDGE | YET ANOTHER |
| | | |
| --- | --- | --- |
| | RAFTED UP WITH "GUIDING LIGHT" | |
| | | |
| ENTERING FIRST LOCK | LOOKING AT THE BACK OF LOCK | THE MIGHTY MISSISSIPPI - WE WERE GOING OVER 12mph AT 1/2 SPEED |
We are HERE!!! Wow, what a day!. The last 5 miles took longer than the other 60 miles we traveled today but it was kind of fun. I went through my first lock. When we reached the first lock we had to wait about 2 hours to let other traffic go through. I could hear them giving instructions, " crew needs to be on the bow with life jackets on and be prepared to grab a line and to throw another line up, etc" and I thought OH NO-- I was major scared because I was THE crew...the only crew. Rusty had to steer the boat. So I worried for 2 hours while we were waiting for our turn. It turned out to be fun!!
| | |
| --- | --- |
| | |
| | When you enter the lock there is a handler way up this cement wall. He throws you a rather short rope and you are to tie your long rope on the it. He then pulls that up and secures the rope. On this particular lock there are valves under the surface that lets water in and some as you can see from the picture gushes in the far right. They added 11 feet of water before they opened the locks to let us pass. Our boat and the "Guiding Light" are somewhat of a curiosity on the ICW and we frequently get people over asking questions. They asked where we are headed and when we say the Bahamas you get a moment of stunned silence. It makes me feel kind of bad for a moment because I know these hard working fellas will never have this opportunity...I have learned to get over it. |
February 5, 2010
We now have a link to SPOT at the bottom of the web site so you can track our progress if you want to. Check it out and see if it works
Thank You Stuart for your Help! Congrats on your news about your job!!
| | | |
| --- | --- | --- |
| | | |
| "Guiding Light" Leading the way! | Hi back, Joel!! You think it is cold? | Playing with the Big Boys |
| | |
| --- | --- |
| | |
| We are on our way to the "Big Easy". This is a close-up of what we will be seeing most of today. | The "Guiding Light" on point. |
February 4, 2010
| | |
| --- | --- |
| Rusty worked on the problem motor most of the day and it now purrs like a kitten. It will be nice to have two dependable motors. I cleaned, organized and cooked. We had a fun surprise. We participate in a cruising forum and I posted today that we were in Houma, LA and if anyone was in the area to drop by. The nicest gentleman came by, J Knight, and wanted to take us to dinner and offered to take us anywhere we needed. We had just eaten so we visited on the boat. He was very knowledgeable of this area and helped Rusty pick out some dockages in the future. He and his wife are big sailors and have been to so many places we still have to visit. It was so fun! We love visitors. What a nice guy!! We are going to do our best to see him on our return trip. | |
| | |
| --- | --- |
| | Shane, Joel and Rusty. Shane is the Captain of the "Guiding Light" and Joel is his "systems guy". We all were having dinner at the "Pit Stop" in Houma, LA. |
February 3, 2010
We slept in a little longer than planned. When we woke up everyone had left. "Was it something that we said?" LOL No, that was the plan. They had not been gone long. Rusty and I learned early in our relationship that we were both elephants. Herd animals. We like to be part of a herd. We also like alone time. I like to think we are a nice balance. We don't like an overload of either. We soon passed "We Don't Know" and "Valkyrie" ( not because we are so much faster but because we were in a bigger hurry). We knew we were going to try to make it to Houma, LA as was "Guiding Light". We quickly caught up to "Guiding Light" and followed her until we reach the Atchafalaya River. We decided to take a longer but quicker route that "Valkyrie" suggested because at the time we were fighting the current. This route went with a strong current and it would also avoid the locks. "Guiding Light" stayed with their plan. The canal was quite pleasant with little traffic. However, when Rusty stopped the motors to clear plant life, one motor would not start. I mean not crank, dead. He spent and hour searching for the problem while I steered us in this narrow canal. I am gaining confidence in my seamanship. Very, very basic but at least I am willing to try, where as before it was No, No. The motor problem turned out to be a fuse that appeared fine. Rusty said he had put the fuse back in because it looked fine and then thought, "No, I'll test it anyway". WAH LA – mystery solved.
As it turned out the current was not enough advantage to make up for the additional 11 miles. "We Don't Know" and "Valkyrie" took the same route but stopped for the night as was their plan before they entered the ICW again
We continued and got to Houma, LA where "Guiding Light" was waiting for a draw bridge to open at 6:00 PM. We rafted up to them while we waited and then they led the way to the public docks which for $25.00 you have water, electricity and a nice dockage.
We all took our showers and then went to dinner at a little café the Harbor Master recommend called the "Pit Stop". It was within walking distance. The food was good. The plan was to go to the museum to listen to Cajun Music but we opted out. Turns out we all headed back to our boats. We were tired. The plan is to stay tomorrow. The weather is suppose to be really bad. We will just stay warm in our little boat and do some housekeeping.
Sea Yawl Later!!
Linda
| | | |
| --- | --- | --- |
| | | |
| Leaving Kemah | Docked at Shell Morgan, Abbeville, La | Cable Ferry GIWW |
February 2, 2010
This is the first time since we have had internet service since we passed through the Galveston Jetties. Where do I start? Rusty did not have to talked me into leaving Kemah, what he did have to talk me into was to do an overnight passage rather than stopping in Port Arthur. I guess it is a guy thing but I knew he really needed to get some water under his keel to feel his trip had started, so I agreed. We actually sailed without motors from Kemah to the Galveston Jetties. From that point on the motors were being used. The seas were suppose to be 1-2 ft but we found ourselves beating into 3-5 ft seas. Not fun. It was like being on a roller coaster ride for 40 hours. I couldn't sleep because it was so rough I would get sea sick when I tried. I never got sick but I had to really keep a focus on some object ( usually a drilling rig). I tried to give Rusty some breaks to sleep but every time I did some problem arose that required me waking him up. The first time he was asleep for about 45 minutes and one of the motors quit. It turned out the filter was full of junk. We had purchased extra fuel filters in Georgia but apparently they were used on the trip over to Kemah by Capt. Bill. Rusty had to spend two hours on his knees in 4 ft seas recycling the existing filter and cleaning the carburetor. The second time he slept for 30 minutes and the sea were so rough it broke the triple block and tackle to the main sail. The third time the motor stopped again. It was after this third problem that the decision was made to head for the Intracoastal but that was at least 10 hours away. Finally, 40+ hours later we were at Shell Morgan Texaco. Rusty had to work on the heater but finally we had a hot shower, some sausage on a bun and went to bed. Twelve hours later we woke up. The only time I remember sleeping that long was when I was sick. I started cleaning things up, Rusty went to the hardware store and to the grocery. The little grocery sold plate lunches and he brought back the best shoulder steak etc. This was rough-neck food, good and plenty of it. Rusty loved it so much he took a picture. We had gassed up the night before so around noon we started down the GIWW. It was really quite fun. Neither of us were excited about going down the GIWW but it turned out to be a pleasant surprise. It does not compare to good sailing but good sailing is not an option at the moment. We saw a cable ferry which I had never seen before. Rusty had actually gone on it years ago. We talked with the Coast Guard ship that passed us and questioned them about good anchorage. They couldn't tell us but a nice couple who were listening told us about a spot they were anchored in about 4 hours away. We made it there and met Rick and Cathy of the S/V "Valkyrie" and their friend Sterlingof the S/V "We Don't Know". They were so gracious. We stayed rafted up to them while we visited and Cathy fixed us some awesome gumbo. I have to get that recipe! They are on their way to Florida to help a friend with a boat. They have sailed extensively in the Carribean but they were from New Iberia and were very familiar with this area. As night fell we motored a safe distance and anchored. Right about dark we saw a Lagoon 410 coming in. Rusty said hello and a while later Shane of the S/V "Guiding Light" came onboard bringing to die for chocolate chip cookies. He and his friend Joel are on their way to New Orleans and then parts unknown. We really enjoyed our visit. This is what attracted Rusty and I to cruising. The people are so kind, generous and full of interesting stories. We are soooooo excited.
Oh, I almost forgot. Something really neat happened when we were leaving the Jetties. We had a large dolphin and a junior accompany us out of the Jetties and stay with us for well over thirty minutes. Some say this is a good omen and I remember reading about this happening to a couple "Bumfuzzle" that we have followed for several years. I really felt God was sending me a message that He was right there with us and not to worry.
We are leaving in the morning and will be going about 70 miles to another anchorage that Shane told us about. We will stay in the GIWW until the sailing weather is favorable and that seems to be passed this weekend.
Sea Yawl Later
Linda
February 1, 2010
A truth... I have discovered... after 40 hours of straight open gulf sailing INTO waves and wind... a long hot shower, a cool drink and warm dinner pretty much fixes everything...... well, not everything.. but your attitude for sure. More later on the "things to fix". Linda and I left Waterford Harbor very early Sunday morning and landed before dark from a 40 hour nonstop run. We are tied up in Abbeville Louisiana at Shell Morgan's Landing ICW mile marker 160 West. For those not familiar with the great state of Louisiana, that's close to Lafayette but even more south.
We left knowing this leg would be something to endure rather than enjoy, and it was. My target was a full 2 1/2 day run nonstop to Venice Louisiana. I talked Linda into leaving with less than optimal weather, but the best we would get for more than a week. Winds would be North to Northwest, starting out pretty full, then dwindling as we progress to allow 1 to 2' seas, albeit against our direction of travel.