December 31, 2010 HAPPY NEW YEAR!!!
WoooooHooo!!! We are finally in shorts and T shirt weather. We are going through Venice, Fla as I am writing this and the day is absolutely gorgeous. Oh BTW, yesterday our intention was to go on the outside (a Gulf sail). We got the the ICW intersection and found the winds more South than expected so we decided to take the ICW. I love this part of the ICW anyway. The homes and the landscape is really beautiful. It has been a great couple of days. No sailing but very, very pleasant.
Rusty here: 5:30.... we are in a picturesque little anchorage here in Cape Haze Florida. We stayed here last year too. Fort Myers is 40 miles away. Tomorrow early afternoon we will take a ball behind Estero Island (Ft. Myers Beach) and begin our provisioning and do laundry. Our initial plan was to rent a car to get it all done.. but the car rental place is closed tomorrow... bummer. |||Enter a new cruising buddy to the rescue||| The anchorage had an Island Packet in it... for those of you that don't know an IP is like saying Lincoln Continental of sailboats. If you don't automatically know what somebody means when they say the have an "IP" your just not a serious sailor. Anyway... Jim and Maggie on "Pheonix" are from Punta Gorda... they told us how to dinghy within two blocks of a supermarket, and that the hotel that collects money for the mooring balls has a laundry you can use as part of the docking package. problem solved.....
Today was a relaxing cruise... I highly recommend running the ICW from Clearwater to Fort Myers. Napes and Marco Island are also nice places to visit as you go South from Ft. Myers. Tons of places to stop, fuel up and beautiful homes lining the channel.
Tonight is new years..... I don't expect many fireworks around here... Lots of nice homes but not a "hub" of tourist activity. Man I used to think about owning one of the big ole houses with a dock..... but when I think about what it takes to keep up a place like that I remember....... been there done that and I'm quickly over it. Berry Road wasn't on the water... but that would have only added to the maintenance nightmare. I REALLY like being light in the land department.
Linda made some awesome salmon croquettes tonight..... dinner is over and it's 6:21, movie night. Linda's cleaning up so I better drop the movie screen and get things ready.
The weather was shirt sleeve nice today....... Ahhhhh.. Southern Florida... finally.
| | |
| --- | --- |
| | We had a great day yesterday. We left Tarpon Springs around 8:30 am. This part of the ICW is beautiful. Around Clearwater we started sailing with a Fountaine Pajot Athena 38, Dan and Barb. We went through several bridges together then they showed us a short cut to Longboat Key which saved us about an hour. They are Florida natives and very experience sailors. A lovely couple that ended up having dinner with us at Moore's Stone Crab Restaurant. The docking is free, so we both spent the night at Longboat Key. They were on their way to Sarasota. I just love cruisers. They are the nicest, friendliest, most unselfish group of people you would ever want to meet. |
December 30, 2010 ALERT! ALERT! PIRATES!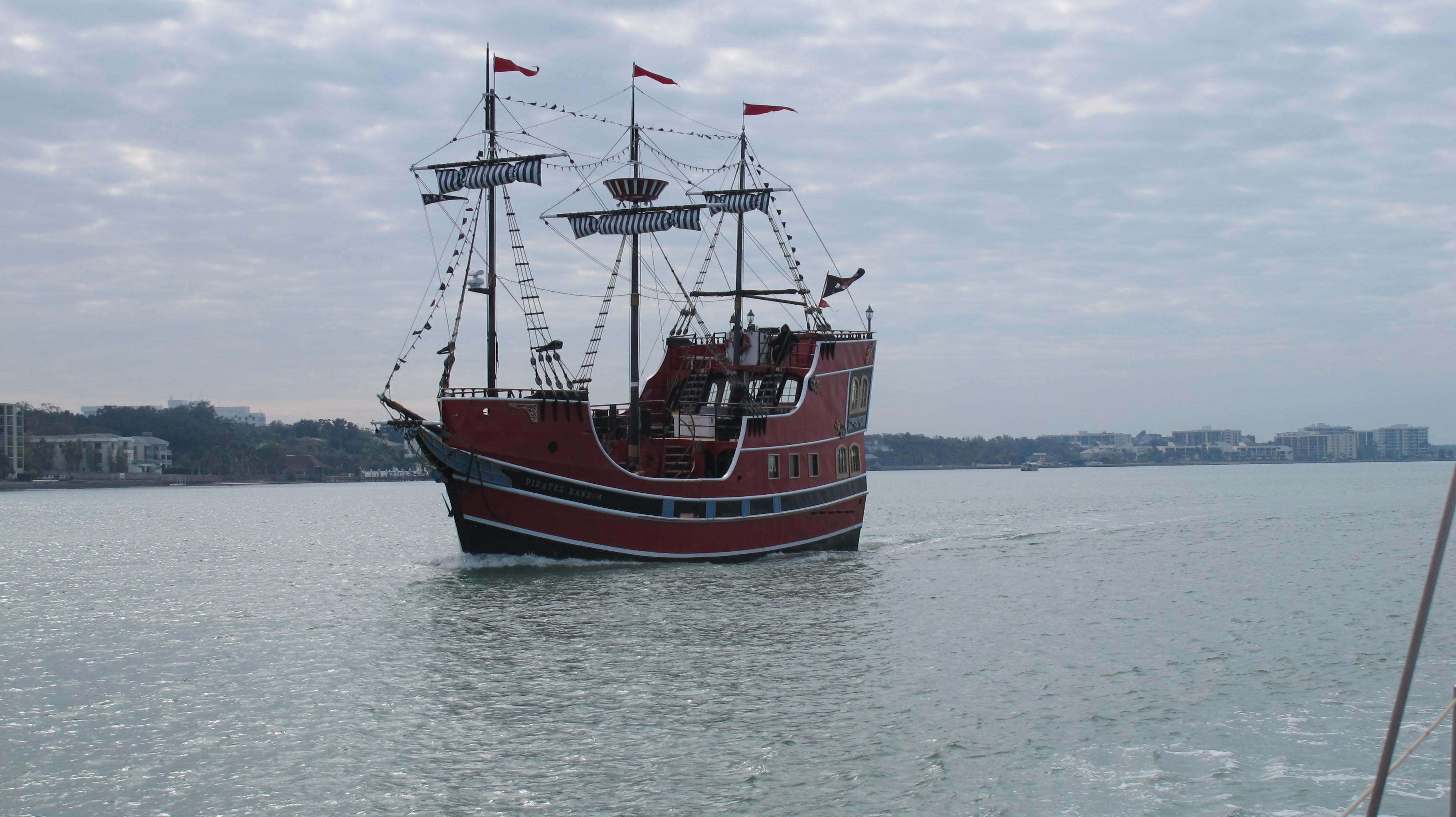 You know those pirates everyone has been so worried about? We found them! they are in Clearwater Florida!!!! send the Marines!!!!
December 29, 2010
Tarpon Springs: so far I love it. We anchored out in the open just before the Anclote River entrance. It was dead calm and we never stretched our anchor line. Arriving 7ish we had time to relax and wind down after the passage before we slept. We were more relaxed and fresh after this long passage than any we have done. I believe the trick was when we spelled each other off. Usually I stay up as long as I can then get a little sleep and go again. This time conditions allowed Linda to take over with ease pretty much anytime during the night so I started the trip well rested and got some nice sleep during it.. so it was a nice one.
About 8 this morning I got up to make the pleasant, calm and picturesque trip up the river.... there are nice homes, pretty trees and vegetation along the shore.. a really neat place. Linda called a marina and found our best option to be close to the action of town and the "Sponge Docks" our alongside is nice on one end of the touristy working sponge docks of Tarpon Springs. Many shops and restaurants line the street famous for it's Greek food and influences. The tourist map I was given at the dock says the first inhabitant other than native Indians arrived in 1896. The Greek found sponge diving to be prosperous and word got back to Greece... so even today immigration from Greece is common.
Had a very nice lunch at Hella's. It was a busy place, they have a bakery attached.

This waiter is as Greek as they come huh?
The shops and boutiques on the "Sponge Docks" are reasonably priced. We bought two genuine Tarpon Spring sponges, one is heavy duty for washing the other is a decorative vase sponge. The vase will be perfect on the boat because it won't scratch the surface, it's natural and it's light weight. It will be a nice addition to any nautical motif.

We got the obligatory hat and tee shirts.. so we can now say.... "been there.. done that.....bought the tee shirt" Movin' on tomorrow...
Linda here....We went to dinner at Mykonos who advertised as the most authentic Greek cookery here. There was a line and we almost left but was encouraged by other waiting patrons that it was worth the wait....why Rachael Ray has eaten there. We stayed and enjoyed the conversation with the other guests. The food was good but as with Hella's it was not a wow, at least not for me. Of course we all know that not many restaurants get the WOW from me. Tarpon Springs is a great stop and well worth the effort and the day spent. We have decided to move on tomorrow. We will go outside in the Gulf to Longboat Key. We will stay at Moore's Stone Crab Restaurant, they provide free dockage if you eat there. The trip is about 60 miles and we have to fill up with gas in the morning, so we need to start early.
SYL !! Rusty and Linda
December 28, 2010 Happy Birthday NA!
This a continuation of the Destin to Tarpon Springs passage from the 27th (below)
6AM, 92.6 to go. Sailing into dawn and the welcome warming sun.
7AM, 85.2 miles, heater is off / making water and charging the batts. Half way across the open water part of the passage. Honda EU2000 for sale to the first buyer with 1.2 million bucks cash....... lol. That's one fine tool.
I just went outside to see if I could optimize sail and there is NO wind out there folks, just the leftover waves from last nights wind. I rolled the jib up and sheeted the main as tight as I could for a stabilizer. This might be all we get today too.
8AM, 84.4 miles, progress has slowed to just under 7. I adjusted the entry point to Tarpon Springs several miles further in than where it was so the delta from the 8 o'clock mileage to the 9 is skewed. I found the entry buoy on the plotter this morning and adjusted the waypoint to a more exact spot rather than just "190 miles over there". It's looking like we will arrive well after dark but not after bed time. The chart shows a small anchorage just inside the river that looks perfect for a night hook.... If it's not full (because it only holds a few boats) we will rest there tonight. If it's full we will go on up the river to town before we lay down. I am guessing we'll be in bed before 10:00, not bad. If I'm entering the Anclote River by 8:30 I'll have made it from Destin to Tarpon Springs in 37 hours... that's good in any sailboat's book.
Waves travel fast..... I wonder if they go the speed of the wind that made them. The trailing seas I'm in right now has a wave running under me at almost twice my speed. I suspect they do travel slightly slower than the parent wind.... I will have to look that up.
9AM, 77.4 miles to go. We got a little wind, but nothing to brag about.... I did unfurl the jib again for a plus in speed and reset the main for power instead of pleasure. I'm going below for a nap.
11AM, 63.3 miles to go. I just got up from a good nap down below. I got up because I smelled food. Linda heated up some leftovers. The water sure is pretty out here...... hard to tell from pictures, but here it is.
Noon, 55.6 miles to go, slack sails both motors running since 3:15 this morning. The sun has the salon toasty warm.
Light winds.... 46 mile day run... that calls for the "Creatcher!!!!!" I'll be back.....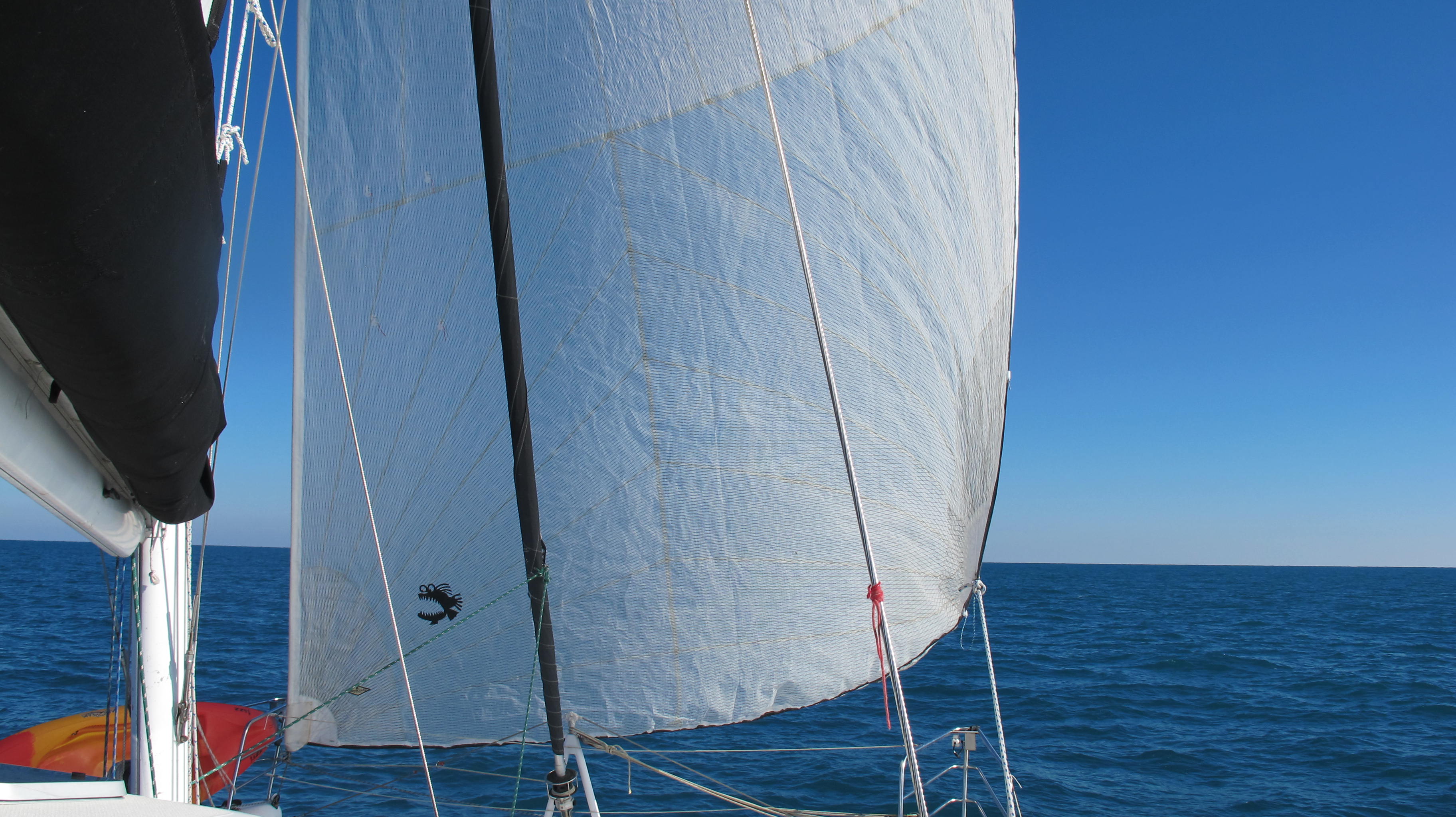 Look at that big purty thang..... now THAT'S A HEADSAIL
There's a solid two miles per hour...... it went from bumping 7.5 to bumping 9.4. I think it was worth the effort......
2PM, 41.2 miles to go... the Creatcher dropped almost an hour off our arrival time. I'm still motor sailing to get there ASAP.
4PM, 23.7 to go... arrival is 6:49.. thank you Mr. Creatcher :) I just took it down for night running a little early because we have decent winds so the jib is enough. I am saying it's 4, we officially crossed the time line in Tallahassee so it's really 5 local time. For this passage I'll stay on Texas time so as not to confuse.... I'll use the corrected time in the morning.
Today was nice enough that I could walk up to the bow and enjoy the boat outside. It's nice to have a warm haven.. but sailing is all about feeling the wind and watching the water from outside.... having the weather to do it. From noon on I was all over the outside of the boat enjoying the weather and open Gulf... playing with sail sheets... having a ball. (working on my diet plan) ... lol.
Soon we will be in cell service and I can post. I have been using the blog to keep me busy during the passage. Sorry for the blathering every hour on the hour.
December 27, 2010
We are underway and it feels good! We left Destin at 7:15 am which was about 40 minutes ago. It is brutally cold, I know this because I rarely see Rusty stop when he is putting up sails but he came in the salon twice to rest. The salon is nice an warm. I just put the shore power cords in the front hatch this morning and my hands were frozen by the time I got back inside the boat. We are staying close to shore so the waves are not an issue. There is a fog coming off the water because of the difference in temperature between the water and the air. Just like your swimming pool does in the winter. We are making between 8 to 9 mph with just the sails up. Rusty says we will be looking for wind for most of this trip so enjoy this while you can. We may keep sailing until daybreak Wednesday. We would like to make it to Tarpon Springs before this weather window closes. As always, it all depends on weather. We will need to turn the watermaker on because the hose was frozen this morning so we couldn't take on water and we are almost out. I took a long hot shower this morning thinking we would be able to fill up before we left. We have plenty of drinking water. Dishes may have to wait. Awwwww!!
Rusty here... we are clipping along nicely on following seas. Regulating our speed and wave height is only a matter of how far offshore we decide to run. These next two days will be awesome between Pensacola and Panama City because the North winds will hold thru tomorrow albeit decreasing with time... skirting the coast is very pretty too. I'm staying in 30 to 50' of water, and about a mile and a quarter offshore. We are probably seeing 15 knots of wind but only 2' seas... and they are with us.... so it's nice. Like Linda said it's cold as heck out there though. I have the heater on high and I doubt the generator will be turned off much today.... maybe after lunch, if the sun warms the cockpit enough.... We normally sail with the zip out divider in front of the helm off... but today it's on and the center is zipped up tight..... It's really comfortable in here.
Tomorrow I think we will be wishing we had these winds as it is supposed to settle to light and variable for our crossing from Panama City to Tarpon Springs. Motoring in flat seas never bothered me much... considering the alternative. Linda fed me an egg sandwich and cold milk... wow it was cold getting started this morning. We are holding some high 9 mph speeds from time to time.. but the seas are sweet. I need to go adjust the sails, as speed picks up apparent wind comes more on the nose so the jib is shaking.... that's better.
Linda here.... We just finished breakfast and it has been a nice sail so far. I will post this because I don't know how long we will have service. Tarpon Springs here we come!
Rusty again: At 10:30 I had to put one motor on for 3 hours to hold the desired 7 mph average, but at 1:30 I was able to take it back off and we are sailing again. Hopefully the wind will stay for a while. I suspect during the day tomorrow we will have to motor a lot, so I'm glad to sail when I can. If the sails are full in the least we can make 7, the seas are following and it's easy to make progress.
I just took a nap and Linda's down making something to eat. Panama City is off our Port beam.... next landmark is San Blas Point. You can't go on a direct line to Tarpon because of San Blas, you have to go around it. The GPS shows us arriving at that waypoint at 8PM. If all goes well, we MIGHT make Tarpon Springs by 10PM tomorrow night... making the trip with just one overnight would be sweet. I considered stopping at San Blas and breaking the trip up... we will see. I suspect we will keep going with conditions as nice as these and slated to getting calmer as we go.
The water sure is pretty here. We are 7 miles offshore directly out from St. Andrews Bay entrance (Panama City). It's about 80' deep so it's getting that offshore purple color to it. Windblown waves are almost nonexistent so the 2' swell from the NW is forming pretty cleanly.
8:30PM.. We have been doing famously so far. We averaged 8.46 mph the first 100 miles today. There were times where it hung in there at 10 for several seconds at a time. I saw 12.4 once. The great thing is... one to one and a half of that speed was due to a good current so the boat wasn't in a bind doing it. I flew my big headsail until 7:30. When I took it down we lost one and a half.. but night running it's better to be underpowered rather than right on the edge of having too much cloth up (like we were).
We have been travelling along so well... the GPS shows a 4:30PM arrival in Tarpon Springs tomorrow evening.. which would be great! If we do that we will have made 280 miles in 33 hours. It all depends on how much wind we get tomorrow, it's supposed to go light. Right now I still have 15 to 18 knots so we are truckin' along nicely. The temperature isn't as cold as this morning, we haven't run the heater since the sun warmed up the salon today. It's cold, but I have a coat on and am doing fine. I imagine I'll fire up the Honda and heater around 3 in the morning to take the chill off.
I ran the watermaker for a few hours today.. it's sweet.... It didn't take long to get a couple inches in the tank... I tasted it and it's super clean like I remembered it last time.
The new jib is faster I think. It's actually a little larger than the old one and has more tricks on it. It has a foot draw string as well as a leech string, two battens in the top of the leech and 6 clew grommets. I can really get a lot of different shapes from it. I really enjoy playing with sails.. working with the aerodynamics... the sails are like a test bed for ideas about what works best.... you change something and see if it helps to develop your ideas. It's really fun for me. I think I have finally started losing weight again.... I can feel it, and my power is returning. My muscles haven't done much for a while but they are coming back.
So far we have only run the motors 3 hours each. 9:00PM with 163 miles to go. Linda just cried UNCLE... I was leaving it up to her about when we fired up the heater....... lol. She was trying to get a nap and got cold. It's beginning to feel warm... and relaxing....... nice.
We lost most of our good current after San Blas but we are holding speed pretty well. The boat is feeling it's speed a bit more now. We lost a mile an hour SOG (speed over ground) but the wind has piped up so our current has faded. 9:45, 157 to go. The moon will rise here in about 2 hours. It will be directly in front of us with crystal clear skies so it should light up the water nicely. It's still over half full. The stars are really out tonight.
Linda said the bioluminescent "fireflies" are in the water... when she flushed the toilet in the dark... they lit up the bowl.... lol.
12:15, 137 miles to go. Speed continues to fall off a little, but still doing well on sails alone. Still averaging about 8. I refueled the generator so the heater is good to go for another 3 or 4 hours. That heater has paid for itself many times over. It's so nice to be able to sit in a warm salon and operate the boat.... most sailors can't because the helm is at the rear of the cockpit.
The moon finally rose. It's a welcome sight. Waves are bigger than they have been, it's hard to say how big at night, I imagine not over 4' though. We passed the half way mark 5 miles ago, we are still due to arrive at the other end about dark.
This is the 190 mile open water route we took from San Blas to Tarpon Springs (the red boat in the middle is us) I took a picture of the computer running "Sea Clear"

This gives you an idea of what the armpit of Florida looks like and the line we took across it.

Apalachicola is in the top of the curve there, that's where the ICW dumps back into the gulf and doesn't resume until the Tarpon Springs/ Clearwater area. This part of Florida is covered with underground springs, caves and rivers leading to the Gulf (so I have read) I haven't taken the time to stop and see.

Port St. Joe is barely on the chart in the top left.
3:00AM, 116 miles to go. I just woke up from a 2 hour nap. Conditions are about the same.. maybe a bit calmer. Waves are not following anymore they are on our Port so we are being jostled a bit more. There is a ship off our Starboard bow, I assume a large fishing boat because he's not headed toward any shore and there are lots of bright white lights at the stern that look like work lights.
3:30AM, 112 to go. Both engines are running so we are full power motor-sailing to hold high 7's. We slowed into the 5's on sail alone and that made the sea state worse so at least this way we are moving fast. The forward power settled us a little but it's not as nice a ride as it was. The 180 miles of open water between San Blas and Tarpon have been crossed so far at a nice speed, hopefully the last 100 miles will go better than they are right now. It will be nice to see less than 3 digits on the GPS in the "Distance to Next" box. The moon has lit the sea up a bit.... not like the full moon we had coming to Biloxi, but worth mentioning.
4AM, 108 to go.. approaching that magic number. The sloppy ride is better, Seas aren't so jumbled and I hard sheeted the main to use it more as a flopper stopper than a sail. There are sporadic winds available for propulsion, but mostly the mast is keeping us from jostling so bad right now. Holding high 7's to 8, arrival time via GPS = 5:56 this evening. I'm seeing something on radar 3 miles out that I haven't a visual on yet, it must be small and unlit. I found it on the chart plotter, it's a single piling with a white light, either the light is out or very weak. I love my radar. On calm seas I can see a seagull sitting on the water 2 miles away. When it's this choppy though, you have to adjust the finer things like that out to clear the screen. I'd be showing all the wave tops with that much gain. There it is.. 2 miles away and I can see it now. Technology is a wonderful thing.
I turned the heater off when I got up at 3, it was getting hot in here. It's definitely warmer outside than it was at midnight. It's getting cool inside but not bad at all yet. I've seen two shooting stars tonight, the first seemed to be going straight down but the other was the typical across the sky kind. With the night moon, it's still dark enough to see the stars.
4:30, 104 remaining.... 5:02, 100 miles to go. I fired the heater back up at 5. It will be light soon, 14 hours left.
Continued above on 12/28.. Sea Yawl Later!!
December 26, 2010
9AM and I just now saw the sun for the first time in a while.... it's not clear at all, but it's supposed to be by tomorrow.. more importantly the winds will lay down a bit. It's been blowing 30+ all night but we are tucked in behind tall buildings to the North here in Destin so we didn't see most of it.
We opened a cool new game called "Scrabble Flash" It's 5 electronic blocks that display individual letters that you shuffle around to make words. It's really cool, when you put them next to each other in a way that makes a word it knows it and beeps... you scored! When your time is up it tells you how many words you made and how many words could be made with those particular 5 letters... it's really neat. Erin got the game for me for Christmas.. thanks E....
Not much to report today...... it's cold and blowing outside. I remember a time when that didn't matter as much. One Christmas I got a new bike..... man it was cold outside but it didn't matter... I rode that bike until my hands froze. You know when your a parent you wonder "how in the world did my kid think it was OK to do that".... right? But I remember being a kid and doing dumb stuff.... I'm sure I don't know the riddles of how a kids mind works..... I think the word "random" is a good way to describe my youthful thought patterns.
I absolutely believe nature gives way to nurture more easily in some than others. I know with my kids that was certainly true. One of my kids had only to hear what was the right thing to do and she did it, but normally she thought of it before we did.... Another you could wipe smart all over that boy but he had such a natural repellent that very little of it stuck. I wish I knew (like every parent) how to mind meld with our kids. I think generally..... we do the best we can and God has a plan for the rest.
By "releasing our kids to God's plan"... I'm not saying that our job as parents isn't important... we MUST stay hooked up, do our job... we must do our best to give that kid his best options for a great future while he goes through the teenage years. Giving up is not an option..... but when you have done all you can, all you know how to do... no matter how good or bad you think you did... that kid needs to own himself one day.. and they will.
No matter what your 16 year old daughter says to you.... that she "hates you" (mine never did, but I've seen it) or thinks your unreasonable and acts like she's not listening... that maternal / paternal connection goes so deep a kid can never deny it... deep down to the core. They can "disguise it" and say it doesn't exist as a heart dart meant just for you...... but just know.. that you know..... this young lady or little guy will again be your pride and joy one day... be the parent... we know better.... take the hit but don't own it. Why would a mad kid choose to deny that paternal connection? For only one reason.... it's the most important thing they can think of to deny.
Christmas 2010.. how far have we come huh? It's funny the things you remember... random things... but at the time they were the most important things in your life. I remember when I was 9 or so playing "Slobbermess" with my brothers in the back yard on a warm summer day... We had our own well and a small pump house, there was a faucet there that dripped and always kept a wet spot on the ground... sometimes it even got slime on it... to play "Slobermess" we would find the dirtiest rag we could find and roll it around in that wet spot by the pump until it was the most disgusting mess you could make it..... then chase each other around.... lol. If you got "hit" with it.. it was your turn.... go re-soak it and get it as yucky as you could.. all the time dreaming of hitting your brother in the back with it.... glorious... simply glorious fun.
One part of our back yard had a clover patch.. I used to lay in the hot sun and look for 4 leaf clovers. Random memories.. who knows what your kids will remember. Our house was a "boy house"... my sister didn't come along until I was 7.. so I grew up with brothers and we did "boy stuff". One time we had a BB gun fight where we shot at each other, we found out it would hurt bad... but not break the skin so for a couple days it was ON.... one night we had war in the bedroom over the bed.. me on one side and one of my brothers on the other alternately raising up and firing at each other like cowboys and Indians at the fort. We didn't try hard to hit each other because that was close range..... but it happened.... lol. kids huh? Don't think I was all about being a mischievous kid.. I was good 90% of the time and didn't get caught much during the other 10. As kids go I was one of the good ones...
Reminiscing.... Christmas past... childhood memories... I'm sure everyone has their favorites.... Take the time to remember the good ones today and share the smile with somebody.
4:11PM If the wind lays in the morning as forecast we will strike out to the East. Panama City will come up first, we will probably go right on by.. to Port St. Joe. If I can find a comfortable place to drop the hook without getting off the beaten path, I may hold up in the St. Joe area and sleep for 6 hours, then get underway again. From there, 27 hours across the Gulf we'll be in Tarpon Springs by early morning Wednesday. Later in the day, winds are due to clock out of the East. East winds on the West coast would be super, so this looks like a good plan. We'll check again in the morning to see if the forecast has changed, today it got a bit better for Wednesday. If we don't get on the southern path by Wednesday, the rest of the week looks bad for getting to the Florida West coast, so this is a bit of a time critical deal.
Rusty
6:41pm
I just made my first loaf of French Bread and I'm pleased with how it turned out. Rusty wanted a very continental dinner, hot french bread, English cheddar cheese, olive oil with spices and merlot wine. It was quite tasty. I am coming out of my blue funk about Christmas. Lessons learned. Tomorrow we will strike out and I am more than ready.
I have to say.. the evening nosh was extraordinary.... Linda's home made bread is good. We had red wine, English cheddar cheese, home made French bread and olive oil with spices in it to dip your bread. As I was typing she sent up desert..... fresh chocolate covered cupcakes with ice cold milk..... it's tough I tell ya.
Sea Yawl Later!!
Linda
December 25, 2010 Christmas
I got up first this morning and got the outside of the boat ready for the weather. I took down the lights strung from the mast top, zipped up the sail bag, tightened our dock lines and set things out of the rain on the back deck. The rain started lightly about 10. We just changed the thermostat to make it warmer... and we are all set. Linda just went below to cook up something good. I smell the coffee, but no telling what else she will whip up down there.
The docks are pretty empty.. but amazingly there are people still walking around in the rain.. on Christmas Day... Yesterday I went on walk about checking out the shops to see what was open, I bought us some tee shirts at reduced winter rates... and rounded up a couple menus from the local restaurants. I think Harry T's is open today because I hear music over there that wasn't on earlier. If you have to be weather stranded on Christmas.. the Destin Boardwalk isn't the worst place I can think of.
Wow... across the harbor on the beach there are people bundled up walking around on the sand.... they much have a very short vacation window. The harbor is getting some surge that wasn't there earlier. I suppose the wave pattern was just right for some of it to make it in the cut. Winds won't pipe up until this evening but will continue through most of tomorrow. They are calling for high 20's Monday, pretty cold but otherwise it could be a good travel day for a Panama City run.
Breakfast was a full meal, Pancakes, bacon and eggs with cold milk. I was hungry and the smell of it cooking was half the pleasure.
OK, I did some weather and trip length research... Monday looks like a great day to go 56 miles to Panama City, Tuesday go inside at Port St. Joe to Apalachicola, then Wednesday look at making a 17 hour crossing to Cedar Key and the West coast of Florida. From there the East winds should allow us a Southerly passage down the coast all week long. If we don't get Southbound by Wednesday we will have winds in our face at least one day getting across the armpit of Florida (where the panhandle and the peninsula meet). If all goes well, we could be in Tarpon Springs by Friday (New Years eve).
SYL!!
December 24, 2010
It is Christmas Eve and we are still in Destin. I came real close trying to get home for Christmas because weather will have us here until Tuesday. Destin had no rental cars available until Monday and the closest air port is Panama City or maybe Fort Walton. I found rental cars in Fort Walton but they were over $50.00 a day plus gas. So here we are in Destin. We could have tried to go to Panama City but the winds were not favorable and the marina is not open. We still could have gone but decided to rest and wait for good weather. Not being home for Christmas has affected me more than I thought it would so next year we will have to plan ahead so that we can be home. It was good to see Dave and Diane yesterday. It is surprising how often we run into people we know or other cruisers. Not so much here in Destin because it just is not cruiser friendly. Destin does not have transient dockage. The harbor master was good about letting us stay in a private slip that is usually occupied by the "Emerald Dancer" a large cat that gives rides in the summer. Rusty put up Christmas lights and is doing his dead level best to give me a Christmas. But there is no place like home.
Earlier we took a ride in the dinghy and Rusty was took us to one of my very favorite restaurants in Destin "Louisiana Lagniappe" but it was closed.
| | | |
| --- | --- | --- |
| | | |
| Harborwalk Marina | Rusty with Dave and Diane Livingston | Sea Yawl Later!! |
Today's weather was glorious... so I got all my chores done on the boat. One of the gas cans lid broke so I fixed that.... the deck brush handle broke cleaning up so I fixed that... while I was in the dinghy I worked on the propellers a little bit and cleared the weeds off the motors that we picked up in the ICW. I have been tuning the props to get the best low end power yet achieve the optimum motor-sail speed without having to run the engines wide open. On the long ICW run, I had the props tuned differently so I could try one then the other to see which pitch design I liked best. I chose the best one and did both props the same. Now I'll experiment with the power thruster plates... I have them only on one engine.. so I'll see how much the plates help now that the props are the same again. It's fun for me to do that kind of stuff. When I was racing outboards I really enjoyed looking at and selecting prop designs, even working on them myself, so I have some specific knowledge about props.... pushing heavy boats is a whole different deal... but adding or subtracting pitch in specific areas of the blade still mean the same thing.... so we will see what works best in this application. I think I am going in the right direction. These props were very flat... with constant pitch, so they were optimized for one specific speed and gave away everything else. I'm increasing the pitch near the hub on the trailing edge to change the path of the water over the blade and slightly cupping the leading edge at the tips.
This morning the boardwalk was empty, but about 2 traffic picked up and there are quite a few people now (at 4). The party boat "Emerald Dancer" is not in her slip so we can stay right here in front of the main boardwalk. Emerald Dancer is a 28' wide excursion catamaran that takes people on day trips around Destin. She's gone for the winter... Last year we did the same thing about 3 slips down.
Spaghetti and the last of my mom's cranberry salad for dinner...... we considered eating out but decided to do that tomorrow if they are open. There is a place across the street that looks good (McGuire's Irish Pub). Yesterday we ate at AJ's and were a bit disappointed in the food quality.
Well.. it's almost movie time... another hour until dark. I'm not looking forward to this cold front tomorrow... but this too shall pass. We are ready for it.
SYL Rusty
December 23, 2010
We are docked at Harborwalk Marina in Destin, Fla. We sailed most of the way and had trouble keeping our speed "DOWN". Rusty will give details after he takes his nap. We are glad to be here. We love Destin Harbor in the winter. Last year we were here in the summer as well and it was a zoo. I will avoid this Harbor in summer. It is not friendly to cruisers at that time. We were here in the winter as well last year. In fact, we were here for Valentine's.
| | |
| --- | --- |
| | |
| Across from our dockage at Harborwalk | Pelican's trying to keep warm across from our dockage! |
The beginning of our trip from Biloxi to Destin was posted yesterday (thru Midnight). The lively sail continued as the North winds filled. We probably saw close to 15 knots the remainder of the night. The roughest ride was crossing below Pensacola Bay where the waves had a long fetch. As we approached the Santa Rosa sound I headed close to shore eventually only a mile or so off the beach so the water was extremely nice for the wind we were seeing. I reefed the jib to half size and let the main out as far as I could to reduce power and slow us down so we wouldn't arrive too early, but it didn't help much. Staying below 7.5 was a chore....I slept a while and Linda tacked to increase our path length and slow down on the upwind legs.... but we still got here an hour before light. a mile before the breakwater of Destin Cut I turned toward the beach hunting 20' of water to anchor in (1 mile out it's 50 to 60') When I saw 21' I had already rolled in the jib.... I brought her into the wind.... opened the main halyard rope clutch and pushed the down button for the windlass all at he same time. By the time forward progress halted the anchor was almost to the bottom. I let out a bunch of chain.... we gained 2 knots of windage speed before the Manson found the white beach sand of Destin Florida. stretching the chain pulled a knot off the speed, then when she hit the end of the chain we were set for the night immediately. I didn't even set the bridle.. we just filled up the generator and slept until 7AM with the heater on 77!
We motored in against a 2.5 knot current.... Katrina changed the entrance quite a bit.. it used to be pretty straight forward.. but now it's a bit more crooked than I remember (but well marked). We took a slip in front of the same eatery on the Boardwalk that we docked at last winter. $1.50 a foot winter rates.. not bad. Biloxi was a buck a foot. We slept a couple hours after getting settled in the slip. We both cleaned up and got dressed to go eat. About the time we were stepping off the boat I heard LINDA... RUSTY!!! our friends from Waterford Dave and Debbie on "Assisted Living" walked by and saw out boat..... that was cool.... We walked over to AJ's restaurant to eat together.... The food quality was OK.. but not nearly as good as we had last year in February. The company far exceeded the meal. It was great to see our buddies....that's one of the draws for us to the cruising community....... golden hearts abound, Deb and Dave are a welcome addition to the fold.
Dave a Debbie had a car so they took us to Target and Walgreens to round up some stuff we needed... back at the boat I washed her down and scrubbed most of the decks, Linda helped me with the salon and cockpit and settled in with Popcorn and about to watch a movie.
The weather looks awful for the next 4 days. I'm glad to be this far down the road but this is where we will be for a while. Winds would be on our nose.. and not just a little bit of it... I strung up our Christmas lights and am enjoying the clean boat.. Christmas music playing eating popcorn...... about to watch a movie in our warm fresh salon....
Sea Yawl Later !! Rusty
December 22, 2010
It's 6:15PM... we are on a 140 mile all nighter from Biloxi to Destin, with current progress we will arrive in the Destin harbor by mid morning. SYL left Biloxi around 8:30 after fueling up at Point Cadet Marina. Today's sail began with some fog. Near shore it lifted by the time we left, but as we approached the Gulf I lit the radar because we only had 1/4 mile visibility for an hour or so. By noon the sun came out and produced enough wind to sail. By 1:30 I had both motors lifted sailing along in the sun at 7+ on 1 to 2 foot seas. We enjoyed 4 hours of pure sailing on 8 to 10 knots of South wind, then I put one motor back down as the wind shifted West. A weak cold front is passing now.... Winds will be clocking around to finally settle in from the North. I have some hope that as the North wind becomes consistent we will have enough to be a sail boat again. The engine is only helping us maintain speed... I could be sailing now if I was happy with 5 mph..... when it dips into the 4's during the lulls I can't stand it......
I got a good nap today.. and Linda is sleeping now, so tonight won't be too bad. We are driving down a "road" in the Gulf called a "fairway" They can't build rigs or any obstructions in these safety corridors, so all night long we will be 3 to 4 miles offshore driving to Destin down the fairway.
There is not much to do all night... so I'm blogging. Every 5 minutes or so I get up and check everything. It's easy to look up and see that I'm on track at any moment..... there are lots of lights all over to range on. Wow, the moon is rising on the water dark orange in front of us.... that will make a good lookup and check target. Winds are filling in a bit. I expect to be able to take the engine off line by 7:00PM... any minute.
81.6 miles to the Destin Cut. It's getting a bit cooler... that reinforces the North wind set I hoped for. We are holding over 8 consistently... so I'm raising the motor.... be right back. Alright! averaging 7 on sails alone. I could probably bring the jib in a little to improve speed, but I don't want to arrive before daylight. If the winds fills in, I'll be reducing sail in order to prevent a dawn entry into the harbor. 80.4 miles to Destin..... nice.
Full moon and clear skies... 1 to 2' seas... enough wind to spare our gas.... all systems are go at 7:10....... There have been lots of Dolphin on this trip... more than I have seen on a regular basis. They are fun to see, Linda even posted a dolphin video on our FB page.
Hmmmm winds are dropping off a little... I guess I have rambled enough here... I better go optimize our sails....
10PM The North winds have stiffened as promised so we are clipping along nicely. 59.6 miles to go..... I considered reefing once, but the blow that produced some high 9 mph bursts only lasted a few minutes, we are back to a comfortable 7 to 8.3. All day we have had a SW wave pattern and we still do, but the long SW swells have a wind blown chop out of the North on them now. Our fetch to shore is only about 5 miles so the wind blown chop will only equal the 2' or so swell height so it's not bad at all. If I need to I can go in as close as a mile and further reduce the fetch. The highest coastal forecast was 2 to 4' seas, not bad especially if they are trailing a bit.
I ran the heater a while at 8:30 to warm us up. It's probably in the high 40's outside, but the cabin showed to be a descent 67 when I cranked up the heater..... I ran it about 30 minutes to break the chill, but it's creeping back in. I may run it again in a while.
The moon is 1/3 up in the sky now, so I can't see it anymore out of the front window but the shimmer of it's light is still on the water. It's been wonderful to light our path so far tonight. Here's a milestone... we crossed into Flawrida a bit ago..... Perdidio Bay is behind us and we are closing in on Pensacola. 57.2 miles to Destin. We may have to throttle back a bit, the Garmin shows us arriving at 5:30AM. I'll keep truckin' most of the night as long as it's available. If I have to back off... I'll do it an hour out of home base.
Mobile had a plethora of oil rigs just offshore. That's right... an uncountable number. I haven't seen another since we cleared Mobile Bay. As I said before I'm in the fairway, but a night watch is no less important now than any other time.
10:30; 55.6 miles to go at 7 to 8 mph, we slowed a bit, our ETA is now 5:55AM.
I put Linda to bed just before 10 in case I need some relief later. She wanted to stay awake and keep me company... but I'd rather have her fresh around 3 or 4 when I need an hours rest. It will be nice to arrive early and have the whole day to rest and catnap. Linda wants some milk bad, we need a laundry mat and I want to get my empty propane bottle traded. We will see how much of that we can do without a car in Destin. We have discussed provisioning in Panama City instead..... according to the book there are facilities closer to the harbor in PC.
I had fun with my "Creatcher" today..... I flew the big headsail for several hours. It's cut very flat so you really have to stay busy trimming it for optimum speed, but that's the fun of it too. Before the fog lifted winds were light so I need it. I spent some time today trying to established some standards to describe it's best trim. First of all being loose luffed you fly it on the same gear as your spinnaker (standing bow and aft sheaves) For the Tack: I use a single line run through both side bow sheaves back thru rope clutches at the winches. The Head goes up on the spin halyard and the sheet comes back to the standing sheave at the winch.
With the ability to move the tack comes general rule #1: Start with the tack full to windward when running, as the wind goes abeam move to center and to the lee hull when pointing. The big advantage running with the tack to windward is that it gathers more air than the jib. The jib on centerline gets hidden by the main but the creatcher reaches out and gets lots of air with the tack out in the open. I experimented with a tight / low tack and with a high flying tack position. Normally (thinking spinnaker) you let the tack and clew fly up higher to go deep.... and reel it tighter to the hull for reaching. This worked pretty much the same with the creatcher... but I saw no advantage letting it fly as high as a spin on a dead run. I could clear the sterns a bit by holding the tack low. A low position seemed to drive the bows down a bit..... could be an advantage there... hmmm.. I just looked up and noticed some bow spray off the lee hull, the GPS was showing a solid 10 for a while. Waves settled a bit so the boat picked up some speed I guess. It held that speed for only a few seconds... it's back to a more mundane 8 now. The only other advice about flying it's tack is if you loosen the tack you have to loosen the sheet the same amount.
Brrr.. I think I'll lite the heater for a while...
OK, sheet trim: Since this thing is so flat in the middle you really have to play the sheet to keep it happening. The primary sheet trim rule is to sheet out until the luff flaps then come in a bit (again think spin). Of course wind direction is the biggie.. but wind strength also requires a sheet change. This thing likes a twist or open pocket at the leech 1/3 from the top of the sail. If you don't have that loose open pocket near the top your giving away speed.
11:30, 47.5 miles to go, 5:46 arrival making 8.
Man that heater feels good. The boat is getting a little floppy as we approach the open water land base containing Pensacola Bay. The effective fetch is longer because the bay looks just like the gulf to the wind... no trees or houses to slow it down. Still not too bad though..... it may stay that way for the next 18 miles. Pensacola and Escambia Bays last a while. Half way between Pensacola and Destin the tree line returns to the coast.. just the narrow Santa Rosa Sound for the North wind to cross before hitting the gulf for the last 28 miles of the night so it should get better near the end.
Midnight, 43.5 to go, 5:20 arrival @ 8.7 mph.
5:40AM, Destin cut awaiting daylight. The anchor is down just outside the cut, the heater is running and I'm going to take another 1 hour nap and wait on the sun....
I slept from 3 to 4 while Linda was on watch, not a bad night crossing. Now that we are here.. so I'll post.... Good morning all.
Rusty
December 21, 2010
What a spectacular day we had yesterday. We were disappointed that we were unable to see our dear friends in NO because Guiann was ill. So we filled up with gas at Seabrook and left around 10:00 am ( after the curfew was over). We got off to a slow start because there was a train on the bridge that was switching cars so it held us up for awhile. Even so, I must say all of the people who man the bridges did their very best to accommodate us. The tugs were equally nice. A very pleasant experience. For the most part people who work on the ICW are great folks but once in a while you will run into a "nasty". They have closed the access to Lake Ponchatrain from Seabrook so we went out another route on the ICW. I really liked it better. Once we got into the Mississippi Sound it was like "we are free!". The sailing is so much more relaxing. "Auto" can really do most of the work with Rusty being able to be inside and control things from the warmth of the salon.
Then it happened: About two hours from sunset, Rusty noticed some splashing about 1/4 mile away. He kept his eye on it and then realized it was a pod of dolphins. In the ten years we have been sailing, I can't remember a long trip where we haven't seen dolphins. This was different. There were soooo many of them. After a little while we looked back and there were all these dolphins breaking the water, many in unison, and they seemed to be chasing SYL. This continued so we started the video on the camera. It as amazing, they were causally following the boat. Eventually they passed us and then lead us for a long time. We have several video's that we need to edit. I have one I have tried to post but it is taking to long. I guess our connection is not good enough. This encounter lasted almost an hour. Then we had a wonderful sunset, followed by a night sail with a bright, almost full moon. That is the "good stuff". We anchored behind Cat Island with ease, had Taco Soup and watched Charlie Wilson's War. We ran the generator for a little to warm things up and snuggled up in bed. Great day!
Now we are underway, headed to Ocean Springs which is about 18 miles away. We will stay at least one day and see some of Ocean Springs.
9:08 pm
We ended up at Point Cadet Marina in Biloxi. They have just reopened and the facility is nice. It is right in front of the Isle of Capri. Rusty put up lights and then we went to Ocean Springs for a fabulous dinner at the Phoenicia Gourmet. I had Yellow Fin Tuna and Rusty had a lovely Shrimp dish. We couldn't find the trolley so we took a cab. We were just walking around Ocean Spring which reminds me of Spring, Texas. We were in a gallery just talking to the owner and asking about the trolley. The owners of the photography studio in back offered to give us a ride back to the Marina. Nice people. We then watched a movie and now are getting ready for bed.
| | | |
| --- | --- | --- |
| | | |
| SYL Christmas lights in Biloxi | Last Night's Sunset on the Mississippi Sound | A very handsome Captain at Phoenicia Gourmet |
Rusty here: This morning we got underway 8'ish at Cat Island and sailed all the way into the Harbor arriving about noon. Here's something funny... the same customs guys that checked us out last year in Houma boarded us today again in Biloxi.... They remembered us and didn't give us any trouble of course... but it was funny they thought we might be drug kingpins by the look of the boat I guess..... who knows... a slow day for them I guess. They came into the same harbor we stopped at, it took them about 8 tries to get close enough to the dock to tie up... lol. I started to ask if they needed any help... but I thought better of it, it might be rude.
Today was nice.. and easy... we enjoyed a short transit day of 20 miles or so. Our weather was cloudy and cool... I'm about to check weather for the rest of the week to see when we need to leave to beat the front to Destin.... or wherever we can go comfortably before it arrives.
Ocean Springs looks nice..... we may go over tomorrow and walk the shops, they were all closing after we ate tonight.... or check out the decorations at the Biloxi casinos.
This evening we watched "It's Complicated" at the boat and are about to settle down below. Country Christmas music is on the XM radio.... nice day. I am off to check weather and call it a night.
SYL !! Rusty
December 19, 2010 7:21 am
We have been underway about an hour, headed for the Big Easy. I am excited about seeing GuiAnn and Mike. They are such dear friends even though we only see them about once a year at the most. We were with them last year about a week and shared the Saint's superbowl win and Mardi Gras. We can't stay as long this time but a couple of days will be good. We feel the need to push a little so we can get across the Gulf Stream without having to wait too long. It is cold but not brutal. It should be a nice day once the sun gets up.
It is 6:21 pm and we have been docked for about an hour at Seabrook Marina in New Orleans. The plan was to stay a couple of days with the Carpenter's but Guiann has a bad cold and we just got over being sick so we will probably move on. Today was another good day. We left Houma at 6:30 am, made good, easy time and had relatively little wait time through all the locks and bridges around New Orleans. This trip can best be describe an uneventful with good weather which is very, very nice. Rusty just pointed out that we (rather He) did not have to "fix" anything today. In addition, we had to turn the ice maker on because the motors were putting so much juice in the batteries the voltage was getting too high so we had to bleed some power off. Spoke too soon. Rusty just informed me that the tension pole that holds the window shade in the head came down and with it came the large hook that holds our dirty clothes. I had double the amount of dirty clothes hanging there because I thought we would be at Guiann's today and I was going to wash. Awell, no biggie.
Rusty Here....
We are settled and all is quiet.... listening to the motors is not our favorite thing... but certainly necessary in the ICW. We have 50's music going (very low) Linda is below taking a very long hot shower, the Christmas lights are on.... and al is well. I told Linda to have a LONG shower because we can refill with water tomorrow as we fuel up...... (our whole reason for entering the Industrial Canal was to service the boat)..... We will probably make a short day tomorrow. Wake up after 7, fuel up.. wait until 8:30 for the bridge curfew to end.. then putt down the ICW 40 miles or so to the opening of the Mississippi Sound for the night.
There is almost no wind tonight.... it's cool but not cold... so much better than last year. The first half of today provided an adverse current, but the second half gave us 7+ mph at 3/4 throttle.... nice. Lots of interesting scenery today, everything from big pretty houses to salvage yards that people live in.... 3 or 4 old boats in the yard... junk everywhere... the ICW is an interesting place to traverse. I had my sails up today and added +1 mph for a couple hours today, but mostly it was motoring along dodging large clumps of floating vegetation. The route from Houma to NO is pretty straight forward... not a lot of turns or narrows until you cross the Mighty Mississippi. Speaking of that, the Miss. current was only 2 knots or so this time. Last time I could easily break 12, but this time 10 was hard to get. Last year it was absolutely scary.. but this time it wasn't new. The route was already in my mind..... so much easier than last year.
Linda Here....
Rusty has gone to take his shower. Abundance of H2O is a much unappreciated luxury. We are so grateful to have this opportunity to live "our dream". I know it comes with sacrifices from those we hold dear. We are grateful for the generosity of spirit that those loved ones have showered on us so that we do not feel guilty for taking this time to be away from home. We love you all and miss you. God is good, all the time!
Sea Yawl Later!!
December 18, 2010
9:48... we just got out of bed.. we are taking the travel day off... Houma transient docks are a sweet deal. $25 a night with power, water and pump out. Plus it's cold outside with the possibility of rain again so it's a great day to do nothing. Yesterday the last 3 hours were drizzly and cold.... so we are being lazy today. It's warm and dry inside, so except for a possible dining out this evening, we are going to stay warm and cozy today.
We spent some time with out travel buddies on "Just Driftin" last night. they visited us then I went over to check out his boat. Wade owns the boat, he purchased it at our home dock in Kemah, this is his first blue water boat and first sailboat so his buddy Dennis is showing him the ropes. Dennis holds a Master Captain license and is an accomplished sailor and world traveller.
Well my breakfast is here so it's time to eat....
SYL !! Rusty
December 17, 2010
We got to our anchorage at Charenton Drainage Canal last night around 6:45 pm. Last year we stayed there in the summer and I wrote in the guide "BUGS" "Linda didn't like". Apparently it was too cold for bugs last night. It was quite pleasant other than being cold. We watched 1/2 of a movie, Baby Boom, which is an oldie. Bed time at 9:00 pm. We got up around 6:30 am and were underway by 7:00 am. It is cold with almost no wind and we are motoring, no sails today. Rain is expected in Houma, La today. Cold and wet, yuck! I shouldn't complain though because up until now it has been an awesome trip. We had fresh sliced oranges, coffee and our usual egg on toast this morning. I think lunch will be soup and maybe sandwich. It really is cold! There is a lot of hydrilla floating in the water we have to dodge. I remember seeing a lot in La last year coming home. It can play havoc with your props, not damage them, but slow you down by clogging them up. The floating vegetation hangs up on the rudders too. The front of my "performance rudders" are straight down... so they "gather moss". When we go from 8 miles per hour to 7...... we know we have weeds. So I raise the motors and dump the stuff off in front of the prop... then when that doesn't help I have to stop and back up....... dump the weeds off the rudders and vwalllah!.. we are back up to speed.
4:45 pm.
Just docked at the Municipal docks in Houma, La. Uneventful 66 miles though the hydrilla is a real problem. We made Bayou Dularge Bascule Bridge before curfew which was a huge blessing. This has been a favorite stop for us. The price is right, $25.00 a night with hook up. Right now Rusty is working on our heater. For some reason it has decided not to work. "Auto" is still being a problem child so the jury is out on that one at this moment. My bet is on Rusty. "Auto" you have met your match. We are docked beside "Just Drifting". I finally got to shake hands with them when we docked. They seem like nice folks even if they are self proclaimed "yankees" that thought we talked with a "mouth full of marbles".
Yeah! Rusty just fixed the heater. That was quick. I am not sure of the what the plan is going to be tonight but we are tied up and warm, what else do you need? We talked about going out to eat here in Houma, we understand there are some great places to dine but really are "home bodies". Whatever happens is good with me. It may be cold and rainy tomorrow... so we may just stay here and rough it all day tomorrow.
Rusty Here.....
Unless I feel like getting up early...... I won't. That means New Orleans will have to wait on us...... cause' we aren't in any hurry. Linda is below cooking up some steaks and mushrooms. We have the Christmas light on, listening to Christmas in the Country and drying out. The last few hours of the trip was drizzly and cool. I set the thermostat on 73!...... it's going to dry us out quick...
I am feeling better.... the past few days I knew when it was time to take my cold meds... but today I couldn't tell. that's a sure sign things are looking up. Man.. the smells from the galley are killing me. I am sure I won't have to wait long.
December 16, 2010 4:22 pm
We have not had internet service all day. We got to Shell Morgan around 1:00 pm, filled up with gas, tried to get a plate lunch but they had sold out. We got crab and shrimp burgers and left around 1:45 pm with "Just Drifting". We are currently going down the ICW playing Christmas music and enjoying the trip. We are running our little Honda so we can make ice and play music. We will get to our destination about 1 1/2 hours after dark. Tomorrow we will have 66 miles to Houma, La. How long we are there depends on the front that is headed this way. "Just Drifting" wants to get to the Gulf at Houma, La. I doubt we will follow. This has been a much better trip than last year. It was the right decision to leave early though it is hard being away from family right now.
December 16, 2010 9:38 am
We spent the night in the Mermentau River with "Just Drifting" a 47' Benneteau and "Midnight Sun", a power boat. We got up at 6:15 am and we were underway by 7:00 am. There is little to no wind today, so we are just motoring. Rusty had to take "Auto" (our autopilot) apart. He had refurbished it this year but it still has issues. We will probably look at getting a replacement in Florida. "Just Drifting" is thinking of taking a weather window and going outside in the Gulf. They can handle larger seas comfortably more than we can so I doubt we will be following their plan. We will check in with Chris Parker and get his opinion. I have enjoyed the ICW thus far. It has been really pleasant and the sailing has been phenomenal. We should reach Shell Morgan around 1:00 pm. We will fuel, water, buy one of those oil field lunches and be on our way. My guess is we will stop at Bayou Petite Anse which is 13 miles past Shell Morgan. We could go a little farther but the next anchorage is too far.
Sea Yawl Later!!
Linda
December 15, 2010 12:30 pm
We got off to a late start after contemplating staying the day at Shell Island. Rusty had a rough early evening with his cold and couldn't sleep. Eventually he did go to sleep and slept well but we slept late so he could get his rest. I thought it might be good to stay there for the day but after much thought we decided to go. Again, good decision. Rusty is feeling better, the sailing is awesome and all is good. Our normal breakfast is egg on toast. But this morning with our late start we had mini bagels with Strawberry cream cheese spread and a mini chocolate covered donut with Duncan Donuts coffee. Not the breakfast of champions but... We have been making incredible time. The winds are between 25 and 30 and we are sailing between 7.5 and 10 mph. Fabulous! We were going so fast that we hit mud hard once. The depth finder showed 11 feet but that was on the high side and the sloping bank combined with our listing ( a little more than we were in the slip) we dug into the mug. It took us about 30 minutes to get unstuck but we are rocketing down the ICW. We should make Mermentau River no problem. Another 70+ mile day. We currently are having our lunch of roasted chicken sandwich with Wickles pickles (if you haven't tried them you should) and Grey Poupon and shrimp coldslaw.
6:00 we are anchored comfortably in the Mermentau River. 69 miles in just under 10 hours today... so it wasn't as good as yesterday, but very good actually considering we didn't leave until 8:15. Today we motor-sailed about 1/2 the day but got to pick up the engines and sail the other half.... so we are doing great as far as "on the motor time". Probably an even 7 mph average and half of it sailing... so I'm smilin'. Last night there was a Benneteau monohull "Just Driftin" that came into the Shell Island anchorage late. He left a couple hours before we did, but we caught up to him waiting on the Calcasieu Locks. From there on we travelled together today. I only saw two guys aboard.... not sure if they are hiding their women yet... or just don't have any.... They left from the same Marina we were docked at!..... Waterford. We haven't met them yet other parallel running and shouting back and fourth, but we might shake hands tomorrow. We arrived here just at dark.... so there was not time to visit. We may meet them during the day if they stop at Shell Morgan in Intracoastal City for fuel. I'll check our tanks but we should be fine without adding fuel from the cans until New Orleans.... It's much easier to add fuel from a nozzle than from the cans to the main tanks so we will probably stop at Shell tomorrow but it's only 40 miles or so down the road..... so it won't be time to stop yet. The main reason to stop at Shell Morgan is to go to the grocery down the road... they sell plate lunches fit for oil field hands..... MAN FOOD I tell ya'.... Last time we got two plates and made two meals for both of us from it.
I checked and we will can buy fuel in Morgan City if we need to. The main reason to fuel up in Morgan City is that the other side of New Orleans there isn't much fuel "right on the way" in the Mississippi Sound, so if you have enough fuel to make Florida from Morgan City.. your good. But if you must overnight in New Orleans anyway that means going down the Industrial Canal to "Seabrook Marina" or one of the marinas on Lake Ponchatrain...... lots of locks and bridges to open... so if we can avoid stopping in NO we will. If we need to overnight in NO anyway... Seabrook will take care of our fuel and dockage and we will do the Riggolets again into the Sound.
70 miles a day is aggressive on the ICW! I can't believe we have done it twice in a row and most of it on the sails alone.... Good things come to those who wait I guess.....
Linda just brought up the third course of our dinner! First course was part of a leftover lunch sandwich.. the second was tomato soup with white cheddar cheese and garlic croutons.... the third course was a pasta dish with grated cheese, Fritos and sour cream with a side dish of my Granny's cranberry salad! And it was all leftovers..... what a deal huh?
Two hours before stopping we fired up the Honda to charge the batts and make ice..... we are roughing it tonight I tell ya. Normally we store a baggie of ice in the freezer so we don't have to make it fresh every time.. but it's full of frozen meat still..... so there's not room yet.
The winds didn't fill in until after lunch.. but when they did it was 20 to 35. The problem of course in the ICW is tree coverage on the South bank. The South winds couldn't get to us half the time due to coverage but then when it did... it was awesome. I ran full sails in the morning, but after the locks I stopped at the first reef so the gusts wouldn't hit so hard. We traded ultimate speed for comfort this evening but we made it just before dark anyway... saaweeeet.
Well, I better check tomorrows winds.... it's great to be travelling again. If the rest of the Gulf Coast is as good I'll be happy, but I can't expect it.
SYL !! Rusty
December 14, 2010 6:15 pm
| | | |
| --- | --- | --- |
| | | |
| Sunset tonight on Shell Island | Coast Guard Escort | Sailing with the big boys! |
It's 6:00, we have been on anchor for almost 2 hours at Shell Island (near Orange Texas). What a great day on the ICW.... the only thing better would have been a little warmer weather. Today we travelled 77 miles from 6:15 to 4:15, so that's a 7.7 mph avg. day..... top speed was 10.7 (including the 2 to 3 knot favorable current) that's one for the books!
We were going through Orange when we were hailed by the Coast Guard asking our destination intentions. Rusty told them we were going to the southern Bahamas. They were guarding this ship and said they would escort us out of the area. Which they did. I mean they were armed and ready to defend!. We passed rather closely to this large oil tanker. These vessels ferry oil from other vessels that are too big to enter the port. It was much more impressive than this picture looks.
For those of you wanting to anchor at Shell Island. I will tell you that it is a very soft muddy bottom and today was only the second time I have seen our Manson not take a set right away. Rusty finally found a sandy area where our anchor will hold so we wrote down the coordinates N 29 degrees 59.74 W 93 degrees 46.22.
Well, off to sleep for another awesome day tomorrow.
Sea Yawl Later!!
December 14, 2010
We are away! Finally!! Yesterday it was not looking good for us becoming unstuck so we could leave. Even with high tide we were still solidly aground. The constant north wind blows all the water out of the bay. We watched movies most of the morning, made dinner plans with the Ibert's and then decided to run some errands. When we returned from running errands around 5:00 pm it looked like we might be able to get loose. We couldn't decide whether to try leaving or go to our friends. Ultimately, we opted to have dinner with the Iberts with plans on departing around midnight at the high tide. It turned out to be a good choice. We had a lovely dinner of Taco soup and the best cornbread you have ever tasted. Cindy is an awesome cook and has promised to send me some of her recipes. She has a talent for tasting something at a restaurant and then duplicating it in her kitchen. YUM!!
When we returned to SYL a little before 10:00 o'clock, she was free (well, mostly, we did drag a little mud when we left). We chose to leave immediately fearing the outgoing tide would get us stuck again. So at 10:07 pm, we officially left Waterford Harbor Marina and Yacht Club in Kemah, Texas headed south for the Bahamas. The next big decision was where we would stop for the night. Sailing at night in channels or the ICW is not my favorite thing, so we thought we would anchor out at Redfish Island which is about 1 1/2 hours out from Kemah. However, the night was beautiful, clear and we had a half moon so we decided to go to Laguna Harbor, a anchorage Adrian, a cruiser at the Marina, told us about that is 1.3 miles inside the ICW. Laguna Harbor was perfect. It is a upscale residential development on the water that seems to have stalled, I guess because of the economy. We never saw less than 6 ft. The best approach for water depth is to hug the west bulkhead. We had a huge bulkhead with cleats all to our selves. We got to Laguna Harbor around 2:30 pm and we were docked by 2:45 pm. You could see a sprinkling of magnificent homes in the area. Rusty saw three shooting stars last night. (BTY Dan M. I tried to e-mail you several times but the e-mail was always returned??????)
Rusty was up by 6:00 am getting us underway. He said he didn't need help, so I stayed snuggled in the warm bed. We ran the generator last night for the heater to warm the salon. Love that little Honda. This morning we had warm egg sandwiches with OJ and Earl Gray Tea. For lunch I am thinking about grill cheese and Tomato soup. YUM!
We have been SAILING since about 8:00 am. We are averaging 8.5 mph. We use mph as long as we are using Skipper Bob Waterway Guides since the markers in the guide are in mph. We should reach Shell Island around 5:30 pm if this speed can be maintained. The absence of the motor noise is divine.
| | |
| --- | --- |
| | This is the salon bed made up. From here we watch movies, sometimes sleep and probably for major cruises we will leave her down so we can both get rest and still be on top. |
| | |
| --- | --- |
| | |
| Passing Kemah Boardwalk | Sunrise of the ICW...I never tire of the beauty of the water. |
December 13, 2010
9:49 AM.... Still stuck. The wind has stopped which is good, but the tides have been unusually low, so we haven't been fed much water. It appears our best chance for actual navigation will be about 9 tonight.
Last night I went to Target and bought a small electric heater...... good choice, it's bitter cold outside (as forecast) but we are toasty.... I also bought some boiled shrimp and a bouquet of flowers. Linda made up the salon bed and put some red sauce together for the shrimp... we braced up on piles of pillows to watch "Ice Age" ..... a very nice evening albeit at 5 degrees to port. I woke up all night to see if we got any water..... about 3 this morning we had some.. but not enough to float.
This morning was coffee and egg on toast..... I just finished mine and set up the movie "DUNE". We have never seen it so I thought this morning would be a good time to get into the series..... see what it's all about.
The wind is dead calm and it's bright and sunny....... oh for a foot of water to float the boat... lol. Everything has it's own time... we are done, ready to go... officially "on Vacation".
SYL
December 12, 2010
All set for leaving this morning at 9:00... but...noooo.. I think we may have a name for the trip already... the "SYL...Run A-ground Tour" When you see this much of my bottom paint, it can only mean one thing...... the keel is in the mud, and we are still in the slip!
When the first few hours of your day are spent waiting for the tide to come in... is that a sign? If it is we have a name for this trip.... lol.

Linda made her last run to the store early....and as I was stepping off the boat to fill the water tank I noticed we were probably aground.... sure enough.. stuck in the mud. When the wind blows strong out of the North like it did last night it lowers the bay level, combine that with a low tide and we lose a lot of water here in Kemah.

Delayed before we ever got started.... maybe we are getting all the delays done up front and out of the way huh? No more waiting on weather for us... lol.. yeah right.

I don't need but about 8" of water, so maybe we'll get it soon after lunch.
I guess this is a reminder to go slow and take it easy.... which I always intend to do.. but somehow tend to get in a hurry.
There's always time for Grandkids pictures....

Hailey in Blue, Hannah in the middle and little Heidi.

Three of the sweetest kids on earth... and that's not just my opinion...... just look at them!

We did a short run out on the bay and the kids loved it.
Erin found a good spot to practice her Yoga Yesterday...
Zoey is 4 months old... E won't be able to carry her like this much longer... that silly dog holds on to you with all four feet when you carry her. She's a fun puppy, I like the breed.... E has already trained her pretty well. she'll be big next time we see her in person.
The tide is still going OUT! not good... this is probably as low as it's ever been the whole time we have been in Waterford Harbor. I got a couple things done this morning early that I didn't have to do before we left. I have one more project I'll do before we go, but no hurry I guess. I have some wood work to screw and glue on... I'll do it before we leave so I won't have to bring the two gallon cans of West System epoxy with me. 11:46 and the tide is still dropping... it may be 4 or 5 this evening before we float again.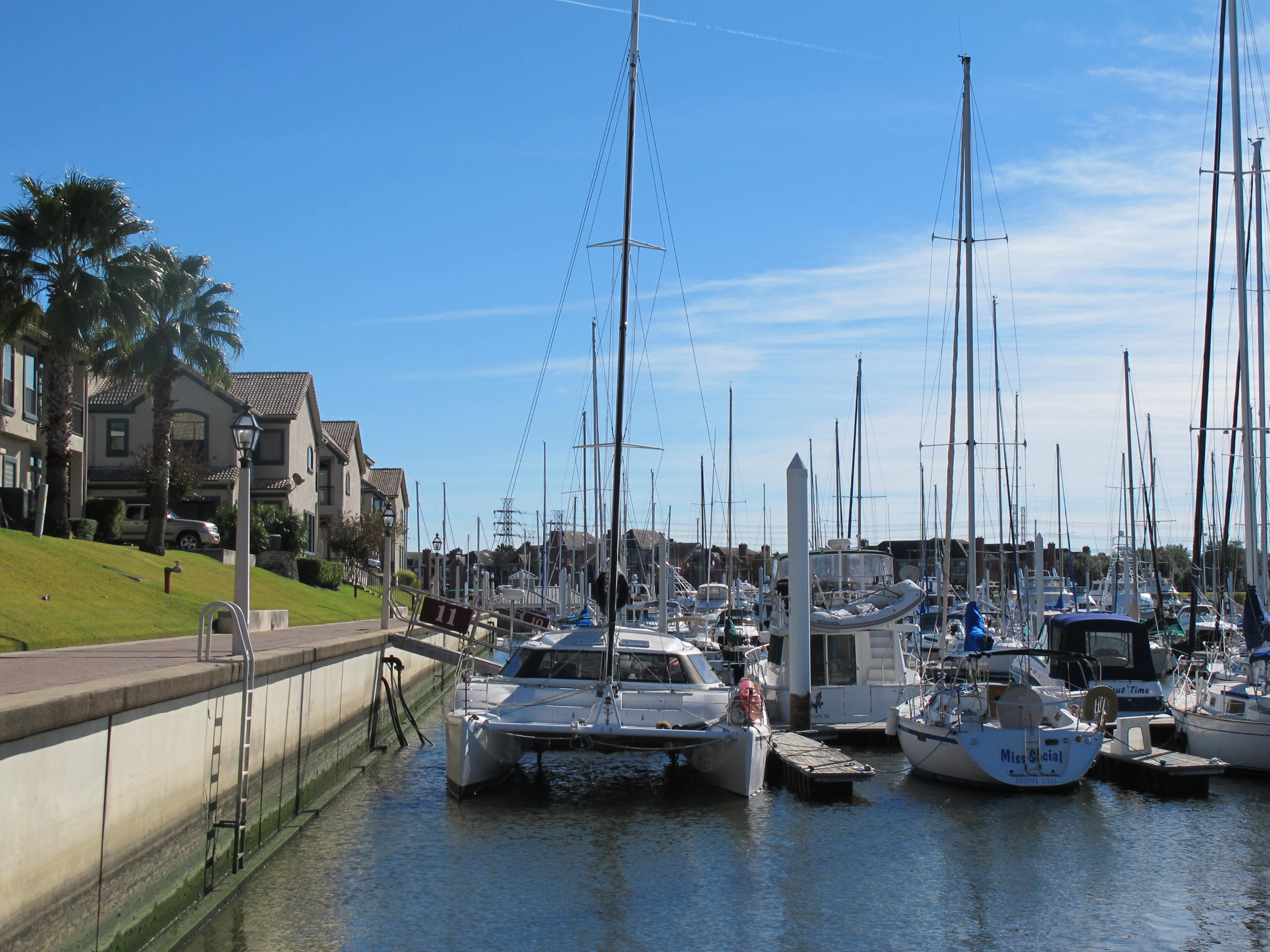 This was taken a few hours ago... check out my leaning mast... lol. There is a little ledge popping out along the bottom of the wharf.... the water dropped 7 more inches after this picture. The harbormaster said it may float tonight... and it may not... whodathoughtit.
6:30........... the water is still DROPPING! we may never get out of here. That ledge..... is now out of the water another couple inches (about 9" now) The North wind will stop tomorrow noon.. maybe that will give us some relief.... we are walking around like we were in a fun house at the fair..... the floors aren't level...... if we had wanted this we'd have bought a monohull! Our biggest problem is that the raw water intake for the heater is on the high side.... so.... I can't run the heater tonight, the intake would suck AIR......... and it is supposed to be near freezing by daybreak. Bummer huh?
It's still fairly warm inside due to the heat of the day, and I have a catalytic heater... but I don't want to fun it indoors much. I guess we could run to target and get an electric heater if all else fails, but I imagine we won't be too cold..... Linda LOVES it. :)
I got 2 more projects done this evening.. so that's good. One was to clean the raw water strainer, it needed it. The other was to reattach a piece of one of the steps that lead down into the port hull. A heavy bottle fell and broke about 1" off the nose of the step, but I made a great repair, you'd never know it happened. West System Epoxy is amazing stuff. So the day wasn't a total loss.... and BONUS... we got to see what it's like to sit in the cabin heeled over all day!
I think we are going to sleep up top tonight.... it will be easier to see if we are floating at some point and it will be warmer up here than down below. I wonder if tomorrow we can try a port tack.... this all day Starboard tack is getting old. hint of the day... Summer Sailing is better!
SYL !!
December 11, 2010
Waiting on the front: Tonight we should see a frontal passage that will set us up for a nice sail south. Tomorrow (Sunday) we will leave Waterford and stage out near Galveston in the mouth of the ICW. I'm finally "ready" to leave. It just hasn't seemed right until now, but now it does.... it's time to go!
I've got a few small things to do, but that can happen today easy. Most of it can even wait until Florida. Erin has stayed on the boat with us two nights.. it's been nice having her. Right now I'm babysitting Zoey while the girls are shopping. I guess I need to take another good look at weather.. see if it changed since last night.
Linda has some pictures to post... but we have just been too busy getting Christmas done early and such. Pictures soon....
Tom came by, we went and got my spare gas.... it's a lazy day around the boat. I'm just coming off the worst of a cold and Linda has it now. She feels good as long as she's resting... not an ideal way to leave... but oh well. We have plenty of good OTC meds.. so it's all good.
Tomorrow (Sunday) we will drop the hook at Laguna Harbor, on Bolivar. One of our neighbors told us about it, it's a real estate development that is "on hold" so nobody's ever there. Apparently the market wasn't as good as expected so development halted, it looks really good on google earth 29.385578, -94.765534 paste those numbers in the search window and hit go. Monday will be a motoring day for sure.. winds are forecast to be low.. but that will allow it to get COLD behind the front..... about 34 or 36 by daybreak Monday. Tuesday we might get a bit of an onshore breeze and it will warm up to a high of 60 with low humidity... nice.
Tonight is the big Boardwalk Christmas boat parade. Everybody is at their boat decorating.... it's a big deal. They will string lights up the mast.. the whole deal.... I image we will miss it all.. being the old fuddy duddy's with a cold.... lol. Who knows.. our plans change often... we may leave early and go on to Galveston tonight on the Westerlys. It depends on when Erin leaves I guess.
E and Linda just left to get some fabric.... We'll see when they get home.
SYL... Rusty
December 9, 2010
We are back on SYL. It is good to be on her but I sure will miss my kids. I got teary eyed when we pulled away from our home in Beaumont. I am glad Erin was teaching a class and not home or I would have probably boo hoed. We started organizing and cleaning as soon as we got to the boat. It is in pretty good shape. Not perfect, but better than it has been in months. Tassie and Harry (Rusty's sister and husband) are suppose to come down today. Harry has never seen SYL so that will be fun. I am sure we will go to dinner and then come back to the boat. Erin is coming down tonight after her last class. We will baby sit Zoey ( her dog) tomorrow while she goes to Lululemon ( a place that sells yoga apparel). We still have a substantial "to do" list so we have decided to leave on Sunday. Last year we pushed hard to leave and had a hard first 40 hours. I have no interest in repeating that experience, so we will probably go ICW. We are far enough along in our list that we don't have to push hard. We are getting ready to run errands. I think we will be so much better prepared for this cruising season.
Tassie and Harry just left after a very nice visit. We went to dinner at a bistro called Opus which has awesome food but it is sooooo noisy it almost ruins the meal. The bistro has stain cement for flooring instead of carpet and and noise level is something you would expect to find in a restaurant with sawdust and peanut shells on the floor instead of lovely, low lighting and excellent service. Erin and Zoey should be here in the next half hour. She will spend the night and most of tomorrow. Stuart is coming tomorrow night to say goodbye. This day has flown by. I have a feeling the next few days will pass quickly.
Sea Yawl Later!!
Linda
December 8, 2010
Wow, so many things to do before we go... we have been so busy running we haven't updated the site. Where do we start.... today (Wednesday) we had planned to go back to the boat.... but we just didn't finish getting things done here. However I just finished fixing some electrical work and connecting the vent for the range top grill... all done here for me!
The car is loaded and ready for an early morning departure.
The weather looks OK, but not awesome. When I get done here I'll look at the latest
December 3, 2010
I was off to a slow start this morning. I have neuropathy in my hands and feet which most of the times is just a big nuisance. Last night my hands started hurting and continued this morning. Finally, I decided that was just the way it was going to be today and got busy. Now it really only bothers me if I stop. So I guess the solution is to "not stop". The galley compartments and the floors are clean and fairly well organized. I have been keeping up with my excel inventory list which I think will help enormously this season. I think I am going to do all the woodwork while we are underway just a little at a time. Rusty has dismantled the movie screen and is working on an install. I have moved the extra cushions once again and now I think they have found a permanent home in the starboard bow. We should have the salon ready to scrub today. Our goal is to take tomorrow off. Karen and the kids are coming tomorrow and we want to enjoy them.
Last night we went to dinner at the restaurant "Opus". It had been recommended by fellow cruisers and the food was awesome. Their faire is what I call Continental and everything we tried was very, very good. It is one block off 2094. After dinner we made a run to Academy to pick up a new stadium chair, beach chair for me, and fishing "stuff" then we went to Fry's where Rusty got the movie screen and we got computer sleeves for our computers. I think I will fix us some leftovers for lunch.
Sea Yawl Later!!
Linda
8:30... busy day... I did lots of stuff but nothing big to show for the day. I packed the car with items that go home, hauled garbage off twice, worked on my movie screen, re-packed the aft port compartment (where we keep paper supplies and big stuff) shook out the rugs, like I said nothing big.. just stayed busy. The salon is so much nicer with these cushions.... it even sounds different in here with thick padding and cloth seats.
This evening we went to my friend Tom's house, while the ladies cooked, Tom and I cut some smoked acrylic pieces to replace two of the galley cabinet fronts. It was a good project that went really well... so I guess that's the big thing for today.... it will make the galley look much nicer. So far all our fixes are staying fixed... lol. Often you work on a project and think it's fixed only to find out there are other problems. So far the rudder seals, storage tank, and other repairs seem to be actually solved. I'm sure one or two will have to be reworked (I said that so I wouldn't jinx myself) but so far all is well in Whoville tonight....
I almost fell off the boat today.....lol. I was stepping off the stern onto the dock like I had done 15 times already today and caught my foot in the dock line. I was carrying the movie screen, a saw and a tube of 3M 5200.... the one foot hung up but the other made it to the dock.... in a split second I threw everything including the 8' long projector screen toward the dock... wheeled around and grabbed the front of the dinghy with one foot still on the dock and the other 6" deep in the water....I just KNEW I was going in.... lol. but all the tools hit the dock..... I was able to recover my footing and got by without a hitch! Didn't even lose the tube of 5200 that I threw toward something dry...... lol. It was so cool that you look around to see if someone saw it happen... as if to say.... "did you see that!" but nobody did.
I have something on my mind..... this revelation re-occurs to me every now and then and it may be a little thick for some of you but this is my blog so here goes..... years ago I found one of those unmistakable truths that have made a huge difference for me... here is it: "Your joy is not determined by the bad things that happen to you...... your joy is determined by how you respond to those problems". The good part is "we get to choose" how we respond... the bad part is "we get to choose" how we respond when problems occur. Who you are... is not determined by what happens to you... who you are........ is determined simply by how you respond. Yeah I know... that's heavy... but it's also true.
In the depths of a problem this prose means almost nothing........ but after it's all over you'll find it an undeniable truth that helped you out the other side. The next time something bad happens you won't suffer so long... you'll lift yourself up and move on a little quicker.... then the small things that normally "got to you" won't even dent your joy. Sure there will be big things that kill your joy from time to time anyway.... but remember... your joy is ultimately determined by YOU... not the things you can't control.
Linda and I met a cute couple I have talked about before on the blog (Matt & Christi on Kaleo) They have had engine troubles a couple times motoring down the ICW. No doubt problems take the glow off your lifetime dream sometimes... but bear the weight of it my friends..... this too shall pass and you'll be better for it.
Every now and then something happens that reminds me of the maxim I just posted. It sucks that we have to do it ourselves... but you know what.... that's life. Friends and family can make it easier... but in the end.. it's up to you. The warmth of people that love you are like a 6 hour old campfire.... the big flames are gone.. only warm glowing embers and a good bed of ashes... good friends are like that.... they have been through the fires already... if you don't go through it too.. how can you help?
December 2, 2010
What a delightful morning. We have Christmas music playing and are having our typical egg on toast breakfast. Rusty's spirits have lightened considerably since he has gotten so much accomplished on SYL. The weather is beautiful, if a little chilly. In a few minutes we will take all our laundry to wash and I do mean ALL. Formerly, we stored the majority of our clothes under our bunk. All our clothes have an odor because of the holding tank issue (the holding tank is under our bunk). Poor choice of holding tank positioning in my opinion but that is one of the few things I don't like about the Seawind.
We have emptied every compartment on SYL, cleaned them and they are now ready to receive "stuff". We have done some major revamping of where things go this year. As I have been advised by other seasoned cruisers, it takes a few seasons to figure out what you want to take and where you want to store things. This has proven to be true. Looking at other Seawind owners solutions have certainly shortened this process.
Well, it is time to get busy.
Sea Yawl Later!!
Linda
The new salon interior just arrived. The seats are much softer then the old ones and I like the fabric. You don't stick to them like the old vinyl seats....
The watermaker has been fighting me all day. Every screw I have is barely too short or just too long, the hoses need to be bigger (since this one is higher capacity) so I'll have to change out the long bypass water hose to a larger one. That means I'll have to drill bigger holes in the bulkheads and cabinets to allow for the larger hose too. Well, it's off to the hardware store for hose fittings. Linda is making great headway on arranging the salon. I'm sure it will be even more enjoyable now that the new interior is here.
I looked at my "to do list" and it's getting pretty short! I'm sure Linda will post some pictures of the new interior once we get things put away.
OK.... 4:30 and the watermaker is officially installed. I found some issues that may have reduced the flow of the old one, there is one place in the routing of the product and byproduct lines that makes a hard turn. Both hoses had reduced flow due to pinching. I enlarged all the bulkhead holes and placed 90's in the lines where they made the turn so the install is the very best it could be. I flipped the switch just for a second to make sure it was hooked up right electrically... it sprang to life instantly so all is well. I'm NOT going to run it in this harbor, so testing will have to wait but I have not doubt that it's peachy.
These seat cushions are incredibly comfortable, they are 4" thick and cloth covered.. exponentially better than 2" with Vinyl on it, I'm more pleased than I expected to be with the new interior. We had the center pads (that you use when you make the salon into a bed) built from the same stuff, so our guest will have a nice thick bed.
9:30, we just got back from a fine meal at "Opus" in Clear Lake... It was more than worth the money.. a fine meal and wonderful service. Then we went to Academy and got some fishing supplies, a new lawn chair, a new drivers seat for me... then next door to Fry's electronics for a movie screen and some soft zip up computer bags for the 3 laptops. I think I wore Linda out today... lol. She worked as hard as I did getting the salon spruced up and cleaning up after me..... I had fiberglass and wood dust mixed with water all over the front half of the Stbd. hull getting the watermaker in. By tomorrow we will be guest ready... all the empty boxes and bags laying about taken care of. I'm so ready to have the boat in order. I know it's been driving Linda crazy too. I think I'll try out my new movie screen....
SYL Rusty
December 1, 2010
A brand new month this morning.....
Linda already went to the store, made breakfast and we ate our egg on toast. Only one big project left, the watermaker... I'll tackle that one today. The storage tank only had one small hole in it, the guy that Linda hired to fiberglass the top corner and did a good job on everything he could see, but I removed some wood and found one more pinhole. It truly wasn't much and may have not leaked liquid at all. I put about 4 pounds of air pressure inside the tank with the dinghy pump and the leak was so small it barely bubbled the soapy water I sprayed on the outside, so liquid under zero pressure would probably not have escaped. Regardless, I fixed it and did a thorough cleaning of an area we couldn't previously get to. We have decided on a different use for the big port side cabinets under the bunk. Heavy stores like 2 litre bottles and extra canned goods didn't do well in the lower compartments, and I didn't like that they were against the hull so now they have a flat shelf with lots of room... it puts the heavy stores amid ship too, so that's another advantage.
Rudder seals and storage tank fixed... watermaker today, I'm doing so good I think I'll add a project to replace the cabinet faces in the kitchen. They are nothing more than rectangular pieces of smoked acrylic sheeting. I'll try to find the material here today and possibly make them this weekend.
I need to find somebody to polish the boat, there are lots of options, I just need to make the calls and decide who I want to do it... Today I'll do some grunt work for Linda... remove some heavy stuff from one of the storage areas...... After I get the watermaker in she will have total access to all areas again for her "nesting".
It's a beautiful and clear day here this morning, very little wind.... but it's cold... winter is here. It looks really good for leaving next week.
Well, I can't get ready to leave here on the computer.. so I better get after it....
Lunch time, spaghetti and meatballs with red wine. So far today; I have the new pantry super clean and Cloroxed, then I removed the old watermaker. While Linda was cleaning the hold that it came out of, I took the opportunity to check out the VHF radio, our radio's speaker quit just as we were coming into Galveston Bay on the way home. I took it out but couldn't see any obvious problem so I went to West Marine and got a new Icom VHF. I expect the old radio can be fixed, I'll send it off and keep it as a spare because it did a very good job, I could talk/hear when others next to me couldn't.
I bought the latest model VHF, an ICOM M412. They make more expensive Icom's, but our local West Marine didn't have anything bigger than this one, the M412 is supposed to be the latest technology/newest model so that's good enough and it's an upgrade from my old one (that performed very well). Of course the hole it fits in needs to be a little bigger... bummer... I was half way through cutting the bigger hole when lunch was ready. In 15 minutes I'll have the new VHF in and will be checking on the location for the new water maker. The area is clean and ready for the new one. The beat goes on.....
Dinner time: The VHF went in like a champ...it looks and sounds good... an easy job. I have been working on the watermaker ever since. The motor / pump and filters are mounted. I was going to see if I could move the pump to a different location that would let it run a bit quieter, but unfortunately the present location is the perfect place for the space. The problem is... It's bolted to a big flat area of fiberglass so it creates a drum effect when it operates. I tried to come up with some soft mounts, the best thing I could find was putting 3/8" of neoprene rubber between the pump and the fiberglass, then I added two neoprene washers behind the fender washers on the other side of the fiberglass. It's not floating on rubber, but maybe that will help deaden the sound.
The new filter is in and connected to the raw water strainer. I need some fittings I don't have to connect the filter to the pump so that will be tomorrow. I think I'll go back down in a bit and see what else I can do. I still have to mount the 3' long membrane housing, I haven't made up my mind where to put it yet. I guess I'm 70% complete, the rest should be pretty simple. I'll be ready to try it tomorrow.. but I'm not going to run it in this harbor.... the silt here is pretty bad, and it's particularly shallow now because the strong North winds of late have pushed water out of the bay.
Shower time.. I think after that we may relax with a movie and leave the rest of the install for tomorrow. Linda and I are about to walk up and use the Waterford "facilities". I still need to get up the mast and install the new wind transducer, but I can't do it all at once.... it all takes time. I was pleased to get the radio done sort of by accident..... while Linda was in the space I needed I did something else productive...
Sea Yawl Later !! Rusty