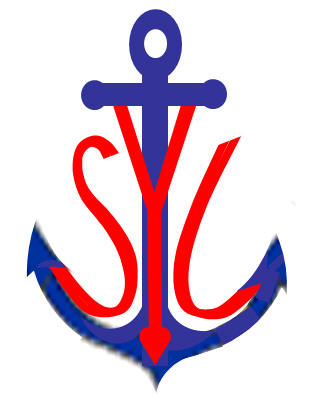 Sitton On The Beach
May 15, 2010
Linda here. We worked on SYL this morning. I had to clean out the refrigerator. These chest refrigerators get dirty pretty quick and they are a pain to clean because you have to take everything out. I also had to chip away on the cold plate that had accumulated a lot of ice. The freezer was not as bad. Rusty is feeling a little punky at the moment. He lugged a suitcase full of conk shells downstairs and I don't think his back liked it. He took a couple of ibuprofen and is laying down. I tried a new roll recipe today. It is called Jailhouse Rolls and apparently it is a recipe that is used at the courthouse in Beaumont. The dough taste good. I used half for rolls and half for cinnamon rolls. They are currently rising in the sun on the stern. I have made miniature hamburger patties for the rolls. We have been addicted to nachos of late. I had some black beans left over and I used the last of them today. I am also almost out of Jalapenos but I think Jimmy (Rusty's brother) can bring us some more. I may be able to find them in Nassau. I am starting to get sad about our trip ending. I am not real excited about the Gulf of Mexico portion of the trip back especially with the problems with the oil spill. We don't get much information here about it, just the basic's. As we understand it the oil is still pouring into the Gulf. I am not sure how that will affect our trip home. That of course is not our major concern. I just hope the Gulf's ecosystem is not severely damaged. I don't know what to expect since we have heard precious little about it. I guess we will find out more once we cross the Gulf Stream. We will be in Nassau tomorrow and will probably get to see E. Her day off is Monday but apparently she gets some breaks. Our plan is to take her and some of her friends on a sail Monday. Tuesday I will probably be on the phone all day trying to sort out some issues back home. We got a notice that is disturbing from Cobra about our health insurance being stopped. I think that is in response to a resolved issue with JV but I need to double check that. I am supposed to have a meeting with Jefferson County Appraisal District in early June that I need to see if I can extend until the end of July... the list goes on. It is so frustrating trying to take care of things back home when you are here. Communication is difficult at best. Well enough whining!!
After Monday Rusty and I will probably head out somewhere away from Nassau. Neither of us want to hang around Nassau for a week and a half. Jimmy and Steph arrive in Nassau on Thursday the 27th. We are excited that they will be with us about 4 days. We want to take them to the Berry Islands, that is where Rusty and I had our honeymoon and we love it there. Great beaches and snorkeling, a blue hole and you see no one. White Cay is remote enough that very few people go there. It is a well kept secret I guess. There is no infrastructure at all so maybe that is it. The Jumentos reminded me of White Cay. After we return to let Jimmy and Stephanie fly home, Erin should be finishing up and then we will probably make the crossing as soon as weather permits. I think E is anxious to get home and Rusty has heard from his job, he needs to be in Baytown the first half of July. I probably will need him at home a couple of days if we don't get the pool resolved before then. I thought I would be ready to be home by now but the truth is I am not. That surprises me a little. There is a lot to be said for the simplicity of the cruising lifestyle. If you have ever considered cruising I can easily say don't hesitate. Do it. Do it now. You can find all kinds of reasons why you can't. The truth is anyone can. Sailboats take some experience, but powerboats are very cheap right now... With today's electronics you can't get lost. It is a matter of choices. I think of a young couple we met that I am sure does not have much money. I get the impression they barter and exchange services for most things. They live simply on a comfortable but certainly not a luxurious Cat and are very, very happy. We have met many cruiser like that. Most cruisers cashed out or have a small condo back home and plan on doing this until they get tired of it and then become land based again. Most we have found don't get tired of it. They usually have to quit cruising because of health reasons.
Anyway I need to check my rolls. If they are good I will put the recipe on the web site. I have one for The Sherried Mushroon Chicken to put on. Love you all.
Sea Yawl Later !!
Linda
May 15, 2010
I know I need to make a new page for May.. but last time I did that I messed up the links... maybe Stuart can do it today.. being Saturday... We are staying another day at Highprice... I mean Highborne...... The weather for the open water run will be better tomorrow. We tried listening to Chris Parker this morning but apparently the high rocks around us made it impossible to receive his transmission. I doubt anything changed.
Today is clean up day.. I am about to go start on the decks... organizing and putting lines away we don't need... folding and binding the Creature off the deck to the rail... that kind of stuff. We have been using the Creatcher quite a bit but with the high winds of late.. it has no purpose laying ready to lift. I need to change Nemo's water... just stuff.
I got the decks straightened up and a stain off the front deck from rust water out of a lawn chair..... man rust sure messes up white fiberglass. We moved stuff from under the table to a permanent spot for transport home. We stuck it way up under the port bow, not to be seen again until Texas. It was shells, warm clothing, etc. things we won't need on the trip.
We worked hard on the boat for a few hours.. Linda is still working hard.. she's cooking all kinds of stuff. Trying new recipes for cinnamon and dinner rolls. Tomorrow looks like a great sailing day.... our patience is paying off...
I just did a walk by the new boat in the harbor "Gombey Dancer" I counted it to be 35 steps long as I walked by at the dock.. about 100 feet... Looking back at SYL from the harbor entrance... we are the ONLY sail boat in the harbor, and about half as long as the smallest powerboat. I searched the net for Gombey dancer, apparently the name is in reference to an event similar to Junkanoo that happens in Bermuda.... the big yacht has a RBYC flag flying... (Royal Bermuda Yacht Club). According to Google.. every year on Boxing Day, the RBYC opens it's doors and restaurant to the public as Gombey Dancers parade in the street.
We just got a new neighbor in slip 14, another powerboat. "Outa the Loop" Chuck is only 50 feet long. several 40 to 50 foot powerboats came in today.. they all know each other... powerboat guys are a different kind than sail boaters... not better or worse.. just different. Who has the biggest is much more important with powerboats than with sailboats.
Well we may have internet.. or may not tomorrow evening... we'll see how Nassau is. I found out today from a guy that just came in... Atlantis is 4 to 7 dollars a foot with a 50 foot minimum for dockage...... so in the mid price range of $5 that would be $250 for a slip... hmmmmm. I don't know if I am that important....lol. I thought $70 a night was pricey..... Atlantis ain't happenin'... Several guys came across the same seas I'll traverse tomorrow.. they said it was less than 3 foot today.. so tomorrow will be good. They were into the waves.. I'll be all downhill..... :)
SYL !! Rusty
May 14, 2010
Winds are higher today than yesterday. They should moderate 2 knots tomorrow and 3 more by Sunday but still be 17 to 19 knots with isolated squalls possibly adding 5 more to that. We will keep abreast of weather.. but it looks like we may be around Highborne for a few days. We could go to Nassau very early Monday with winds at 14 knots... but that's a long time off as far as forecasts go.. things may change. The best thing about these winds is that they would be behind us which means a lot.
I want to find a calmer place to sleep.. the boat rocked all night from the surge.... I'll try the north end by the beach tonight, or we may take a slip (to get internet if that's the only way we can get it). I am truly spoiled as far as a flat place to sleep. For weeks we have slept absolutely still on the anchor and moorings. We've spent almost no money since we left GT.... we just figured it up by the prices quoted in the guidebook and it would be about $100 a night including electricity and internet to take a slip.
All we really need is some drinking water.... the water in the tank is fine... but we like to catch it before it goes to the tanks for drinking (per the Admiral) I'm just the captain. We won't wash the outside of the boat until we get to Nassau, she will get salty on the way, so we'll wait. I may spray the windows off here.. but that's it.
Our solar panels have given us better service since I started moving the boom all the way to the side. Gary told me to try it.... I found out that if I cover one panel with the shade of both hands it cuts that panels output to almost zero, so the shade of the boom and stack pack easily cuts my production in half.
I just called the little blonde girl on the VHF channel 71 at Highborne to ask about a slip.... I have never met her but she has to be a blonde valley girl from California.... A boat called right at 8:00 just before me asking about dockage... it went like this; "Highborne Marina, Highborne Marina... this is (boat name), I'd like to inquire about dockage.. over" there was a long pause.. then we heard this valley girl twang... "Do you know what time it is?" over the radio..... that was the professional response from Highborne...lol the boat called again... "is this Highborne... over" our little sweetie said "yes it is....." It's like she just woke up and really didn't want to talk to anybody yet.... you know how 16 year olds can be (but she's well beyond that age......) I called after she put the first inquiry off, and she put me on standby for about 5 minutes before she responded.... when she came back she called me like this; (she got my name wrong with the first transmission so I didn't think she was calling me) then: "catamaran that wanted a slip come back please...." I came back with my boat name, length and type.... and told her I could take an alongside if it was cheaper. She said "what is your name?, is it see ya.... all later" I spelled it Y.a.w.l..... "and how long are you?" "33 feet long 19 and a half wide" I didn't say anything else that might confuse her.. with a deep sigh she said she could get me in tonight and would call me back after she made a few phone calls... it was too early to know who might be leaving or staying.
She doesn't know it yet.. but I already have one foot out the door on this deal. If she comes back wanting me to fill her most expensive slip... she's toast.... she said price depended on where she put me.... my fate is in the hands of somebody's little girl that really wants to be on Malibu Beach instead of getting up at the break of noon talking to people on the radio.
There was a call for dockage after me... she knew him... having stayed at Highborne before... after hearing his voice (not his boat name that he already said twice "Congo") she said "who is this?" with a glimmer of previously absent interest.. he said his boat name.... she said "I thought I recognized your voice".... with a glimmer of personality. She asked him how long he was staying this time.... maybe he's her hot prospect for tonight.... he said "just one night"...... I am making a lot of assumptions that probably aren't true... but the little lady is certainly under stress from some direction or the other. I can't wait to see if she's blonde....lol. That would be too good. I am certain of two things.... 1. She doesn't study British admiralty radio etiquette in her time off. 2. Attention deficit disorder is a slam dunk diagnosis. It's been over an hour since we talked.. I'll bump her on the radio again to see if she remembers me.... and that I'm waiting to come in...... lol
I called Highborne.. an adult answered... I told them we are just outside the harbor waiting on a slip assignment (an hour and a half after the request) she sounded frantic and went to look what slips had emptied.... Our lucky number (like mom and dad's) must be 13..... we were on ball #13 at Warderick.. and slip #13 here.... cool. When we got here.. the guy tying lines couldn't care less if I ran into the dock.. so he was pretty much useless..... he could have taken up slack on the lines we threw him... but naaaa... I saw it was clearly up to me to handle docking so I stayed at the throttles until Linda got us tied up well enough to not break the boat...... Then he plugged in our shore power cord...... no power....... he tried another plug... no power..... he unplugged the boat next to us thinking they certainly had power.. but I got nothing from the cord..... At this point he felt he had done his job .. he apparently estimated that the problem must be mine.... got on his bicycle and peddled off saying I dunno Mon...... OK, so the problem looked like it was me..... I checked and double checked systems.... the multi meter showed no power at my master panel..... I traced it back to the shore power plug... no power.... I fired up the generator to make sure my stuff was working on the boat... the AC came on ... full power... ok what's going on..... I went to his panel and checked power at my 30 to 50 amp adapter.... no power... I checked all his plugs directly on his panel.. no power..... OK, I must be reading something wrong here.. maybe my meter is fried..... after 45 minutes of this..... a guy walked over to a slip between mine and the office with his electrical tools and continued taking the shore power pedestal apart......... (which I hadn't noticed before, nor had our Bahamian professional docking assistant mentioned at all) Shore power was cut off to all the docks past where the guy was working....... so I spent the first hour here at Highborne beating my head against the wall for nothing..... In port you NEED AC because there is no wind... so I had my generator running for the AC. I asked how long we would be out of electricity... and he said and hour maybe an hour and a half mon..... With a thorough understanding of Bahamian time estimates...... we went straight to the dock masters office. I told her we were running our generator to stay cool... which we wouldn't have to do unless we were at her docks... using OUR gas... when we came in to get (and are paying for) her services.... when could we expect power???? This woman was probably the mother of the valley girl.... but looked more like uncle fester with bruised eyes.... Valley girl was no where to be found (probably back asleep on her pink princess pillow)....the mental picture was less than appealing after seeing her mother..... Ms. Fester assured me it was no problem for me to run my generator at the docks... and the manager was right there......... she pointed outside..... When we went outside to talk to him..... he was walking back from our boats direction.... we asked when he expected power to be restored on 13.. and he said "you got it now...." He apparently went over and solved the problem instantly... the Bahamian electrician was nailing boards back down on the dock he took loose to get to an electrical box underneath the dock..... all was well with the world......... I got back to the boat and switched to shore power... it worked....................
Highborne is probably the most expensive upscale island in the Exumas.... our first hour was not the best... but the store and grounds initially look very nice.... I suspect our luck to improve dramatically. The guy finally showed up to unlock our water faucet.. (it's .50 cents a gallon) they have great pressure... over 80 pounds and very good water... I put 50 gallons or so in the tank and will fill the 5 gallon potable water can before we go.
"CONGO" arrived just now in the next slip to our starboard....... to my surprise it's two couples... young couples though.. so maybe "valley girl" just enjoyed someone her age to talk to..... thus the minimal interest in doing her job instead of maximum interest related to a one on one... had it been a single muscular young stud alone on his big ole' boat........ she might have peaked her personality to at least a mundane level..... I told you I was probably wrong about my assumptions....lol but not that far off.
The digs around here are nice...... no floating docks.. but nice ones... very clean and well landscaped grounds..... a bait shop for the sport fishermen... we will walk the grounds in the cool of the evening and give our critique. After the initial bumps in the road... I expect a good stay.... but then again I'm like that... I tend to expect an upturn at any moment.... there are times when I get frustrated... but they are few and far between.... I mostly like being happy.....
We have internet.... Erin is well, her body is not as happy as her brain... but with advanced Yoga.... that can be expected...lol. She posted pictures of her meal..... mmmmmmm... looks good to me.... bananas were the only thing I recognized.... the retreat is Vegan...... meaning the very strictest vegetarian diet imaginable..... I hope she doesn't read the blog and see what we have been eating................. super nachos and grilled Mahi aren't on her dance card for a while...
I put a sun shade on the front windows... it gives us a bit of privacy (being head in to the docks) and cools the salon a bit.... good move I think. Being on shore power... I'm replenishing our ice reserves too..... That little ice maker is a gem..... I'm keeping a gallon ziplock in the freezer for ice... if it's full... we can go two or three days without making new ice.... even making banana smoothies in the morning for breakfast, and covering our ice needs for the 3 days we seem to have more ice than we need.
While adjusting my dock lines for the tide.... I heard the group on "Congo" on the 36 foot Beneteau next door.... they are a jovial Canadian bunch... maybe just what valley girl needs to keep her sane. Whoops.. one of the guys just left the boat carrying a very young child... less than a year old.... what a menagerie.... and there goes the two women (both in black).. bath paraphernalia in hand.... I need to discover on that... do they have shower facilities here??? I'm going to ask.....
Nope... the two in black were going to the swimming beach as was the man and baby. I did score an ice cream sandwich for me and an Eskimo bar for my sweet wife at the store... and I found their liquor store... Alas... almost double the price of anywhere in the Bahamas.....no thank you. A $9 dollar bottle of rum was almost $18.00. Baileys was over $40 bucks. Easy decision.
It's 2:26.... I like this slow cruising... we have plenty time to get to the next stop.... if we leave tomorrow or in three days.. it doesn't really matter..... I think I'll post the blog to the web... then go take a long hot shower.... hasta...
After a nice LONG shower... I took a stroll around the place.... somebody spent a lot of money here... everything is top notch.... This seems to be a sport fishing Mecca.... that's why all the money..... Highborne is very different than any other island in the Exumas.. they all have their own allure... the money comes from Nassau I'm sure.. this being the closest Exuma destination. I understand Chubs in the Berry Islands has become a sport fish destination as well.. so it's probably too pricey for us lowly sailboats. There are 9 beaches on this island... one of them is several miles long....
60 to 90 foot sport fishing boats are piling in here like chord wood.... the fuel docks are buzzing.. I bet they sell 6,000 gallons of diesel just this evening.....there is high class fiberglass all over the place....
Linda made us an awesome dinner... it's sherried mushroom chicken and rice with garlic.... lots of black pepper on the rice... man it's good.... Linda said she would post the recipe on the website... it's a do again for sure....
The sun is setting on paradise... birds are settling in for the night.. lights in the harbor are coming on.... man I wish I could go home and watch Oprah.. huh???? wouldn't that be better???? NOT.... I don't miss McNuggets... I don't miss TV... I figure if it's bad enough somebody will tell us.... the simple life of sail..... or set still for the day is pretty nice.
It's time for "hand and foot" I waxed Linda last time we played (and she beat me once).... we will see who is master of the cards tonight......
Sea Yawl Later !! Rusty
May 13, 2010
Dinner last night deserves an honorable mention.... Linda marinated a couple slabs of Mahi, one in a balsamic teriyaki sauce, the other in a soy sauce with Australian sweet ginger. I made foil boats for them so the meat just fit in the foil with 1" sides and put quite a bit of Irish butter on top. I set that on the grill and let them boil in the butter for a bit... then turned the meat over in the foil boat and basted it with the rest of the marinate. I cooked it until the grains of meat easily separated. The meaty tasting mahi came out almost blackened with the marinate and butter cooked onto the outside as a crust. We put the juice from the boat over white rice and chunked the meat up about the size of tuna fish flakes in the rice as a one dish meal...... man it was good. The strong blackened flavor needed the white rice to clean it up..... We agreed the marinate with ginger was the best.. but there were no scraps from either piece. This morning it's coffee, pancakes and pan sausage... (man I'll be glad to get back home to eat cheap pizza and taco bell.... <---not)
I talked to the German group on the FP catamaran yesterday. They sailed her from Germany several years ago and keep it here now. 3 couples flew over for two weeks on this trip, I think only one of them speaks English. The boat is a 95 model that they painted and put in her present condition, but wow it looks nice. As we started to play cards last night Linda noticed one of the guys naked on the stern taking his shower. Apparently they didn't bring many bathing suits because they all did the same thing.
They told me about a place to go around the corner to walk over to the ocean side, they said it was very pretty. We may go about noon, with low tide at 2. Apparently it's sand that's barely awash at low tide (best I could understand).
A very small monohull (less than 27 feet) sailed into the anchorage just behind us yesterday and sailed off her mooring again this morning heading North. The couple on her were tall, so they really made the boat look tiny. The boat was so small that when they walked the gunnels to go to the front, it tilted over (listed) quite a bit. I can still see their sails over the bright turquoise water 4 or 5 miles away. Winds have diminished a lot this morning but are still fairly gusty.
The motor yacht's crew dinghied to the beach a while ago to let their dog do his duty.... and are still there. Two of the Germans dinghied to the beach and are now swimming very far off shore. I thought they were swimming back to the mother ship.. but turned parallel of the beach so they are just bobbing around. When Linda finishes in the kitchen she wants to play some cards so I'll report on the sand flats outing (if we go) later today.... Hasta
Well, we decided to make for Norman's instead of walking the beach crossover. Just as we were leaving, the Park Warden came by to collect the mooring fee and accused us of fishing in the park (because we had a fishing pole in the holder) and picking up shells.... because he could see some on the table next to the BBQ. We told him we were very aware of the rules and respected them highly.. the pole has been there the whole trip, and the shells came from Georgetown.. but I could tell he didn't believe me. In fact he said "that's what everybody says" and continued to school us on park rules. He asked that we remove the fishing pole and put the shells down out of site so it wouldn't appear that we were poaching....... (the park is a no take zone.. no fish or shells) We agreed and promptly left the park area. Being the rebel I am.. the pole and shells have not moved..... He truly thought we were outlaws... and I tell you what, I could have easily taken one of those big yellow tails under the boat at night but I didn't even consider it, in fact I asked the lady at headquarters about a list of rules to make sure I didn't put my foot in the wrong place or disturb a habitat unknowingly.... ticked me off to have the warden grill us and want us to hide things so he wouldn't think we were poachers......If we were poachers he would have never seen the pole or our two shells on the table.... Oh well, we are out of there... totally innocent but we left feeling like crap. Sad exit to a otherwise beautiful area. I looked on the receipt for the mooring ball... his name is Chris (couldn't make out the last name). Let him know we enjoyed meeting him if you ever run across the boy. Every other ranger or warden we met has been delightful, but this guy needed a quota I guess and had us pegged as dastardly mustache twirling shell poachers........ man we are dangerous characters huh?
We are anchored on the West side of Norman's just south of skipjack point, near the Normans cay beach club. I may dinghy over there and check it out a bit later... The sand is thin close to the club.. but better as you go North toward skipjack. I set the anchor three times before I was comfortable. It hooked up all three times, but when I looked at it, it wasn't buried up in the sand like I know it will the first two times.
There's not much territory North of here before Nassau. Highborne and Allen's is all that's left. Its reported that Highborne has internet (but they said that in the book here at Norman's too) I expect it's true at Highborne. Highborne prices look astronomical in the guidebook.... we won't take a slip.. we might tie up long enough to buy water and gasoline.... maybe. We don't need anything but some drinking water... our tanks are just under 1/2 full from GT for sink and shower water. The West beaches of Norman's are craggy and rocky.. not like most of the beaches we have found. Maybe as you go North they sand up and get prettier but this isn't a wow. The east side has some nice sand but the easterly winds are keeping them untenable at the moment. I'd love to go into Norman's Pond.. but the big east wind makes that a no no too. I guess we are beach snobs now..... only perfect will do.
I dinghied over to the Norman's Beach Club... a fine little establishment that sits at the end of the runway here on Norman's. Beer is $6, a side salad is $12.. that's as much as I needed to find out.... back to the boat (3:30)
It's 5:49 and we are eating Linda's mushroom chicken and rice.... at Highborne.....lol. I didn't like were we were so we vamoosed, Norman's would be awesome if we could play on the East coast... but currently large mountains of water are doing that... so we can't. The anchorage just outside of Highborne Harbor is deep.... I set my anchor in 14 feet of water.... isn't it funny that now I think 14' is deep........ I've got all my 70' of chain and about 30' of rope rode out.. the bottom is nice sand (you can see it well).. the anchor set nicely in it... Highborne was less than 10 miles.. so here we are.... two island stops in one day.....
Interent: OK, I hooked up my super duper internet booster device to see if we can get a signal from outside the harbor.... I did.... the only problem is, it's for dockage patrons ONLY.... hmmmm.... when we go in tomorrow for water we will ask if we can buy a day's service... but I doubt it.... we will se how snotty nosed they are about selling a days internet to us lowly cruisers..... the marina is full of mega yachts... I don't think they cater to little old sail boats that only hold a few gallons of gas. If your talking 1000 gallons of diesel.. they might pay attention... but probably not... Too upscale for me. The beach to the north looks good.... we may get a bit of water... and may spend the day there if winds aren't laying until Saturday. "Highborne" is just what the name implies.... it's the highest elevation land in the Exumas. I think it also applies to pricing relative to it's lesser siblings.... lol. Higher......
We intend to surprise Erin by just showing up outside her ashram...... We need dockage before that somewhere though.. to clean her up with fresh water (she has salt all over her) and make SYL spiffy for the show and tell with Erin's peeps. My hope is to take E and some of her buddies on a day cruise, then strike out for the Berry Islands for a week and return to the big city before Jim gets here. I want to go back to White Cay in the Berrys..... we have spent many good times there.. and I'd love to go see it again. I dang sure don't want to spend two weeks tied up in Nassau. Linda and I took our honeymoon at White Cay almost 10 years ago... with us this close.. we gotta go back. It's only a day trip over from Nassau so it's a done deal if we get the weather.
Speaking of weather.... we will be up at 6:30 in the AM to find out if Nassau is in our plans for tomorrow.... chances are it's not. We might have to swim on the north beach and play under the boat another day.... DANG........ Saturday (this is Thursday) is supposed to be the lightest winds for the next week or so.... if that holds true... we will have to swim under the boat tomorrow... and lay up in the bed to read... then play cards.... eat another version of Mahi that we already have planned..... man it's tough out here.
Linda (knowing now we have plenty of water availability) just took a long shower...lol She's been a gem being careful about our water..... I told her to go crazy... wash your hair... languish in the fresh water tonight..... I'll probably use mine from the 2.5 gallon sun shower on the back transom tonight. I suspect my daily usage is less than 1.5 gallons. My toothbrush doesn't take much.. a splash on the face every morning and a shave every 5 days.... salt water bath with a fresh water rinse.. and I'm all good. I rarely drink straight water (I know I should...) but us men... we are all about conservation and keeping the good stuff for the women we love....
It's a little more rolly here at Highborne that I expected.... we are right against the high ridge.. and well away from any current... I'm not sure what's causing it but we're OK. No more moving today.... We are in a line of 8 sail boats spaced well apart with our noses pointed at the high rocks just in front of us. Most are big monohulls.. 40' plus in length. SYL is perched just off the wall right near the very tall Batelco Tower.... a landmark that can be seen for many miles..... it's shown on all the charts. There is no beach here... just a rock wall that is 50' or so high.... the beach is at the North end of the island. We decided to anchor here to see if we could get internet near the marina.... but that didn't happen.
I'm going to make the bed and read....... Nassau = 30 something miles.... Sea Yawl Later...... Rusty
May 12, 2010
Linda just ground the coffee beans... Dunkin Donuts whole bean original blend..... the smell of the grinding is as good as the cup that will come out of the kitchen in a few minutes. Winds are still blustery, not wailing.. but it may be bumpy for our 15 mile leg today. If it's uncomfortable.. we will tuck back in and be happy in the Warderick Emerald Rock mooring field. We won't beat back into the North anchorage if it's bad.. we will continue downwind to round the Malabar spit and come back to the first place we anchored (away from Mr. Lemon). We have the boat rigged for the ride.. no bottles standing up on the table etc. If the blustery conditions were going to stop tomorrow I'd probably wait... but the winds are due to blow for several more days... I want to see if we can travel comfortably in them on the back side of the islands.
Erin seems to be having a good time in Nassau, she has friends from New York and Canada..... so she's the only southern belle of the bunch. She's using her IPhone as a laptop to get on the local wifi for emails. We hope to take her and her "crew" sailing one day when we get there. There is an anchorage right by the ashram.. so we should be able to stay within shouting distance. Brother Jim is coming, but a week later than we thought at first. He and Steph will be on the boat Friday the 28th. I can't wait to show Jim my stuff... and the Bahamas up close and personal.
As soon as Linda gets the kitchen settled.. we will cast off for the 3 hour tour....... sounds like Gilligan and the Skipper huh...lol. I may not even raise the main, it's a downhill run, so I'm going to try using just the jib to keep the boat underpowered and comfortable. The Hawksbill anchorage is supposed to be nice, maybe Linda will get in the water again... now that Mr. Lemon is left behind. I have watched the water a lot.. and haven't seen anything but a nurse shark and the yellow tails under the boat. The water temp finally topped 80 degrees this week... very nice....
We are in Hawksbill North anchorage...... with the greatest of ease..... the biggest waves we saw were 3 feet, but mostly 1 to 2's.... so it was a good sail. I cross sheeted the jib to keep the top full on a 70 degree apparent majority leg. We had 15 to 18 knots of wind and averaged well over 5 knots on the jib alone.... plenty speed for a 15 mile run. When we arrived, Linda immediately whipped up a batch of her world famous Nachos.... so the captain is fed up and happy..... Hawksbill (North anchorage on the West side of the island) is remote feeling.. no structures in site just 500 yards of beach and a few mooring balls. We found the anchorage occupied by a large trawler and the prettiest little FP Athena I have ever seen. The lower hulls are very dark green, to the point of looking black with darker than hunter green canvas. The bright white decks pop on the excellent paint scheme. She looks new with a luster on the gel coat that looks factory. Her name is "Avalon"... nicely done. I'll relay those accolades to the owner a bit later...
We came in at low tide, so we considered beaching SYL for a bow swim.. but the beach here seems shallow for a long ways out...not conducive to our favorite arrival mode (Sittononthebeach). We opted for a mooring ball (the politically correct way inside the park) but the big trawler is on his own metal.... he didn't take a ball.... I guess we could move to the beach tomorrow if we want.
The terrain is not very high here... about the same as Warderick so we don't have a high wind block. The beach section of the cay (that we are on) is the lowest... with peaks on either end of the sand, more elevation to the North than South. I like this area... no hustle and bustle.. just pretty beach and acres of turquoise water less than 8 feet deep. Of course there is no fetch so the waves are nonexistent......... the cooling winds are plentiful. I had the hatches closed expecting the worst as we left Warderick... but found a nice sea state..... regardless, when I opened the boat back up on arrival.. the wind blew Linda's glasses off the table and is very useful in keeping the salon cool. I dipped my foot in the water off the stern.. but with this wind.. I may be happy staying dry tonight. The sun is bright with 30% coverage of clouds..... allowing the shallow sand to gleam in the ice blue waters above it. This may be a star gazing night if the clouds clear with no light pollution from human infrastructure. Good move... coming here to Hawksbill.
Observation: Boats on anchor (or on a ball) swing differently.... As I look at my neighbors and have witnessed before.... monohulls, trawlers, tri hulls and cats all have their own unique swing patterns tied to the sea bed. A medium sized trawler swims on anchor... allot! It seems the higher the anchor roller at the bow the more it swings. Monohull sailboats move a bit.. more in high winds than low.... but not as much as a tri-hull. Those things try to sail off in any direction the wind drives them. They are generally low decked... but so light the 3 sides facing the wind drive the boat..... If a cat has a long enough bridle.. she sets pretty straight. My bridle is very long.. but I swing as much as 15 degrees off the wind before coming back to center. When we were at Fowl with "Kat-N-I" a 44' Endeavor power cat.. he swung like a big dog.... His bows are 6' off the water and not that wide apart so he wandered all over the compass. Just an observation... it doesn't make a hill of beans either way.. but there it is.
We are making ice and charging the batts so the Honda is purring like a kitten on the stbd steps. That little ice maker is fast becoming as favored of a device as the Honda..... Linda is reading Danielle Steel and I'm talking to you good folks.......
I really like sailing slow... that way I have time to sew some of the fabric of the trip into words here on the web site..... that way we have something to remember. (I hear rum causes short memory loss.... and I don't want to take the chance of losing this stuff).
For you guys dreaming about an Exumas trip... quit it..... just make it happen... it's better than you think. Of course the only way it can be perfect is with the right first mate.... and you CAN'T have mine.... It's not where you go or what you see... it's who you get to share it with. This is pretty perfect. I don't think... no I KNOW I have never been happier. Everybody waves at you and has a magical story to tell about how long they have been cruising.. or where they have been. Everybody we have met from the mega yacht millionaires to the crowded miniboats.... are great people to talk to. I guess the "realness" of people that CAN do this weeds out the fluff. You readers... don't think yourself fluff if you haven't gone for this particular dream... that's not what I mean. When you do strike out and prove your metal.... you will have your own satisfaction of accomplishment.... if it's as a soccer mom or a circumnavigator.... be happy where you or.... or change it..... it's that simple. If you think you can.. or you think you can't.... your probably right either way. My biggest wish if that I could show my parents what I am seeing.... that's the biggest drive in I keep up with this blog.... but I'd love to show them in person... give them back a little of the joy they gave me as a child. I love you mom.... I hope your Mother's day was as good as mine.
That's probably all for now... Rusty
May 11 ,2010
It's 2:48 and I have taken two naps today... I did get up and made a walk around the harbor. Here are some pictures. The current comes through the narrow channel very swiftly. I'm glad we are on a ball, I bet the bottom is scoured by the current without much sand to hold an anchor....
There have been big fish swimming against the current under the boat most the time..... I guess they may be under all the boats in the harbor awaiting dinner scraps, I don't know. I need to get my fish book out and see what kind they are. I feel like Wiley Coyote licking my lips with my hands almost around the neck of that delicious road runner.... all these fish and I can't have one... stinkin' park rules...lol
The center of the harbor dries with the low tide every day, that's where I took my walk.... then I crossed the channel and hiked up to the top of the barrier island that protects the harbor from the Exuma Sound to see how big the waves were.... Impressive today... Warderick Wells is a must see if you ever come this way.
I was told Hawksbill Cay is another must see and very protected. We will make our way there in a day or two..... We are tentatively planning on making Nassau in a week and a half. It's only 60 miles or so.. that leaves lots of hanging out time on the way. We have done 80 mile legs in one day... so Nassau is within easy reach any time.... We are going to try a short leg tomorrow... Hawksbill probably, it's only 10 miles as the crow flies. We'll stick our nose out on the banks and see what it's like. I have a feeling it will be fine with a very short fetch running to the West of the barrier islands. If it's not comfortable we will come back to Warderick and go another day.
Lining it up in my mind.. I'd think I'd like to see Hawksbill, Normans and Highborne Cays before we make for the big city... One consideration is water... we are down to 1/2 a tank (about 55 gallons) we may need water before we get to Nassau. Highborne looks like our next marina opportunity. We haven't burned much gas... mostly just in the generator. I did have to motor in to Warderick off the Sound for a half hour... so I'll check my tanks.. but we went slow on flat seas.... so fuel burn was very low. I should need water before fuel.
We just got an email... It looks like my brother Jim and friend Stephanie may be joining us in Nassau for a couple days. He's in Kansas City... It will be fun to show him some of the pretty stuff we are seeing. I have a spot picked out just east of Nassau. Rose Island, you can snorkel on reefs right off the beach. If the weather is settled enough you can anchor on the beach side and watch the sun sizzle into the water every night. We did 3 days there on a lagoon 380 a few years ago.
I did my work for the day...... I spent about 20 minutes tidying up the boat for tomorrows leave. I usually hang the dinghy at night in the davits, but I also secured fore and aft lines so it won't sway in a seaway. I also had the Kayak down.. so I put it up on the bow tramp and tied it to the bow cleat, The underwater camera was still layed out to watch fish..... so that's all rolled up.... It's easy to get into "camping" mode when you sit still for a couple days. After while I'll set my waypoints for tomorrows trip and make a route. We probably won't leave until after 8, but what else am I going to do... I'm all napped out.
We will be down wind tomorrow so I may not even put the main up. It depends on our route. If I stay close to the islands I'll have to pick my way thru the channels but it will be smoother. If I go 3 miles out on the Banks to the fairway marked on the Explorer Charts it would be simpler to navigate, but more fetch for the waves. I think I'll try simple first. In fact, studying the charts further the inside route puts me in open water a few times exposed to the full waves of the sound.... so the fairway it is... simpler and less "exciting"
It's almost 7 and my sweet wife is making us some nachos..... not just chips with cheese on it.. we are talking cheese, black beans, Jalapeños, picante sauce and sour cream with a side order of Prilosec for me...
I got my route planned and in the gps for tomorrow. We are about to launch into the hand and foot game of the century.... it was a dead heat last time, Linda won one and I won one... but I was too tired to hang in for the world championship tie breaker. I figure with two naps today I may be able to last until ... heck... maybe until 10:00.
Sea Yawl Later !!
May 10 ,2010
| | |
| --- | --- |
| | |
| Sailing yesterday. Now that is relaxed sailing!! | Rusty taking a little tour of our anchorage by kayak. |
We had a really nice day on anchor. Rusty has already hit all the major points. The only disappointment was the lemon shark being around and spoiling our under the boat swim. I read for a large part of the day. They have a book exchange here so I will check that out tomorrow. I cut some of the Mahi Mahi in strips and pan fried them. They were good but I prefer the yellow tail snapper. The snapper is a much more delicate fish. I tried making some beer bread and it was ok. The flavor is good but it didn't want to come out of the pan and it was pretty heavy. Rusty liked it, so that is good. Rusty and I played a couple of hands of "hand and foot" (he actually let me win one hand). The A/C is running so it is quite nice inside the cabin. I'll load this up tomorrow.
Sea Yawl Later!!
Linda
May 10, 2010
Home made biscuits, pan sausage and pan fried new potatoes with onions started our day today. We moved around to a mooring ball 13, right in front of the ELSP office. I thought it might help our internet which is sporadic at best, on top of that the view is awesome. We will get the web site uploaded and check mail while we are "inside". I'm sure we will be here at least through tomorrow. We are looking forward to a couple of lazy days. I just heard the ice maker drop a load of ice..... Linda and I shared a rum and coke with our lunch. I'll make ice until the bin is full...use what I want and freeze the rest in a zip lock.
Interesting story here inside the park.... I was up taking pictures from the office and a couple from the trawler "Rumbline" had a story to tell. Their puppy "Max" loves to watch fish.... they finished lunch and dumped leftovers in the current.... that attracted small fish that Max loved to watch. The smaller fish attracted larger fish and that attracted a 6' lemon shark that thought Max would be a nice snack for HIS lunch. Everything would have been fine, but Max jumped in the water to chase fish, like dog chasing cars I guess..... he couldn't help it.... The owners saw Jaws coming after their pet... the man dove in to save Max and just at the last moment he scooped Max out of the water and threw him onto the boat. Mr. Lemon.... not so interested in humans.... cruised off for smaller fluffier prey. Lemon and reef sharks are notoriously bad boys..... you don't want to mess with them. The encounter was successful.... but it ruined our under the boat swim for the day.
This anchorage is the best we have been in... it's geography is like no other..... I'll upload and post pictures below....
I just got back from a dinghy visit with the boat in front of us...... "Calypso" Its an older monohull with two young kids aboard. They were jumping in the water off the bow sprit and climbing up the stern once the current brought them past the boat..... having a blast.... I put my kayak down earlier so I thought I'd offer it to the kids.... and tell them the shark tale I had heard about the boat directly in front of them! The kids were not interested in the Kayak... nor my fish story.. so they continued to jump.. splash and play. The mom offered me some frozen Mahi.... because their freezer was packed with fish and were running out of space..... at first I turned her down.. but then told her of our unfruitful efforts to catch fish, so she insisted and gave me a gallon ziplock bag of frozen Mahi fillets. I cut half a Mahi fillet off for dinner and have 3 servings left!!!! Linda will no doubt fix her up with something tasty in return the favor tomorrow.
It's getting a bit warm here in the anchorage... a benefit you have languishing on anchor is you have plenty breeze.... it's not like that inside the arc of beauty at Warderick Wells. We'll run the AC tonight if the wind doesn't pipe up enough to cool the master quarters. It's almost 4, so I may take a stroll soon on the ankle deep sand flats 20 feet from the boat..... A man and his two Labradors were romping on the flats earlier...... what a cool place to hang out.
I just made a video of 7 or 8 two foot long yellow tails swimming in the shade of our catamaran..... it's a cool video... I wish I could post videos on here... but it would be too big a file. Sucks for you... I guess you'd just have to be here and see it for yourself....... what's stopping you.?.?.?.?.?
A nurse shark made a pass by the camera... just to make sure he got his Zigfield Follies close up..... I'll see if I can capture some stills from the movie when I get time...... I'm just so busy and all......
It's 5:30, the sun is getting lower..... I put the shade cloth down at the back of the salon..... it's nice to darken the suns glare across the smooth clear water.... Almost time to walk the sand flats.... our time of day..... tide is high though... no sand isn't visible like it was earlier.... The ice maker just dropped 10 more cubes.... I better use them before they melt... I'm trying a new drink..... Sprite, orange juice, white rum and coconut rum. It ain't bad.
Sea Yawl Later!! Rusty
May 9, 2010
We got up early to listen to the weather, no change... a 25 knot blow (which isn't too bad) Tuesday then moderating slowly until the weekend. You could sail in it easy, but unprotected waters would have some big waves. We can choose the East of West sides of the islands as we go to Nassau so we can always run in protected waters, well, except for the last 20 miles when you leave the Exuma chain.
We left Rocky Dundas around 8AM and headed out the cut to the sound. Winds were due to be light and variable so we headed for the outside to look for all the wind we could find. I flew the spinnaker for an hour and a half until the winds just quit all together, I really enjoy that sail. The previous two days I used the Creatcher because winds were less than 90 degrees apparent. I've gotten pretty good at raising and lowering that big thing... The Exuma chain bends to the West a bit around Warderick Wells, so I had the wind more behind me today with the East breeze so the spinnaker was the right sail for the day... especially as light as it was going to be.
We had to motor the last 30 minutes to get to headquarters before they closed at noon (it is Sunday). We had to be there in person to sign up for internet service. We took a temporary ball in front of headquarters and dinghied in to pay. A mooring is 15 dollars and internet is 10. Taking our ball around 1:00 we swam under the boat and met our neighbors on a bareboat charter 38' Beneteau until dark then ate new potatoes, the one yellow fin we caught and a fillet mignon.... not a bad evening... I hooked the mooring ball to the port stern cleat so the light air would fill the salon with our stern to the wind. It was a nice evening.
May 8, 2010
LINDA
| | |
| --- | --- |
| | We spent most of the day and evening aboard the Kath-N-I. Rusty went over first and I made some tortillas and black beans and then joined the group. We had such a pleasant day. Ray and Kat cruise from October to Thanksgiving, return to Tennessee for the holidays and then return Florida in March and cruise until June or July. Kat has had some medical issues so this may be their last year to cruise. They leave their boat in Florida year round. If they sale their cruiser they still plan on keeping a boat in Florida because they love to salt water fish. We have an open invitation to visit them either in Tennessee or Florida and I would very much like to see them again. They are a neat couple. Rusty and Ray went fishing in the late afternoon and brought back a Yellow Tail Snapper. ( I prepared it the next day and it was awesome!) |
RUSTY
I'm checking tides to see when the best time to go in the caves might be. Rocky Dundas caves are big, apparently you can swim right in at low tide without going under the water like Thunderball Grotto, there is also a dry shore inside the cave to walk on. It's 8:30, so I guess we ought to plan the day. Low tide is at 10:58, so that sets our spelunking time. Ray on "Kath-N-I" is going to give me some local knowledge about where to go around here with the charts today to see some nice reefs. We will probably get together after we get back from the dink ride over to the caves.
The caves were spectacular, Outside the caves was a nice reef with abundant life on it. Linda enjoyed the reef. The cave is nice sized with many colors and different kinds of structure. I liked it as well as Thunderball I think. Different but very cool, worth the time to see if you're ever in the Exumas. The first picture is looking from the back of the cave out to the entrance.
The reef leading into the cave was very good. Linda's favorite part ...
May 7, 2010
This morning we got up early (6:30) to listen to Chris Parker's weather on the SSB. Today would be another carbon copy day of the past two then winds are expected to drop off for a day or so. We pulled up anchor before 8AM and headed out Dotham Cut to do some fishing. I have been getting tips from sailors about how and where to troll, primarily for Mahi. I did everything right, I fished over 100 to 165 feet of water, found the drop offs and trolled right over them, I tried several different lures, but had no luck. Boats right next to me caught fish, but I didn't. I believe I don't have the right lure, and some are adding a ballyhoo (small bait fish) to the offering. I need some new lures and stinky bait I guess.
Tonga Time, a 48' Catana sailed along side us for a while. We knew them from GT. They stopped at Galliot Cut and we continued on a bit to Conch Cut and the "Rocky Dundas". Gary and Celeste told us about the area, and it's the first part of the Exumas we haven't explored yet so we pulled in. "Sea Tiger" a large monohull ketch we saw in GT, was anchored at Fowl Cay. We nestled in shallower than the big boat and set anchor. During the day they left, later a 44' Endeavor power cat came in the cove with Ray and Kathy aboard from Tennessee. They invited us over for drinks at 7, that boat has three queen sized beds on it. It's powered by two 270 hp Yanmar diesels that give him 17 knots at full power. Nice boat but they could have done a better job designing the front of the salon decks. It looks like a cyclops coming at you with one big window and very boxy shape.
I spent an hour or so snorkeling inside the cove. I made a couple videos of the reef underwater. To be so small, the reefs were very nice with fish I haven't seen anywhere else in the Exumas. This area has many reefs and caves, so with the slack winds we may stay a day or two. Apparently this island is somebody's private getaway. We were awaken from a nap about 2 by a big sound that was very close... Apparently the airstrip ends right at the beach here.... A big high wing twin landed and dropped off a guy and a dog then headed back to the other end of the island, it never took off so I guess it went to a hangar. Moments later the guy and the dog headed down the airstrip on a four wheeler with a trailer, he returned with baggage and crates of what I assume was food. I heard a boat talking on the other side of the island on channel 16 (apparently the owners boat) about where to set the jet skis... off the transom or along side the yacht. These yachts normally have a 20'+ sport fishing boat with twin outboards travel with them. I assume that's who was talking with the yacht about where to stage everything. I guess it's a mothers day outing for the family huh? I can't imagine what that entourage cost for an island weekend. I am very content with our accommodations. Linda and I are certainly enjoying the simpler life where less is better and easy to maintain.
May 6, 2010
The high pressure system continues to give us light winds and clear skies... the morning is full of sounds... singing birds, water lapping against the rocks on each side of our personal beach. Here's the picture of the Leaf Cay that we posted last time we were here.
The charts show a pond in the center of the island.. I may walk over the beach and check it out after breakfast. Linda just brought up our favorite, egg on toast (made with Amish bread that Linda does from scratch). Not much else to add really... we did add some rocks and shells to El Nemo's habitat that we found sifting our fingers through the softest sand I have ever seen. This sand is like walking on plush carpet with double padding under it.... really cool. I saw soft sand like this at Musha Cay too, but the beaches are usually only pretty, not soft and pretty like Mr. Cage's beach here.
Seagulls picked the chicken bones we left for the Iguanas off the beach so it's clean as a whistle this morning. The tide erased yesterdays footprints, so it's a brand new beach. Tides have approached 3 feet lately so there is some planning to do when anchoring. My Garmin does a great job on tides, so we know when to leave 2 feet or 3 feet of water under the boat depending on where the tide is.
Well, it's off to explore... Linda is getting ready, I want to make the walk before the day builds it's heat. Hasta....
I did the full Monty exploration of the island. Linda explored the beach and was sitting in the water when I returned. I climbed to the precipice of the island, then down thru the center through the "pond" and back to the boat. I probably did 3 miles. Iguanas are prolific on Leaf Cay, I probably saw 10 while I was hiking. The most exciting ones were in the short trees above my head.... when I walked thru and scared them they bailed out of the tree right by my head and ran off... makes your heart pump for sure.... The vegetation was very interesting. There are patches of sand on top of the island. Most of the ground is covered with very low ground cover that looks like mangrove. In many places you can walk on top of it. A bit lower off the top of the hill, trees grew 6 or 7 feet high and very close together. New trees were sprouting up replacing the ancient trunks of old dead trees, the cycle of life was evident... In spots there were rocky flats about 20 feet in diameter.... craggy moonscape looking rocks with very little vegetation on them. As I got close to the pond the underbrush got very thick and hard to penetrate.... I had to go to 4WD several times to enter and exit the pond area. I assume where there is water.. there is lush growth. The pond itself was only a muddy flats. You could walk the mud without sinking in.... It appeared that the pond is not a tidal pool, it was purely a rain filled basin that hadn't seen moisture in a while. I could always find my way out of the brush by looking up to see SYL's mast.
We swam and cooled off then loaded up in the boat to head North leaving Leaf Cay before 11:00. Conditions in the Exuma Sound were a carbon copy of the day before, 8 to 10 knots of wind and less than 1 foot seas so we stayed with it until about 4:30 entering Dotham Cut to set the hook just North of the cut on a long flat sandy beach. We got in the dink and looked at the shoreline where I found an out of the way beach, we spent a while swimming (bobbing around in the water actually) then idled down the beach to watch the Iguanas. There are signs everywhere about this being a sanctuary, no pets allowed, don't feed them, etc. etc. We saw lots of them as we explored the beach. The sand was very coarse, not at all what we found at Leaf (we are spoiled). This sand was more like ground up rocks, there is a strong tidal flow across the beach rather than it being in a cove like Leaf Cay, maybe that's the deal. After wading for 30 minutes or so, we came back to the boat for root beer floats... (I love my ice machine). Root beer floats = Baileys , Vodka and cold root beer soda over ice....... it's awesome. DON'T try it... it's too good.
Linda wants me to stop blogging and play cards... so I'll check with you guys later.....
Rusty
It was another spectacular day. To have two great sailing days in a row doesn't happen very often. We almost stopped at 1:00pm to be at Galliet Cut with "Tonga Time" (people we met in GT) but I asked to keep on sailing while we had such exquisite sailing conditions. There were a lot of cruisers on the water today. Many we had met in GT. A couple of them were going to Black Point but I really didn't want to go there. We have been several times, there are no beaches and I am really antisocial at the moment. It is soooooooo nice it being just Rusty and I. I am enjoying the secluded beaches Rusty has been finding for us. I don't want to be at a Marina or around people right now. I think I am solitary mode at the moment. I have loved everyone who has visited and all the wonderful people we have met but I am ready for some down time. Give me a couple more days of solitude and I will be looking for the social action spot...lol. The iguana's we saw at Dotham Cut were very disappointed we did not feed them. Even though there are warning signs "don't feed the iguanas" it is obvious they are use to being fed. The landscape was beautiful and different from other spots we have been. There are ragged white cliffs that tower over the water. The water is crystal clear. We just played Hand and Foot and are getting ready for bed. We need to get up at 6:30am tomorrow to listen to Chris Parker and hear the weather. Hopefully this high pressure area will last a few more days. We haven't heard from E today because we don't have cell service. When I talked to her the day she arrived at the Yoga retreat she sounded rather down. The accommodations are apparently more "basic" than she thought. When I talked to her the following morning, two of the five ladies in the cottage she was in, packed up and left. She said she would make it. Hopefully things are better. I had warned her that I suspected the accommodations would be rather "rustic" because of the price and the fact that you could opt for a cottage or a tent. Apparently most opted for the tent...lol. We should make it there in a little over 2 weeks perhaps she could stay on the boat if it remains a difficult environment. There is anchorage right off shore from the retreat. Tomorrow we should have telephone service though I doubt there will be internet. It may be Nassau before we are able to post our blog. I still find it hard to believe we have been gone over 3 months. I haven't grown tired of being on the boat and have been enjoying the simple uncomplicated life style. We love all of you at home. Please let us hear from you either on facebook, aol or even better communicate to us through the guestbook on this web site.
lLinda
May 5, 2010
Today was the most spectacular day ever and that is saying something because we have had some pretty awesome days. We were very tempted (with much encouragement from friends) to stay for the Cinco De Mayo Party being held at the Sandbar. It was going to be pot luck Mexican food and the owner of the Sandbar was going to have a margarita machine for the cruisers. We opted to sail north and it was the best decision of the trip. The sailing was glorious. It was about 10 knots of wind on our starboard quarter. Rusty hauled out the "creature" and we sailed at a consistent 7 knots with less than 1 ft seas. It just doesn't get any better. Rusty was able to put SYL on autopilot for a large part of the trip. At one point I woke up from a nap and found him laid out on the front tramp just enjoying the sound of the bow wakes. We sailed about 35 miles and decided to enter the Exuma Sound at Adderly Cut to Normans Pond and ultimately to Leaf Cay where Iggy (the iguana) lives. We discovered this Cay with the Whynot's, and decided to visit it once again because it was the perfect anchorage for a single boat. The cove is just the right size. It has a pink soft sandy beach that has a gentle slope to 7 ft of water. We set anchor at about 4:30 pm and actually saw 4 different Iguanas. I had marinated some fresh chicken from the Exuma Market with Soy Sauce and Austrian Ginger and Rusty put it on the grill. While the chicken was cooking, I made some dips, put the ladder down, set the tray out and we swam under the boat. We were not ready to get out of the water so we just brought the chicken down and had dinner in the water under the boat. We were all alone and it was exquisite. The water temperature is perfect so we stayed in until 8:00 pm and had a ball. We walked the beach, fed "Iggy" (he likes lettuce better than chicken bones) and just relaxed in the water. The sunset was beautiful. We are now clean, in the boat, have the bug netting down and having a relaxing evening in the salon with a lovely breeze flowing through the windows and screen. Life is good.
The plan is to sleep until we wake up, walk the beach and do some discovering of Leaf Cay purportedly owned by Nicholas Cage, and decide if we will stay all day or sail further north. We have no itinerary!! Hum, I love it!!
May 4, 2010
E left today at 5 and we had a party...lol Not because she left, but JP and Nina from 3/4 Time and Dave, Leslie and Michelle from Texas Two Step came over to SYL for the evening. Linda made a great home made pizza and a salad. The company was as good as our meal, they all just left.
Today while we were waiting for time to bring E to the taxi, I moved the boat to the Exuma docks so we could hook up to shore power, and get water. We will stay the night here, it's the first time we paid for dockage since March 15th in Fresh Creek. We have been running the AC all day so it's nice in here. Linda used her oven... it was so nice to bake without having to start the generator. It was also easier to handle Erin's luggage (we didn't have to ride in the dinghy) when she left. I also wanted to charge the batteries on shore power for 24 hours before we struck out on the next leg of our journey.
Tomorrow we will leave for points North, probably only to Rudder Cut or somewhere close for the first night. Who knows really... we have no schedule for the first time in a long time..... My intent is to spend quite a bit of time in the northern Exumas because we have seen the mid to southern islands quite a bit now. Our friends said "don't leave tomorrow" but we have been in GT way too long already... it's time to see other places. Lots of people get "stuck" here because it's a pretty nice place with almost anything you want to see right here. Many folks drop their anchor in February and don't pick it up again until now when all the snow birds go home.
Linda is doing very well after her tumble a few days ago, a few scrapes that need band aids but little else. We were very fortunate that she came out of the fall without serious consequences.
Well, I'll upload this to the web since I have good wifi here at the docks. We should be back online in a few days..... We enjoy reading the comments people leave in our guest book, apparently somebody is out there looking at our blog other than family.
SYL!! Rusty
May 3, 2010
We had a nice sail to GT. The first half was at 35 degrees apparent for 25 miles between 6 and 8 knots (better than the day before), the last part was downwind and wave in shallow pretty water (after coming through Hog Cay Cut) so it was really nice. We got to GT around 2:30, went to give E her internet fix and do some shopping at the Exuma Market. We dropped off our laundry but E did hers at the laundry mat because she needed to have it for sure by tomorrow. Right now we are back on the boat, Linda is making home made pizza and E is writing in her journal. Today's shopping was just for tonight... tomorrow we'll do the big shopping, fill the boat up with water, dump all the trash and get ready to head North.
Tomorrow E has an appointment with taxi driver 35 to take her to the airport from the Market at 4:45 PM. We will miss her.. but we'll see her again the first of next month. We have a special couple that is close to our heart that may be able to come. If they come it would be perfect. I'm calling Tom tonight to see if it's "in the cards".
May 2, 2010
Today we slept in "past 8" because we were up late at Gary's. E has been sleeping in the salon on the big bed because she gets more air up here with the big hatches overhead. It's been in the high 80's in the day and low 80's at night. With the frontal passage we had a few nights ago the air is very dry. Today the winds picked up a little as the high pressure area behind the front takes control of the Bahamas. About 11 we all dinghied into the cave.. it was cool. We got some neat pictures. You can drive your dinghy right into the big cave on Flamingo. When we got back we put the boat in sail shape, then left the harbor and our new good friends. We may never see them again... but who knows... we may see them next year in GT. Sol Surfin' needed toilet paper, limes and tonic water (for Gin & Tonics) Rosinante needed onions so we left what we had and struck out North to GT where we could restock as needed.
We sailed into 12 to 14 knots on our nose, but had just enough apparent wind to sail the 11 miles to Water Cay (our jumping off place to Hog Cay cut and GT). I pinched at 30 degrees apparent all day. We have almost 50 miles to go tomorrow so we will get up and started early. Tomorrow the winds may lay some but will be 35 to 40 degrees apparent then over our starboard bow for the trip to GT. Tomorrow our new track will give us another 10 degrees of wind on the bows, so it should be a cool trip.
Hog cut high tide is 1:00 so we will hit it just right on a slack high. There is a convoluted track with a couple shallow bars in it.
Today we saw a huge sea turtle here at Water Cay, his head was as big as mine.
| | |
| --- | --- |
| | On the way here we caught 1 and 1/2 barracudas. The whole one was about 20" long and the half was probably 5 feet before something large took the back half of him off on the way to the boat. I got the head and half the body in, initially there was a pretty good fight but half way in it took off fast to my left, then there wasn't much fight after that. |
When we got to Water Cay E and I went over to a big rock and took some pictures of her Yoga posing over the pretty water on top the big rock out in the middle of the water. After that I took a hike to the top of the island to check out the ocean side. I wanted the camera when I got to the top... but just how many vistas from the top of a tropical mountain down to the boat in the sandy cove do you really need. We probably have 15 already.
Linda and E are playing cards, we are listening to XM radio to finish the day. We have all had our baths so it's down hill from here. Another pretty day with an ocean breeze over the low spit of land in front of us tucked tight into the ice blue cove and white sand beach. It's 5:30.... Erin is putting fresh band aids on Linda after her shower. She went conch diving today as we were leaving Flamingo.. I'll let her tell you about all that....
I (Linda) am the walking wounded at the moment but I am very, very lucky. As we were sailing out from Flamingo Cay I was carrying a a couple of large garbage bags to the front locker. We took everyone's garbage from Flamingo Cay since we are going back to GT. The boat was pitching a bit and I was on my second trip bringing garbage to the front hold when I got to the top and didn't get a good hold, my feet flew out from under me and I landed on my back and then bounced down the three steps on to a pile of conchs we had just collected from the cave. I just knew I had broken something. Rusty was right there and caught my head before I stopped sliding. I couldn't move for a few minutes and realized I had never let go of the garbage. I had several cuts and puncture wounds, bruises and both of my shoulder joints are unhappy. I have managed to hurt them both before but over all, on this slip I am very lucky. Ibuprofen is a wonderful thing!! It and triple antibiotic will be my best friend for the next several days. I am blessed that it's not more than strains and surface wounds.
| | |
| --- | --- |
| The cave at Flamingo Cay was awesome. There was room for all of us and our dinghies. You could beach the dinghy or even stand up inside the cave. It was very craggy with 2 openings on the top and several on the sides so you had plenty of light but it made taking pictures the cave at Flamingo Cay was awesome. We got a lot of conch and some other interesting shells. Erin had her sidekick Odis with her.... | |
| | |
T
May 1, 2010
| | |
| --- | --- |
| | Tonight is our last night with the Jumento group. I will miss them. We head back to GT and they will work their way through the outer islands. Sol Surfin plans on leaving their boat at Kavalli House in GT but that will not be until July. We have debated leaving SYL here but their are things I want to do to her that is not practical to do here. We are having dinner on Sol Surfin tonight. Rusty has gone to help George with a dinghy engine problem. |
We moved around to the other side of Flamingo Cay because we understand there is a cave over there. We have beached SYL (our favorite thing to do) put the shelf on the ladder and had a lazy afternoon under the boat. Rusty spent most of the time cleaning the water line and I helped a little. She is good as new. Celeste swam over and visited for awhile and then they swam over to Rosinante. I see that they are snorkeling now. Gary is working on his conch horn. I want to find a conch to make a horn out of. It is so neat, everywhere we have been at sunset people blow on their conch horn.
Erin "saved a life today". The group was snorkeling and the guys were spear fishing. These waters do have sharks so you have to be very careful when spear fishing. If you spear a fish you need to get it and you out of the water quickly. George speared a fish and it was bleeding profusely. Donna could not get their dinghy motor started and George was stuck in the water attracting a lot of fish and no way to get out of the water. Erin was in our dinghy and started the motor and rescued George out of the water. To say he was a little nervous is an understatement. I think we will be having the rather large hog snapper tonight for dinner.
| | | |
| --- | --- | --- |
| | | Erin has been working very hard on her whelk shell. It is really beautiful. Celeste says when we get home we can use some muriatic acid and it will get the rest of the crusted outer coating off. |
We had a great dinner on Sol Surfin'. It was grilled snapper, home made tortillas with ground beef filling, rice and beans, leftover birthday cake and brownies. After dinner Gary and Celeste sang and played for us, then George took the guitar and whipped out a few nice songs. We didn't leave until almost 11:00. It was a special evening with good friends.
April 30, 2010
Today we left Water Cay about 7:30 AM and made the 14 miles to Flamingo Cay. We used the spinnaker which is always fun. Erin had never seen the spinnaker and when it unfurled she was quite impressed. Of course, the spinnaker being pink was an added bonus (pink is E favorite color).

The reefs are beautiful, lots of fish but a 6' shark discouraged some of us from returning to the water. He went on his merry way but Rusty didn't get to spear fish with a shark being spotted.
Erin and Rusty have been working diligently on getting the whelk and the conch out of their shells. I won't go into the gory details but lets just say it kills your appetite. The guys are currently harvesting conch for tonight's dinner. I think Donna is making fritters, I baked bread and made a birthday cake for E. I also have room in my freezer now and have 6 Kalik beers chilling. We ate the last of the New Orleans crab cakes for lunch. The weather is wonderful, sunny, breezy and not too hot. The water is amazing you can see 20' to the bottom and it looks like it is 6'. We don't have phone or internet service out here and probably won't until we return to GT next Monday. E is in withdrawal.
| | |
| --- | --- |
| | |
Tonight we had George, Donna, Celeste and Gary over for a birthday dinner for E. Her birthday is not until May 7th but she will be at the Yoga Retreat then. We cleaned up SYL and got ready for our guest. Donna fixed Conch Fritters and I must get the recipe. In the 9 years we have been coming to the Bahamas and eating conch ten different ways from Sunday, it was the first time I liked the conch. They must have beat and beat on the conch and pulverized it because it was not chewy. Conch doesn't have any flavor to speak of but it is very tough and chewy usually. These fritters were good. Celeste brought a cold slaw. I had fresh baked bread, cheese and Kalik beer with lime. The cake I made came out pretty good. I started with a reduced sugar yellow cake and added pineapple juice and pineapple. The icing was cream cheese, powdered sugar, almond extract and pineapple. E put cherries on top.
Gary introduced us to a new drink: It is root beer, Bailey's and a little vodka. Pretty good. We have not seen any other people the two days we have been here. Very peaceful, quiet and good anchorage.
April 29, 2010
We left Pigeon Cay at 6:45 AM. We called ourselves the Jumentos Wagon Train. As we were approaching the cut, Rosinante developed another problem. Their swing keel cable broke, not the cable itself but the swaged joint that connects the cable to the centerboard. George and Rusty were able to temporize the situation by hauling the keel up into it's slot and blocking it in there so we could proceed. This put us going through the cut with a falling tide. We made it through fine.
As it worked out the power boats didn't stop as quickly as the sailboats did, they made a bit longer leg on the day heading to Flamingo Cay rather than stopping at Water Cay like we did. We caught a couple barracuda on the way, E reeled in the biggest one. The sail was nice with winds on our port rear quarter. Rusty and E went snorkeling and E brought back a whelk shell which is extraordinarily pretty. She also had a hick up under water and took in quite a bit of salt water. She didn't feel so good for a while. They were having fish taco's on Rosinante but I stayed onboard with E since she was kind of puny. The anchorage was rather bumpy but Rusty put out our stern anchor and it made it less bumpy.
April 28, 2010
We picked up laundry, filled our propane tanks, got more water, re-provisioned and moved to our staging area which was Pigeon Cay, a few miles south of GT. Rosinante had an engine malfunction and Rusty was able to get him up and running again, nothing major just a stuck starter bendix. George and Donna are on the Rosinante, which is a Kadey Kurigan shoal draft monohull. Sol Surfin, the other Seawind 1000, Carely, a trawler, Pirate, a 58' Hatteras, Rosinante and SYL will all leave tomorrow for the Jumentos. To get to the Jumentos you have to go through Hog Cut which can we dangerous. It has a lot of coral reefs, the passage is narrow and needs to be done a high tide. We have less of a problem then Carely and Pirate because we have a shallow draft and they are 5'.

Erin and Rusty decided to fish a little after we got to Pigeon Cay. Beautiful night
Today is Wednesday, the day the butane truck pulls up to Eddies Edge Water bar and restaurant at 11 to fill bottles. We did ours 3 weeks ago, but Gary needs one filled so he will be standing in line today. There was a meeting yesterday among several cruisers; Sol Surfin', Rosinante', Pirate and Imagine to share weather information and decide when to head south. We may leave with the group and go to the upper Jumentos Cays with them. Of course we need to be here in GT for Erin's plane to Nassau on the 4th (in 6 days).
We got a blow yesterday, but nothing over 30 knots and we were tucked in tight with no reach and 70 pounds of galvanized steel on the ground, not counting the 90 pounds of chain. Needless to say we didn't move an inch. After the blow it rained quite a while, which was nice.. it hasn't rained since we got to the Bahamas. We have a small rain cell over us right now, so we are getting a morning rain today as well.
It's just after 9AM, the rain is over. Since we are all closed up for the rain I turned the AC on. Cool dry air feels very good this morning after a still night without much wind.... and the leftover humidity of the morning shower. Soul Surfin' called this morning and filled me in on the meeting and sail plans for that group. They are staging a bit South tonight to make the 9AM high tide out of Hog Cay Cut. Some of the vessels travelling with us have over 5 foot draft so they need the water. It looks like there will be 5 or 6 boats in the flotilla, both power and sail.
The Jumentos Cays begin about 34 miles to the South of us. Below the Jumentos are the Ragged Cays, the almost continuous string of islands are together over 50 miles long. These are considered the out islands so the water is even clearer and prettier with more fish. When you leave GT you leave what we consider "town" with grocery stores etc. so you need to be stocked and self sufficient. We don't need much, so one run to the market, fuel stop and propane truck and we'll be set. Just now as the ladies were cooking breakfast our butane tank ran out. I have a spare, but now is the perfect time for that to happen. I'll be in line with Gary at 11:00.
If you don't get an update for a week or so, it's because we can't get internet. I'll load this up when we go to the market today, but you can check out our SPOT device to see where we are.
SYL!! Rusty
| | |
| --- | --- |
| | Erin took the dinghy into Georgetown by herself today. That is a pretty big deal. She took the hand held VHF and called us after she docked. She said docking by yourself was harder than she thought...lol. She did great. Her only mistake was coming back to the boat with a ice cream bar she was finishing. Don't flaunt anything cold to eat. We let her onboard anyway |
April 27, 2010
| | |
| --- | --- |
| | |
| | |
| | |
| | Rusty has been doing such a great job of blogging that I really haven't had anything more to contribute. However, this morning he has gone to take E to teach her first yoga lesson at the Kavalli House. It is an awesome place to do yoga. If I had to chose a place for a TV broadcast I couldn't think of a better place. Erin was nervous and excited. It will be good to teach with a small group of people she knows. The Kavalli House on Stocking Island is still in the development stages but enough is done that you can see it is going to be an extraordinary facility. I don't know what all they are going to offer except anchoring and land accommodations but it is a huge compound, very isolated yet close to everything. If you don't have a boat it would be a great place to stay. It has been fun having E here. One side of the mountain Kavalli is on faces Georgetown Harbor, the other faces the Ocean. |
The days go by so fast and start blending into one another. Last night dinner was awesome. I do think it was a bad idea for me to see our boats BIG SISTER. She is outstanding. We are camping, they have a floating home. Seawind does everything first class. This boat has hard glass doors that swing down from the ceiling, so you have the open salon and cockpit when you want and a division of the two areas when you want. It is 2 ft wider and you wouldn't think that would make such a difference but it does. It seems they took the best of the Seawind 1000 and added to it. It has true queen beds you can walk around, 2 baths with a glassed in shower. A real apartment size refrigerator, 2 freezers, oven, microwave, a galley to die for and all the berths are good size. I truly couldn't think of one thing I would change about that boat. Of course that boat is about 450,000. We had a great time. Jim and Liz are a delightful couple and we always enjoy Gary and Celeste. Liz introduced us to a vegetarian cookbook that looks great. Don't worry, this Texan will never give up her "MEAT", but I am finding alot of the cruisers are vegetarians and the food is delicious. This cookbook is called MooseWood, which is apparently a restaurant in New York.S
| | | |
| --- | --- | --- |
| | | |
| Dinner on the Imagine | Entertainment on the Imagine | Regatta boats loaded & headed for their homes |
April 26, 2010
This morning we woke up energetic and cleaned the boat. Mostly it included organizing and putting stuff away, but I spot scrubbed the floors and put snorkel gear and other items away on the foredeck while Linda did a thorough Kitchen cleaning and vacuumed the whole boat. Erin put stuff away and organized the salon and aft deck.
About noon I took E over to Sol Surfin' to check out what they have done to their boat. The cushions and general arrangement is well thought out. I left her there because they were going to the top of the hill at Kavalli House for Yoga. The venue is perfect for yoga, palm trees rustling around the large white columned Gazebo perched on top of the second highest peak in the area while waves crash on the endless beach 150 feet below.
Tonight we were invited to "Imagine" for the evening, a 38 foot Seawind 1160 owned by Jim and Liz. Jim grilled some marinated chicken on skewers and Liz made a peanut sauce and a desert that was awesome. We brought mixed vegetables, rotel cheese dip and chips. Gary and Celeste from Sol Surfin' completed the "Seawind Owners Group" party. They brought a salad, their guitar and drum. While Jim grilled the meat they played a couple songs for us... what a great evening. As we were eating, a cargo ship filled with regatta boats left between us and the setting sun. I got a couple good shots (see above).
April 25, 2010
Saturday we spent on the beach at the Chat N Chill. Erin took the kayak out and did some upper body work, then we took SYL over to the GT side for the regatta parade and finale of the festival.
We had some great BBQ chicken and Kalik. The trophies and festivities were quite impressive. There were smells of the sea mixed with BBQ smoke, little kids running around with water guns and silly string... and I have to say this..... Bahamian women have the largest rear ends as a group I have ever seen. I don't mean to be catty or sexist.. it's just an obvious observation. "Baby got back" in the Bahamas I tell ya.
Other observations from the Regatta finale parades: Rasta men had their hair out for show, normally they wear a huge knit multicolored toboggan type hat over their dread locks, but this was "show time" they were all washed and wild for the big party. I find the Bahamian culture much like the Cajun culture in Louisiana, only louder (if you can imagine that). They are fun loving and enjoyable people with a proud heritage. Not only do they have a good time, they want you to have just as much fun. The usual greeting from a stranger is "you aaaright mon?" A big smile greets you from almost every male, the females seem to be in direct competition with each other so they don't smile as much. There are Bahamian Beauty shops on every corner here. The women take very good care of themselves. Bahamian hair is softer looking than most American's of African decent. I don't know the culture of what I'm calling "rasta", but most Bahamian men are not "Rasta". I have seen Rasta men working, but mostly they seem to be the hip street walkers and the more accomplished drinkers of the male population.
As you can tell, the festival brought out all the cultures of the Islands for us to see. The National Police Marching Band was a major attraction. Just before dark we motored back across to the protected waters of Stocking Island and settled in for the night.
April 24, 2010
This is strange.... I am the first one up this morning. Linda and E had a marathon card game going when I went to bed, they must have played late. I listened to the cruisers net this morning at 8, interesting but not much news per se... An old time GT cruiser hosts the net, when he leaves the harbor another takes his place. The net starts out with a very good weather / tide forecast, then it's time for business announcements ~ any local business that wants to give themselves a plug has that opportunity, then Community ~ If someone has organized a party or event, or knows of one to announce it's done at this time. Community is also the place where you ask questions like "where do you go to buy a brass thru hull, or outboard parts" locations and phone numbers from old time GT cruisers are available here. I was told about some great snorkel spots right in the harbor on community. The "Community" segment is the meat of the net for me... it's all about information and cruiser news. Then it's time for Boaters General ~ It's a harbor wide swap meet and sale. You can get charts for places your heading, dinghies, outboards.. pretty much anything you want for your boat somebody has one they don't need. The next segment is Arrivals or Departures ~ New boats to the harbor say their boat and family names, where they are from and where they are going. Departures is self explanatory.
E just stuck her nose out of the door.... Today we are going to pick up and organize the boat some.. we have been going all day long, so the boat has been neglected. I made a final run at the water maker yesterday. I am mechanically proficient and the machine is not that complex... but it's got me baffled. I took the pump off and am sending it back to the factory. I'm not sure how to ship it.. but I may see about doing it today. I guess I should have asked on the net.
E wants to walk the trails at Hamburger beach this morning so we are going to move over there, it's a mile or so North of us. tootles...
April 23, 2010
Today (Friday) was a Regatta points race. Wednesday was a single race for the "Governor's Cup" for all classes, then they have 3 days of points races for the money. Saturday (tomorrow) marks the big finale of the event. We were very involved in the "A" class races today because when we took our laundry across to have it cleaned..... we had to wait on the "A" class to go by before we could come across back to the resort side of the harbor. Then I tried to hurry so I wouldn't interrupt the downwind leg.. but I didn't make it. I had to hold up mid harbor so we got to watch the biggest and fastest of the fleet go by..... again. Boy we are enthusiasts aren't we???? It's great to do what you want with the regatta in the background.... we watch when we want to.
At 10 we went to a baby shower. A young couple (JP and Nina on 3/4 Time) are live aboard cruisers who recently found out they are expecting. There were poems.. guitar music and very eclectic (spacey) people that drew energy from the earth and hopefully transferred those vibes directly into Nina's womb. They had the ingredients for "dream pillows" that some of them made on the spot.... so the parents could sleep on them and learn what their new child will need to know.... I'm not sure I did that for our kids...... This one woman was so high on life you would think she could will herself to auto levitate..... right there on the spot.... lol. That's not the common cruiser... it just so happened that a couple people there could be called whackos..... (not by me) ... they were just more in touch with their aura than anyone else on the planet.
While Linda finished up her Mexican train game with David and Mary from "High Noon", E and I parked the boat on the beach so Linda could walk right up the front ladder. I took my "safety kite" out and played with it on the beach before Linda got here..... it was great... it's perfectly tuned now and easy to fly... the winds were just strong enough to have great fun with it. At this time.. the AC is on so the cooks downstairs will be comfortable. It was in the high 80's today... nice.
Erin is making a great meal tonight from fresh veggies we got from the Exuma Market. She made a cucumber and onion salad for an appetizer.... then a fresh salsa for the white corn chips. The main entre' is yet to be revealed.... I better sign off to get ready for it.
I sneaked a peek... it's all kinds of sautéed veggies with a key lime sauce drizzled on top. Mushrooms, bell pepper, butter, garlic, onions, show peas, I dunno.. all kinds of stuff.
It's tough out here.. I just gotta tell ya.
April 22, 2010
Far Left: E at the Chat N Chill beach.

Erin in her best "spokes model pose... Bahama Goombay Punch... she liked it until she figured out it was 90% sugar...

Far Left: Looking toward the Conch Salad Bar at volleyball beach....

Bahama Water........

OH..... and Erin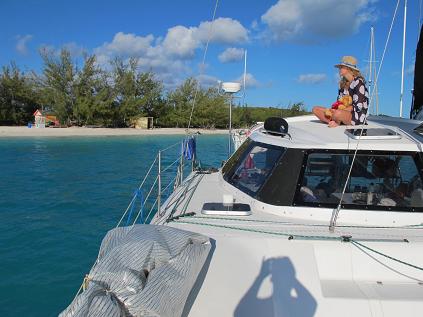 We have been having a ball showing E around. Her flight actually got in early and fortunately we were there. Our taxi driver was "Rocko" a gentleman of some age.. likely in his 70's...... When he picked us up he had a full open bottle of Kilak (beer) next to him. He drank most of it on the way to the airport and finished the bottle before E's plane landed. Only in the Bahamas..... Erin brought a friend with her named Odis (Odis was a Valentine present from a special friend). She carried him in her back pack and it seems he is enjoying the Bahamas as well. Erin has enjoyed showing him the sights -lol. As soon as we got E to Georgetown we went to the "fish shacks". It was my first visit and it was loud, loud. Most of the booths this early in "regatta" were only liquor and we were looking for food. We finally found a place grilling chicken, bought a couple of plates and return to SYL. We had taken the dinghy to get Erin, Rusty took her luggage straight to the boat them came back to get us while we checked out the regatta fish shacks. After getting to the boat we ate, visited a little and then off the bed.
| | |
| --- | --- |
| | |
| E after swimming to the boat from Chat N Chill (90 feet) see next picture... | Erin and Odis looking out at the Chat and Chill |
| | |
| --- | --- |
| | |
| Governors Cup "C" class Race | Boat in Action |
When E arrived we were anchored on the GT side of the harbor. We took SYL across to Chat and Chill hoping to get her a volleyball game but the games are not going on. I suppose because of the Regatta. The races are something to see. We have been hanging out right in front of the Chat and Chill. Tuesday night we all went to St Frances and played Texas Hold em'. Erin outlasted all of us. She is ready to go back tonight. You pay $5.00 and get chips and the money is pooled and there are 5 winners. Fifth place just gets their $5.00 back.
Yesterday we played on the Chat and Chill beach all day and watched the races. Rusty went back and forth helping with some of the race stuff. E did a 2 1/2 hour Yoga class on the beach. Our friend Celeste teaches the class. I was going to participate until I found out it was a 2 hour class.
There are huge, loud parties going on into the wee hours of the morning at GT. Last night we could still hear them going strong after 2:00PM. We haven't really participated in the night time activities yet. After all day on the beach we are just too tired. Last night we grilled hamburgers and they were awesome.
| | | |
| --- | --- | --- |
| | | |
| Erin at the Chat and Chill | Erin and Rusty chatting via Conch | On the Boat |
| | | |
| To Brad: In the Salon From: Erin | Yoga Bahamian Style | El Nemo |
Grannie: I made your sausage gravy and biscuits today and it was a hit!!
April 19, 2010
Today is the big day. Erin will be here tonight. She has a long day ahead of her. She couldn't find anyone in Beaumont that could give her a ride to the airport (she has a really early flight), so Brad drove in from Lafayette to take her at 1:00 am this morning and then he has to drive back to Lafayette to work tonight. He just earned a lot of brownie points from Mom!! Erin will fly to Miami, then to Nassau then Rock Sound Eluthera then to Georgetown. She is suppose to get here at 6:20 pm but this is the Bahamas so everything is an approximation LOL. I have been remiss in blogging because Rusty has covered everything. Pictures are harder to do because of the internet service here (or lack there of).
We are currently sailing out of Georgetown for a small sail and to dump our black water. You have to be 3 miles out. We haven't had a sail since the Whynot's left so this is fun. The wind is great! We are making 7 knots... which is pretty near perfect for me.
Look what landed on the beach at Chat N Chill today.
Jim, if your shopping... I like the Skywagon best... the Lake is too small.. and it doesn't like rough water at all.... beats getting here at 5 mph.....

At Thunderball cave I saw a cool plane land, I think it might be a turbine... see the picture below (C6-WET)
Yesterday we chilled at the Chat and Chill. While we were there a Cessana 185 Skywagon on Pontoons with a Robertson STOL kit (are you impressed?) and a Lake Amphibian, which is the plane that James Bond went to Thunderball Cave in, landed on the beach. It was something to see. When the Lake Amphibian took off it tried to take off before he could fly and almost pitch poled. He didn't do a fly by.. LOL.
I played Mexican Train and met some new cruisers. I could listen to these experience cruisers for hours. The places they have been and the stories they have to tell are amazing. Yesterday I met Vivian and she was talking about going to Bosnia and Croatia and that region. She gave a brief history of that area and explained some of the reasons for the conflict. Next year they are going to do the canals in France.
The boats for the Regatta are coming in everyday now. The excitement is increasing exponentially. There is something going on everyday and every night.
April 19, 2010
I'm glad I let out extra rode last night... winds shifted from the West and we may have been too close to the guy next door. We are going to pick up the anchor and move this morning anyway. We need to go to the hardware store across the harbor, then go to the docks, fill up with water and rinse the salt off the outside of the boat off so she will be spiffy for when Erin arrives.... and for the regatta event. We were up at daylight this morning, Linda couldn't sleep any more because her baby was on her way here! She left Beaumont in a car for Houston Intercontinental in the wee hours of the morning. It will be a long day but if she dares complain about how long it took her to get here...... I have an answer; "Try doing it at 6 miles per hour like we did" I'm happy "E" will be on board for a while.
We just finished our pancakes and cold milk.... It's a bit overcast, but not solid.... the winds were supposed to lay pretty well today but right now they are gusting to 12 or so. Very early this morning (as the wind shifted) it was almost calm. I have seen that happen here. If you are about to get a wind shift... it may quit blowing all together just before it changes.
OK, I need to pick things up off the front deck off and clean it with Comet. We tend to use the big front deck as outside storage... there is snorkel gear, shells, bottles of sand to save, etc. that need to be put in order. I better get to it.
SYL...
April 18, 2010
This morning I have been doing woman and gay guy stuff.... First thing this morning I cleared the floors, got on my knees and scrubbed all the inside deck with comet and seawater..... Can you envision my hair falling in my eyes, blowing it away with a puff of exhaustion then brushing it back with my wrist like the wash woman in the movies..... Ohhh, whoa is me..... The decks look great though. Tomorrow before we pick Erin up we will only have to spot clean the tough stains and rinse everything with fresh water at the docks on GT. It's amazing the dirt and gunk that gets on a white deck.
Today I colored Linda's hair. Her hair dresser is confused about Adam and Eve... (hence the gay reference) but he's a great guy. Linda was all worried it might all fall out if I did it for her... but NOW... she's pleased.... it came out perfectly. If women ever have trust issues I have come to understand the number one trigger for that affliction involves her hair.... I'm good with that because I am rarely involved. I can now say my first hair coloring job was an resounding success.
We need some rugs, Erin was going to bring a couple.. but I think she ran out of room in her luggage. Linda asked where to get them on the net this morning and we understand the hardware store may be able to fix us up. We may wander over there some time tomorrow, this being Sunday.
We have been remiss on posting pictures... that's generally been Linda's job. I'll see if she has any ready to pop on. We haven't moved the boat much lately.. so we haven't seen any new territory.. but we have taken some around here... I'll see if I can convince her to put some on. Stuart got our links fixed.. so the website is back to normal... lol Thanks Stu.
About 3 we went to the beach to chat n chill. We talked to some people I met yesterday... then Linda joined in on their Mexican train domino game. While I was roaming around I met two couples that flew in from Canada and we chatted a while. We talked to Erin 2 or 3 times on the phone.... tomorrow is her arrival day, we are so excited...
The wind is shifting out of the South this evening... that means boats are positioned differently from each other in the harbor because everybody lets out a different amount of anchor line or chain..... I adjusted mine a bit longer to back away from the boat on our Starboard a bit. If we get a West wind tonight it would put us very close, but with more rode out it's all good.
Several regatta boats arrived today. Tida' Wave... a 29' "A" class boat that wins a lot arrived from Staniel Cay. He's probably the favorite to win the big boat class. The mast and boom on these things are unreal. A 16 foot boat carries a 42' (4 feet taller than my 27' racing cat) and a 32 foot boom! Think about that.... The boom sticks out of the back of the boat... allot.... The 16'ers (C class) are cat rigged, meaning the mast is right in the front of the boat and they don't run a jib. There was one boat out practicing today.. it was cool to watch him run. I understand these 29'ers run over 20 knots with a 60' plus mast...... that's amazing.
The rules are... you have to finish with everything and everyone on board you started with. It used to be that they jettisoned ballast (people) when the wind got light to go faster, so somebody had to go pick them up before they got run over..... but the chaos of power boats in the course (that inadvertently got in the way of the competition) necessitated a rule change...now you must finish with everything and everybody you started with. I understand that if your riding on one of these boats and fall off... you WILL be deposited back on board with our without your help buy their chase boat. Every racer has a powerboat that follows to "rescue" the crew of a sinking boat (that happens a lot) or re-board people that fall off during the race. It sounds like total mayhem.... I can't wait to see some of that.
April 16-17, 2010
Not much to report the past two days... I did have a problem with my water maker, for some reason it quit making fresh water. I talked to the factory and ordered some parts, Erin is bringing them with her so hopefully we can be back in the fresh water making business soon. I had a rebuild kit, and installed it, but that didn't fix the problem.. the rebuild kit was just orings and seals that wear out... my unit didn't have enough time to wear out anything... . I ordered all the parts I didn't have in the rebuild kit so we should be in business, I believe the problem is an $11 part that attaches with 2 screws... we will see.
Fresh water is a big deal around here... It cost .20 cents a gallon to buy it. That's not really bad though... a tank full (120 Gallons) is about 25 bucks.... about the same as 5 gallons of gas.
BAHAMIAN LANGUAGE: It's very hard to understand one Bahamian talking to another Bahamian.... when they talk to us they slow down and don't use the Bahamian jargon they use with each other... for instance.... If they say "When ya' reachin back mon....."That means when are you returning (from wherever you are going). The history there is that from the lower Islands everybody went to Nassau.. in the North... so when they came home they waited for a broad reach to sail home... so "reachin' back" means making an easy trip home when winds are favorable. The dialect is hard enough to understand.. but when they use language we don't understand it's impossible to catch the meaning of local chatter. I imagine that's not by accident..... A sense of identity would be lost if they all spoke the queens English.
I did some aeronautical experiments today...... I took my "safety kite" to the beach and tried to pull the dinghy with it again.... in short, it's not a practical propulsion device for the dinghy...... In the right conditions.... you could go faster with the kite... but the best advantage for the kite would be managing your direction of travel. In a nutshell the dingy travels faster downwind than the kite does..... so unless you keep the kite pulling to one side or the other it overflies you and collapses. As a safety device for an abandon ship situation.... it would still have some advantage.... 1. to keep the sun off you, 2. to collect rain water. 3. to direct your path of travel away from only down wind. You can probably make 30 degrees each way but it's not a "set it and forget it" situation... you have to stay focused to make it happen. I'm not sure how well that would work in a stressful situation... so I admit it... it's pretty much an expensive play toy....... like Linda thought. (it is fun though)
We arranged for a taxi to pick us up and go get Erin Monday. "Rocko" will meet us at 4:45 in front of the Exuma Market. It's all set. Erin has 3 stops to make on the way here, but two of them she never gets off the airplane. She got a good rate but has to puddle jump from Nassau a couple times. She stays on the same plane that leaves from Miami though so maybe our bags will all make it all the way. It seems all the taxi drivers have stage names.... "Elvis" is the most popular water taxi driver.... he brings people from GT to your boat via his boat for ten bucks.... which is nice sometimes when the waves are up and you don't want to get wet in the dinghy to go get someone.
Linda put hamburger patties together earlier... I'll grill them shortly. She has baked beans ready and is boiling potatoes for tater salad.... It's tough out here... I tell ya.....
I have found a lead pipe cinch indicator that tells you if somebody you meet on the beach is on a boat..... or if they are tourists that flew in. Look at their legs..... A cruiser will hide his arms and face from the sun.. but his legs are dark brown tanned right down to the side of his feet...... Almost daily I go to the Volleyball beach and talk to people.... I have discovered this indicator inescapably marks a true cruiser with one only exception to date. Yesterday I met a couple from Houston that I really couldn't identify as cruiser or fly ins........ their legs we brown but not baked by the sun.. so I asked after 10 minutes of chat..... "are you here on a boat". Turns out he was.... he has come to the Exumas every year for 5 years on a new boat each time... he said he thinks he finally has what he wants... he lives aboard a custom built 80' yacht..... he was running buddies with a couple from Canada with an 80' Hatteras..... I was slummin'. Too much shade on his boat I guess........lol. poor fellah. He and his buddy were both named Richard.....
Many times I have heard that the national drink of the Bahamas is a rum drink of some sort..... and that's true, I think I know why... you can buy a litre of good rum for $8 bucks here.... Ron Ricardo Rum is a product of the Bahamas. Have you ever heard the term "rum dumb" I now understand it's full meaning...... neat what you discover on these tropical islands...
Did I tell you we found out what kind of fish our pet in the aquarium is.... he is a Brazilian Basser fish.... we previously called him Nemo.. even though he wasn't the Disney made popular "clown fish" of Nemo's breed.... now..... since we know his true lineage we call him El Nemo..... fitting I think. Through many hours of careful observation I feel I have discovered his political affiliation. Initially he foraged for his own food among the rocks and algae in the bowl.. but he has succumbed to the dreaded American affliction of Democracy..... he quit foraging for food when he found out we would feed him every morning without him having to work for a thing..... I fear he has become a staunch Democrat.... auuhgghhhhh... the curse of infrastructure has risen it's ugly head in microcosm. YES... all the more reason to stay in the Bahamas...
Just returned from a quick dinghy ride to the beach. My intent was to go visit Tom the Submariner on his trawler that we met yesterday, but his dink was gone so he was off visiting elsewhere. From there I visited his next door neighbor who sailed his boat from somewhere in the great white north.... he and his family sporting two young children were aboard. I held on to his gunwale and chatted for 15 minutes before heading for the beach. A very nice young man with lots of wood and great paint on his 32 foot boat named "Hook". I meant to go "chat n chill" with fellow cruisers.. so even though I didn't get to visit the submarine radio man... it was a successful journey.
"Dejarlo", a long time Georgetown cruiser who is very involved in the GT "scene" is leaving harbor soon to return home. Olly and Pam are on a 41' Benneteau. Pam has been hosting the cruisers net every morning on the radio. This evening many of the long time GT folks are gathering on "Dejarlo" to say good by. I guess one of the indicators that you are a long time GT visitor is if you ride standing up in your dinghy. Everybody that came to their party was standing up... so it must be a "thing". The tiller handle has a long pole connected to it for steering and the front person holds on to the bow line. I still like sitting down.. even if you get a wet seat from time to time.... I guess I'll try it sooner or later... being the adventurous guy I am. Maybe I'll look like a "real GT quasi local".
The pretty water still amazes me here... it's so blue you need sunglasses on a bright day to moderate the bright colors of the water, not to mention the sun's glare.
I'm getting a little tired of staying in one place so long. It's easy to stay here on the hook and play in GT... people get stuck here and never leave it's so beautiful. There are many cottages and cabins built right on the water's edge for guests to stay in... the ocean is only a short walk over the hill, events to go to almost every day. I think Libby's cottage was only $800 a week. The St. Frances villas just above us here in the hurricane holes is 240 a day or so... I talked to a departing couple that said they were basic but extremely clean with a great view. The "ARG" is hosting another party on Hamburger Beach Monday like we went to where we pulled the boat up on the beach. We may miss that one because Erin comes in at 6:30PM or so. ARG stands for Alcohol Research Group... you have to bring your own though.
The burgers and beans we made were great. It was a fine cap for the day. As you know we eat good here on SYL....
There are lots of kids here.... it's cute to hear them calling on the radio to a friend on another boat..... "amazing grace II, amazing grace II, this is Passages... over" 12 to 16 year olds run all over the harbor by the dinghy load... no life jackets or federal protection of any kind and yet.... they do just fine!!!! I guess in a country that has 5% of the worlds population and 85% of the worlds lawyers... it's not hard to understand that what's "right" in the US has become what a lawyer can prove in court... often our laws have nothing to do with reality, only what can be successfully litigated. I'm not saying life jackets are a bad thing.. don't get me wrong... and I have good friends that are lawyers and they are good people....it's the system that has developed with lawyers mentality that is the injustice. It's a shame they let lawyers be politicians....... Let's elect an honorable business man and see how he handles things.... to win in the present system though... you need an extremely flexible meanings of "is" instead of only one...
(looking around)..... OK I'll get off my soap box....... JMO.
April 15, 2010
Today we saw two ships racing in the harbor channel..... the problem was... we were the closest boat anchored near the harbor channel. It was a bit unnerving when they were both heading right for us, but I knew I was anchored beyond their turn. I couldn't believe that they were racing in the harbor to the docks....lol One was a ferry with cars on it, the other was a trade boat with several Regatta race boats on it. The government pays to have the boats shipped to GT for the races. Anyway... I did crank up and move before they got to me. They made the turn before getting to where I was... but I wasn't going to sit there and find out. You should have heard the chatter on the radio...lol
After the ship races.... we pulled up anchor and followed them to the dock to watch them unload the race boats. I went in with the dink to get a couple groceries and a can of gas. While I was there I walked over and took some pictures of the Regatta boats being unloaded.
April 14, 2010
This morning I moved back to our previous anchorage, the main benefit is that we get good internet service when somebody isn't skyping. Skype internet telephone eats up all the bandwidth so nobody else can get on. It's frowned on but people still do it. We found out this morning that there is going to be another event on hamburger beach tonight, this one will be selling hamburgers and discount drinks.... we will probably go. I like the area over there, when the winds settle I may hang out some at hamburger, there are some hiking trails with vistas that may be worth sorting out.
Gary is bringing Celeste over to hamburger beach to lead a yoga class this morning, he ghosted by close after pulling up anchor on his way over. Linda made our breakfast and went back to bed...lol It's easy to be lazy on the boat... she has been enjoying books and reading again. I imagine she's got her book out enjoying the morning breeze coming in the hatch directly above her head. In fact I think I'll join her.
I took a much deserved nap.... well maybe not deserved, but enjoyed anyway...... when I got up I took Nemo out of his bowl and cleaned the whole things, rocks and all, it was getting cloudy. I'm sure he's a happy camper now.
Five more days until Erin arrives..... I hope her flights go well, our previous guests had a 3 or 4 hour layover in Miami, she probably will too. The winds would make laying out unpleasant right now, but by the time she gets here winds will be back to normal. I know in two months we will be wishing for a breeze or cool wind like this.... I'll just enjoy what we have. Complaining about anything seems a bit out of place.....
OH, as you may have seen I have been "working" on the links on web site so it's pretty messed up. Stuart usually fixes it for us but I'm trying to learn how to do web sites. Sorry for the klunkiness and weird links. We have a call in to Stuart.
We heard on the radio that Dave and Leslie on "Texas Two Step" was having a party onboard so we went there instead of hamburger beach. Linda took the 10 bean casserole she made for lunch and put a can of Rotel tomatoes in it..... man it was good. There were over 20 expected at the party, while the 38 Leopard is a big catamaran... that's a lot of people. I offered some floor space by rafting my boat up to his port side so we used my salon as an extra dining room. It was fun to have people step over and see our boat. We stuffed things in every hole to make it look descent. I vacuumed the whole boat and wiped down the top surfaces in a big hurry. The party was a whopping success, I was glad to be part of the group. Just after dark we uncoupled and I dropped anchor at the back of the line here at hamburger beach.
This was supposed to be the final night of blustery winds... I hope that holds true. It gusted to near 30 during the night but we are in 12' of water so the weight of the anchor chain kept us comfortable without the yank you get when anchored in shallow water. Anchored shallow, there isn't as much snubbing action, the chain lift in a gust only gives you a few feet of travel where anchored deep, the chain can allow 10' or so of forward and aft travel without hitting the end of the chain hard.
April 13, 2010
I went to the marina to buy more internet minutes for Linda's computer this morning but they weren't open yet. I'll go again in a bit. The wind has increased a little but still nice.. it's whistling through the rigging at times now, but it doesn't take much for that to happen. I haven't seen the influx of people I expected for the Regatta. I guess it's still early... the main event is still 11 days away. I expected the cruisers to start piling in but the weather is marginal for sailing outside the harbor for the next few days, that's probably the deterrent. Weekend weather will be beautiful and calmer so a steady stream of boats will be coming in Saturday.
I just got back from the marina getting internet tickets, you can buy 80 minutes or 20 megabyte tickets for $2 a piece. We have been getting the 80 minute versions, but we are not downloading large files, so this time I opted for the 20 MB version to see how that works. Michael and Carol on the Tartan monohull that we visited happened to walk up while I was waiting, we sat and talked for a while on the resorts veranda overlooking the harbor. The place doesn't open until 11:00.
There is a big dinner on the ground party tonight at 5 on Hamburger beach. It's a deal where you bring an entre' or treat and share cruiser food. It ought to be good. Gary and Celeste will be performing. Our laundry will be ready (supposedly) at 4 so we will drive the big boat across the harbor to pick up laundry, then move her down to Hamburger beach for the festivities. Previously I was concerned about losing my place in the harbor, but weather will keep new arrivals down for the rest of the week. We just got a very light sprinkle..... but it's bright and sunny....
Linda is making some kind of super nachos for lunch. The smells wafting out of the kitchen started with frying bacon and are marvelous as I sit here in the salon just outside the kitchen stairs.
Leslie and her daughter Michelle just stopped by in the dinghy from "Texas Two Step" looking for her flip flops, she couldn't find them when we left the beach last night.
We moved to Hamburger beach for the party and parked right on the beach. It was fun to pull up all the way to the beach and go down our front ladder. The food was OK, but not as good as I expected. Minimalist cruisers can't hang with Beaumont Baptists when it comes to dinner on the ground..... It also made me appreciate how good we eat here on SYL...... Some of the best meals I have had were church gatherings at Westgate when everybody brought food.
We backed off the beach about 8 and set the hook for the night. I beat Linda at a game of hand and foot again.... bragging about it will surely end my streak......
The wind was in the 25 range all night and with a big round top hill in front of us at hamburger beach, it was gusty and changed directions due to the catiabatic effect of wind over a pointy ridge. The hill wasn't long enough to block the wind completely so it only disturbed the straight flow and came from several points East.
April 12, 2010
Yesterday evening Carol fried fish that was excellent, mostly barracuda. We stayed until just before dark on their Tartan. The rest of the day was spent on the Beach and Chat N Chill flying my kite and listening to guitar music and singing. Linda made us a fillet mignon with mixed vegetables and a salad. We brought a few fillets from a special meat market in Texas.
The wind is supposed to increase for the next few days but lay down before the weekend and the upcoming Family Island Regatta. We made a trip over to GT for a can of gas and to drop of our laundry. We washed some towels and a few clothes here on the boat, but that was way too much work and took too much precious water... so we took the bulk of our laundry to be done onshore. Everything is expensive around here.. even laundry, it's $1 a pound.
April 11, 2010
Every morning in GT at 8:10 there is an information net on VHF radio channel 72. This morning they had a segment on the Family Island Regatta that is about to commence next week. I thought it was just a Bahamian built sail boat race that was fun to watch, but it's much more than that. This is a government sponsored event with a 250K budget. It's like a big fair with food booths, pageants, activities of all kinds. It is the National Championships for the "A", "B" and "C" Class Bahamian sloops. Remember the pictures I took of the "C" class boat being built at Black Point? "C" class is the smallest boat at 16', "B" class is 20' (I think) and "A" class is 24 feet. The national sport of the Bahamas is sailboat racing.... and this is the grandaddy of them all.
I had previously decided to leave the regatta for another year and spent the two weeks we had with Erin making our way to Nassau, but the net has peaked our interest in the event. Since Erin gets here the 19th and the regatta starts on the 20th, we need to decide if we want to do "carnival" or leave GT for the most deserted beaches the Exumas will have (since the regatta is in GT). If we spend a couple days here then leave we would have time to see most of the Exumas on a somewhat leisurely pace and deposit Erin in Nassau. if we stay for regatta she would have to fly from GT to Nassau.
The choice definitely requires more thought and consideration.... as you know things change every day here.. so "deciding" now is an exercise in futility. I do know that waiting on Erin to arrive and staying for regatta involves a large chunk or our precious time in the Bahamas. If we can find a way to enjoy the next 3 weeks here in GT, that's good... otherwise it's carving out a big piece of our cruise just waiting.... We haven't seen the northern Exumas at all, but we will while Erin is at school. As the calendar progresses, the northern waters get warmer.. which is a good reason to stay here for the next 3 weeks. Regatta is a special event that we would certainly enjoy.... so that's some of the considerations.... we'll see what the next few days tell us.
I was just talking with Gary about our considerations. He said there are only 4 or 5 more stops above Staniel that were worth making, so maybe we have traversed most of the Exumas and GT might be the place to be for a while. We have been thru Staniel 3 times now and seen much of what lies between here and there so I guess we have covered most of the Exumas already. You could spend years here and not see all the anchorages, but I feel comfortable that we have spanned most of it and logged in places we want to spend more time at later. Just FYI... we are leaning toward bringing the boat home to Texas rather than leaving it here. If we left it here there would be 2 or 3 weeks of stuff to do when we got here on the boat anyway... and I'd rather start the trip ready to go like we did this time. It's easier to make repairs and upgrades in Kemah than it would be here. I don't expect major upgrades like we did in Kemah.. but we have some things we want to do to it for next cruise.
Linda made pizza with home made crust... man it's good. Sally brought us some whole milk mozzarella cheese.... sure made a good pizza. At 3 we went over to the Chat N Chill, Gary and several of the flotilla that arrived with him were there. We got to meet everybody and are going for snacks and drinks on "Kanaloa" with Michael and Carol Beard from Fort Lauderdale. They have a very unique monohull built shoal draft (3'-2") primarily to cruise the Bahamas. It has a swing keel and a dagger board just in front of the rudder and a very flat bottom. I'm anxious to visit her and check it out. Linda is bringing her Cream Cheese and Raspberry Chipotle' sauce with club crackers...... it should be a fitting cap to a very nice day.
on
April 10, 2010
We slept really well last night. I set the alarm to get up at 3 to refill the generator, other than that we slept well in the cool dry air. If I run the battery charger while the AC is on I have to set the thermostat cold enough so it won't cycle. If the charger is on, the inverter won't restart the compressor every time so I turned the charger off last night. The generator cycled the AC easily and got quite a bit of idle time. On the 68 degree setting, the compressor ran about 60% of the time which relates to 6 or 7 hours of generator run time. If I have to get up to refill the generator once anyway, I prefer doing it at 3.
We have been busy this morning putting the boat in order. Linda moved all the reserve food stores from the port side to the Starboard and we left some storage compartments open last night so they would air out well while the AC was on. We got all that put back together and are close to being square. It's amazing how the boat just gets dirty inside.... I scrubbed the stern and entry floors so it looks nice and feels nice on your feet.
Linda was just calling the cleaners on the VHF to see if they were open (they weren't) and Celeste from Sol Surfin' came back to her on the radio. She and Gary are sailing to Georgetown today. I told Linda this morning that I bet they head this way today with the fair NE winds. I'll be glad to see them and have two more players for the nights game of hand and foot. They are an engaging couple and fun to be with.
The lack of rules here in the Bahamas is extraordinary. The most common faux pas (different than the US) is the speed of boats inside the harbor. Dinghies to Donzi's run wide open within a boat length of you while your on anchor. I found it unnerving at first, but every now and then I'll take off full speed in the dinghy just because I can... lol. I Can't wait until some Bahamian in his 14' Boston Whaler catches my anchor chain doing 40 miles an hour.... His rasta hat and hair won't be enough padding for the lick he'd take..... I haven't seen one pile up yet.... but they do seem to enjoy finding out how close they can come to your boat at full speed when it would be just as easy to go around. I think it's a sport..... tourist tipping or something. Kind of like cow tipping back home ....lol. A cigarette boat loaded with locals just idled by.... but they came so close to my boat I could have handed them a sandwich.... well not that close but 15 feet or so... but closer than they need to be. The boat load seems to be wait staff for the St. Frances Resort... they all got off at the St. Frances dock.
Lots of boats are moving this morning. There have been 3 or 4 leave this harbor before 10AM. I think I will reset my anchor today now that there is more room in the harbor. The best part about this area is that WiFi is good from Gaviota Bay Resort. I'll probably just improve my lye here and stay put.
12:30... I moved 100 yards to the North.... the sand where I was had lots of soft growth in it.. not really weeds but it made the sand too fluffy for a solid bite. I went down with a mask yesterday when I was thinking I'd be set for the blow.. so I checked it in person. Normally I can hit the end of my all chain rode (70') at 1.5 mph backwards and I get a solid set...... It takes about a full knot to lift the 70' chain, then a bit more to feel the anchor bite. I got a more solid bite here, not like beach sand.. but good enough I think. I may visit my anchor before a blow comes.
Linda is making lunch, Gary and Celeste are probably about to enter the harbor.... life is good. I talked to Gary on the VHF a few minutes ago and he was 3 miles out of Conch Cut (the entry channel to GT). There's another 4 miles or so inside the harbor to get where we are. He said he had 3 foot swells with some windblown chop on top but it wasn't too bad.
Gary said AJ and Lisa may be coming to the Bahamas after all. AJ and Lisa has a Seawind 1000, we met them in Marathon. They had about given up on crossing, but were going up the east coast. I hope they do come, AJ is very knowledgeable and fun to talk to, and Lisa gave Linda some great hints about living on a Seawind. It would be good to see them again.
I just talked to Gary again, they are close.. another boat "Texas Two Step" is travelling with them. They left Kemah (the same harbor I was in) just before we did on a Leopard 38 catamaran. We saw them again at Black Point when Junkanoo was there with Hugh and Sally.
Sol Surfin' went to the Exuma Market before anchoring. We'll see them in a bit. I just got back from a visit on "Texas Two Step" a nicely appointed Robertson and Caine designed Moorings 38' cat. I still haven't seen a boat I'd swap for yet. Everyone has his own likes and dislikes, thank goodness there are boat designs to match. The couple from "3/4 Time" that have been travelling with Gary just dinghied by to introduce themselves, JP has a trimaran. They were making a tour of the harbor checking out the anchorage. Apparently there will be a get together of the travelling group at the Chat N Chill tonight, somebody in the flotilla is having a birthday.
It's 7 and I think we will skip the party. Linda and I are done for the day. Gary and Celeste swam over about 5 and we had a nice visit. I just took a 30 minute nap... it's been a lazy day and we will keep it that way.
April 9, 2010
It was a slow day today... nice..... I got on the Kayak about 3 and looked around for a place to park that was more protected before giving up the spot I had. We are lucky in that we don't draw as much water and can sneak in closer to the sandbar given our less than 3' draft. I made a big tour of the harbor and the "hurricane holes" here in Georgetown. We moved the boat about 100 yards. Georgetown is a complete cruisers Mecca.... they have 4 "hurricane holes" that are protected from all sides. You can leave your boat here on a mooring for the off season and feel comfortable that all will be as you left it when you return. The "holes" are on the resort island side so there are no roads for local traffic to peruse you stuff. The guy I talked to said a few years ago it blew 110 mph and all they had was a 1 1/2' chop in the "holes". They are perfect protection.. only about 5 acres each with high terrain all around save a narrow entrance that links them together. Pretty cool.
Well, tonight I decided to fire up the AC. The boat hasn't had a good drying out for over a month and the winds are almost nil ... so to be cool, we are making our own cool dry air. Air Conditioning is better than ice cream...... it's a treat that comforts you more than anything I can think of. It might have reached 80 today... but probably not, the still night will be warm if the boat wasn't making it's own air.
Stuff I worked on today: #1 the battery powered Q-Beam ~ I have a 3 million candlepower light that has it's own lead acid battery. I love it because you can walk around outside and light up the world. It quit working a week or so ago so I took the battery pack apart to see if there was something wrong with it (even though the label said "do not disassemble") I figured I would be the outlaw and look at it anyway..... I tightened some connections but the battery was good. Next was to take the light apart, everything checked out good with the meter so I went to the switch. Sure enough a plastic component had melted and messed up the whole deal. I ended up making the switch stay on all the time and will take the battery in and out when I need the light. Not fixed.. but workable.... #2. Solar Shower water bag ~ We have two 2.5 gallon plastic pouches that are black on one side and clear on the other. You fill it up and hang it in the sun for a quick warm water rinse after a swim. I have two of them and one sprang a leak..... another problem I had was that the shower hose leading from the bottom of the bag was too short. I robbed the hose off the split one and doubled the useful range of the showerhead.... nice. Modified and FIXED. #3. Nemo's aquarium globe ~ Every day I change 3/4 of the water in the salt water aquarium. With one fish in there he does just fine. Today I took Nemo out of the orb and put him in a cup while I gave the rocks and everything in the aquarium a triple rinse to get rid of used and unused fish food. It came out nice and clear.. Nemo was excited and ran all over the place checking out his new digs.... all the rocks were in different places so he had to go discover all the new holes to swim in and out of. #4. The Dinghy drain plug ~ There is a self bailing valve on the dinghy that can be stoppered from the inside with a big rubber plug. That's important because sand gets in the valve a lot and it lets water in the boat if not plugged up. Over the years the plug has worn and won't seat well. I took about 1/8" off the length of the tapered plug so it wouldn't bottom out as quickly before it seals... so another problem solved. All small stuff, but if you don't keep up with it... one day you'll be pulling your hair out because of all the little things that need doing. I think that's about it... tough day huh?
Linda warmed up and added to her Mexican goulash for dinner... it was awesome. She also baked two loaves of fresh bread and finished her book. We played a game of hand and foot.. and I'm about to close this to play another in the cool dry salon......... ahhhhh.... A/C in paradise....
Sea Yawl Later !! Rusty
April 8, 2010
It is evening, our time of day, and we are listening to Bahamian music from the Chat and Chill. Today was a moderately busy day. I am finally getting everything in the kitchen that belongs in the kitchen. Sally and Hugh took my coffee maker home so that made some room. We now make our coffee on the stove top. It is really good. After I emptied the hole in our berth, cleaned out the refrigerator and the pantry, we went to St Frances Resort and Marina. We had lunch at the resort (Rusty had his usual Conk burger and I had a Chicken Caesar Salad, I have yet to be impressed with the food here) and signed up for some internet. It seems to work ok. You buy 80 minutes for $2.00. After lunch we motored SYL over to Georgetown as Rusty said below, went to the Exuma Market and posted the web site. We are anchored back at the Chat and Chill. We left the salon bed down all day with a couple of cushions so we have our own little playpen. It's nice to lounge around on. Saturday and Sunday should be ok but Monday is supposed to be windy with 25 to 30 knot winds. The winds may last until early Wednesday. We will get tucked in Sunday and just hang out on the boat here behind the chat n chill and play some cards.
I sure am ready for Erin to be here. Well, I have the kitchen cleaned from dinner which was a Mexican goulash, so I am going to watch the sunset and read my book. Love to all.
Sea Yawl Later!!
Linda
April 8, 2010
We slept up top last night in the main salon where Hugh and Sally stayed. It was OK, I think I prefer our bed. We left the salon bed made up and took breakfast in the "Club" this morning. The "SYL Club" is in the Starboard hull forward of the kitchen (occupancy 2) Seating is very comfortable.... we have found it a great place to hang out or have breakfast so we now call it the "Club".
I found out last night that our mast light is out. It just happened because I check it regularly when I turn it on. I saw it the night before so it just went out. You must have a light on at night that can be seen 360 degrees so boats won't run into you, so it's an important issue. Today I will trace the wires to see if it's got power at the mast base, if so the next step is a trip to the top of the mast. I have a spare bulb, so we will see how that goes. Last night I turned the spreader light on that illuminates the front deck so I had the light I needed, but the spreader light is bigger and brighter than the mast light so it draws more amps. I can use it until I get the top one fixed so we are good for now.
We have been lucky in that very few things have broken or needed maintenance lately. I did have the shifter arm on the port engine break this week, which is odd.... the motors are almost new. I made a good repair and have talked to the boat shop here in Georgetown about ordering a new one just in case my fix is less than I expect it to be. The plastic shaft that goes into the cowling failed... weird. It shifts better than ever now though. I used a 5/16" bolt thru the center of the plastic pieces, so it's stronger than factory. I had to grind the head of the 5/16" bolt to a 6MM square shape and drill through the end of the handle for the nut, but that was easy. My 4" hand grinder and Dewalt drill made short work of it. Yesterday I changed oil in the generator but that's about it.
Linda wants us to take the dinghy across the bay to Georgetown today instead of bringing the big boat to go to the market... we will see how that goes. It's about a 1/2 mile of open water and may be pretty wet on the way home... but she likes a dinghy ride so maybe it will be fun.
We made good headway filling our water tank last night. I guess with the generator running, the high voltage made the water maker pump faster. We probably added over 15 gallons..... suweeeeeet.. as Erin says.
It's been a lazy morning.. which is nice. The XM radio is on low. A cool breeze fills the cabin.... I'm propped up very comfortably on the salon bed while Linda is plunking around rearranging her kitchen...... again. It's nice here today. Georgetown has a lot to offer. It has enough infrastructure but definitely not a "big city" feel like Nassau. There are tons of beaches right here in the harbor to explore, even reefs to snorkel without leaving the harbor. Yesterday there was a wedding on Sand Dollar Beach, the Chat N Chill is always fun. I could see hanging around here for a while. I'm anxious for Erin to see it and lay out in the warm sun. She will look like a native when she goes to her school...lol. Erin tans quickly and loves the sun so I know she will be happy here. Her mother and I miss her a lot, so it will be nice to have her with us.
Gas went up here this week. I have been paying $4.58 a gallon since we got here, but yesterday it was $4.89 a gallon and that's not on the water..... you have to bring a can to the gas station and back to the boat. There are fuel docks at the "Exuma Docking Service" but I haven't caught him with gas (at the docks) since we have been here. Every time I need gas he is out at the docks, but has gas at his station directly onshore...lol. I guess his pipes to the dock freeze up in this cold weather huh?...lol. I really haven't figured out the Bahamian capitalist system yet. There seems to be a need to keep things rare here in the islands.... I can't imagine why he doesn't buy more gas, he could sell twice as much as he does but just doesn't have it most of the time.... and doesn't really seem to care. It's interesting how they deliver gas to the stations. A big boat pulls up to the industrial docks and a gas truck rolls off and goes to fill the stations one by one. I was there when the truck arrived once. He bought 250 gallons off the truck.. that's it.... A single sport fishing boat could buy that much in one fill up, but that's all he bought for the week....
Mim's (the place I went to to order my Yamaha part) rents boats to the public to cross over to Stocking Island for the day. They hang out on the beach and go to the Chat N Chill... When you see one of those little boats in the harbor give him plenty room. Most of the drivers have never set foot in a boat before. When I was there ordering my part, these two cool dudes with white sunglasses were renting one. When they left they were all over the place left and right trying to steer the boat ..lol It was more than comical... I almost asked the guy that rented the boat if he thinks they would ever make it back...lol. It so happens I saw the same two coming back across that evening drunk as cooter brown.. weaving all over the place.. waving their hats at us.... It takes all kinds I guess. I have been known to cautiously libate myself from time to time... but I never saw the advantage of getting drunk ..lol.
Winds have been blustery the past few days... It's blowing today but it seems a bit easier. I intended to listen to the weather this morning but got preoccupied blogging and missed it. We are due to have a front come into the Exumas, but may not make it here to the southern end. It may move the winds from the North long enough for Gary to sail here ..lol. He enjoys maintaining an extremely small carbon footprint. I think he said he has only burned 11 gallons of gas since he left Florida. My gas doesn't get that old. I have filled up 4 times since Florida, but we have made two tours with guests that didn't have time to wait a week for a wind change. Gary wants to be in GT for the Family Regatta, so I'm sure he will sail in next week. I hope he and Celeste are here when Erin arrives, they would enjoy meeting each other.
Linda has been campaigning to leave the boat here in Georgetown and us fly home instead of bringing the boat home. We have found space on a mooring ball in a good hurricane hole for $300 a month. I am not convinced to do it... I like having the boat home but Linda dreads the trip. The Gulf of Mexico is not my favorite sailing grounds either but I expect if we do bring the boat home I will find a helper to sail the Gulf with me and send her and Erin home via land or air from Florida. That's a ways off so who knows what will happen. I see the advantage of time and trouble if we leave SYL here for next season. It makes money sense too, we will see. Having the boat here when we go next year would indeed give us almost 2 months more time to be on the boat where we want to be.... On the other hand, the sail up the Florida West coast in the hot summer seems like fun to me. Stopping at one after the other of the thousands of beaches to get in the water sounds pretty nice. We will see.
Well, it's almost 11 and we want to get signed up on a wifi site at noon. I found one that looks good on the Island side and we will be here all week, Linda would have fun on facebook and emailing... To sign up we need to go to St. Frances Resort and Marina for help, the site had no place to sign up that I could find.
We are back from the marina and found out you can't sign up online, you need to buy "tickets" for wifi so we did that. We ate another overpriced lunch while we were at the marina.... when will we learn......
Bad news........ I traced my mast light wire out and it has good power to the mast base. That means I need to make a trip to the top to see what's up..... I pulled out all my climbing gear and got it sorted out. That's as far as I got today. Linda got her stuff put back up where she was rearranging so we called it a day. We are laying up in the salon listening to Bahamian music from the Chat n Chill. We got a good parking spot right in front of the beach when we came back from Georgetown. I may beach the boat so it will be steady tomorrow and make the trip up the mast to see if I can fix the light. I have some extra bulbs, so maybe I have the right one. If nothing else I'll bring the old one down so I can match it.
SYL... RCS
April 7, 2010
I just read the past week or so of our blog... I'm sorry it is so time line confusing, we will try to lay it out a bit better in the future... It's 5:30 Wednesday evening and we just anchored at the Chat & Chill. We saw Sally and Hugh off a few hours ago on the other side of the harbor in Kidd's Cove. The waves and wind will be kinder here on the Stocking Island side tonight so we eased across and found a nice place to set anchor.
Speaking of anchoring.... When we planned this trip we budgeted to stay in port 2 nights a week. In the US we took dockage more than that... about half the time in fact, but here in the Bahamas most boats stay on the anchor. There isn't enough dockage to handle 1/4 of the boats in the Exuma harbors even if they all wanted a slip. "Real Cruisers" apparently don't spend money on dockage. We are so confident in our anchor that it's easy to decide to hang out on the hook. Shore power is nice for me... we can charge the batteries, wash the boat and fill the water tanks and not have to run the generator... right now I'm running it all night on low idle so we can use Linda's Chillin' blanket, it draws about 8 amps and would draw our batts down too much without help. Since the generator is running anyway, I charge the batteries and replenish the fresh water by running the water maker all night. With 4 people on board like the past 2 weeks I can probably keep up with what we use, with just 2 of us I hope to gain on it, and fill the tanks before Erin gets here on the 19th. I expect we will make 15 gallons or so a night.
The sun has about 2 hours left...... everything is getting quieter.... the rasta music from the Chat and Chill is getting mellower, it's our time of day. I think of Hugh and Sally having to fly all night to get home, they arrive in Houston just after midnight. I enjoyed them so much, Hugh is great help for me, and Sally is for Linda as well. Both of them are so much fun I hated to see them leave. It will be nice to have the boat to ourselves for a while too, so everything works for the best I guess. We have one more couple we are hoping can join us in May.
Erin (our 6'-2" little girl) will join us the 19th. She will spend 2 weeks with us before we drop her off in Nassau. The days between now and the 19th will be pretty slow for us I imagine...... We may do some day trips to Long Island or San Salvador, but mostly we will hang around drawing arcs in the sand with our toes.... My big decision is if we want to make the Family Regatta in Georgetown a priority. If we do, it's right in the middle of Erin's visit so we couldn't do all the Exumas, we would have to "hurry". At this time I'm thinking about skipping the regatta and spending the 2 weeks with Erin traversing all the Exumas and depositing her in Nassau for her school. We will probably save the regattas for another trip.
Life is good here.... I like it. If I wasn't such a responsible fellah... it might be hard to get me to go back to work...lol Better than that.. Linda likes it... A LOT.... We have seen a lot of boats here and thought about what we would have if we upgraded... but we haven't found one we like better than ours. Now don't get me wrong... if somebody wanted to trade me even for a Catana 58, I'd probably take it....but dollar for dollar, we have the "fillet mignon" of boats in my opinion. Not the biggest.. but man it's good....
While our recent guests were here for 10 days we had to motor some, but not a lot.... I filled up today with 10 gallons of gas (including what we burned in the generator) On the trip from Texas we had to push the motors hard, now running them half throttle or less more than doubles our range. I was impressed with how little gas we used the past two weeks.
Every Wednesday the propane truck comes to a parking lot on Lake Victoria to fill cruisers bottles. I was second in line today and talked to the first guy in line about homes here in Georgetown while we waited for the truck to show up. He was in a Jeep with Bahamian plates so I assumed he lived here. Sure enough he bought a house with 6 1/2 acres 6 years ago and moved from Key West. They love it, so I asked about relative pricing to the US. When he bought his you could buy for 1/3 the price of homes in the US. There was a boom a few years ago that drove prices up a lot, but that after the boom nothing has sold for a year or more due to high prices. He said a deep water ocean front is about $150,000, which isn't too bad, not cheap by any means, but a little cheaper than back home. They don't tax you on your first $250K of property value, he pays under $300 a year in taxes. I'm not interested in owning anything right now.... if we were to sell and cruise a few years I'd want to not own any property during our sail. Gary and Celeste have a good situation.... they bought a 2 bedroom condo and rent one bedroom out while they are gone. It makes sense to me to have that situation with the addition of a deep water dock to keep the boat for free when we are home and rent the slip when we are out. All that is conjecture at this point... when we get home we may be done with cruising for a while, but if we keep the boat we need to make some decisions.
I am stronger, happier and thinner than I have been in years on my boat. When I left Texas I was in 42 pants... I'm in 38's now and 36's aren't far off. My core strength is up, I'm only taking Prilosec if Linda cooks with Jalapeños, Linda has had to cut her dosage of her blood pressure meds... this trip is making us healthier. I guess the couch and 60" TV treated me a bit differently.......... hmmmm.. which is better.... Looking and dreaming about pretty blue water... or being here... that's an easy answer.
April 6, 2010
We are in Georgetown. We ran the gauntlet yesterday in the Sound. We knew it was going to be rough and Rusty stayed on the bank side as long as possible but the last 13 miles had to be in the Sound. The Sound is not protected so it will always be rougher than the banks. The seas were a good 6 and 7 feet (if those were 7 footers then the ones on the crossing were 10-12). We "rodeoed" as Sally called it. She was amazing. She loved the pitching and rolling until the roughness caught up with her and then she got real quiet. She did ok though. She took to it much quicker than I did. The crossing, as hard as it was, really has desensitized me to rough waters. I still don't like "cowboying" as Rusty calls it but I am not petrified. Gary and Celeste chose to stay put at Lee Stocking Island until the next front and North winds blew in, so we will see them later. The evening we spent with them last night was great. The food was spectacular but unknown to us we had a special treat in store. Gary and Celeste are quite accomplished musicians. Gary played the guitar and Celeste plays a wooden drum I think is called Kono. Gary and Celeste sing really well and we enjoyed their musical talents for a couple of hours before retiring. Celeste told me to dump all food into the water which I have not been doing. After dinner Hugh "cleaned" the plates with a salt water rinse. He has been doing that for me since he has been onboard and it really saves on the water. I am going to miss that fella. Anyway back to our night on Sol Surfin. I think Hugh went to the stern to deposit something in the water when he yelled for us to come look. It was a couple of nurse sharks (at least that is what I was told) swimming around the boat and another couple of 2 foot fish circling us. Nurse sharks are totally harmless. I guess the food and the lights attracted them. I may have to rethink putting food overboard LOL.
Note about drum: I am not sure of the spelling but I will check with Celeste when we see them again. This drums history is interesting. It originated in Haiti when the slaves had to unload the ships. The slaves would play on the boxes they unloaded and it eventually evolved into this wooden drum.
When we got into Georgetown (about 2) we had lunch at the Chat and Chill and did exactly that, Chat and Chilled. The evening was spent playing cards. Today we are getting gas, propane, going to the straw market and the grocery. Hugh and Sally leave this evening. It has been great fun. Time goes by so quickly here. We are undecided as to what we are going to do until the 19th when Erin arrives. The first couple of days will be spent cleaning SYL. Then who knows. Not having plans is really nice. Everyone is on land right now but I stayed behind to finish this writing so I can go to the Exuma Market later and post it. Love to everyone back home. Let us hear from you. We do miss you!!
April 5, 2010
I have got to start being better about posting everyday because I get confused on when we did what. For now I will just hit some highlights. When we got to Black Point on Friday the Baptist Church was having a fund raiser to buy windows for their church before hurricane season. They were selling T-shirts and plate dinners. We didn't get there until 6:30 pm and I think they had started selling plates around 11:00 am. We really should have realized where we were and what that may have meant. Hugh kind of hinted that maybe we should eat at Lorriane's but it fell on deaf ears. We walked to the school where all the activities were taking place, bought our tickets and then went to order our food. They were out a lot of the items but oh well. Then we realized the food was cold and they were going to microwave the plates. Trouble was the microwave kept tripping the breaker. Now realize they are selling this food from a little portable wooden shed with the extension cord running out the back to who knows where. Let me just say that partially microwaved whole red snapper is not so great. I dumped mine in the trash. But hey it is a fund raiser and for a worthy cause. That was the night we came back and fixed Sloppy Joes. Hugh was smart enough not to use his ticket for food but came back with 4 Bahamian "Kalik" beers. That's right, they sold beer and mixed drinks at the Baptist Church fund raiser. Don't think that would fly back home. LOL.
We left early the next morning for Thunderball Cave. We got there and found that the current was extremely strong and it was rather scary. Fortunately, a tour group had put a rope to help you in and out of the cave but I found I had a hard time fighting the current so I didn't stay very long. We have learned that the current at the Cave can make it a whole different experience. We came back to Black Point so we could go to the Junkanoo. It was not as large as I thought it would be but very fun. The locals would grab you by the arm and encourage you to dance in the street with them behind the band. Gary and Celeste introduced us to a bunch of other cruisers. It is interesting. When cruisers introduce you to one another they don't say this is Linda and Rusty they say they are on Sea Yawl Later. Only later on if you strike up a conversation do you find out each others name. It makes sense because most communication between cruisers is on the VHF and you hail each other by your vessels name.
Sunday, Easter Sunday, we head out for Musha Cay. The island looked awesome but the water was not as pretty as I expected. We walked the shallows and played on the beach. The tide went out and we had to drag the dinghy a bit but it was no big deal. Sol Surfin showed up and we both anchored off Musha Cay. Last night we had Gary and Celeste over for dinner. Sally and I fixed Bahamian Peas and Rice, Cornbread casserole and seasoned turkey. I made my first Key Lime Pie. It was okay. We played a new game called "Catch Phrase" that was lots of fun, the game itself is very portable which is huge on a boat. I may try to get E to find one for us.
| | |
| --- | --- |
| | |
| Exuma Sound at Lee Stocking | SYL and Sol Surfin-Exuma Banks at Lee Stocking |
| | |
| --- | --- |
| | |
| | |
That brings us to today. We are making our way back to Georgetown because Sally and Hugh leave on Wednesday. We are sailing with Sol Surfin. We are currently anchored Lee Stocking. Tonight Gary and Celeste have invited us to their boat for dinner. I think we are having fried grouper. Right now Rusty, Sally and Hugh are in the dinghy exploring our new beach. I dutifully stayed onboard so I could get this written. We should be in Georgetown tomorrow and I can go ashore and get it posted. I have put another recipe I just learned from Celeste with Sally and my own twist to it. I love it as a appetizer. We have had a marvelous time with Sally and Hugh and they will be missed. I am excited that Erin is coming in a week. She tried to call today but I couldn't get phone reception. The only downer about this entire trip is worrying about things back home. I know Erin has a huge support network but Mom's still worry. I will not rest easy until I can talk to her tomorrow. I also understand why cruisers sell everything when they leave. As I say, the only stress I have had here is worrying about issues that arise at home. Things you can't really plan for or prevent if you own property and you are not there to take care of it. Oh well, there is precious little I can do about it right now.
The crew is back. I will download some pictures and get them ready to publish. I check facebook when I can but usually even getting internet is hard.
April 3, 2010
Sea Yawl Later !! left Black Point around 8:30AM for points south... we had good winds right on the beam and almost no fetch so the waves were small, we zipped right along at 7 knots at 60 degrees apparent winds. Lunch was taken on the beach at Galliot Cay, a pretty beach we have stopped at twice now. Gary and Celeste showed up right after lunch and we followed them to our anchorage for the night below Musha Cay at Jimmys Cay. A nice sandy bottom accepted our anchor well. Dinner will be Peas and Rice, turkey and cornbread for the four of us and two on Sol Surfin'. After dinner low tide will find us walking the Musha sandbar, it's a huge knee deep to dry bar that has the most gorgeous water over it you have ever seen. We will watch the day end in ankle deep waters of Musha. OH.. if you want to rent an island... Musha is for rent.. the whole thing.... it's main house and 5 cottages rent for $325,000 a week. Any takers?
Our anchorage is 400 yards from the Musha sand bar, so we are all set for the night. Linda made some bread today.. we had the best tuna sandwiches on that hot fresh bread I have ever eaten in my life. The tuna was some sort of fancy Spanish tuna that is really good. I see Gary has let his dinghy down to come over so I better close up and set the table. Life is tough that way....
April 3, 2010
Our day started lazy, we all slept until about 9, which was great because we didn't have a thing to do until late in the evening when Junkanoo showed up at Black Point. As it turned out Gary and Celeste boarded our boat and we sailed around the corner to spent the the day on a deserted beach. We ate like kings and soaked up the sun. While the girls talked on the beach I pulled out my "safety kite" for the first time.... That thing was fun to fly... Hugh, Gary and I all took a turns with it. We even did some dinghy pulling to see how it would work as a wind propulsion system for the dinghy. By that time the winds had become spotty so we only had limited success, but it propelled us well when we could keep the kite up. After a "beach day" we sailed back around to the harbor for Junkanoo.
| | |
| --- | --- |
| | |
| Black Point | Black Point |
| | | |
| --- | --- | --- |
| | | |
| Gary Flying Kite At Black Point | Boy's Playing With Kite From Dinghy | Rusty and Gary |
Junkanoo at Black Point: The event was late (9:00PM) but it was fun. The winning crew from the Nassau Junkanoo is on tour of the Exuma Islands. We caught the show this evening. The "Valley Boys" had a good sound. There were tubas, trumpets, clarinets, trombones and big ole' drums made from 55 gallon barrels. They had whistles and cow bells, it was quite the ensemble....lol We have pictures and a couple movie clips. Costumes were extravagantly made and fitting for the music. I did not expect to enjoy it as much as I did, but you just couldn't help but have fun.
| | |
| --- | --- |
| | |
| Junkanoo on Black Point | Celeste |
April 2, 2010
Yesterday evening we had a great sail to Black Point. Gary and Celeste were there and we took Sally and Hugh over to meet them. We had Sally's sangria and had a marvelous time. When we got back to the boat we had a quick meal of Sloppy Joes on Sally's freshly baked bread and went to bed.
We all slept in a little this morning. We had coffee and oatmeal with brown sugar and pecans. We sailed to Big Major Spot and fed the pigs. Sally was the first out and one of the pigs bit her trying to get to the bread. We finished feeding the pigs and then went to Staniel Cay, took on some water, tried to go to the store which was closed and finally headed to Thunderball Cave. Much to my surprise the current was incredibly strong. Hugh and I both decided we were not strong enough swimmers to fight the current. A tour guide was there who had a rope into and out of the cave. We used that rope to get out. The cave was completely different than last week. It really frightened me. We all went back to the boat and are now waiting for the tide to go out and the current to lessen. We plan on trying again this afternoon. Tonight we will go back to Black Point. Tomorrow is Junkanoo at Black Point. If you saw the James Bond movie "Thunderball" it was the carnival in the movie. We are excited to be able to participate in this celebration.